When California Gov. Gavin Newsom issued a statewide stay-home order March 19 to combat the spread of the coronavirus, one of the sectors hit hard immediately was the restaurant industry. Restaurant owners tried to pivot to mitigate the loss of business, but in some cases they had no choice but to close their operations.
Another issue came to light as the state began to shut down: For vulnerable populations such as seniors and low-income families, the stay-home order wasn't just quashing their ability to eat out, it was making their access to food of any kind much more difficult.
"As soon as the governor made his announcement, I knew we were going to have to figure out not only how to survive, but also how to feed people in our community," says Clay Nutting, co-owner of Canon in East Sacramento. "Small independent restaurants can mobilize quickly. We already have kitchens, we have vendor relationships, we're smart enough to figure this out. It was a simple math problem: There are people in need, we've got kitchens and skilled labor wanting to work."
Nutting was determined to keep his staff employed and the supply chain among vendors, farms, restaurants and consumers as intact as possible during the sudden downturn, so he and Brad Cecchi, Canon's chef and co-owner, spoke to their colleagues at Mulvaney's B&L, Allora, Camden Spit & Larder, and Binchoyaki, as well as UC Davis Health Executive Chef Santana Diaz, and the group created Family Meal Sacramento.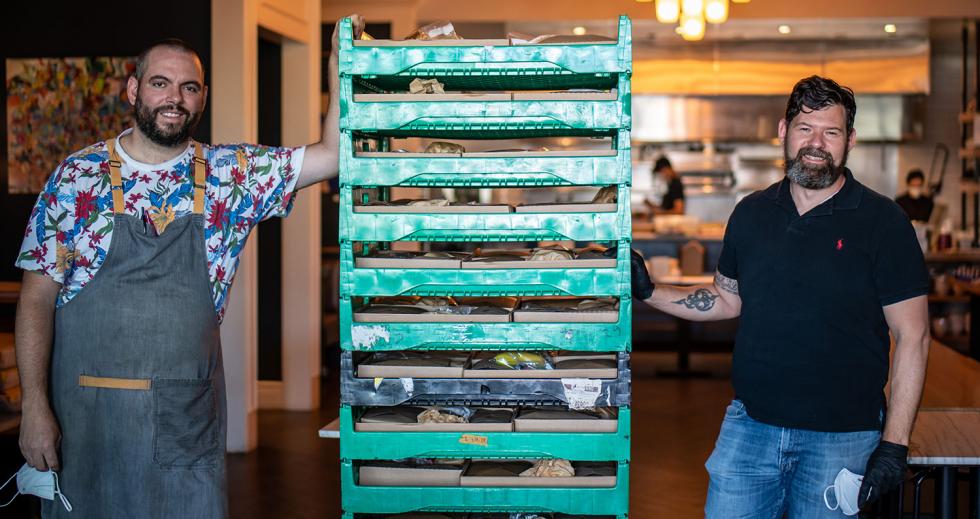 After a test week that included the standardization of packaging, putting safe working conditions in place, and figuring out scheduling for both Canon's curbside pickup and the new program, Family Meal distributed its first meal kits — each serves a family of four, or one person for four meals — March 23 through a distribution network that included Sacramento Housing and Redevelopment Agency, Sacramento City Unified School District, and local food banks.
Nutting says Family Meal Sacramento is on course to distribute nearly 50,000 meals by May 18 — an additional 7,200 meals per week are set to be delivered to 12 SCUSD schools over the following six weeks. The group's goal is to distribute 100,000 meals in Sacramento by the end of June. Nutting says the meals are funded through a combination of sources, including a contract with the City of Sacramento, a crowdfunding campaign on Spotfund, and private underwriting from businesses, foundations and individuals.
It didn't take long for the news of Family Meal Sacramento to spread to other parts of the Capital Region. Juan Barajas, owner of Savory Café in Woodland — which is closed to the public but doing food distributions to essential businesses — and fellow chefs involved in Woodland's annual Dinner on Main event connected with Mulvaney's B&L owner Patrick Mulvaney to get his help adapting the program for Yolo County.
Funded in part by Clark Pacific, Yolo Delivers HOPE launched April 16 as a partnership among 12 Yolo County-based restaurants, with weekly meal distribution handled by Meals on Wheels and Yolo Food Bank. Barajas says Yolo Delivers HOPE has served more than 6,800 meals to the Woodland community, as well as 800 meals to immigrant families at a migrant center in Madison, a census-designated place about 10 miles west of Woodland.
Barajas then approached Megan MacPherson, deputy city manager at the City of Roseville, about launching the program there. MacPherson tapped community partner Health Education Council to help with the distribution, since the city had already been working with HEC for five years under an Invest Health grant intended to improve the quality of life in core Roseville neighborhoods. After the Roseville City Council approved the use of $50,000 through Roseville's Citizens' Benefit Fund, Family Meal Roseville launched May 4 with three local restaurants: Nixtaco Mexican Kitchen, Monk's Cellar and Randy Peters Catering.
"It's very fulfilling to be involved with something that's so grassroots in a multi-county way," MacPherson says. "It's succeeding because of personal relationships and a mutual desire to roll up our sleeves and make our communities better."
The Roseville program has distributed 17,500 meals through partnerships with the city's Housing Division, Roseville City School District, Mercy Housing and Project GO, with deliveries handled by Roseville Transit drivers and additional funding provided by Placer Community Foundation, Sutter Health Foundation and Roseville Firefighters. MacPherson says Roseville Electric and the Roseville Rotary Club were also critical in the program expanding by 50 percent in its third week.
All three programs are accepting donations, and Family Meal Sacramento and Roseville have implemented a buy-one, give-one initiative, in which customers can donate the cost of one meal kit to the program when they purchase one for themselves. Sacramento's program is also receiving FEMA funding to participate in Newsom's new Great Plates Delivered program, launched April 24 to deliver three meals a day to seniors and other high-risk adults sheltering in place. And they've all said they will continue making meals as long as the need is there.
"With all of these local chefs coming together at this time of need, it shows how important restaurants are," Barajas says. "We're able to mobilize our kitchens and staff to maintain the supply chain while providing healthy meals. It's not just one person making changes — the entire region is collaborating."
Editor's note: This story has been updated.
–
Stay up to date on the effects of the coronavirus on people and business in the Capital Region: Subscribe to the Comstock's newsletter today.