At age 14, Jake Van Ry is already an all-star in the Foothills food truck scene.
The designation started with the family business, All Star Gymnastics in Diamond Springs, where his mother Andrea is the owner/manager and big sister Alyssa works. It expanded with his father's All Star Que food trailer, where Jake began helping out when he was "nine-ish." Now, Jake is carrying on the family brand with Jake's Lemonade and All Star Hot Dogs.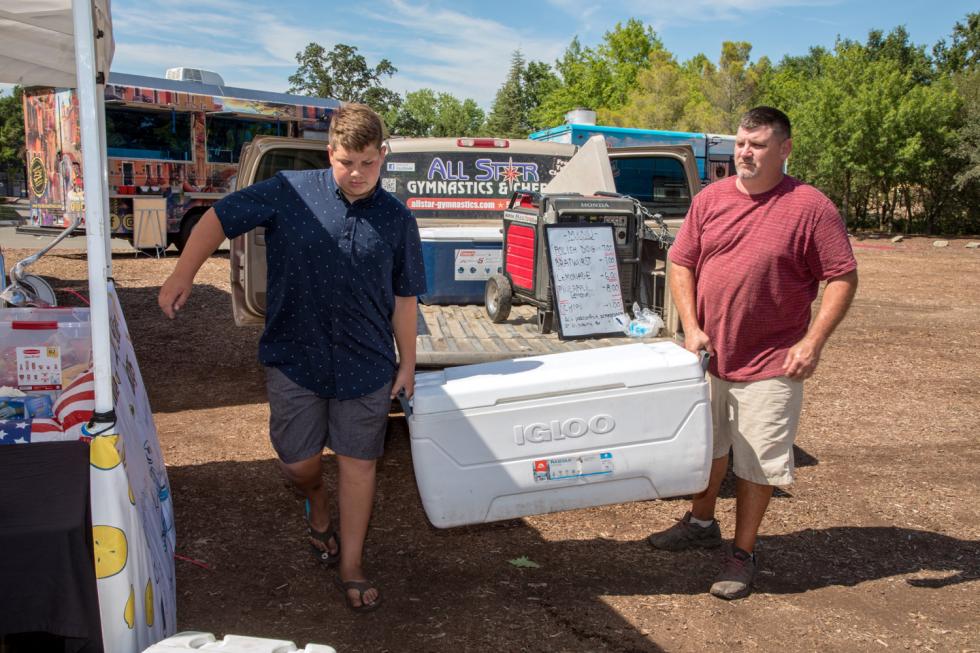 "Our kids have never known us to have a 9-to-5 job," says father Michael Van Ry. "It's kind of ingrained in them to figure out their niche and do their own thing."
Two years ago, Jake took an all-star turn on Food Network's Kids BBQ Championship. When he returned home, he wanted to do more. "We were at Sam's Club and they had a lemon squeezer on sale," recalls Jake, a freshman at Union Mine High School in El Dorado County. "I thought, 'Oh, I could do lemonade.' That's when it all started."
Last summer, Jake sold fresh lemonade and limeade from his stand at events sponsored by Food Trucks in the Foothills, an organization his father founded to benefit local charities. Food trucks in Amador and El Dorado counties partner with local nonprofits to host events, with 10 percent of proceeds benefiting the charity. Since its inception in 2016, the organization has raised approximately $90,000 for local causes.
Jake relied on his father to help with the permitting process and other business start-up issues for his lemonade stand. They also worked on recipes together, perfecting a simple syrup that can be made in advance and then added with water to fresh-squeezed fruit.
During his first year slinging lemonade on the sidewalks outside of various school and community events, Jake estimates he made about $5,000. Most of his profits went straight to his bank account, so the young entrepreneur was ready when an investment opportunity came along.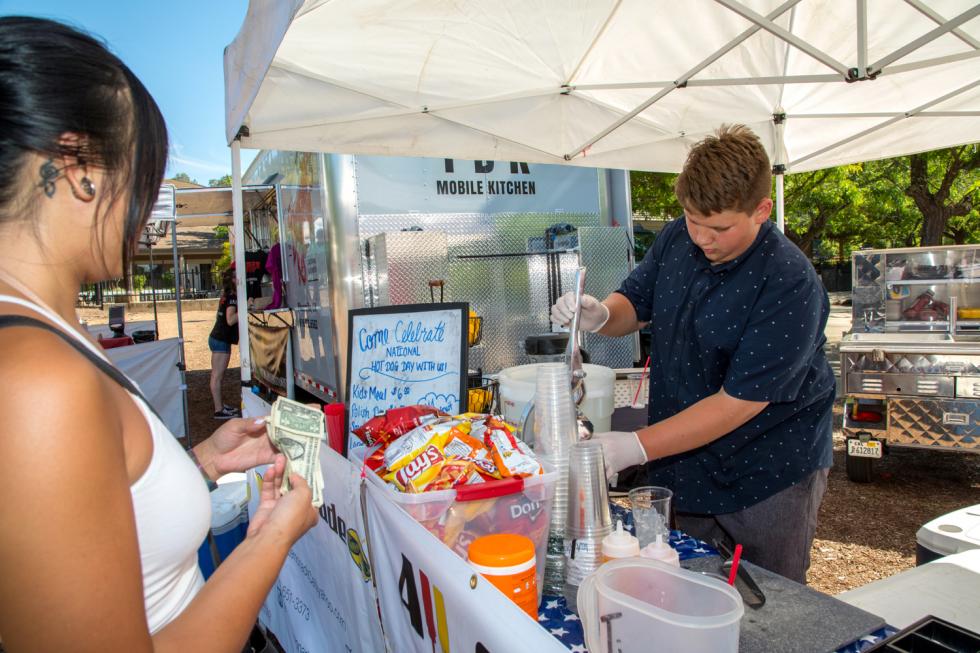 "One of our food trucker friends started with a hot dog cart and asked if we wanted to buy it," says Jake, who negotiated the purchase with his dad. "Now I have something to do in the cooler months because of hot dogs rather than just cold lemonade. I also do both of them at jobs now so customers can get a hot dog and a lemonade, and one goes well with the other."
Jake's hot dog cart — which he bought for $2,000 — paid for itself the first weekend it was in use.
In mid-July, Jake was selling both lemonade and hot dogs at a monthly Food Trucks in the Foothills event sponsored by El Dorado Hills Promise Foundation. The foundation, which is affiliated with the El Dorado Hills Community Services District, raises money to fund recreational opportunities for those who could not otherwise afford them.
Jake and his father arrived more than two hours early at El Dorado Hills Community Park to set up a tent and tables for lemonade and to prep his propane-powered hot dog cart. Jake's small stand was dwarfed by six big — and big-name — food trucks: Big Shrimp, Butcher's Kitchen, Cousins Maine Lobster, Daisy's Desserts, Pacific Coast Pasta and Tailgater 44.
But the biggest obstacle may have been the 102-degree heat. "When it's hot, I sell more lemonade," Jake says. "But this kind of heat can deter people from coming out."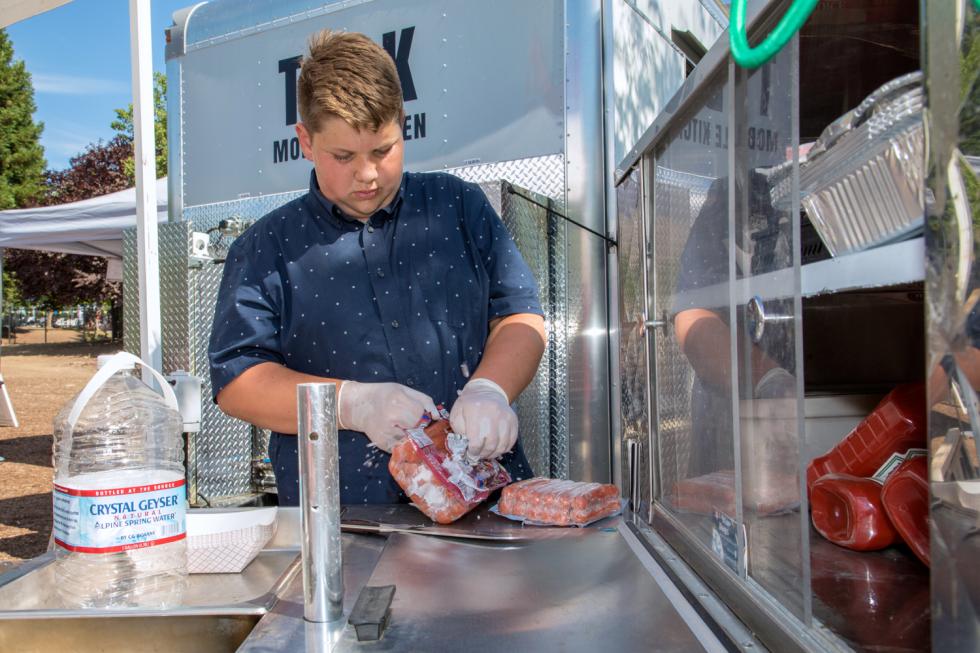 Still, he prepares for a crowd. Jake hired one assistant, Sarah Bickford, to help him with all of the tasks — handling the cash transactions, making lemonade or serving hot polish dogs from the cart.
"It's super-cool to be working with a freshman who's already such a young entrepreneur and already pursuing what he wants to do in life. That's really inspiring," says Bickford, who is a junior at Grand Canyon University in Phoenix. "A lot of customers are definitely surprised at how old he is. They say, 'Wait, that's Jake?'"
Jake's father is also nearby to offer advice or pitch in as needed. He believes the food cart business has helped his son improve organization and time management skills.
"There are not a lot of kids his age who go grab 'em by the bootstraps and make things happen," says the elder Van Ry. "Hopefully this will inspire another 14-year-old kid to take the lead and start to build something. It will be interesting to see where this goes."
Jake already has his future mapped out. "Eventually I want to get another hot dog cart and then after that I don't know how far it's going to go but, out of high school, I either want to get a small restaurant or a food truck."
He also plans to go to college. "I'm thinking of bringing a hot dog cart with me. That way I could pull it to the frat parties and sell there."