More than four decades after his father began selling antique plumbing fixtures out of a garage in Sacramento, Bryan "Mac" McIntire plans to close the Mac the Antique Plumber retail store to focus on an internet-based business model.
The building at 6325 Elvas Avenue is for sale, and this second-generation "Mac" has already begun transporting inventory "up the hill" to his ranch in El Dorado County, where he plans to build a small warehouse in Somerset. The retail showroom is scheduled to close at the end of the summer, and moving-sale discounts have been applied to merchandise such as clawfoot tubs, plumbing fixtures, hardware and lighting.
"I'm almost 68," McIntire says. "It's not time to hit the rocking chair yet, but I'd like to have a less stressful lifestyle."
The past five years in the retail business have been "really hard," he says, with deep-discount competition mainly from online sellers. Full-time employment declined from a high of 14 people in the early 1990s to just Bryan, his son Jesse, his wife Suzanne and 28-year employee Ken Boucher.
"A lot of people come in and say, 'Oh no, you're closing,'" McIntire says. "But these are the customers who come in every two or three years and spend about 10 bucks. That won't support a retail showroom any more."
This family business was started by Bryan's father, Leon McIntire, who moved to Sacramento in 1961 to work as a regional sales representative for major plumbing manufacturers. When a doctor advised him to give up business travel for health reasons, the original Mac decided to open a shop for antique and reproduction plumbing equipment, to meet the growing demand of Baby Boomers who were graduating college and getting their first home — often a vintage house in need of renovation.
Initially, Leon began making high tank toilets — those with the water tank mounted high on the wall. Then he began salvaging and restoring antique plumbing fixtures. During the mid-1970s, he sold plumbing fixtures and hardware out of a 10-by-10-foot space in his garage. By 1979, an expanding customer base compelled him to open the first Mac the Antique Plumber store in what is now the 57th Street Antique and Design Center — just down the road from the showroom's current location. Bryan joined his father a couple years later, working in the warehouse to learn the business before he moved into showroom sales.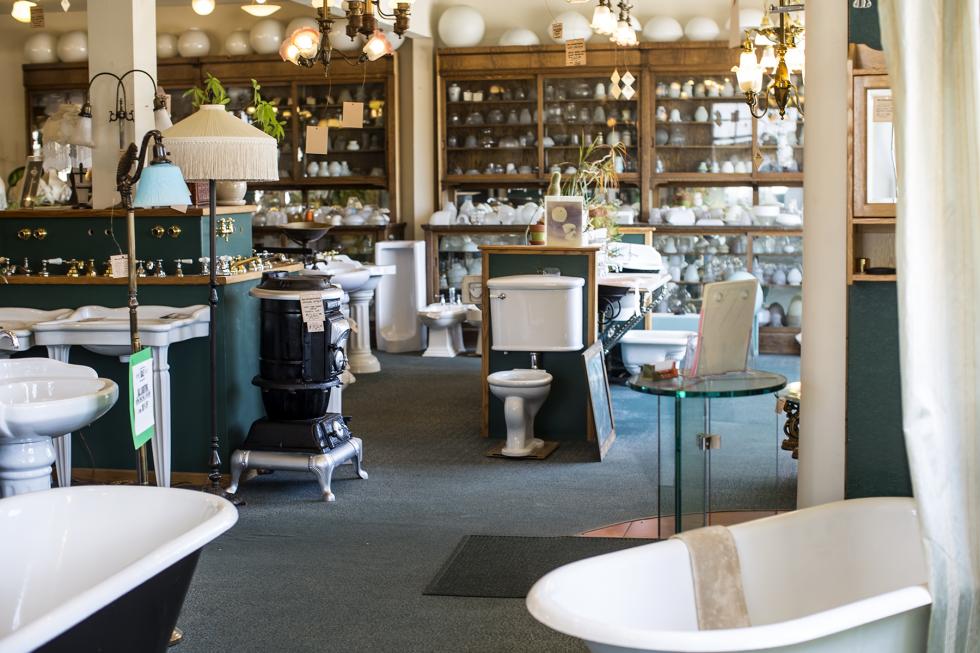 In 1987, Leon died of a cerebral hemorrhage. "I picked up the pieces," his son recalls, "and took over the business."
In 1993, the younger McIntire bought the current building on Elvas Avenue, which allowed for a 2,700-square-foot showroom in front, warehouse in back, and dedicated areas for lamp repair, custom metal work and refinishing of everything from tubs and sinks to hardware. The shipping area fulfills orders worldwide.
Over the past 23 years, the second-generation Mac has developed products for himself and for other companies, earning two patents — one on a toilet bowl with a round tank, and the other for a porcelain sink top with interchangeable bases.
His best estimate on the amount of inventory is "a ton." But not all of it will make the move to Somerset. McIntire plans additional sales, including a "yard sale" in the side parking lot to part with antique plumbing, lighting and hardware acquired from decades of estate sales and other salvage.
"I may reduce my inventory on the web and streamline to just the best-selling products," he says. "I'm not sure yet."
In fact, many aspects of his business move are undecided. But McIntire knows he will miss the people who come through his store every day. It's a trade-off for having more time for the things he loves, including playing the two drum sets he has tucked away in the warehouse.
"I'm not retiring or even semi-retiring," he says. "I'm just planning to have a change in lifestyle."