Follow Randy Brink around Papa Murphy's Park before a Sacramento Republic FC match and you'll start counting how many different ways fans can say hi.
"Hey Randy, how's it going tonight?" say a seemingly endless number of folks when they recognize him, as Brink, who holds the unique volunteer position of Director of Pitch, strides toward the room where the game officials wait for his instructions. One man, acting surprised when he walks by, calls out, "Randy, I remember you presented me with my certificate!"
As familiar at Sacramento sporting events as the Delta Breeze, Brink was called "one of the City of Sacramento's most well-known members of the community" in a resolution issued by the Sacramento City Council in 2001. How many can claim that a few hundred people turned out for their 50th birthday party, as was the case for Brink's huge Cal Expo gala in 2010?
He's been a part of most significant community activities and literally every professional sports team that called Sacramento home the past 40 years. The 1980 McClatchy High School graduate, however, isn't slowing down.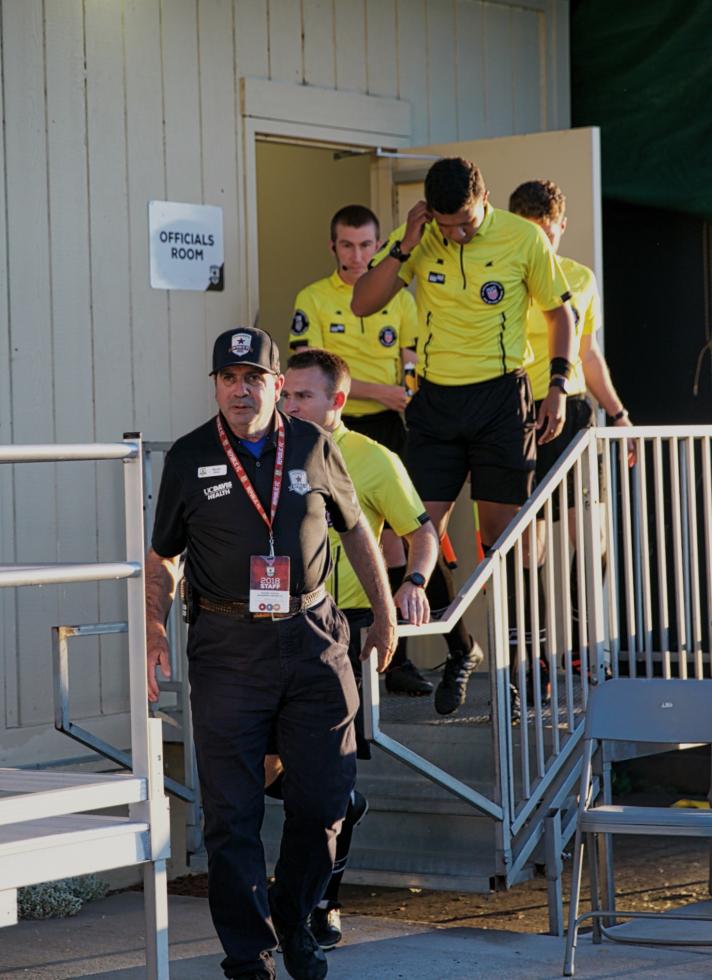 Brink, who has a developmental disability, is spending a good chunk of his summer working with the Sacramento Republic, having had a role there since the team's debut in 2014. Brink has been a friend of Brian May, Republic's vice president of operations, for more than 30 years.
On this Saturday night in early June, a major fireworks show is planned after the game and that means that Brink, with credentials as a long-time honorary Fire Marshall at agencies such as CalFire and Sacramento Metro Fire, will play a key role in the show. "I get to take care of the fireworks tonight," he says, excitedly.
But first, Brink has the high-profile responsibility of leading the team of four game officials onto the middle of the field just before the national anthem ceremony. After that he'll mingle with the crowd throughout the game.
"Randy has been with us since the beginning and is part of the spirit of the club, part of our connection with the community," says Tim Stallings, Republic's vice president of merchandise and finance. "He has specific jobs like escorting referees to the pitch and maintaining timing of the event. During the week, he comes comes by and helps out and acts as an ambassador for the team."
Sacramento's United Soccer League team isn't Brink's only professional sports team responsibilities this summer. He also works most of the fireworks shows at Raley Field, continuing a partnership with the River Cats since the team's debut in 2000.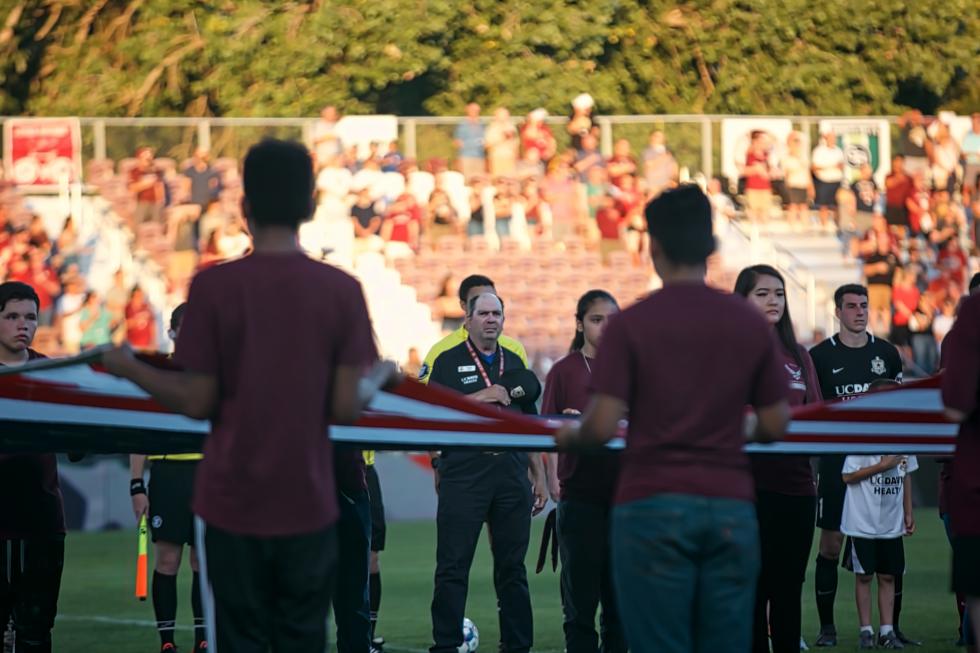 Brink's been a big part of the local sports landscape since he started working during the summer of 1981 for Hall of Fame high school coach Max Miller, who was coaching the California Football League's Sacramento Buffalos at the time. Brink was the team mascot while also assisting in other manager duties, and made a huge impression on the coach.
"I just love the guy, and remember the effort he used to make to get to every game," Miller says, noting those popular Buffalos games, where Brink would don a Buffalo hat and hand out Buffalo nickels and Buffalo chips to the fans.
"He lived by McClatchy and he'd catch a bus, go all the way to Folsom Boulevard and walk to Sacramento State to make our Saturday games," Miller says. "He was always a tremendous help to me; just a wonderful guy to have in your life."
The long-gone Buffalos, which folded after that 1981 season, actually kicked off Brink's long involvement with local pro teams. He's enjoyed stints with such varied Sacramento franchises as the Surge (World League of American Football), the Gold Miners (Canadian Football League), Mountain Lions (United Football League), River Cats, NBA Kings, WNBA Monarchs and Sacramento Capitals of World Team Tennis. Plus there's his work at colleges and other events, including the Special and Junior Olympics, Sacramento City College, Sacramento State, UC Davis and the U.S. Track and Field Trials.
"It feels pretty good," is how Brink describes probably being the only person in history to work for all of those teams.
His time spent with sports teams is just a part of his local story, and the list of other volunteer gigs is impressive. There's his participation as Honorary Sheriff's Deputy; Fire Marshall for numerous state and local fire agencies; office manager duties with the Sacramento Jazz Jubilee, later called the Sacramento Music Festival; multiple roles with the State Fair and Sacramento Visitors and Convention Bureau; and involvement with other local companies, like Crocker and Crocker, and bail bondsman Leonard Padilla, to name a few.
"His experience made it so he was welcome in our office from day one," Republic's Stallings says. "We hope Randy is around as long as we are."