Feijoada, one of the specialties of Amazon Grill in Midtown Sacramento, is a black hole of a dish, both in color and in density. The hue comes from black beans, which lend their tint to pork in many forms — bacon, ribs, loins and at least two types of sausage. All are simmered together with aromatics for hours. The result is intensely porcine, smokey and stygian, and must be balanced with a set list of accoutrements: orange slices for acidity, collard greens for verdure, and farofa (cassava flour toasted with bacon) for a streusel-like crunch. And like a black hole, feijoada has a powerful pull — especially on homesick Brazilians.
That is part of the strategy of Amazon Grill, a takeout and catering service operated by the nonprofit Brazilian Center for Cultural Exchange of Sacramento. The nonprofit serves as a hub for the Capital Region's Brazilian community and a platform to share the variegated culture of the South American country. Amazon Grill only came along in 2020, but Brazilian Center CEO and founder Saara Burga says it has already attracted a new batch of volunteers and board members, who came in to order food and ended up staying.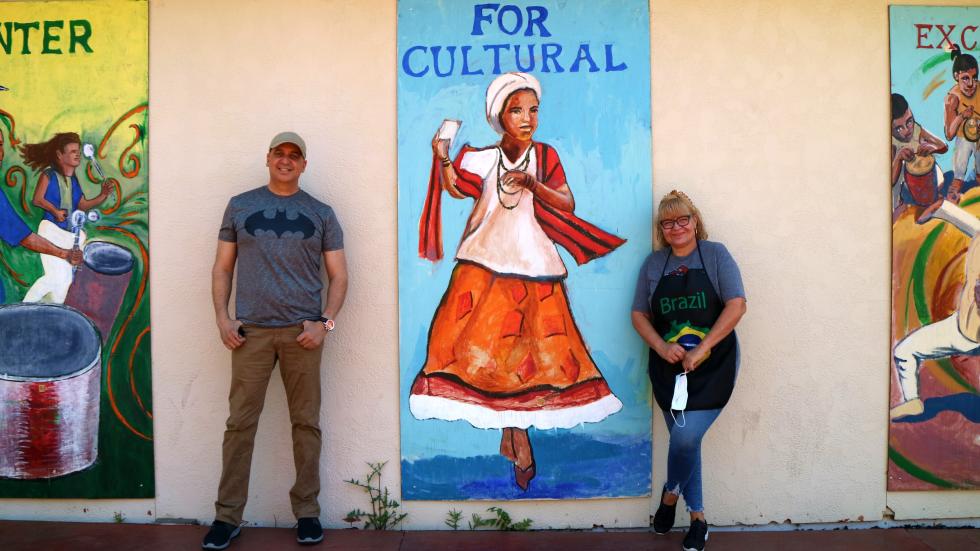 Amazon Grill's enticements include Proustian madeleines for emigres from all regions of Brazil. The menu includes African-influenced dishes from the coastal state of Bahia, like moqueca, shrimp in a coconut milk sauce pricked with hot peppers and red palm oil; and bobó de camarão, a similar stew thickened (and made more soporific) with pureed cassava.
In homage to Brazil's churrascarias, a meat-centric style of restaurant derived from cattle ranch cuisine, there's baby back ribs and a hearty plate of steak, rice, fries and beans that the menu calls boi (Portuguese for bull). There's also chicken stroganoff, a distant descendant of the Russian dish that evokes fond childhood memories for many Brazilians — though for others, the ketchup-tinged sauce may recall Thousand Island dressing.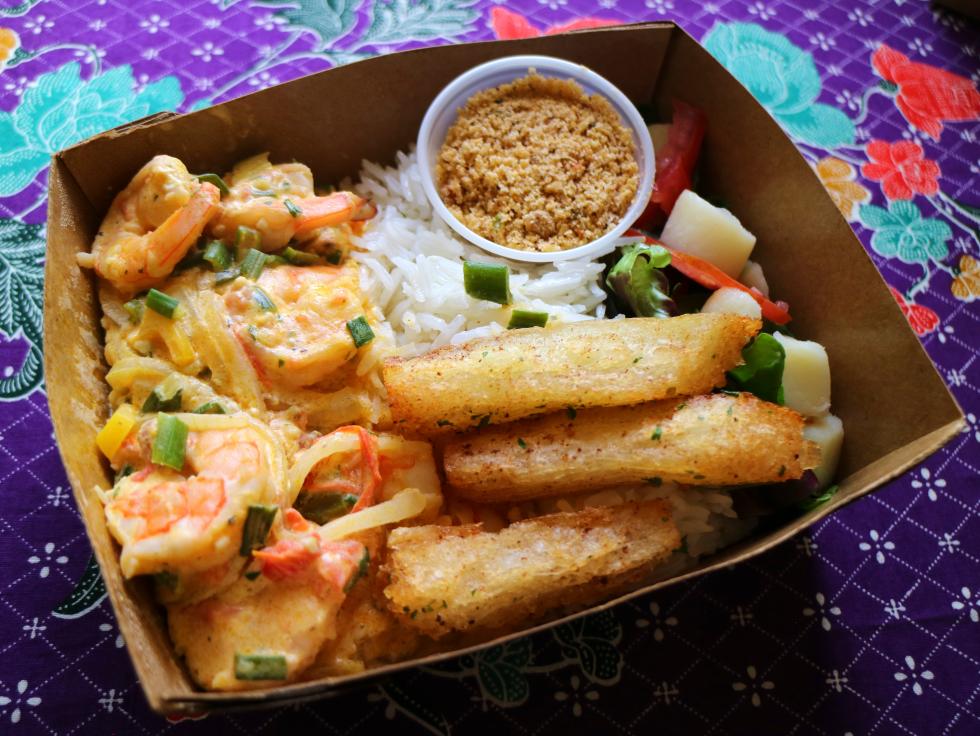 Amazon Grill's name is an homage to Burga's birthplace: Manaus, a city of 2 million ringed by the Amazon rainforest. Burga's father belonged to the Yanomami, one of the Indigenous groups of the Amazon, and her mother was of Nigerian and Portuguese descent. "It's a lot of things that I learned, in between those two," she says.
She learned, among other things, the samba, a Brazilian dance of eclectic origin that braids all the strains of her heritage. At 18, Burga toured with the musical revue Oba Oba, a feather-trimmed spectacle that brought a postcard of Brazilian Carnaval to theaters across Europe and North America in the 1980s and '90s. That experience instilled two driving forces in her: a love of travel and a desire to represent her country wherever she went. "I always wanted to go back to that," she says.
After graduating from the Federal University of Rio de Janeiro, Burga worked as a Mandarin-Portuguese translator in Taiwan for four years. When her contract was up, she booked a trip home to Brazil with a 48-hour layover in California — but she never boarded the connecting flight. Instead, she decided to stay, got a student visa, studied mental health at Sacramento State and later worked at a psychiatric hospital. Though she enjoyed the work, she wanted to find a way to return to the arts and "create a home away from home, where people can come and see a platform of exchange of culture," she says.
She founded the Brazilian Center for Cultural Exchange of Sacramento in 2004 and ran it out of a strip mall in the College/Glen neighborhood until 2014. That year, Richard Rich, the chairman of the E. Claire Raley Studios for the Performing Arts, offered the Brazilian Center an outbuilding at the CLARA (formerly the Fremont School for Adults) that was once the school's cafeteria. The commercial kitchen came in handy for events like the annual Carnaval, where caipirinhas — Brazil's national cocktail, an insidious blend of lime, sugar, ice and 80-proof sugarcane liquor — flowed freely. Small bites like coxinhas, teardrop-shaped chicken croquettes, and empadinhas like doll-sized pot pies were on hand to fuel the dances and temper the drinks.
The shelter-in-place order hit at the zenith of preparations for the Brazilian Center's 10th annual Carnaval in March 2020. The order forced the organization to cancel the event and all in-person classes, its main sources of revenue. "We had lost everything that we just invested in," says Burga. "I had fallen into a little bit of, I would say, a depression."
Then the old cafeteria kitchen went from a boon to a lifeline. Burga decided to cook some of the Brazilian dishes she usually made for events and sell them for takeout. At first, she only took orders on the phone on Thursdays, Fridays and Saturdays and did most of the cooking herself. But word spread, not least because the Sacramento area lacks Brazilian restaurants. There are a handful that specialize in the theatrical style called rodízio, an eat-all-you-can meat service popularized internationally by the chain Fogo de Chão, but few serve the nostalgic home cooking that immigrants tend to miss the most.
The center now has 20 volunteers that help cook for the takeout business and for the Lean on Me Program, a project Burga started last year that brings about 350 hot meals to encampments around Sacramento every week. Proceeds from takeout sales support the meal program. "You've got to listen to their stories," says Steve Siqueira, a Brazilian Center volunteer who serves food for the Lean on Me Program and developed an online ordering platform for the Amazon Grill. "There's plenty of stories that make you realize that that could be you three months from now. Could be any of us."
In-person dance, drumming, art and Portuguese classes have started again at the center, but Amazon Grill and the meal program it funds will continue. "We know that we can help people out there through this program," says Burga. "So if we shut down … they're going to be very disappointed."
She meant the people who receive meals through the Lean on Me program, but also the dozens of volunteers who cook, pack and distribute the meals every week. During a recent visit, the kitchen was full of volunteers doing the myriad odd jobs involved in a food business (for profit or not): chopping vegetables, manning the stoves, taking orders on the phone and online. Foam takeout containers were stacked like a white brick wall behind the small seating area, waiting to be filled with free meals.
Burga hopes that the success of Amazon Grill will encourage entrepreneurs to start their own openly Brazilian restaurants and other businesses. "We're just like pioneers," she says. "We just open the road for other traditional (Brazilian) places to come forward and create their own platform as well. … We can do it, so you can do it."
–
Stay up to date on business in the Capital Region: Subscribe to the Comstock's newsletter today.