As part of the great homogenizing project of the Soviet Union, the communist government ran a national network of stolovayas, or canteens, with a standardized menu that drew from all corners of the expansive country. The goal was to foster solidarity through a shared "Soviet cuisine."
The menu of Elena's Kitchen & Catering in Carmichael, a deli and caterer that serves the area's large community of immigrants from the former Soviet region, bears a coincidental resemblance to those of the stolovayas (which are seeing something of a resurgence among Moscow millennials today). But while Soviet kitchens' food supply was often hampered by shortages and sanctions, Elena's is an exercise in excess.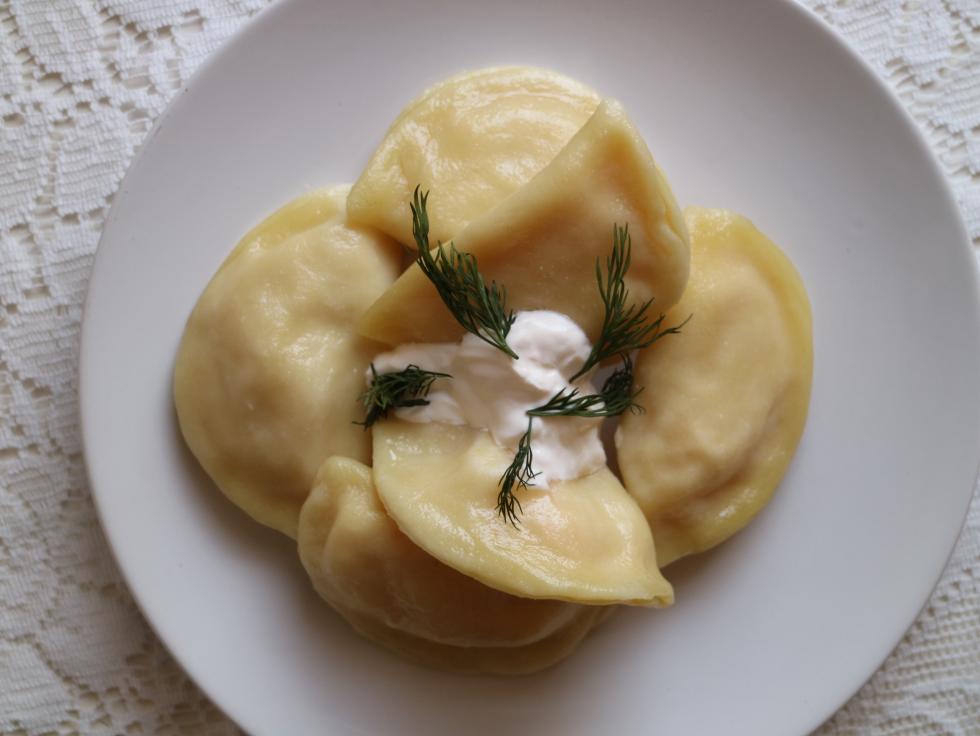 To walk along Elena's deli counter is to explore the diversity of the former Soviet republics. In the hot case, meat-filled Uzbek samsas — a cousin of Indian samosas — mingle with Ukrainian chicken Kiev and chebureki, a fried meat pie with roots in the Crimean Peninsula. Nearby are cabbage rolls filled with chicken and rice, subtitled in three languages on the online menu: golubtsy (Russian), golabki (Polish), sarmale (Romanian).
The cold case brims with the mayonnaise-laced concoctions that pass as salads in Russian cuisine, including Olivier salad (here called Olivie), boiled potatoes spangled with peas and bologna, and shuba, pickled herring and potato nestled under a shaggy pelt of grated beet and carrot. Shuba, also called herring under a fur coat, is named after a traditional Russian overcoat.
There are also lighter options, like morkovcha, a dish of grated carrots in spicy vinaigrette. Soviet Koreans, who call themselves Koryo Saram, created this salad as a kimchi substitute after Stalin deported them to the steppes of Central Asia in an act of ethnic cleansing.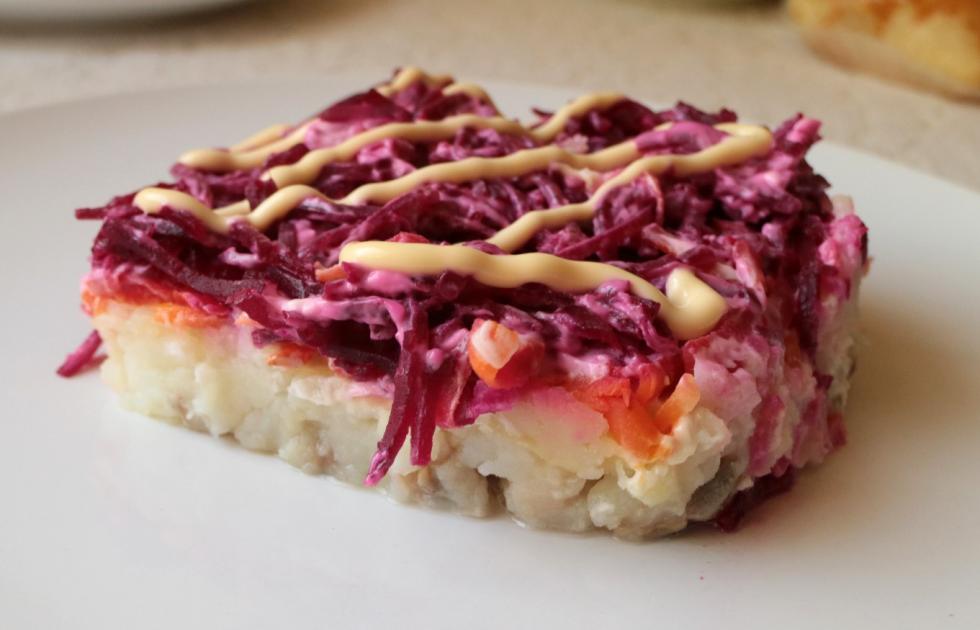 Owner Elena Melnychuk's life echoes the continental span of the menu. She was born to a Russian father and a Ukrainian mother in Uzbekistan, a country whose culture and cuisine bear witness to millennia of invasions and a century of forced resettlements. There are hints to this history in the Central Asian dishes scattered throughout the deli cases, including plov, a relative of pilaf and the crown of the daily hot-food menu. The rice, cooked in stock with beef, onions and carrots, is served al dente, so a pinprick of opacity remains at the center of each grain.
Elena moved from Uzbekistan to Sacramento with her parents in 1989 when she was 13 years old. One of her older sisters had previously settled there and helped the rest of the family emigrate. Elena attended Hiram Johnson High School and later married commercial electrician and draftsman Leonid Melnychuk. Together, they built his design side business into Olenka Builders, a concrete-focused construction company.
"Since childhood, Elena was a talented cook and had a very strong personality," says Leonid, who took interview duty for his wife while she was busy in the kitchen, protected by a phalanx of assistants. "A lot of people in Slavic community like to cook food for their own events, and very often Elena was hired to manage and cook. In 2010, when the construction business was dead (because of the housing market collapse), Elena became full-time involved with managing events, which created a huge need for a commercial kitchen," he says.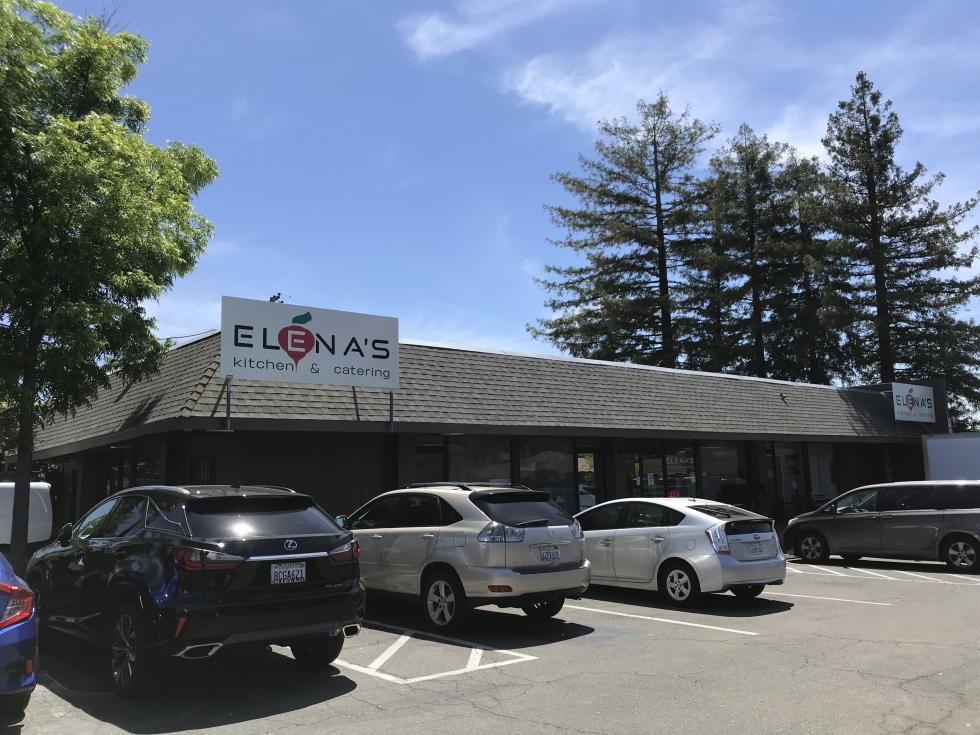 That need was met in 2017, when the couple saw an office space between two Carmichael strip malls for rent on Craigslist. With the owner's approval, they renovated the property to suit their two purposes. The building now houses a commercial kitchen on the monumental scale necessary for large catering jobs and serves as the headquarters of Olenka Builders. It is hidden from the street, so a sign near the vape shop in the front-facing strip mall shows the way. The red beet logo beckons Elena's Kitchen customers along a narrow alley, humid with air conditioner effusions and cluttered with crates, until they reach their goal.
At first, the deli functioned mostly as a sidecar for the catering service, the real engine of the business. The company has catered over 2,000 events, including several with 1,500 guests or more. When the shelter-in-place order was issued in March 2020, it had been booked to cater events more than a year in advance. Then the company coffers were drained to return the deposits, and the takeout business slowed to a crawl. "But thank God, in the third week we got little activity in takeout, delivery," says Leonid. "Slowly, takeout, delivery tripled the number of sales compared to before pandemic."
In the days without events, Elena and her mostly female staff of about 20 transferred their energy to the deli. The business has always specialized in takeout food in family-sized portions, which made it well suited for pandemic-related shifts in shopping and dining habits. The food is prepared every morning, and what is left over at closing is never served to customers the next day — unusual for Russian delis and unthinkable in the scrimping days of the stolovayas. But nothing is wasted, Leonid says. The leftovers are donated to the rehabilitation ministry program God Will Provide, which distributes it to people in need.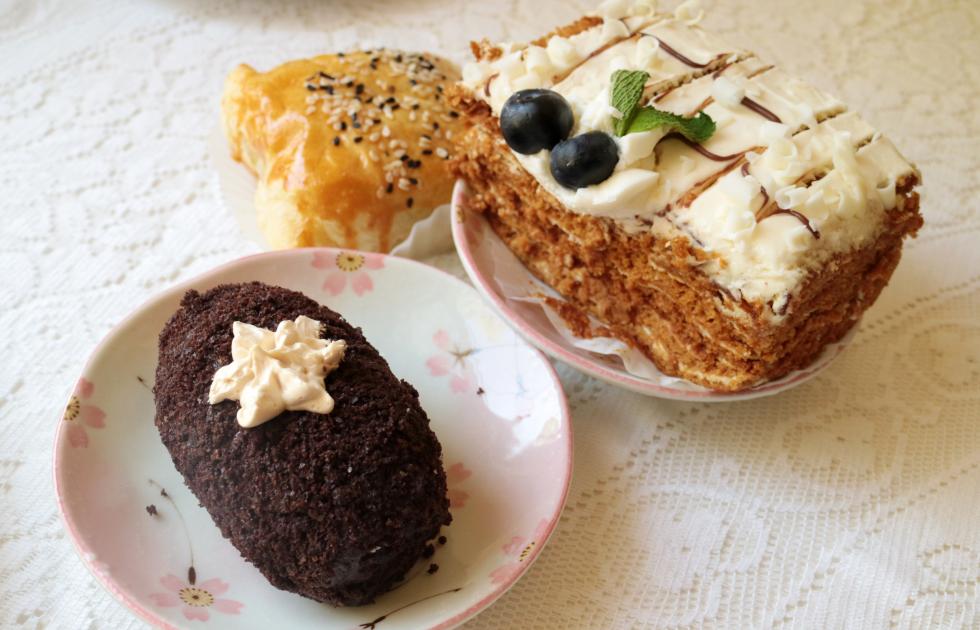 "We want people to know that the main rule in our kitchen is make as you would do for your own family, and our associates are happily buying their own product from the shelf," says Leonid. "Elena always says to staff that to make food, (it) has to be made with love."
–
Stay up to date on business in the Capital Region: Subscribe to the Comstock's newsletter today.