"(C)heck for availability, not available always," the online menu for Aria Afghan Restaurant in North Highlands warns about bolani kachalo, a flatbread stuffed with scallion-flecked mashed potatoes. The same could be said about many of the high-labor, long-simmered items on the menu, typical of this cuisine at the crossroads of South and Central Asia.
Qabili palaw, the national dish of Afghanistan, often sells out before 5 p.m. The name translates to well-accomplished pilaf, meaning only skilled cooks can manage the many steps required to perfume each grain of rice with the full bouquet of its accompaniments — warm spices, whole lamb shanks, carrots and raisins yielding sugar. The dish requires up to three hours of work from start to finish. Pacha, a viscous soup of cow feet and wheat berries that is considered an energizing breakfast in Afghanistan, takes even longer. Aria Afghan is the only Afghan restaurant in the region that serves pacha, not least because it must simmer for over 10 hours.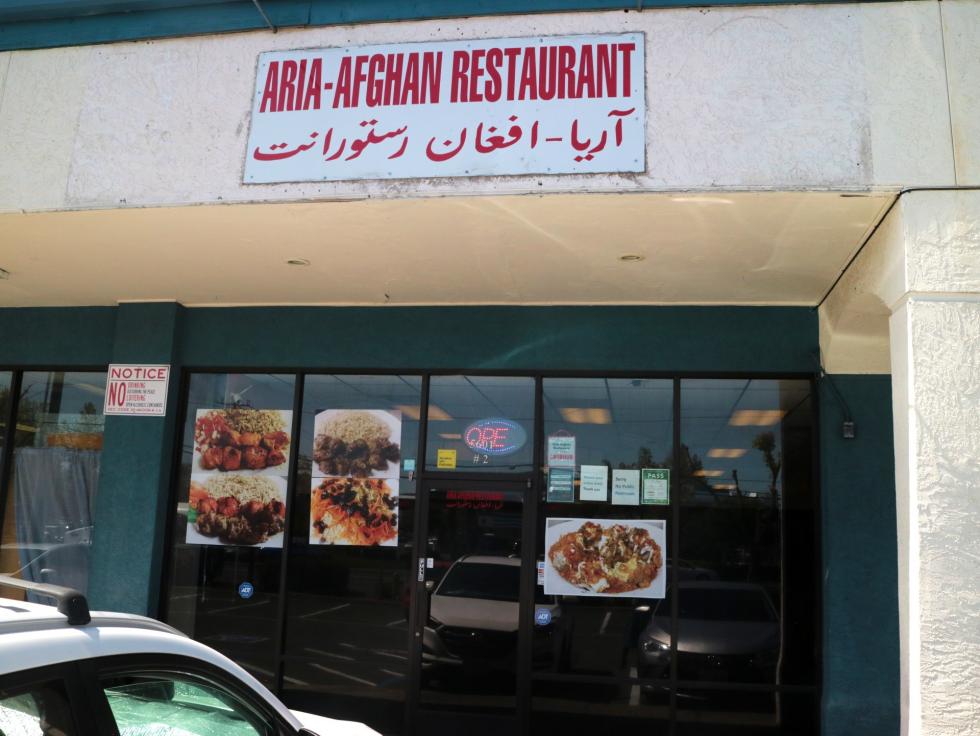 Then there are mantoo, dumplings stuffed with meat and onions, an edible remnant of the Silk Road that once crossed Afghanistan on its route from China. The dumplings are topped with lashings of garlic yogurt, thick and bracing, followed by split peas dissolving into a turmeric-tinted sauce. These are laborious morsels, requiring much mincing and pinching, so once they sell out, they are gone until the next day.
"We want to serve authentic Afghan dishes," says owner Sayed Haidari, who moved to California from Afghanistan about nine years ago and opened the restaurant in 2017. "I want the food to be real, not bombarded with all the stuff that makes it chemical. … We want the taste of the food itself."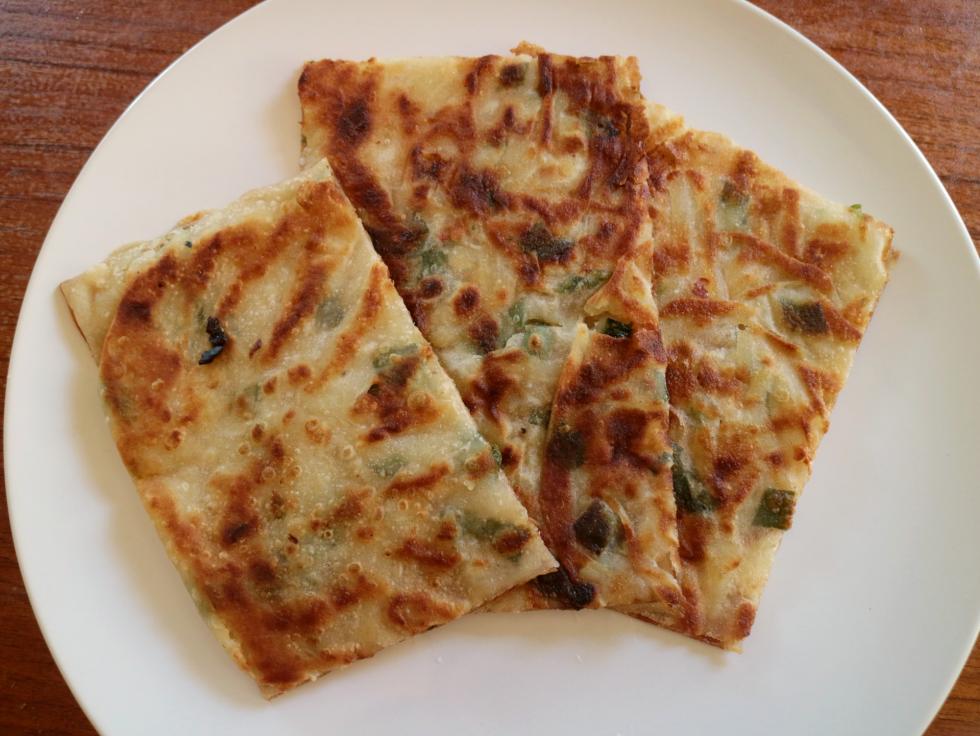 Though he can soliloquize about food now, Haidari never worked in restaurants before he came to California. In Afghanistan, he was a translator for NATO's International Security Assistance Force, a mission that began in 2001 to bolster the country's military and government institutions against the Taliban. He came to the United States because of its reputation as "a place of opportunities," he says. "That's what I heard. And now I'm trying to find out all the aspects of that."
He first settled in the Bay Area, working at restaurants including De Afghanan Cuisine, one of the longest-standing restaurants in Fremont's Little Kabul neighborhood, always with the goal of opening his own business. This seemed more feasible in the Capital Region, where there are fewer established Afghan restaurants to compete with. There are also fewer Afghan people to serve, but "Many people know (Afghan cuisine)," Haidari says. "Some people try it as something new, and then they love it." Customers unfamiliar with Afghan cuisine tend to start with kabobs, and Haidari is happy to join them. His favorite item on the menu is chapli kabob, a seasoned ground beef patty pressed thin against the grill like a Shake Shack hamburger.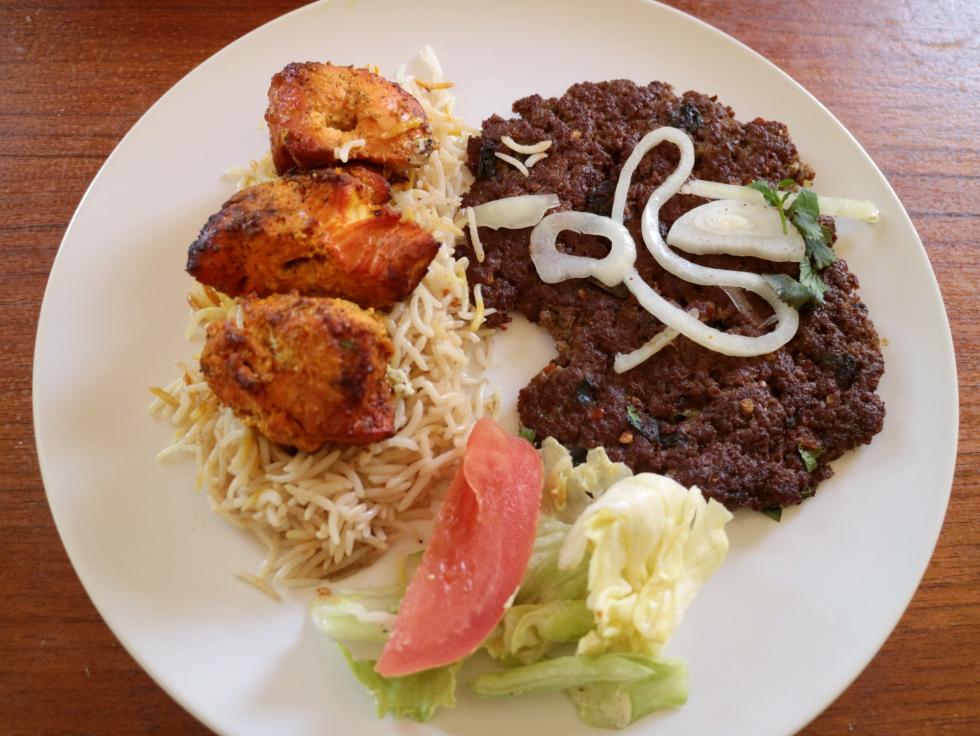 In North Highlands, Haidari finds himself once again adjacent to the American military — or at least a vestige of it. The strip mall that houses the restaurant is right outside the boundaries of McClellan Park, the site of the former McClellan Air Force Base. The site is currently hosting a drive-thru COVID-19 vaccination clinic, outfitted to administer more than 1,000 shots per week. On a recent afternoon, many of the cars driving past the strip mall appeared to be coming from the clinic, their windshields marked with the neon lettering the workers use to keep track of cars' stages in the process.
Inside the restaurant, there are more signs of the pandemic inching toward an end. The small dining area is open at 25 percent capacity in keeping with Tier 2 guidelines, though most diners still opt for takeout or delivery (Aria Afghan is on all the main third-party platforms). Sales have climbed back to baseline after dropping 80 percent in March 2020, but they are not where Haidari hoped they would be after nearly four years in business. "I hope everything gets back to normal," he says. "Then people can come and eat and are not worried about health."
The one party dining inside during a recent visit didn't appear to be worried. The three men, one dressed in flowing perahan tunban, the other two in jeans, looked as content as the old man smoking a water pipe in the painting behind them. At the center of their table was a plate of rice strewn with raisins and julienned carrots, the bone of a lamb shank just visible underneath.
They had secured the last serving of qabili palaw for the day, the server confided. Tomorrow, she said, there would be more.
–
Stay up to date on business in the Capital Region: Subscribe to the Comstock's newsletter today.