Gaspachos in south Sacramento does not serve gazpacho, the Spanish chilled tomato soup. Here and in Morelia, the capital of Michoacan in Mexico, gaspacho is instead a fine dice of fruits and vegetables that falls somewhere along the spectrum between salad and smoothie. Though the homophones have little in common, both are adapted to the blaze of a Sacramento July.
Order the traditional at Gaspachos and watch the server build a mosaic of mango, pineapple and jicama in a clear cup, then fill the interstices with a stream of orange juice. (Other versions add watermelon and cucumber.) She will ask if she should add the final two toppings, but without them, a gaspacho is no more than a fruit cup.
First comes a snowcap of queso fresco, which consummates the dish like Parmesan on pasta, and then a choice among three chile powders. All three — brick-red guajillo, a Tajín-like blend with salt and lime, and black pasilla with its campfire scent — are imported directly from Morelia, the hometown of owner Julio and his siblings Ivan, Gaby and Lizeth Ortiz.
The Ortizes started Gaspachos as a pop-up business at festivals and farmers markets in 2011, when they were all in their 20s. They spent long stretches of their youth apart as the family gradually emigrated from Mexico. When they were settled in Sacramento, "We wanted to get something started that would force us to hang out together and represent a little bit about who we are and where we come from," says Julio.
He was the first of the siblings to move to California — first to Watsonville, where his father had come seasonally to work the fields. Julio worked one season picking strawberries to save money for college. He later graduated from Sacramento State, as did his brother Ivan. Lizbeth went to college in Mexico after graduating from high school in Watsonville, and Gaby, who spent some time picking raspberries, took culinary courses after high school.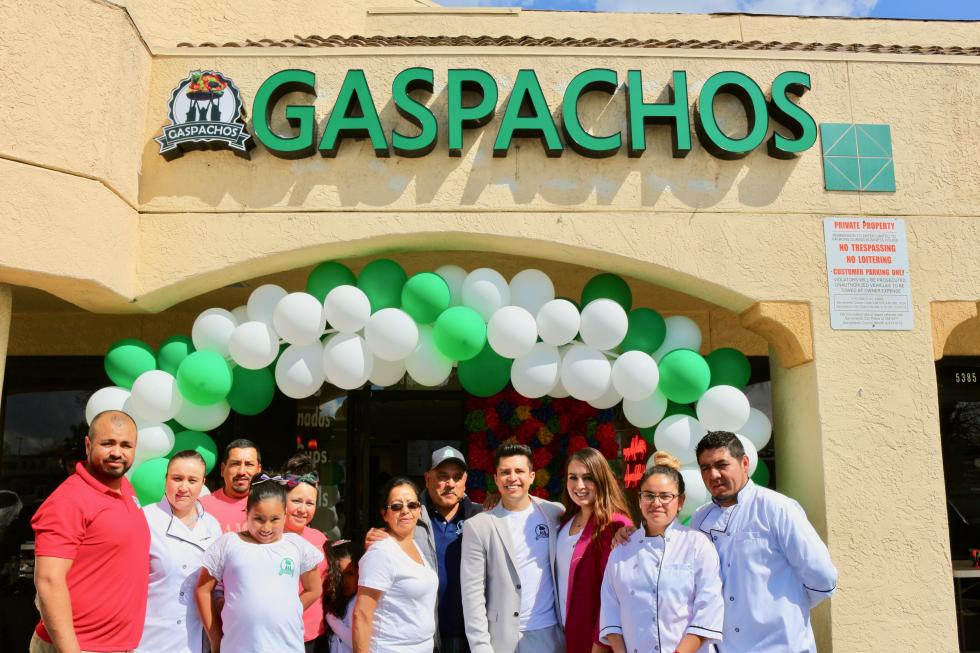 Julio and Gaby's field experience taught them to value hard work, the land and each jewellike berry. "It's a circle, because the strawberries that we buy, whenever we can, we buy them from farmers that are in that area," Julio says. The Ortizes also source mangoes and melons from local vendors. Their parents now live near Watsonville, so every sourcing trip becomes a family visit.
The shop opened in 2019 on Franklin Boulevard, a corridor that has served as a hub for the city's Mexican community for over 50 years. Caballo Blanco Restaurante, a restaurant that celebrated its 60th birthday this year, is visible from Gaspachos' parking lot; La Esperanza bakery, which will soon turn 51, is two blocks away. The parking lot outside Gaspachos was the loading area for buses to Tijuana until the last travel agency in the plaza went out of business during the pandemic.
Franklin wasn't the first area where the Ortizes looked — after years at crowded festivals, they wanted to go somewhere busier — but it was the first place that welcomed them as young entrepreneurs. Today, Julio is on the board of the Franklin Boulevard Business District and plans to keep the location even if he manages to open another shop in Midtown. "The community there has been more than amazing, extremely supportive," he says. "And we want to give back, we want to be part of it."
The business found another community on social media, managed by Julio's wife Brenda Ortiz. "We have TikTok and Instagram so people can say 'Oh, my God, I need to go to Gaspachos, I need to go check them out,'" Julio says. The platforms funnel customers to Gaspachos' e-commerce website and to the shop, located in an office plaza that gets little foot traffic.
The technicolor brilliance of the gaspachos, smoothies, fruit cups and mangonadas (chunks of mango zinging with chamoy and chile) translate well to TikTok, where the business has almost 9,000 followers — many too far away to ever make it down Franklin. In Brenda's hypnotic videos, disembodied hands cut mangoes into blooming flowers; layer strawberries and cream into fresas con crema; and drizzle orange juice, cheese and chile over gaspachos in glistening close-up.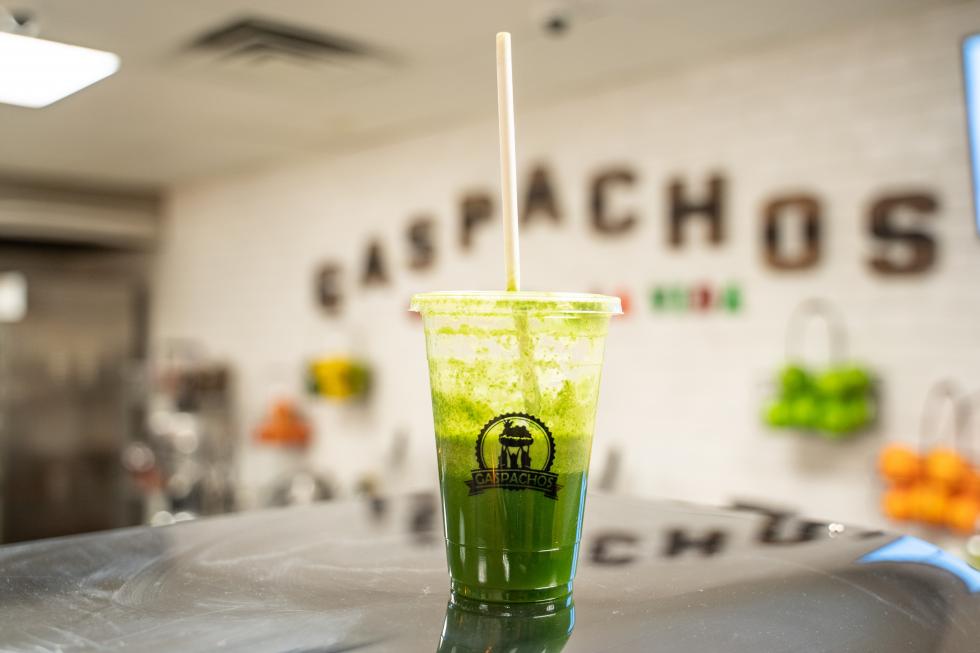 Those who visit the shop can watch the process in person. It opens at 8 a.m. every day for a mostly older crowd, who come in for Mexican coffee with a hint of cinnamon and Gaby's fresh banana bread; the Instagram and TikTok travelers show up later. Whoever the visitors are, one of the Ortiz siblings or their 18 employees (none of whom were laid off during the pandemic) will greet them at the counter with a "Welcome in" or "Bienvenido."
Behind the counter, rainbow-colored letter blocks spell out the business's motto: "Que viva la vida," or "long live life." Another mantra, "enjoy the fruits of your labor," is written in pink neon near the door. It's a frequent Instagram backdrop for Gaspachos' visitors, who may not realize how much it reflects the Ortizes' life story.
"This is not just another business," Julio says. "This is about changing culture, sharing our culture, and hopefully giving back and providing good things to our community."
–
Stay up to date on business in the Capital Region: Subscribe to the Comstock's newsletter today.