Oak Park's Broadway throbs as bass bumps from one car and another's engine belches. Someone honks their horn. Other cars buzz by well above the speed limit. This is urban living. But it doesn't have to be. Thanks to Oak Park Sol, a newly-formed nonprofit serving as an urban land trust, this neighborhood is bringing nature back to its city-dwelling folks.
Most Americans, at 95 percent, live in urban areas, according to the U.S. Census. More than half of people over age 6 don't spend time participating in outdoor recreation, according to Conservation Horizons, a report by a California Council of Land Trusts' Initiative. Kids exposed to the outdoors, according to the Child Mind Institute, are smarter, happier and less anxious. Yet, you don't have to be a kid to experience this type of respite.
I feel this instantly as I step off the sidewalk on Broadway and through the cheerful gate — adorned with colorfully-painted garden tools, kid-painted signage and happy vegetation — and cross into Oak Park Sol's community garden, known as Broadway Sol. Wildflowers bloom, bees buzz and a little boy digs for worms in the dirt. The sounds and stress of traffic fade, while peace and joy take over my over-stimulated senses. I feel calm.
Randy Stannard, the nonprofit's newly-hired executive director, greets me with a smile. Stannard holds a bachelor's degree in soil science from Cal Poly and has worked on farms in New York, Indiana and California. In Indiana, he served as an AmeriCorps volunteer; a "pivotal experience," Stannard says, where he worked with community members on environmental restoration and got his first inspirational taste of engaging residents to help heal the natural environment. Stannard recently left Soil Born Farms in Sacramento before taking the helm at Oak Park Sol.
After a quick tour of the garden's outdoor teaching kitchen, compost area and community garden plots, we pull up some brightly colored chairs to chat. This space is used for a wide range of community-based activities, including cooking classes (some of which are hosted by the organization I run: the Food Literacy Center), educational events, owl- and bat-box building; and neighbors can rent plots to grow their own food.
Stannard is passionate about land conservation, but he may be in the minority. Among millennials, for instance, who represent society's dominant decision-makers for the next 35 years, only 4 percent identify the environment as a top concern, according to California Council of Land Trusts. Stannard sees a lack of empathy for the environment from an urbanized population. "Can we give them a deep experience to make them want to value that — and fight for it?" Stannard asks, of his nonprofit.
Oak Park Sol's mission is "to help you create better spaces." They work with local residents to turn vacant or underutilized urban lots into green spaces, making it one of the country's first land trusts focused on urban plots. Land trusts, or land conservancies, have grown in popularity since the 1980s, by working with residents and landowners to preserve natural resources, including farmland and parks.
Oak Park Sol's concept bridges social justice with environmentalism using three core pillars: facilitate access to properties, assist with resident-lead design, and provide resident training and capacity-building. Oak Park Sol's programs currently focus on the first two pillars. Stannard hopes to implement the training component in 2017 when the organization has increased funding to support the vision.
"We facilitate access and control of neighborhood spaces based on the needs of residents," Stannard says. He also wants to create spaces that are safe for neighborhood kids. One of Oak Park Sol's projects includes enhancing a half-acre plot in McClatchy Park.
Related: The Market Where Everybody Knows Your Name - Oak Park Farmers Market opens for its seventh season
We're sitting in a family-owned plot that had been vacant since the 1990s. In 2011, Oak Park resident Jennifer Solis was looking for a space to build a community garden. She connected with the landowner, Earl Withycombe, and other Oak Park residents. Before long, a team was working to revitalize the once-blighted space.
By that time, Stannard had been living in his newly-purchased Oak Park home for over a year, and he signed up to help clear the plot. A few years later, Solis moved out of California for graduate school, leaving the garden without its original leader. Withycombe felt the project needed more structure, and in 2014 the effort turned into a nonprofit, with Stannard serving as board chair.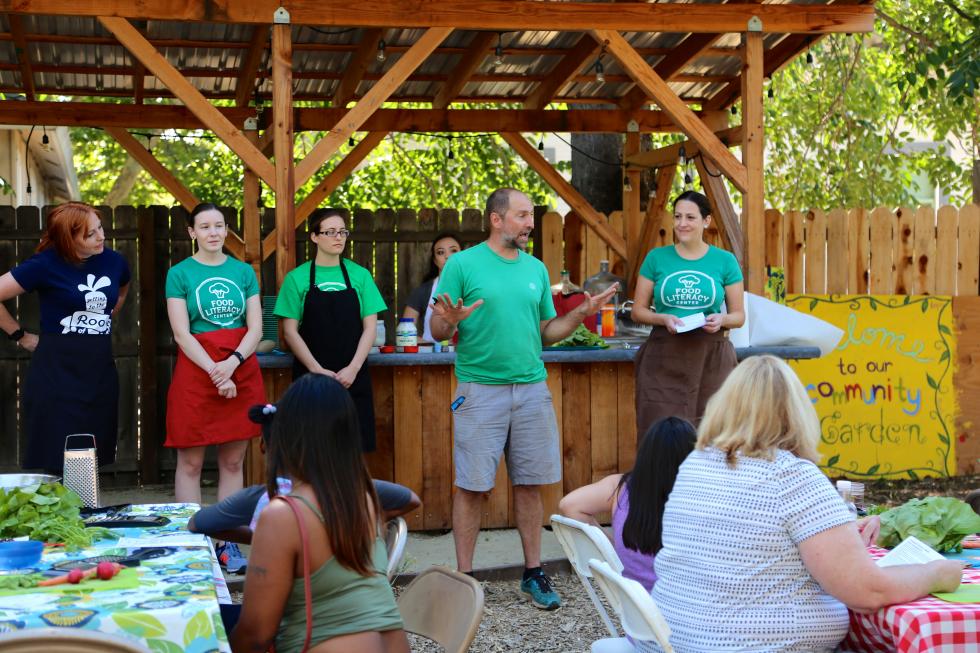 This March, Stannard became the nonprofit's first executive director. It was only a year ago that he experienced another major life change: He lost his mother. Stannard turned the tragedy into a benefit for the residents of Oak Park. He donated part of his inheritance to Oak Park Sol to pay for his salary.
The organization's $75,000 budget is also funded by the California Endowment, Junior League of Sacramento and private individuals.
Stannard and his board have expanded the original intent of the nonprofit beyond a single plot. Now that the community garden is thriving, they've set their sights on improving additional land in the neighborhood, and eventually hope to grow beyond Oak Park.
Next up? Oak Park Sol will focus on the 34th Street off-ramp. "There's a nice plot on the T Street corner, but the Oak Park side is not done," Stannard says. The project will use an encroachment permit with Caltrans to gain land access. The anticipated cost of the project is $1,500.
Stannard's first priority is to gather residents and seek feedback on their desire for improvements to that land, and if they're interested, determine what the majority of stakeholders want. He'll factor water use, budget and maintenance into the plan. Planting edibles isn't core to the nonprofit's mission, so this space could simply focus on beautification. Residents can provide input to the project through an online survey.
"We want to work with residents to determine the highest and best use of the land," Stannard says. "We're creating an environment for people to bring ideas, and see them as possible. We all lose if we can't realize this mission."