As a teenager, I sported one of those T-shirts that said, "Fútbol is life. The rest is just details." I wore it until the material turned faded and holed beyond repair. I played soccer almost year-round, read about the game and watched what little of it was televised in the 1990s. I idolized Mia Hamm. I love the sport to this day, even as I get ribbed about how "boring" it is (completely not true!) or how players flop too much (agreed).
When not playing, there's nothing better than watching a game in person. So with all the hub-bub over the Sacramento Republic FC possibly one day joining Major League Soccer, I thought I'd see what all the excitement was for myself. Although I sort of already knew: I attended the team's home debut as a member of the United Soccer League at Hughes Stadium on April 26, 2014, suffering through the bitterly cold night and running into soccer-playing friends. It was great. Before the inaugural season's end, I attended three more games, including one at the newly-opened Bonney Field. But I hadn't been back since.
I bought some cheap tickets for around $15 each and hit the stands for a game in May against the Swope Park Rangers of Kansas City. The caliber of soccer was good, the seats decent and the fans — oh, the fans. They get into it. Seriously into it. The most exuberant fans compose the Tower Bridge Battalion and confine themselves to a section behind the north goal, where they chant, cheer, stomp and wave flags for the full 90 minutes.
I consider myself a fan too, but I wondered: What makes those diehard fans tick?
Coveted Fan Base
Turns out, I know a whole bunch of them from my years playing adult coed indoor soccer around town. Like Jon Conover, who I met through an indoor team and who has been a Battalion member, along with his teenage son, since Day 1 of the supporter club's existence. "They made me feel very welcomed and I couldn't wait to be a part of this culture," Conover says. "I have grown up with soccer my entire life. To have a group of supporters with the same pride and passion is priceless."
Fellow Battalion member Drew Farmer concurs. "While we all love soccer, the primary joy is being with all my friends and making new ones every match," says Farmer, who joined the independent supporter club in 2013. He was invited to be on the initial leadership board and took the role of a Capo — leader of the chants.
Farmer also presides over the Sacramento chapter of the American Outlaws (the U.S. men's and women's national team supporter clubs) and the Sacramento River City Red Devils (supporter group for Manchester United). Could a soccer fan be more diehard? I think not. "I would love to see the Republic play at a very high level," he says. "That being said, I will always be a member of the Battalion and Sacramento Republic FC will always be my domestic U.S. club."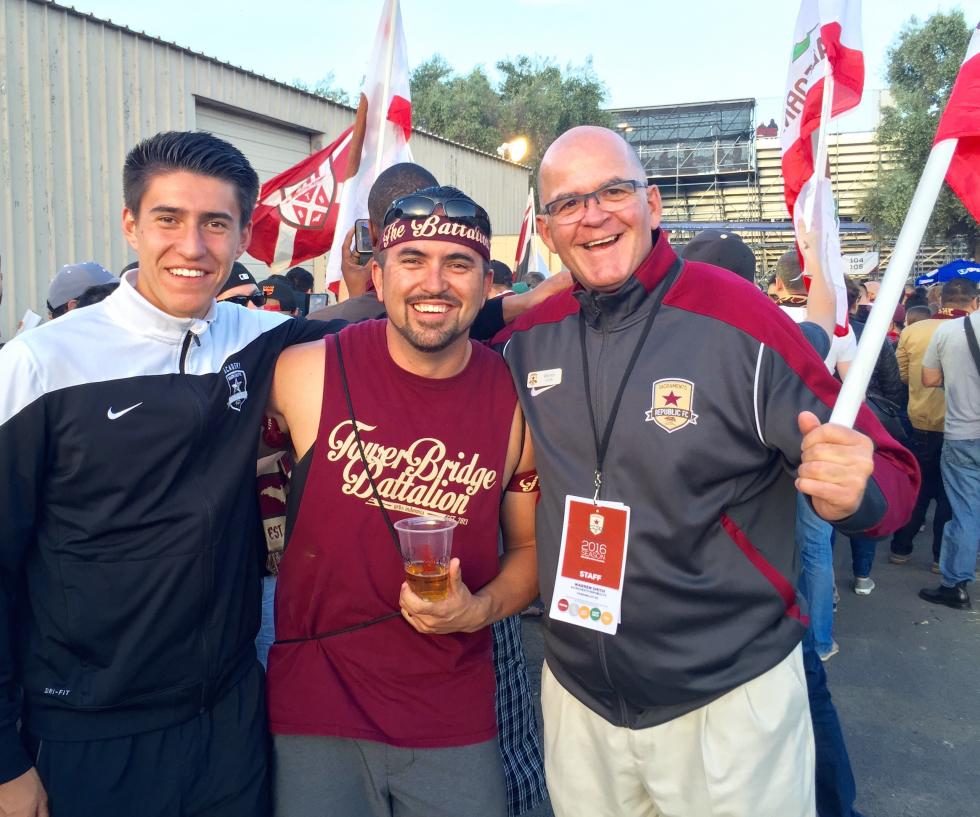 Why do pumped-up fans like Conover and Farmer matter? Because for the MLS to accept the Republic into its ranks, the franchise needs to prove its has a strong fan base — along with the coveted sponsorship base — to sustain the team over the long haul.
Founded in 1996, the MLS now has 20 teams in the U.S. and Canada with three more to soon join in Atlanta, Minnesota and Los Angeles. While the league initially struggled to gain viewers, attendees, sponsorships and lucrative television deals, it has since developed into a reputable organization — even attracting international soccer superstars, like David Beckham and David Villa, although though their careers were past twilight by the time they arrived on U.S. soil. Perhaps more importantly, now American national-team stars are playing on U.S. pitches, including Clint Dempsey, who left the English Premier League for a none-too-shabby contract with the Seattle Sounders.
Republic fans recognize their crucial role in getting Sacramento into the MLS: The team's supporters have stomped attendance records for the USL, and about 2,400 fans partied on downtown streets when MLS Commissioner Don Garber visited Sacramento in April and announced the league planned to expand to 28 teams — a hopeful sign for Sacramento.
Farmer notes another reason why it'd be cool if Sacramento gets an MLS team and builds a new stadium at the Railyards: We'd be able to host U.S. national team matches. Sounds pretty good to me.
Supporters 'Til the End
Conover easily recalls his favorite Republic experience so far: First season, semi-finals, against the L.A. Galaxy — a must-win game. With 22 minutes left, the Republic down 0-2, player Rodrigo Lopez ("RoRo") scores a penalty kick. Then, with five minutes remaining, he scores another. And then, in stoppage time (extra time, once the official clock has expired), he scores the game-winning goal. "My son was side-by-side with me and we both had tears of joy," Conover says. "It wasn't long before we pulled both our shirts off. It is a moment I will treasure as a soccer fan and dad forever."
That game also ranks as the best for season ticket holder Andrew Bradley, who recently moved from Roseville to Napa but returns to Bonney Field for home bouts. "When you're a season ticket holder, you start to get to know the people around you," he says. These season ticket holders also play a critical role in the Republic's journey to the MLS-dom.
"It would be awesome if and when [the Republic] become part of the MLS and build the new stadium," Bradley says. "But we started with the team when they were USL and we will continue to support them. I love the game, love the team and I want to continue to see them succeed with fans, and as a soccer club continue to grow."
Bradley took a break from unpacking boxes at his new Napa home to attend the May game against the Rangers. I don't see him at the game though. I'm too focused on the match — goal for them, goal for us, until our shot just barely misses at the end of the game! Nor do I see Conover in his usual attire: Tower Bridge Battalion sleeveless T-shirt, TBB bandana on his head and TBB scarf hanging out of his shorts.
For these fans, MLS or no MLS, they're fandom will live on. "This team was built for and by the community," Conover says. "The Republic has allowed fans to give so much input that has changed and formed our club — from the crest and team colors to the food and entertainment options at matches. MLS would definitely give fans the opportunity to show the nation how much we love our community and club. If that is next year, five years, 10 years, I will be there to support the Republic. Republic 'til I die."
See, that's serious devotion. I'm not quite there, but if our local team does join the MLS, I could definitely see myself sporting a Republic T-shirt — until one day when it's too faded and holed to wear.