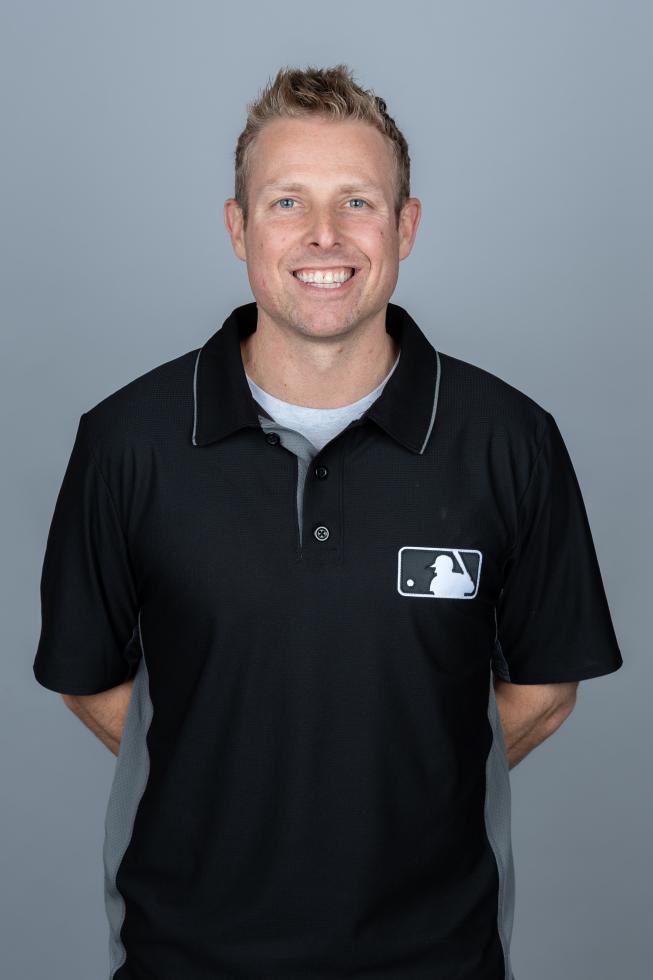 Truist Park in Atlanta — home of the baseball great Hank Aaron — was at full capacity Oct. 16 for Game 1 of the National League Championship Series. The contest was set to be played under the stadium lights and pitted the Atlanta Braves against a familiar postseason foe, the Los Angeles Dodgers, who snatched the NLCS from the home team in 2020. Besides the home and away teams, another team took its position on the field: the six-man umpire crew (a crew of four works the regular season). In Game 1 of the NLCS, six-year umpire veteran Hal "Tripp" Gibson (who Comstock's last featured in a 2015 story on minor league umpires) settled in behind home plate.
Gibson has worked in four postseasons prior to 2021, but this was his first time umpiring in the NLCS. While the stage was bigger, the game was the same. "When I go out there on a stage that I've never been on before, I tell myself 'I've done this before. It's the same game, it's just a little more magnified,'" he says. According to Gibson, there can be an advantage to working the first game in a big series; everything is fresh and there's no real anticipation. Another plus: Gibson grew up in Mayfield, Kentucky, 5 1/2 hours from Atlanta, so a lot of family was on hand to support him.
To cope with the stress of the job, Gibson goes through the exercise of removing himself from any external pressures that don't serve him. He shuns social media and keeps a positive mindset. He releases external factors he calls "thought weeds" that affect his thinking. His mantra: "I'm going to go do my best, and my best will do."
And it all seems to be working. Gibson was applauded by the TBS broadcast commentators and online critics alike for his calm, consistent presence behind the plate during Game 1. The Braves narrowly beat the Dodgers 3-2 with Austin Riley's walk-off single in the bottom of the ninth. Atlanta eventually went on to win the 2021 World Series after besting the Houston Astros in six games.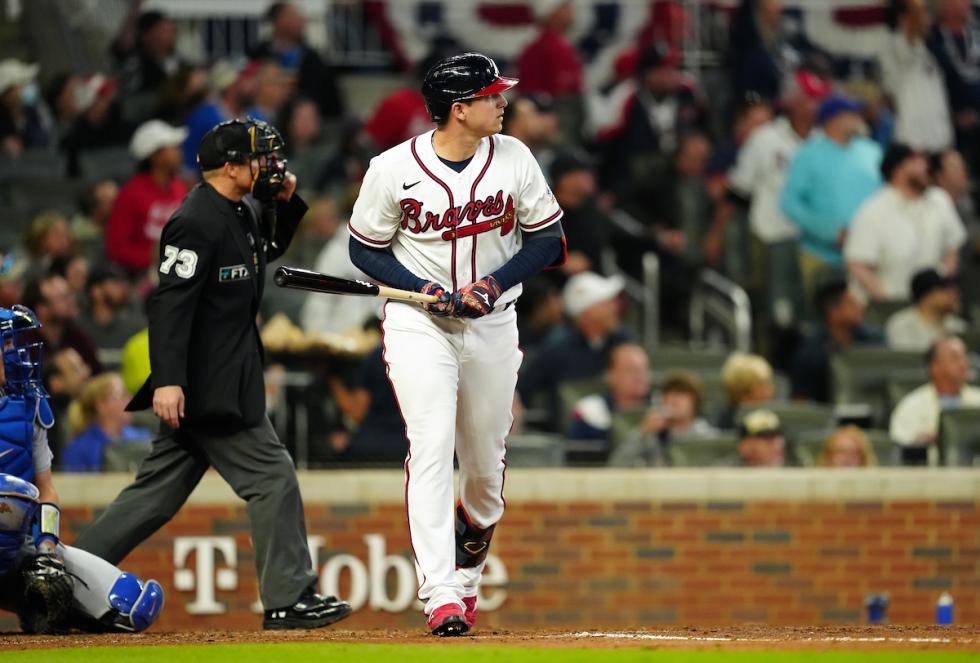 Becoming a full-time MLB umpire is difficult and rare. At last count there were just 76. On average, it takes close to a decade for an umpire to work through minor league ball before getting a shot at the majors. And that's after making the competitive cut at one of two accredited umpire schools. Gibson got the call from MLB officials in early January 2015 when he was working the Dominican Winter League. After nine years of umpiring in the minor leagues (his last minor league assignment was with AAA Pacific Coast League, home of the River Cats) and working as an MLB call-up umpire since 2013, Gibson signed an official MLB full-time umpire contract, making him one of the few who fill that elite role.
It has its perks: generous pay, four weeks of vacation, nice accommodations and the opportunity to be around some of the best in the game. But the gig also has its challenges: extended time away from family, loneliness and the expectation of perfection. On average, MLB umpires work between 120-130 games in a 162-game season. The same four-man crew works together throughout the season. Each crew chief — typically umpires with a tenure of 18-20 years — can request its crew, but the MLB commissioner's office has the final say. Umpires are assigned their own numbers and even have their own locker room at the ballpark.
"Everything you do is going to be judged. You have to be firm in your decision, but be able to negotiate from there."

Hal "Tripp" Gibson, MLB umpire
Not everybody is cut out for the job. Some personality types fare better, namely those who are independent and have the capacity to entertain themselves, be authoritative, and negotiate. With today's technology, slow-motion cameras can show a play from every angle, and the addition of VAR (Video Assistant Referee) in 2017 added another layer of scrutiny. "Everything you do is going to be judged," explains Gibson. "You have to be firm in your decision, but be able to negotiate from there."
The cost to travel between games is covered, but umpires book their own fights and hotels. The benefit, Gibson says, is staying at places you like and accumulating travel points. He describes himself as a natural explorer who loves to discover new coffee shops and try new restaurants. His favorite ballparks to work: Fenway Park in Boston, Busch Stadium in St. Louis and Dodger Stadium in Los Angeles. "I love the older ballparks, and there's just something about being in St. Louis. That park looks like it hasn't aged a day," he says.
During the season when Gibson does get the rare week off, he returns to his home and family in Washington state. The separation can be one of the most difficult parts of the job. He has been married for nearly 10 years and has two sons, ages 5 and 9. "The strongest common factor among every single major league umpire if they are married — besides the fact that they are all very good at their job — is they have a spouse at home that is strong and tough as nails," says Gibson. "They've either learned to be that way going through the minor leagues with you, or being in the major leagues with you. They are capable of doing things that would blow you away."
Gibson's wife affectionately calls his trips back home a "re-entry phase." "They are basically home without you for a certain number of weeks, then you come home and invade the space for a week when you have a little time off," he says. But Gibson treasures his family time. "You build your body up to get home at certain times and refresh, maybe catch a Little League Baseball game or a flag football game or whatever is going on," he says. "Most of the time you come back with a different perspective and you're ready to go back to work." But there are times when it's difficult to switch gears, especially when there are things going on at home, or events are missed. "There are some things I can't control," Gibson says. "I still have to go out there and do my job and totally remove what's going on at home."
But in the offseason, Gibson is fully at home. His re-entry into family life can be a bit hectic, but he wouldn't have it any other way. He relishes his time as a full-time dad and husband. When the season starts up again, he is rested and ready to go and in it for the long haul, which is important, since the average MLB umpire retires between 55 and 65, and can't start collecting their union pension until 59 1/2. Forty-year-old Gibson has a ways to go before that happens. But he doesn't mind. He will tell you he's living the dream.
–
Get all our web exclusives in your mailbox every week: Sign up for the Comstock's newsletter today!