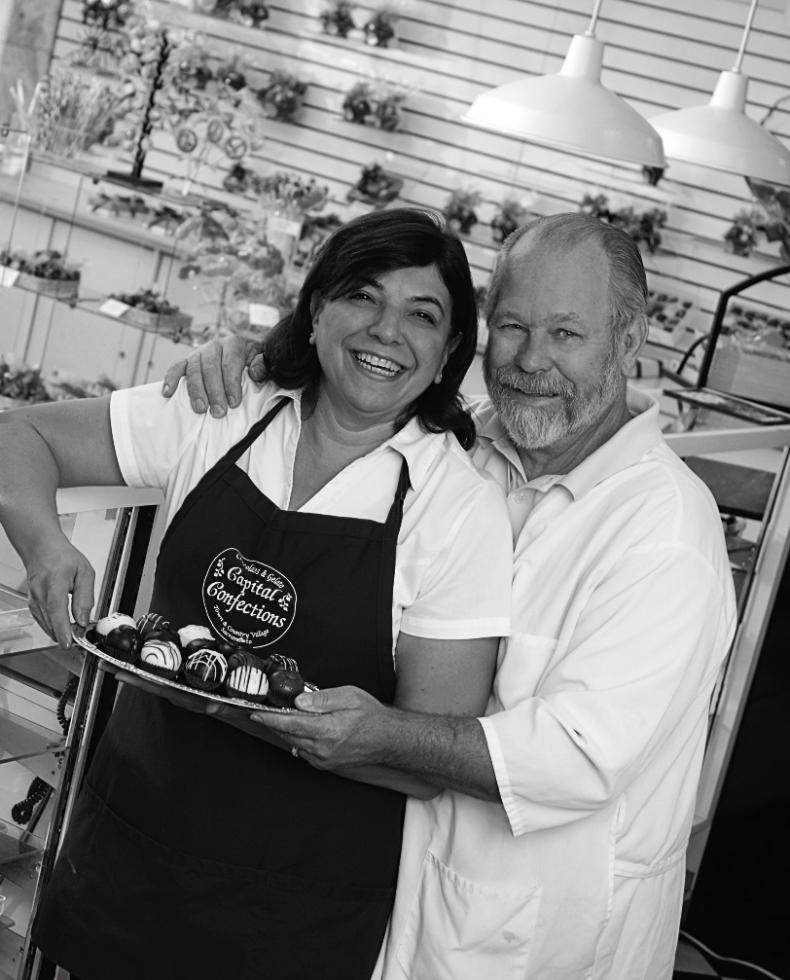 When they opened Capital Confections, a small business specializing in handcrafted chocolates, in Arden Arcade's Town & Country Village more than 24 years ago, husband-and-wife partners Teresa and Craig Higgins knew to expect the unexpected.
"We have jumped hurdle after hurdle," Teresa says. The couple has found creative ways to navigate through adversity and maintain one of Sacramento's premier candy shops.
They've faced some trials over the past decades. For instance, their air-conditioning system went out on their second day in business. It was August. That was followed by a power outage. "You can't work the chocolate without power," Craig says. Then there was the time a mixing machine broke down just before Valentine's Day, bringing everything to a halt. In 2011, when the shopping center underwent a remodel, a dump truck was left parked in front of the shop, obliterating it from sight.
"We live under Murphy's Law," Craig says. "Even stuff we couldn't imagine happening has happened." However, no one could have imagined the devastating effects of the coronavirus pandemic on businesses of all sizes. One related challenge experienced by many businesses has been the uncertainty of manufacturing and product availability.
The Higgins had long bought 6,000 pounds of chocolate each year from a longtime supplier that suddenly closed its facility in February 2021, unsure when it would reopen. It was a scramble to find other suppliers, and there are many types and grades of chocolate, each with its own chemical properties. Chocolate alchemist Craig tweaked his formulas to duplicate his ganache — a vital ingredient — and hundreds of original confections, from truffles to caramels, using the new suppliers' chocolate. "Just when you think you've got it all figured out, something happens," Teresa says.
Over the past year, the Higgins have managed to find new ways to keep the business thriving. When they had to abandon their on-site chocolate-making classes, and large corporate orders all but disappeared before Christmas, they turned to virtual chocolate tastings via virtual platforms such as Zoom and Hopin.
"We did a tasting test with a corporate group, featuring seven different chocolates and four truffles that we sent to everyone," Teresa says. "They were literally at home with their glasses of wine as Craig lectured on each sample."
The feedback was so positive that the Higgins hosted two more virtual tastings, including one involving a 60-member attorneys' conference. "I had to do online training for that one, because they broke off into smaller groups and we had to show up for each one," Teresa says.
Going forward, they plan to offer more virtual tasting classes on their website. "Our website has become another major tool in our business," Teresa says. "I never knew how important it was before. Early on, people kept Googling 'Who's open, who's closed?' Sometimes the website was updated several times a day."
The pre-pandemic model saw customers come into the store to buy specific items, but stay to browse and make more purchases. That changed with erratic store closures, "so we had to change how customers knew what we had in stock, and we did that on the website. It was a lifesaver," Teresa says.
For Easter 2020, for example, the Higgins pared down their offerings to five categories, including bunnies and baskets, and featured them on the website. Customers ordered online for curbside pickup. "Always reinvent your business," Teresa says. "You've got to stay current and change with trends and new technology."
Over the following months, "We narrowed down the items we put on the site, and they became the most popular sellers in the store," Teresa says, adding that this online presence has translated into a lot of new customers. They have also been pleasantly surprised at how well Capital Confections has done because of local support. "Since the pandemic started, it's been so culturally good for communities to keep their small businesses in business, and we were the recipient of that. So many people have come in and said, 'We're here because you're a small local business and we want to support you.'"
–
Stay up to date on business in the Capital Region: Subscribe to the Comstock's newsletter today.