It's a weekday afternoon and the Fair Oaks Brew Pub is hopping. Regulars come in for a late lunch or beer after work. Families sit on the patio, talking and eating pizza. Next door, Wild Rooster Bistro is prepping Mexican dishes for the dinner crowd while down the street in Fair Oaks Village, Shangri-la, the new Palm Springs-themed restaurant at the site of a former mortuary, welcomes customers with its outdoor bocce ball court.
Colonized in the late 1800s, Fair Oaks Village is the quaint, charming center of town. The village is tucked away under a canopy of heritage oak trees within walking distance of the American River and a few miles from busy Sunrise Boulevard. The annual Fair Oaks Chicken Festival, summer concerts and theater in the park attract people from throughout the region. With its historic buildings, colorful amphitheater murals and clucking chickens roaming free, the village could be the setting of a Hallmark movie.
Fair Oaks Village is experiencing a renaissance, largely driven by a burgeoning dining scene. "There is a kind of revitalization in the village right now," says Roselyn Barbray, president of the Fair Oaks Chamber of Commerce. "I see people meeting there — as opposed to going to a Starbucks to meet a client, they go to the brew pub."
The village took a hit when Slocum House closed in 2011, a victim of the economic downturn. Once considered one of the finest restaurants in the Sacramento area that drew crowds from all over the region, Slocum House featured a high-end menu and a romantic patio. After it closed, the village suddenly grew quiet.
Then Gary Juels came along in 2015 and opened the Fair Oaks Brew Pub at what once was a doctor's office. The pub quickly attracted a crowd. Gov. Gavin Newsom and his family, who live nearby, are frequent visitors. "It created an environment people wanted to be a part of," says Keith Wright, director of the Orangevale-Fair Oaks Food Bank and honorary mayor of Fair Oaks, a title designated by the Fair Oaks Chamber of Commerce. "And that's exactly what Fair Oaks Village needed."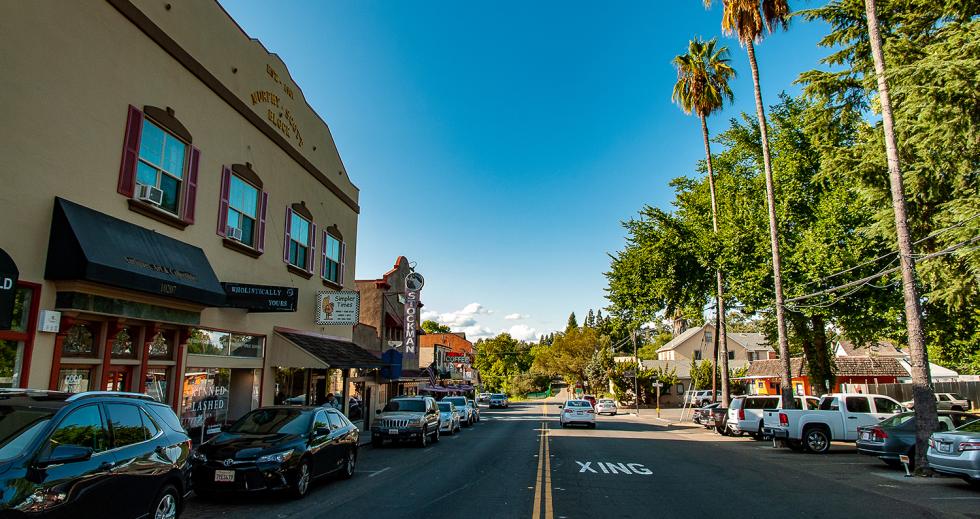 Juels, who has lived in Fair Oaks since 1995, recognized the potential. A former Marine who brewed ales and pilsners in his garage and earned his master brewers certificate from UC Davis, he didn't like driving to downtown Sacramento to visit breweries or restaurants. Growing up in a small town in Minnesota, he had fond memories of walking to the corner bar, where friends and families gathered. He wanted to recreate that atmosphere in Fair Oaks.
When the doctor's office became available in 2015, Juels snapped it up. "I wanted a place where people can go to and have fun … and have a kick-back atmosphere," he says.
Juels and friends built the bar from 100-year-old railroad wood found on the property and decorated a wall with vintage Sacramento newspapers from the doctor's office. His wife, Wei, is often serving customers, giving them samples of beers, including some brewed by Juels. The brew pub is undergoing an expansion; while the bar area — with its small tables — is lively, Juels wants more intimate seating for patrons to enjoy a quiet dinner.
Now Juels is taking on an even bigger task. He bought the former Slocum House next door in 2018. The historic building, built in 1924 for local businessman Charles Slocum, operated from 1976 to 2011. Juels plans to keep the name and restore Slocum House as a restaurant with landscaped grounds where patrons can walk around with a glass of wine.
He's started working on the neglected interior, but must follow strict guidelines for color paint and wood because the building is on the National Register of Historic Places. "I'm cleaning it, scrubbing it, some paint, trying to bring it back to life," Juels says. "The bones are in really good shape."
Just around the corner on Winding Way, Shangri-la opened this summer. Owner Sommer Peterson grew up in Fair Oaks before moving to San Francisco, where in 2012 she opened the popular Mission Bowling Club, which features artisan beer and comfort food. She returned to Fair Oaks in late 2016 to be closer to family. (Peterson has a 5-year-old daughter, Olivia.)
When she saw a for sale sign on a large corner lot at the site of a former mortuary, she was inspired. She loved the "cool" vertical windows and flat roof that had a 1960s architectural feel. She envisioned a Palm Springs-inspired resort, complete with palm trees.
Shangri-la features a 360-degree bar that opens outdoors to a 6,000-square-foot child- and dog-friendly patio with fire pits and two bocce ball courts. "In Sacramento, we love to be outside," Peterson says. "We have great weather nine months out of the year. If I was going to do something, I really wanted that outdoor space. I didn't want to just build a restaurant."
Customers can order craft cocktails, such as the Corpse Reviver, which pays homage to the former tenant, and dine on homemade pasta. "I wanted to do something different with more of a fine-dining twist, but still keep it neighborhoody and approachable," Peterson says.
Another restaurant, Wild Rooster Bistro, opened in July 2018, serving Mexican food such as street tacos, tostados and burritos. And around the corner, O Cafe opened in January 2018 with a French flair. Owner and chef Christophe Jusseaume was a pastry chef at Freeport Bakery and went on to open his own restaurant in France. Now settled back in Sacramento, Jusseaume serves pastries, including chocolate croissants and lemon tartlets, along with quiches and stuffed galettes, a thick crepe.
Along with the new restaurant scene, the Fair Oaks business community is working together to spruce up and modernize the village. The Fair Oaks Village Enhancement Commission has created new sidewalks, restriped walkways, installed new lighting and planted trees using county and federal grant money. William Mercado, co-owner of the William Charles Salon and president of the commission, says FOVEC also has posted street signs, called Way Signs, that direct drivers around the winding village. Their next project is to add parking.
Mercado says FOVEC wants to attract the right mix of businesses to the small-town feel but unique enough to attract outsiders. Wright says a good example is the Sunflower Drive-In, a vegetarian restaurant that's been around since 1978 and is well-known outside the area for its nut burgers and tacos.
Carolyn Fisher and her husband, Vince Nicholas, of Citrus Heights were married at the park in Fair Oaks Village after Vince discovered the village when a friend invited him to Fair Oaks Coffee Shop & Deli.
"It's just off busy Sunrise Boulevard, but as soon as you enter the village square, it's like stepping into a different world," Fisher says. "It's a charming, quaint, insulated little area. It's our favorite place to go for a romantic date, but it's also perfect to spend the day there with our kids too."