Inside a fortified concrete building surrounded by barbed wire fence and "Restricted Area" warning signs is one of Sacramento County's best-kept secrets — an active nuclear reactor. No, not Rancho Seco, the decommissioned nuclear power plant in an isolated rural field near Herald. This nuclear reactor sits next to big warehouses and airplane hangars along the busy runway of Sacramento McClellan Airport near Interstate 80.
Built by the U.S. Air Force in 1986 for $20 million, the McClellan Nuclear Research Center is now owned and operated by the UC Davis. Inside, scientists conduct high-tech experiments that affect the future of space exploration. The center, says director Wesley Frey, has the two largest neutron radiography bays in the world where nuclear X-rays are performed on the most critical parts of spacecrafts — pieces that could doom a mission if flawed.
NASA comes here for its Mars Exploration Rovers and Orion projects, as does the U.S. Department of Defense, Elon Musk's SpaceX and Jeff Bezos' Blue Origin, for the most in-depth evaluation of their equipment that could either make or break one of their revolutionary space missions. Boeing, Lockheed Martin and Grumman also use the center.
"In a given year, we have somewhere on the order of half a billion dollars worth of aerospace equipment coming through the facility," Frey says.
Making Sure Parts Work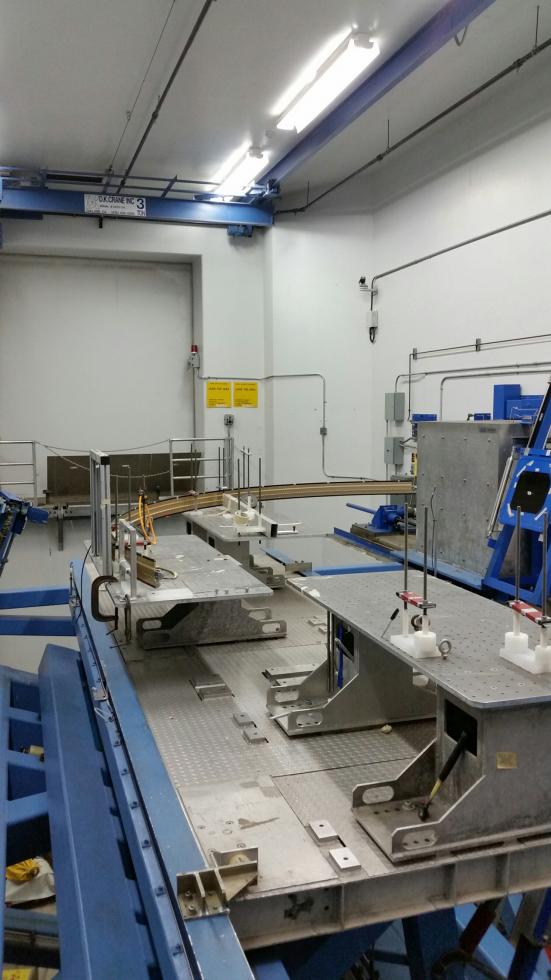 The McClellan Nuclear Research Center became operational in 1990 and the Air Force used the facility to examine the wings of F-11 jet fighters. They needed an X-ray machine big enough to examine an aircraft's wing, and specific enough to detect corrosion and the tiniest flaws before flight. The Air Force built a TRIGA (Teaching, Research, Isotopes, General Atomics) nuclear reactor at the site that takes nuclear-powered X-rays that are more transparent, clear and precise than a typical X-ray.
UC Davis acquired the center in 2000 when the Air Force no longer needed the 2-megawatt reactor but wanted to keep it running. They sold it to the university for $1 and the federal government gave the university $26 million to keep it operational (Frey says revenue now offsets the majority of operating costs, with the rest of the funding coming from the university and grants). The center is licensed and monitored by the Nuclear Regulatory Commission; it is not permitted to produce electricity.
The McClellan reactor images small but critical aviation parts such as initiators, frangible rings and explosive bolts used for rocket launches. Frey says you don't want to send a half billion dollar aircraft into space with a payload without knowing if the parts work.
"Aerospace relies a lot on things that absolutely, positively have to work once," Frey says. "Things like explosive bolts for stage separation, for when solid rocket boosters break away from the space shuttle. Explosive bolts are only used once, but they absolutely, positively have to work once or else you have catastrophic failure of the aircraft."
For the X-rays, the aircraft part is put in an aluminum tray and placed on an imaging block inside the cavernous radiography bay. A picture is taken while invisible neutrons zap through the part. The image is then captured on film and printed.
"(The) door closes to protect everyone from radiation from (the) reactor," Frey says. "That big block pulls back and neutrons come through. The beams come out at a 20-percent angle and goes through the parts. We measure different areas how many neutrons come through versus how many neutrons don't come through, just how an X-ray works."
The neutron image is then sent back to the client. Sometimes they ask Frey's crew for an evaluation. Other times they evaluate the image themselves.
The center is constructed of fortified concrete to protect the reactor due to its close proximity to McClellan's busy runway, which is home to CalFire's C-130 firefighting aircraft and private airplane and jet companies. Inside, there are four work bays protected by more huge, concrete hangar doors that are electronically shut for safety when the nuclear reactor is in use taking an image. Inside Bay One, the largest nuclear imaging room in the world, sits a very large robotic arm capable of holding an airplane wing, as it did when the Air Force used the facility. Now small bolts are imaged there but have just as much importance.
The reactor sits on the second floor of the building in a 30-foot pool of cooling water that's a deep, vivid shade of blue. A see-through grill platform surrounds the top of the reactor for visitors to look into the swirling, glowing blue waters below filled with uranium 235 fuel. Frey says this reactor is not designed like the one at Chernobyl, the site of the world's largest and deadliest nuclear disaster. "Our reactor can't blow up, and it can't melt down," Frey says.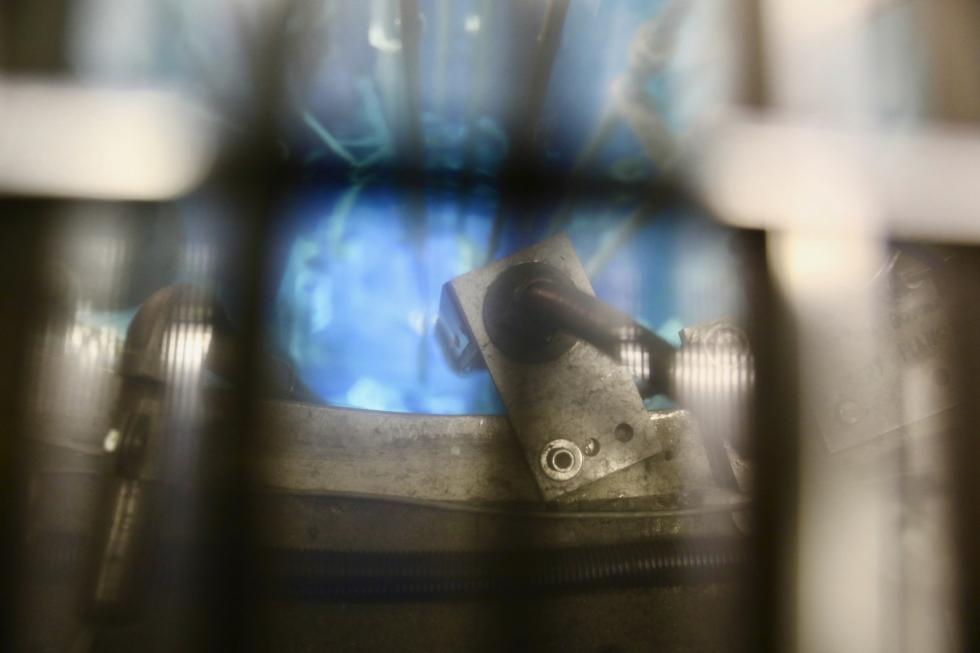 An Educational Tool
Retired Admiral Mel Williams Jr., a former fleet commander and nuclear submariner for the U.S. Navy, was brought in by UC Davis in 2016 to help Frey develop a strategic plan for the center. It included the Nautilus Program, named after the world's first nuclear-powered submarine, which teaches nuclear power and STEM education to local schoolchildren. About 1,000 students from 7th grade through college come through the program each year.
"Many of today's students think in terms of Google and Amazon and those sort of opportunities, which are good. (But) many of them have not been exposed to opportunities exposed with national defense, national security, space exploration and other STEM-related fields," says Williams, adding some students have been placed in those fields after their Nautilus experience.
Chad Kitzmiller, a physical science teacher at Douglass Middle School in Woodland, brought his Science Club students to the center twice. They had three 45-minute sessions learning about the reactor, nuclear science and how the imaging occurs. "We're trying to expose them to a wide variety of options," he says.
Frey and his crew come in each morning, sign a sheet that authorizes they are qualified to operate a nuclear reactor, check the equipment on the 1980s control panel, inspect the reactor, temperature and ventilation, and flip the switch to turn it on. If schoolchildren arrive early enough, they get to flip the switch.
Williams says the center remains busy with business, and Frey and his crew joke that someday they hope to see Elon Musk pull up in a Tesla to check on his SpaceX parts. "In a little nondescript building with a barbed wire fence around it at McClellan Business Park, we actually do a lot to support a much, much larger industry," Frey says.
—
Discuss this story and others on our Facebook page; "like" Comstock's on Facebook by clicking or tapping here.