Looking to boost Woodland's downtown, streamline bus routes and combine transportation options, the community is evaluating a proposed $4.9 million transit center. The first step is figuring out just where to build the facility.
The center could strengthen the city's historic core, which has more than 400 buildings dating from the 1860s to the 1940s, and where a fresh generation of entrepreneurs is setting up shop and creating a renewed sense of place.
City of Woodland officials, Yolo County Transportation District representatives, consultants and residents are involved in reviewing six potential sites for the center. They're also offering input about priorities for the facility, including pedestrian and bike access, ease of bus transfers, traffic minimization and creating a public space that serves as a gateway to downtown Woodland.
"We're considering a transportation center closer to downtown instead of out at County Fair Mall," says City Engineer Brent Meyer. "Right now, we're taking comments about the sites identified in the transit study. We want to hear views about what's positive and negative about the potential sites. We're also looking at where people live, work and go to school and what their transportation needs are."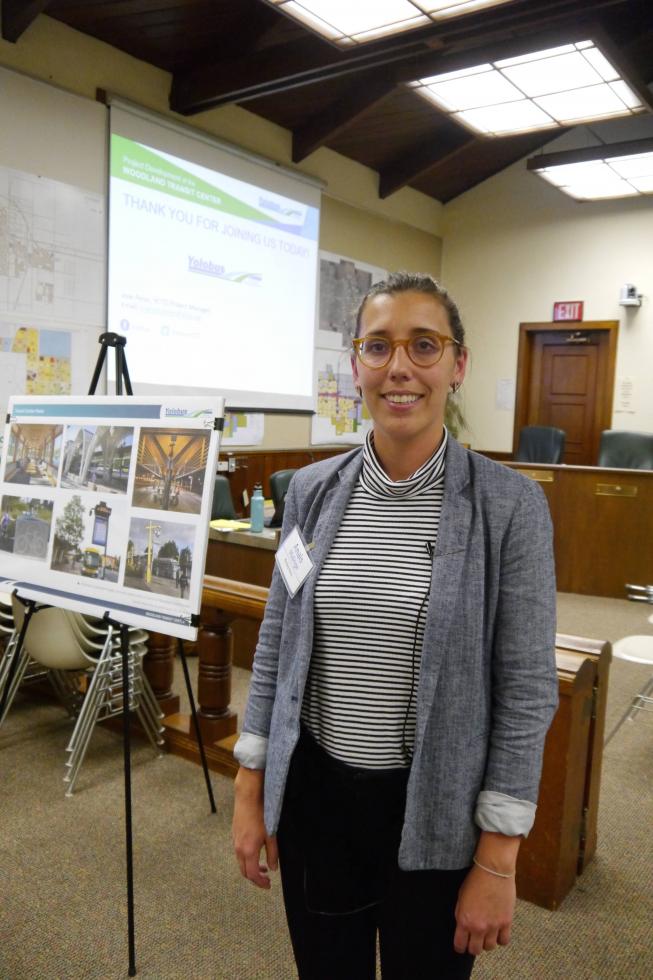 Planning began in 2016 with the Woodland Transit Study to assess public transportation needs over the next 20 years. One recommendation from the study was to relocate the existing transit center from the mall to downtown and promote more efficient bus routes and increased activity in the central city.
The project is a study in community planning and the collaborative process to engage leaders, landowners and citizens in making decisions about public projects. The City and YCTD plan to identify a preferred site for the center by fall after a second community meeting and focus groups. The center could be completed in five years on an aggressive schedule, according to Anais Malinge, of Kimley-Horn planning and design consultants.
Following the transit study, the City is working along with YCTD to centralize transportation and minimize "out of direction" travel for Woodland buses by offering more expedient pulse routes where buses operate on a similar schedule and allow for easier transfers. Up to five pulse routes would run at 30-minute and 60-minute frequencies.
The possible sites for the transit center are: Main and 4th Streets, Main and East Streets, Armfield Avenue and A Street, Armfield Avenue and E Street, the Sacramento Valley Historical Railways Depot on Lincoln Avenue and Sixth Street, and 3rd and Court Streets. All of the proposed sites are closer to downtown than the current hub 1.2 miles away at the mall.
Woodland's downtown has experienced a surge of new business in recent years as entrepreneurs join stalwarts like the Daily Democrat newspaper and Skate or Die board shop, the latter of which has been around for more than 10 years. Dixie's Paws and Claws, Elysian Brewing and Morgan's are among the businesses on Main Street along with the renovated State Theater. The State Theater reopened in the summer of 2017, beginning a new era for the 1937 art deco movie house, which now includes 10 screens.
Centralized transportation could help residents "shop local," says Kristy Wright, CEO of Woodland Chamber of Commerce. "Integration with the downtown core is key, and the center will definitely be beneficial for our businesses." From Wright's perspective, priorities include safety, security, walkability and parking access.
"There's hope the transit center would be a catalyst for further development and bring more activity downtown," Meyer says. He notes some concerns about "nuisance activity" and vandalism downtown and says a vital transit center open from 7 a.m. to 7 p.m. would focus more attention downtown. "The transit center could also have a variety of uses, including retail."
Malinge says the transit center could benefit downtown. "When coordinated with City policies, the transit center could support different uses, spur adjoining development and add safety and security," she says.