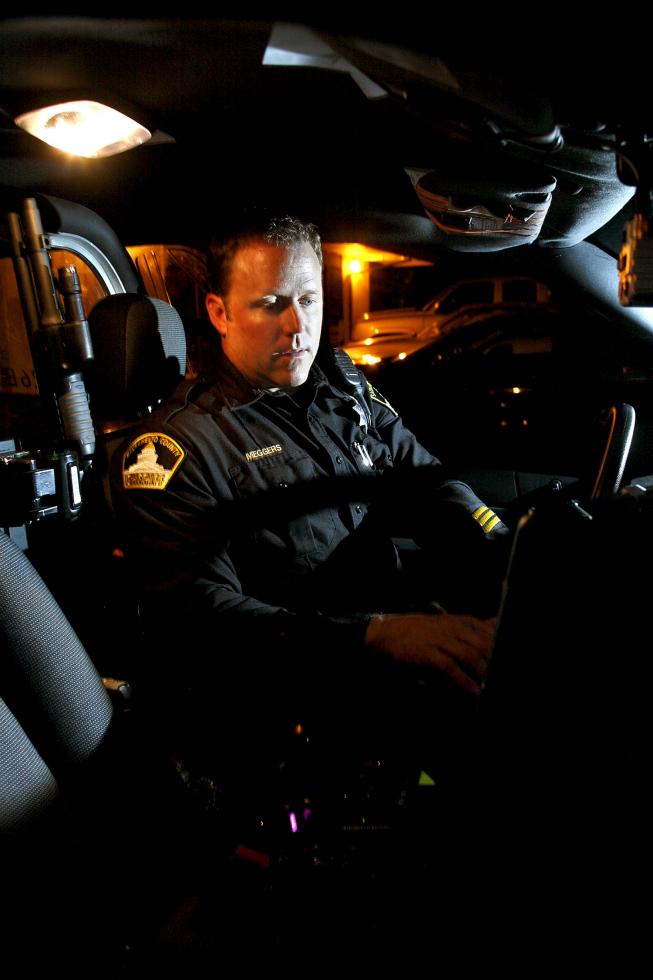 It's the middle of the night, and the whole world is sleeping — except for the nearly 24 million Americans who are working the night shift.
They are up and about in patrol cars, airplanes, emergency rooms and all-night diners, switching work and sleep hours, sometimes several times in one month –– and some of them are not doing so well. The one in five American workers whose schedules go against the cycle of days and nights are confusing their body clocks: Their brains are telling them they should be asleep when their minds want to be awake.
The potential hazards of working at night hit the news this spring when a half-dozen air traffic controllers working alone in the wee hours were discovered asleep on the job. Some were unresponsive to planes looking for landing instructions at airports, including the Ronald Reagan Washington National Airport, only miles from the White House. Another was discovered watching a movie.
At Sacramento International Airport, where about a dozen flights arrive and leave between midnight and 6 am, there was no apparent problem, according to a Federal Aviation Administration spokesman. There have been two controllers on duty overnight there since April 14 –– a situation the FAA quickly made mandatory at airports that only had one person working overnight.
The FAA also set new regulations requiring a minimum of nine hours off between shifts, prohibiting back-to-back shifts and swapping shifts without a nine-hour rest period. It's considering a controlled napping program to help combat night shift fatigue.
There were no air accidents or injuries related to the events this spring, but fatigue has played a role in past aviation disasters. Since 1993, there have been 14 aviation accidents related to fatigue with more than 200 fatalities.
Going against the clock and the perpetual sleepiness it causes makes night a dangerous time. People are most likely to make mistakes and cause production errors in the predawn "window of circadian low," reports Circadian Technologies, an organization specializing in information and education for the 24/7 workplace.
Research suggests that executive thinking, the ability to form plans and make decisions and choices, is particularly impaired by sleep loss. It seems we become less able to deal with new events and changes and less able to evaluate risk.
We also lose some emotional control. When researchers at Harvard University and UC Berkeley kept adult volunteers awake for about 35 hours, MRI scans showed that sleep deprivation impaired the "rational" prefrontal cortex's control over the amygdala, the brain's emotion center.
This is bad news for pilots, military com-manders and parents of small children. Perhaps it also ex-plains why casinos eager for your dollars stay open all night.
Studies and the news confirm that illness, errors, accidents and just plain bad judgment are much more prevalent on the night shift. That includes everything from minor on-the-job injuries to an increased risk of cancer, death and a major disaster.
Errors of inattention can be costly or even deadly. Production drops by an estimated 5 percent and the risk of sustaining a serious injury is 43 percent higher on the night shift than on the day shift. Fatalities from human error are especially high during the night hours with work-related deaths more than twice as likely to occur at night.
The times of major disasters tell the tale: The Three Mile Island nuclear power plant crisis started between 4 and 6 a.m.; the meltdown at the Chernobyl nuclear power plant began at 1:23 a.m.; the Bhopal chemical plant explosion in India was at 12:40 a.m. The Titanic hit the ice floe at 11:40 p.m., and the Exxon Valdez oil spill occurred at 12:04 a.m.
Almost all shift workers suffer the consequences of night work and shift work. It's especially hard on those who work rotating shifts, and no wonder. Inner clocks can adjust, but it takes days. One week, it's 8 a.m. to 4 p.m.; then a schedule could change again from, say, midnight to 8 a.m.
At the Sacramento County Sheriff's Department, where some 300 work the night shift, including about 60 who are on patrol, there is no mandatory rotation. Most work four 10-hour overnight shifts, then have three days off. Deputies assigned to jail duty work a 12-hour shift with three days on and three days off. The result is "they have as regular a schedule as someone working 9 a.m. to 7 p.m.," says Deputy Jason Ramos, the department spokesperson. "Many volunteer for it, and stay on it because it works for them."
Other officers, including Ramos, face a different challenge: being wakened by a crisis and having to perform immediately. They can be deep in sleep, the phone rings and it's time to work.
Production drops by an estimated 5 percent and the risk of sustaining a serious injury is 43 percent higher on the night shift than on the day shift.
Medical professionals who know the hazards of fatigue are not immune to sleep deprivation. Working long hours and shift work are the norms for a medical residency and the health care workers who staff emergency rooms, but studies are showing lack of sleep has about the same effect on doctors as alcohol. In fact, fatigued residents function as if they'd had three or four cocktails.
In one study, 34 doctors who had been on call took part in the tests under four different situations, such as working mostly day shifts with only a few overnight calls or working intense overnight shifts that added up to about 80 hours in a week. For some of the tests, the doctors were given alcoholic drinks or nonalcoholic placebos.
After a month of difficult work schedules, the doctors showed reaction times that were 7 percent slower than their responses after working a lighter schedule. In a driving simulator, doctors coming off a month of working nights showed skills similar to those who had an easier schedule but who had a blood-alcohol level just below the legal driving limit. What's more, these doctors were 30 percent more likely to be unable to maintain a steady speed in the driving simulator compared to well-rested doctors who had been drinking.
The other troubling finding: Many sleep-starved residents don't recognize they're impaired. The concern isn't new. An 80-hour limit of 24-hour continuous duty time for a resident doctor's workweek was introduced in 2003. This summer, new regulations will limit shifts to 16 hours for new residents and require fatigue monitoring.
The UC Davis Medical Center has mandatory fatigue awareness education and monitoring programs for employees who work the night shifts, says spokesman Charles Casey. Many units in the hospital allow nursing staff to combine break and meal times for up to 75 minutes of rest or sleep per shift, he says. Medical center residents can nap between handling emergencies in one of 40 new call rooms, and last year the medical center began allowing residents to take a taxi home if they're too tired after an all-night duty.
No matter how great the effort, many of us do not adapt to a night-for-day switch. We don't adjust to having our clocks out of sync, even after 20 years on the job. "We're not nocturnal by nature. I can speak, having worked the graveyard shift, that even when we're accustomed to it, we get tired," Ramos says.
Of course, night work isn't the only thing depriving some of us of sleep. Jet lag, stress, sickness and trauma (physical and mental) also upset our inner clocks, and some of us are born with clocks out of whack or with the genes for time-related illnesses.
Chronobiologists study the effects of biological timing and find sleep disturbances connected with many conditions, from cancer to Alzheimer's. There is also a rare genetic condition that puts its sufferers permanently in another time zone. Familial advanced sleep phase syndrome, or FASPS, is a condition in which sufferers run about four hours before everyone else, waking very early and falling asleep in the early evening.
Resetting the body clock isn't as simple as changing the time on your bedside alarm clock: Your brain just isn't that nimble. Anyone who's traveled across three or more time zones knows how true this is. Chronobiologists say it takes days or even weeks to adjust to changes in time zones, or in a different time or length of a work shift.
Low lights at night may add to the problem. Often, occupational safety laws require only 500 lux or so (one lux equals one lumen per square meter). Researchers have found the transition much easier when the workplace is bathed in at least 1,200 lux of light, which is what would be found in a bright office. And the bright lights of dawn create another problem. Each morning, when the night shift should be slipping into sleep, daylight is telling the brain it's time to get up and go.
When this is a rare occasion, such as in jet lag, your body clock eventually syncs again. But shift workers and other night owls whose schedules go against the grain have a problem, even if they get plenty of sleep during the day. Functions ruled by the master clock in the brain such as blood pressure and body temperature will continue to slumber at night even if the mind is awake and the other body clocks are set to a different time zone. It's as if bodies and brains are living in many different time zones all at once, and it takes a toll. Shift workers have a higher incidence of many diseases including, of course, sleep disorders.
---
Excerpted and adapted from "The Scientific American Day In the Life of Your Brain" by Judith Horstman. Copyright © 2009 by John Wiley & Sons Inc. and Scientific American. Reprinted with permission of the publisher, John Wiley & Sons Inc.
I have an especially stupid case of insomnia, but we as a society are rotten sleepers and I'm not alone. Since doctors recommend seven to eight hours a night, about half the population is sleep deprived. We're a nation of walking zombies.
It is 2 p.m. on a Friday, and a techno beat pulses through speakers resting above two cubicles. On a desk are four pizzas, three bags of bread sticks and an opened liter of Mountain Dew.