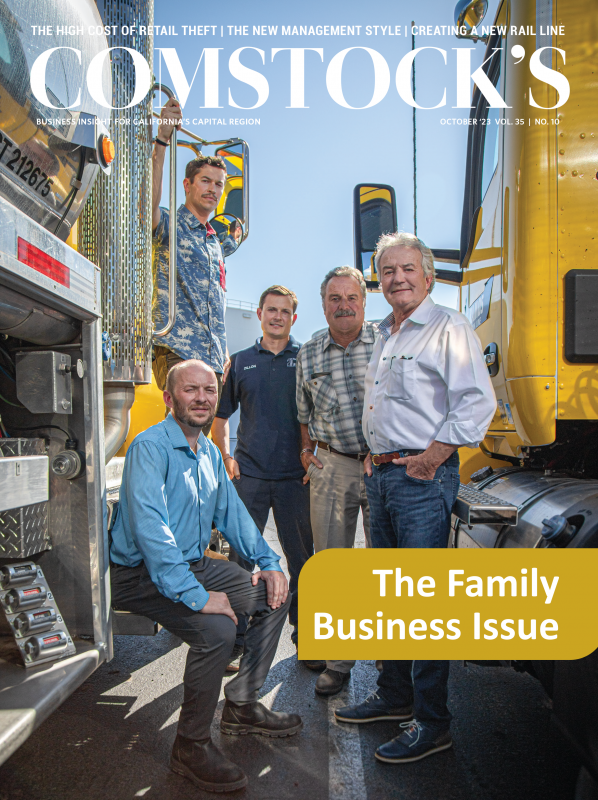 This story is part of our October 2023 print issue. To subscribe, click here.
All sagas have to begin somewhere. For Angelo Tsakopoulos, it was nighttime when he heard people crying on the upper deck of the ship that brought him, at 15, and hundreds of other immigrants to the United States in 1951.
"I thought maybe they were sending us back, and that's why the people were crying," he recalls. Then he went topside to see what the commotion was about. The ship had paused in New York Harbor near the Statue of Liberty.
"The people, mostly older ones, were crying for joy because they had at last reached America," he says. "They knew their lives were about to change for the better."
He smiles. "Mine did," he says with a wide, clearly grateful grin.
This is not a man given to preening about his success. And while he's still affected by the memory of that moment just off Liberty Island, he says he was "too young at the time to be anything but excited." His father hadn't wanted him to leave their home in Rizes, a little farming village in Arcadia, Greece. "But my mother talked him into it," Tsakopoulos recalls. "She was a very strong woman."
If ever a man, along with his life's work, fulfilled the promise of the American dream, it's Angelo Tsakopoulos.
If you've lived in the Sacramento region for a number of years and served on any number of nonprofit boards and charitable organizations, you know that whenever you faced a budget crisis, chances are good that someone on your board said three prophetic, hopeful words: "Better call Angelo."
Tsakopoulos, who turned 87 in August, is one of those rare community icons immediately identifiable by only his first name. Compactly built with a still-energetic walk — he's a former runner and does a few Pilates workouts each week — his every move, gesture and anecdote are those of a lifelong enthusiast and born raconteur. He's also a self-made scholar who takes enormous pride in his Greek culture and quotes liberally (and accurately) from Plato, Aristotle and Socrates during a chat that seemingly has nothing to do with those ancient philosophers, and yet has everything to do with them.
Acknowledging — with disarming modesty, once prodded — the contributions he's made to the Sacramento region and beyond through his philanthropy, Tsakopoulos says, "Well, there's an Athenian proverb that says we should leave a city better than it was when we found it. This is something I truly believe and practice."
The younger years
Years ago, when Tsakopoulos' characteristically boyish energy was still chronologically boyish, people took an instant liking to this young man who wanted to work hard and earn enough to bring his family here from Greece. He speaks lovingly of William and Mary Fitzer, whose family lived nearby when Tsakopoulos bunked with his aunt and uncle in Lodi. (He had also lived with an aunt and uncle in Chicago, where he shined shoes to help out the family.)
"My uncle said, 'Take some of our grapes to the new neighbors,'" Tsakopoulos recalls. He did so and stayed to chat with the couple, who had two adopted children and were devoted to education. "They thought I should know more about the world," he remembers.
In fact, William Fitzer had served as the military governor of Heidelberg, Germany, after World War II, named to that post by the U.S. State Department. The family remained in Heidelberg until 1952. (Even as a boy, Tsakopoulos, who has befriended and hosted U.S. presidents at his home, knew VIPs.)
After a series of young-man adventures, including renting a room for 50 cents a night in a rundown section of a nearby town, Tsakopoulos was invited to dinner at the Fitzers. "They were shocked to hear where I was living and invited me to spend the night." He didn't leave for quite some time — years.
"Mr. Fitzer even signed my report cards because my uncle couldn't see well enough by then," he says. "And one night, as he was reviewing my report card, he asked me where I planned to go to college.
"I had never even thought about college," he continues. "I thought I'd get out of high school, start earning money and send it home. But Mr. Fitzer wouldn't hear of it. And that's how I wound up attending Stockton Junior College, then Sacramento State."
Sac State made a big impression on young Angelo — enough so that 60-some years later, he established the Tsakopoulos Hellenic Collection there. Considered a vital local amenity, it also draws scholars from around the world to peruse its more than 80,000 volumes of rare books, art and artifacts; its focus, of course, is on Greek history and culture.
These days, Tsakopoulos is hoping to build, in concert with UC Davis, the Center for the Study of Aging, which would be sited on a parcel partly in Sacramento and partly in El Dorado counties.
Growing his business
Tsakopoulos was selling real estate as a young man when he was advised by a veteran realtor to invest in and sell land, not homes.
"I drove down Highway 99 and asked for a map of the area at a gas station," he recalls, adding with a wink, "They used to give you maps in those days." He says he then compared the current map with a much older one of the same area to see where the region's growth had occurred. "It turned out that the common denominator was transportation," he says. "People moved to where they had access to a freeway or bus or airport. More than anything, this shaped how and where I would invest." He would deploy the same tactic along Highway 50, from Sacramento well into El Dorado County.
"I have probably learned more from Angelo than anyone else in my life," says Lou Vismara, a retired cardiologist, political consultant and co-founder of the MIND Institute, which studies autism. Tsakopoulos donated more than $8 million to start the facility, also associated with UC Davis.
Vismara is co-author, with Michael Benick, of a book on the condition, "The Autism Full Employment Act." Each author has a grown child affected by the syndrome. "When my son Mark was first diagnosed, I didn't know what to do and didn't want to tell anyone," Vismara recalls. "But I told Angelo. About two days later he knocks at my door and asks what he can do to help."
Vismara and Tsakopoulos have been friends for more than 45 years, Vismara says. They were introduced by Vismara's then-neighbor Art Agnos, a former California assemblyman and mayor of San Francisco. "Art figured since Angelo and I were both immigrants," (Vismara came to the United States at the age of 7) "we'd bond in some way. We did, but for reasons other than our immigration. We both came from poor families who placed great importance on education."
Tsakopoulos and Vismara also went through painful divorces at the same time decades ago and commiserated with each other, Vismara says. "He gave me very useful advice in dealing with my children during a very difficult time. He said, 'Be sure to tell your kids stories about when you were a kid. That makes them feel more comfortable about themselves and about life going on.'"
Tsakopoulos had four children with his first wife, Elaine, and two with his wife of the past 38 years, Sofia, whose philanthropy contributed greatly to the $28 million stunning resurrection of the B Street Theatre, now on Capitol Avenue and formally known as The Sofia Tsakopoulos Center for Performing Arts.
The developer's daughter, Eleni Kounalakis, is California's lieutenant governor, first elected in 2018. Asked if he thinks she'll run for governor if current Gov. Gavin Newsom decides to run for president someday (as political insiders have been exhaustively predicting for the past two years), the proud papa grins broadly and says, "Of course! Why not?" He then makes a rolling hand gesture that implies "And why stop there?"
Tsakopoulos's son Kyriakos, who worked with Vismara on starting the MIND Institute, says, "My dad's emphasis on education and striving to reach my potential" has had a major impact on his life and career.
"My father taught me specifically to focus on Aristotelian philosophy and Western principles — such as the use of logic and reason to determine virtue and how to act," he says. He adds that he was taught by his father to tolerate "opposing views that prove, after exhaustive debate, to be nevertheless diametrically opposed to my own beliefs."
Kyriakos was asked by his father to serve as president and chief executive officer of AKT Investments and Development in October of 2008. He became co-chair with his dad of the family business in 2018.
Builder and developer Sotiris Kolokotronis was 5 years old when he first met his Uncle Angelo, who was visiting relatives in Greece. "I remember being surprised at how young an uncle I had," says Kolokotronis, who'll be 65 this year. "And he still seems that way."
"One of the things I loved about him," Kolokotronis says, "was that he used to travel to our little villages at least once a year and just spend time with the people — his people. He'd play cards with guys he went to grammar school with. And his generosity was wonderful. He bought computers for the school; he paid for the funerals of people who couldn't afford to."
"Angelo is well known for his generosity," Vismara says, "but it's something a little deeper than that. He says that when you give something to your community you're also enriching yourself."
"I am having too much fun to even consider retiring," Tsakopoulos says at the conclusion of this interview at his modest offices off Highway 50 near his beloved Sacramento State. "There is so much more to do for this region. Sacramento can become a hub of learning and philosophy, a new version of ancient Greece. I like being part of it." And on that note, the saga continues.
A Greek Who Gladly Bears Gifts
For decades, Tsakopoulos' company has created signature master-planned communities and other developments in the Capital Region. Among them are: Laguna Creek, Laguna West and Laguna Stonelake in Elk Grove; various residential and office projects in Sacramento's south Natomas and north Natomas; a host of residential developments in Folsom, including Natoma Station, Lexington Hills, Willow Creek and Estates and Russell Ranch; and Anatolia, a 1,225-acre, 3,016-unit master planned community — the first built in what's now the city of Rancho Cordova.
- Tsakopoulos has a poster of President Harry S. Truman in his office containing that famous remark about being in charge, "The buck stops here." Truman, Tsakopoulos says, "made it possible for many of us to come to the United States from all over the world." He's referring to the Displaced Persons Act of 1948, which granted visas to thousands of European refugees. "He was a great president," the developer says. He pauses, then adds, "and America is the most generous country in the world."
- Tsakopoulos quit cigarette smoking 45 years ago. "It sounds terrible what made me decide," he says. "When I was a younger man running a mile meant absolutely nothing to me. But one day I was chasing a pheasant through a clearing. I was hunting and had wounded it. So I am running after it. All of a sudden I'm out of breath, I'm sweating and I am breathing fire!" He does a seriocomic gesture of choking. "This was what finally convinced me it was time to quit."
- Cathy Tsakopoulos, Angelo's niece who owned the still-missed Greek Village Inn restaurant from 1998-2011, says that her uncle "would eat there all the time and refer our catering business to dozens of companies and families." She says her uncle "always gave me advice, and all of it was great. But my favorite was when he said, 'Cathy, don't ever jump the gun!' He just meant I should always think things through." She laughs. "I haven't always followed it, but when I have, things went really well."
- Asked to share his favorite moment with his father, Kyriakos Tsakopoulos doesn't hesitate: "Hearing him sing on his 87th birthday."
–Ed Goldman
–
Stay up to date on business in the Capital Region: Subscribe to the Comstock's newsletter today.