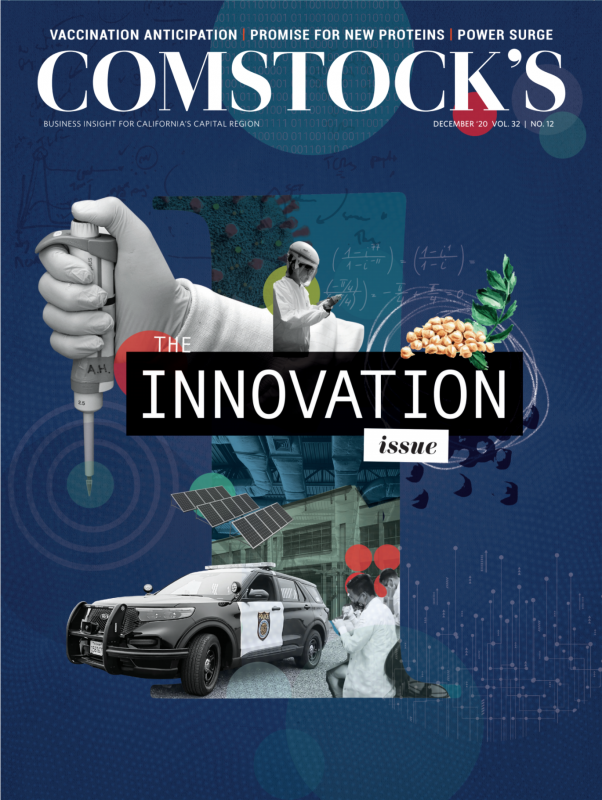 This story is part of our December 2020 innovation-themed issue. To subscribe, click here.
What is a ChurWaffle, the signature product of twin brothers, food entrepreneurs and public servants Jonathan and Matthew Burgess (a firefighter and a law enforcement officer, respectively)? One might expect it to be something between a churro and a waffle — and the original, baked in the Burgesses' trademarked ChurWaffle iron and tossed in cinnamon sugar, bears a resemblance to both. But the ChurWaffle in practice is something broader and more ambitious.
The ChurWaffle mix, inspired by the brothers' grandmother's cornbread, has made its way from Sacramento into fritters and black bean corn cakes in the dining halls of Harvard University. The ChurWaffle iron is sold on Amazon and has a following among keto dieters, who use it to make "chaffles," low-carb waffles composed of little more than cheese and eggs.
There's a ChurWaffle stand at Levi's Stadium in Santa Clara, where (pre-pandemic) football fans lined up for miniature waffles loaded with toppings like fried chicken or strawberry sauce (or both, if they dared). ChurWaffle can also be a verb, as in, "Just tell me you're both ready to be ChurWaffled" — an offer Matthew gave country singer Kellie Pickler and her co-host Ben Aaron during a 2017 appearance on the talk show "Pickler & Ben."
"There's value in the name," Matthew explains. He and Jonathan also hold the trademark for Burgess Brothers BBQ & Burgers, under which they sell barbecue sauce, smoked sausages, premade meals and bulk products for food-service operations, run a catering company, and owned a restaurant near Sacramento City College from 2012 to 2018.
As they talk up their brands from Cambridge to Nashville, the brothers are working to build generational wealth for their families — and to reclaim the value that might once have been associated with the Burgess name itself. Along the way, they're passing on what they've learned about food-product innovation and development to fledgling entrepreneurs in the Capital Region.
An Entrepreneurial Gene
The wealth of Black families in America was often stolen before it could be passed down to the next generation, and the Burgesses have the receipts to show how much was taken from them. Their California roots go back to 1850, when their then-enslaved great-great-grandfather, Rufus Burgess, was brought to Coloma from New Orleans to mine gold. He was freed soon after he arrived, found enough gold to purchase a parcel of farmland and sent for his wife and son, who had been sold to a slave owner in Kentucky.
The Burgess family eventually owned more than 88 acres in Coloma, including orchards, a blacksmith shop, a church and gold-bearing hills. That land would now be worth millions, but it was gradually split up, with some parcels seized by the state and some sold by the family, long before Jonathan and Matthew were born, according to deeds and other documents they compiled with the help of historians.
"When you look at the wealth gap, it all ties back to the land," says Matthew. "So for Jon and I, our mission has been, and will continue to be, to help bridge that generational wealth gap, because we understand the struggle. … I don't think we'll ever catch up, but we can start to build, and then continue to build, and then make sure that we leave things to our kids so that they can retain it. Because we weren't allowed to do that."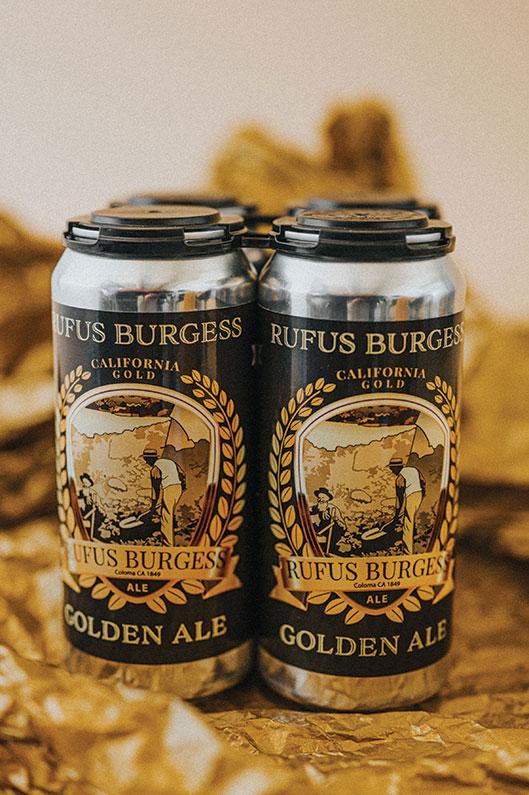 Some of the families that acquired the Burgess land in Coloma are now among the region's most prominent, including the politically active Gallagher family. (One of their ancestors bought a parcel from the brothers' great-grandmother, Josephine Burgess.) Jonathan and Matthew grew up with relatively modest means in south Sacramento. The entrepreneurial gene manifested in them early: As boys, they searched for abandoned golf balls at Bing Maloney golf course, gave them a polish and resold them to players.
They got their start in the Sacramento food scene in 2010, when they were invited to participate in a televised burger competition on "Good Morning Sacramento." The gimmick — brother versus brother, fireman versus cop — brought in plenty of viewers, as well as calls from people asking if they planned to open a restaurant. They ran a catering business for about a year to build a customer base before opening their brick-and-mortar, Burgess Brothers' Burgers (the BBQ was added later), which, in turn, helped to build brand awareness for their growing range of products.
In 2017, the Burgesses announced they would shift their focus to the products and sell their restaurant for $1 to an aspiring business owner with a compelling story. The reality was less rosy than it sounds: The Burgesses and Roberto Villeda, the winner (and sole applicant), had a falling out that led to a lengthy court battle. Part of the settlement of the case was the removal of the Burgess name from the restaurant to protect the brand, Jonathan says. BBQ & Burgers has since been "very successful," Villeda says.
The Next Generation
The Burgesses have had better results with more traditional forms of business mentorship. They are frequent guest speakers at local schools, including their alma mater, C.K. McClatchy High School, for the business training consultancy Entrepreneurship Empowered, and nonprofits such as the Greater Sacramento Urban League and Alchemist Community Development Corporation. The virtual class they taught last spring for the Alchemist Microenterprise Academy, a training course geared toward early stage food entrepreneurs from underrepresented communities, was one of the most popular sessions of the semester, says Jacob Sacks, program manager.
"Before we were able to finally bring the Burgess brothers and connect them with our program, they were a name that just kept coming up through so many different people in so many different places," says Sacks, who manages Alchemist CDC's Alchemist Kitchen incubator program. Through the program, the Burgesses are mentoring Jasmine Bonilla, the creator of Jazz's Saucy Sauce, a sunset-orange, all-purpose condiment she recommends on everything, including spaghetti and Filipino lumpia.
Alchemist Kitchen partnered the Burgesses with Bonilla because of their mutual interest in sauces — the Burgess Brothers BBQ Sauce, launched in 2015, has appeared on HSN (aka the Home Shopping Network) and is available at Frank's Quality Meats in Sacramento — but they have more than that in common. Bonilla also hopes to mentor other aspiring entrepreneurs, especially women of color. "I may not have a lot of money, I may not have family members that can help with money to get this started, but I have a lot of support. And there are lots of resources out there for people to kind of tap into for that support," she says.
As a mentee of the Burgesses, Bonilla joins a growing network of local food entrepreneurs that includes Burgess Brothers BBQ & Burgers' former executive chef, Michael Harris, now one-third of the free-meal program 3 Black Chefs; Jamie Mack, owner of the dessert caterer SpiderMonkey's Dessert Studio; and others.
But the Burgess brothers' ultimate beneficiaries will be their children. Jonathan has two daughters, ages 15 and 18, and Matthew has a son and a stepdaughter, ages 19 and 27, all of whom grew up around the businesses. They will be able to inherit the ChurWaffle and Burgess Brothers BBQ & Burgers trademarks as intellectual property, like the descendants of Rufus Burgess might have inherited his physical property. The more the brothers can build up the brands — whether by getting their products on the menu at Harvard, setting up a chain of concession stands at stadiums across the state or hawking ChurWaffles on television while wearing matching cowboy hats — the more value that inheritance will have.
"We're just basically in the working stage of rebuilding a legacy that was taken," says Jonathan. "Our goal is hopefully, at one point, our great-grandchildren will say, 'You know what? Those great-great-grandaddy Burgesses, the twins, worked their behinds off to give us what we have today.'"
—
Stay up to date on business in the Capital Region: Subscribe to the Comstock's newsletter today.