Consider the annual physical and why both doctors and America's work force find them frustrating: The worker has to carve out time to take all the exams and tests, often in different locations and on different days, and doctors lament the lack of time to discuss the results with patients.
Of course, all of that is true for the rank-and-file worker. The difference for executives is that the corporation might be willing to foot the bill for extra medical attention in the form of an executive health program.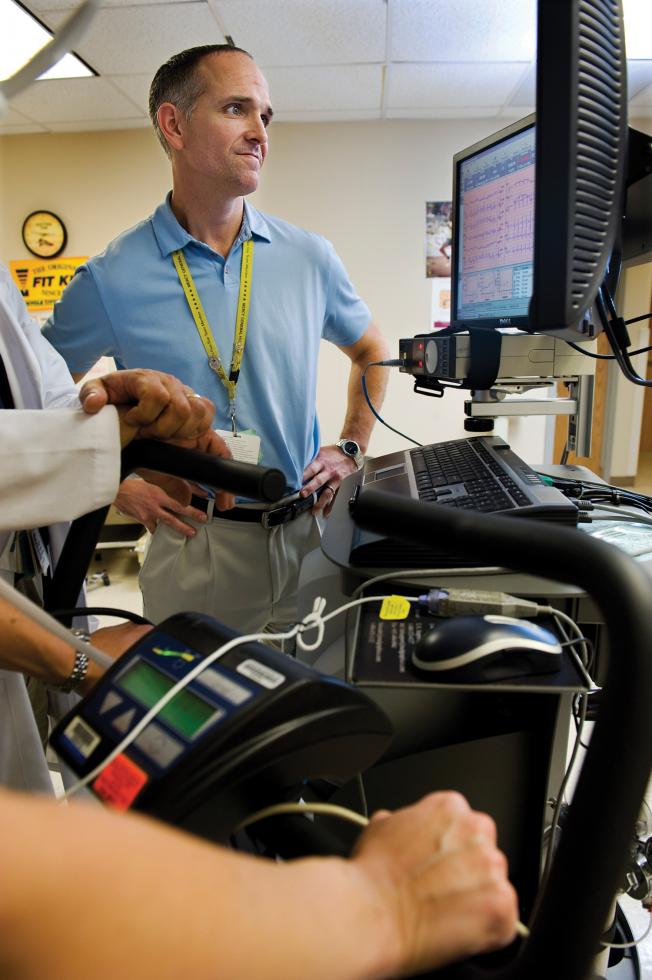 "What we are really looking at is taking a battery of tests and condensing it into one day," says Ken Rogaski, who runs such a program for Mercy Healthcare in Sacramento.
Depending on which health system is running the program, an executive physical could include blood tests, treadmill tests, hearing tests, bone density tests and grip-strength tests. There could be in-depth dietary evaluations and counseling. Mammograms, pap smears and prostate exams are usually part of the package. The doctors check for infections, inflammations, evidence of heart disease or thyroid trouble, or whatever else the person's medical file suggests.
And yes, that's doctors, plural. In programs connected with major medical centers, the team might include cardiologists, endocrinologists, hematologists and rheumatologists.
Executive health programs typically offer a comprehensive report with an in-person review, including risk assessments, dietary counseling and other recommendations. Typically all of this is done in a dedicated office. Mercy runs its program out of its preventive health unit.
Patients also get more face time with the doctors, says Rogaski, manager of the Mercy Heart & Vascular Institute. Instead of 20 minutes, they might get up to an hour and a half in some programs.
Executive physicals aren't the same as concierge care, where patients essentially pay a retainer to a physician for extra attentive care year-round. Executive health programs don't include house calls or special after-hours appointments for treatment.
"One of the things that is important to realize is that this is not ongoing health care. This is a screening exam," says Dr. Charles Tucker, medical director at the Menlo Medical Clinic in Menlo Park. Executive health programs are designed to supplement, rather than replace, a patient's dealings with a primary care physician.
"If there is a need for ongoing treatment, ongoing medication or further testing, then people get referred to someone to do that," he says.
Mercy's program has been in Sacramento since 1994, and it doesn't have much in the way of local competition. The UC Davis Health System ran a similar program until a few years ago but shut it down because it wasn't attracting enough patients.
"Our feedback was very positive," says Dr. Saul Schaefer, who used to run the program. But few â?¨patients or employers were willing to pay $1,000 a pop for the service.
"When we started the program in 2000, we thought there was a void in the Sacramento region," Schaefer says. "I worked with the Cleveland Clinic to see how their program operated. One of the differences is that they had a lot of people who would do private pay or insurance that would do private pay."
UC Davis only had about 25 takers a year. Contrast that with the program offered by Sutter Health at its Palo Alto Medical Group — the only place in the Sutter system where a patient can get the executive treatment. Sutter says it gets about 600 patients a year in the land of high-tech millionaires. The nearby Menlo Medical Clinic says more than 50 companies send their executives to its program, and some of those are Fortune 100 corporations.
"Some companies send us everybody from manager level up, and some companies will send only vice presidents and up," Tucker says.
Kaiser Permanente doesn't offer an executive health program, though it claims to offer similar aspects as part of its regular member care.
"In many instances, we're able to offer same-day consults with specialists," says spokesman Edwin Garcia. Kaiser members also have secure online access to their own medical records, X-rays and lab results.
But do they get a limousine ride and a private lounge with Internet access while they wait? Special discounted rates at nearby hotels? Lunch? Those perks and more are available in places with high concentrations of wealthy people.
UCLA's Comprehensive Health Program will send a limousine to the airport to pick up the VIP patient. A personal liaison accompanies each patient throughout the visit, says Dr. Benjamin Ansell, the program's director.
Executive care is truly a case of getting what you pay for. UCLA's offering costs thousands of nonreimbursed dollars. The limo is a nice touch, but the emphasis is on high-end medical care instead of a spa treatment.
"What we do that's different from anybody else in the country is adjust those tests in real time in response to results of the tests," Ansell says. If doctors find a breast mass at 9 a.m., a breast specialist will see the patient later that morning.
"We take a very individualized approach," he says. "It not only reflects their specific and current health needs, but also harnesses the fact that we are the top medical center in the western United States. We're very aggressive about bringing in the expertise of UCLA. In many cases they are going to be the definitive experts."
"Our data says that of the people who come into our program, 60 percent of the executives don't even have a primary physician; another 10 or 20 percent have one and never see them."

Dr. Charles Tucker, medical director, Menlo Medical Clinic
UCLA's reputation also explains the occasional need for a limousine. Patients fly in from more than 40 states and a couple dozen countries every year to tap the executive health program.
It's not that other cities don't have good doctors or equipment, but for an executive health program to work, all the expertise and technology has to be in a single place and available as needed.
"Sometimes even good medical centers don't have the infrastructure to support these programs properly," Ansell says. When any conceivable diagnostic tool or medical specialty is already on site, patients can move through the system quickly and get the most out of their few hours on site.
That efficiency makes it worth a long trip for many patients. An hour or two on a jet could save them days getting the same work done elsewhere.
"And they'll be having dinner that night at their own house," Ansell says, "so it is not like it is that much of a stretch for them to do."
While the testing can be extremely thorough, well-crafted executive health programs don't just take a shotgun approach, says Dr. Jan Stepanek, a consultant in the Mayo Clinic's executive health program in Scottsdale, Ariz. "We aim to make sure we cover scientifically founded, preventive medicine," he says. If a patient has a family history of early heart disease, his staff will schedule more than just a regular cholesterol panel.
Instead of focusing on what is wrong with a patient, executive care focuses on prevention and enhancing what is going well, Ansell says.
"We have never viewed it as our purview to go through a checklist and say, 'You did these nine tests, and they are all fine. We'll see you in a year,'" he says. If the patient has a family history of asthma but no symptoms, the doctor will still discuss it and make sure the patient is up on the latest literature.
There's one more perk to executive health care: privacy. While most patients are executives, as the name implies, the list also includes politicians and other VIPs, Stepanek says. There's a benefit to flying to another city, being seen in an isolated unit and preserving anonymity.
There's more to executive health plans than simply making life easy for the boss. A company's fortunes can rise and fall with the health of the people who run it. Even the appearance of a problem at the top of the organizational chart can make investors wary. Technology giant Apple Inc. saw its stock drop in January after co-founder Steve Jobs announced he was taking a medical leave of absence. He's already been through a liver transplant and treatment for pancreatic cancer.
Individual executives, however, can't always be counted on to take care of their health without some prodding.
"Our data says that of the people who come into our program, 60 percent of the executives don't even have a primary physician; another 10 or 20 percent have one and never see them," Tucker says. That raises the odds of doctors finding high blood pressure, high cholesterol, acid reflux and other byproducts of too many nights and weekends at the office.
"Our experience is we are surprised if we don't find something," Tucker says.
An executive health program can steer top managers back toward a healthy life while keeping the time commitment to a minimum, and even then the executive often finds that phone, fax and Internet connections are available between tests.
Companies are willing to foot the bill because they get a lot in return, health care providers say. Healthy executives are likely to be more productive and have fewer work-related disabilities or medical claims. The executives like the idea of lowering their stress levels, staying sharp and getting sick less often.
"So it's a benefit that companies have, which is a recruiting and retention tool, but it also serves a very useful function for them because so many executives don't pay as much attention to their health as they should because they are working so hard," says Tucker of Menlo Medical Clinic.
Sutter also suggests there's a "trickle down" effect: Executives who value their own health can help promote wellness efforts throughout the company.
While executive health programs are pricey, that doesn't automatically mean they aren't covered by insurance, Stepanek says.
As a practical matter, though, insurance is going to be a small part of the picture. Executive health programs are usually paid for by the corporation, though individuals are usually welcomed to pay a fee-for-service basis.
"If you have the usual kind of insurance, you'll get reimbursed $100 or $125 for a physical exam, and with us you are getting an hour and a half of the doctor's time on the first visit," Tucker says.
Interest in executive health programs tends to wax and wane with the economy, says Rogaski of Mercy. As the economy starts to improve, so may executive health.
"There was a time in the late '90s and the beginning of the oughts, it was very much in vogue," he says. "The volume has tailed off a little bit, but we are starting to see it pick up now."
Think of your best friend, a friend that knows all your ticks, hobbies and vices. Now imagine this friend happens to be a doctor, and she's your doctor.
I have an especially stupid case of insomnia, but we as a society are rotten sleepers and I'm not alone. Since doctors recommend seven to eight hours a night, about half the population is sleep deprived. We're a nation of walking zombies.