Cameron Law
Executive Director, Carlsen Center for Innovation and Entrepreneurship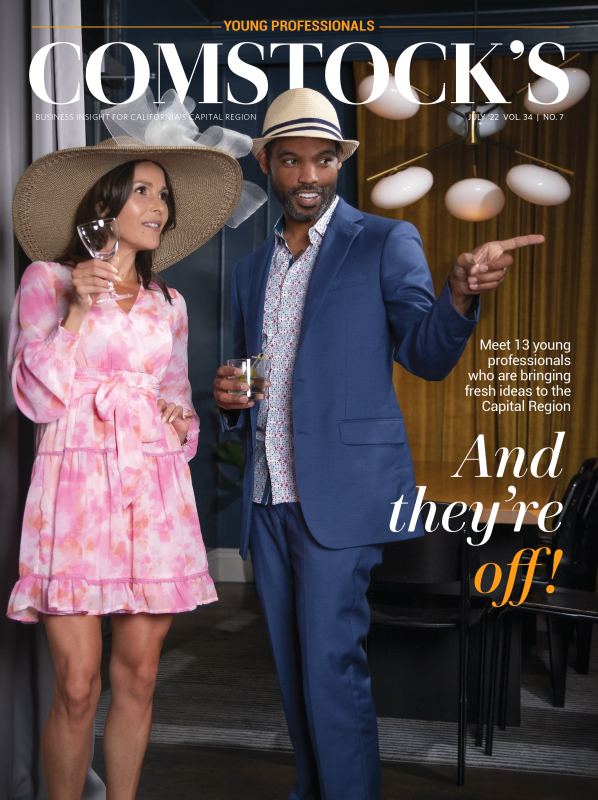 This story is part of our July 2022 Young Professionals print issue. To subscribe, click here.
Cameron Law had to leave the Capital Region to realize how much he cared about it. The 29-year-old grew up in Sacramento, spent his early years on a promising track toward a career in professional baseball and entered UC Davis on a partial sports scholarship, but an injury in his senior year at Jesuit High School continued to affect his play through all four years with the Aggies. So after graduating from UC Davis, he moved to Australia — about as far from Sacramento as geographically possible — to earn a master's degree in business at the University of Queensland. His goal, he says, was to reinvent himself.
But Brisbane, a thriving state capital, only reminded him of home. "Moving halfway around the world helped me see how much I love the greater Sacramento area, and that I really want to realize the potential of this region," Law says. "And so when I moved back to Sacramento, that was kind of my mission and purpose: to build the greater Sacramento region into the best place that it could be."
He started on this goal as soon as he finished his degree and landed back home, taking on a rising series of positions at local nonprofits and socially-minded venture capital firms. By 2017, less than a year after he left Brisbane, he was executive director at Social Venture Partners of Sacramento, a network for venture philanthropists where he began to see "the role that entrepreneurs play in building our community both socially and economically," he says.
"One of the core traits that I think has allowed me to get to where I am today is empathy."
His SVP position led to his 2019 appointment as executive director of the Carlsen Center for Innovation and Entrepreneurship at Sacramento State, founded the previous year with a $6 million donation from Sleep Train Mattress Centers founder Dale Carlsen and his wife Katy Carlsen. In this role, Law manages a team of faculty and entrepreneurs-in-residence who create programming designed to make innovation and entrepreneurship more accessible for people from all of the Capital Region's diverse communities.
The pandemic hampered some of the programs Law spearheaded with the center, but his team quickly adapted in-person classes and events to lockdown-friendly formats. The core lessons of the Lean Startup Bootcamp, for example, are now available as a free resource called the Virtual Entrepreneurship Toolkit Series. Other on-hold programs are now returning, including Startup Weekend, where entrepreneurs build out and pitch the first iterations of their business models and prototypes in a frenzied 54 hours.
Three years into the role, Law has accumulated several awards for his efforts in the region. Most recently, he was a finalist for the Global Entrepreneurship Network's 2022 Ecosystem Champion Award, an international prize given to individuals who promote long-term, accessible growth in their local ecosystems. He measures his success by the successes of the people who have used the center's programs and resources, such as entrepreneurs who successfully launched their businesses or made it into selective accelerators like TechStars.
"One of the core traits that I think has allowed me to get where I am today is empathy," he says. "I see myself as a service, and that service ends up coming back around … and if not, it creates a better place to live in anyway."
–
Get all the profiles in our Young Professionals issue delivered to your inbox: Subscribe to the Comstock's newsletter today!