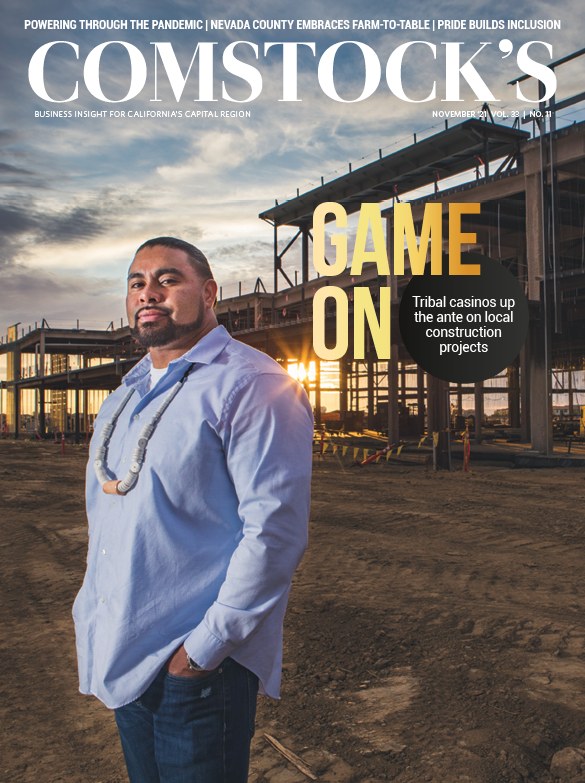 This story is part of our November 2021 issue. To subscribe, click here.
This beast is known as Cirino's Bloody Mary, and for a decade it's been rising to legendary status in Grass Valley. The one just mixed has an added local dimension because it's infused with South Fork Vodka, a distillery operating just up the road off Highway 49. Ordering a Cirino's Bloody Mary with South Fork is equal to drinking an emblem of Nevada County: Its vegetables come from nearby farms; its sauce is mixed and bottled in-house; and its alcohol is distilled at a small, bootstrapped business that's recently become a community favorite.
Lately, Nevada County eateries aren't just embracing a farm-to-table trajectory; they're finding small but meaningful ways to send their green-thumb dining experience home with their customers. Few destinations have mastered the trend as well as Cirino's, a pioneer in tapping the region's fruit and vegetable growers to guide its ultra-fresh seasonal menus. The Bloody Mary mix that Jerry Cirino invented was directly influenced by local farmers. Now, it's become so popular that bottles are sold in 48 states and seven countries. It's an example of how restaurants from Grass Valley to Truckee have found ways to bring a taste of their unique foothill appeal back to one's living room.
"I've been a frustrated farmer for probably all my life," Cirino says with a laugh. "It's just some-thing that's in my blood."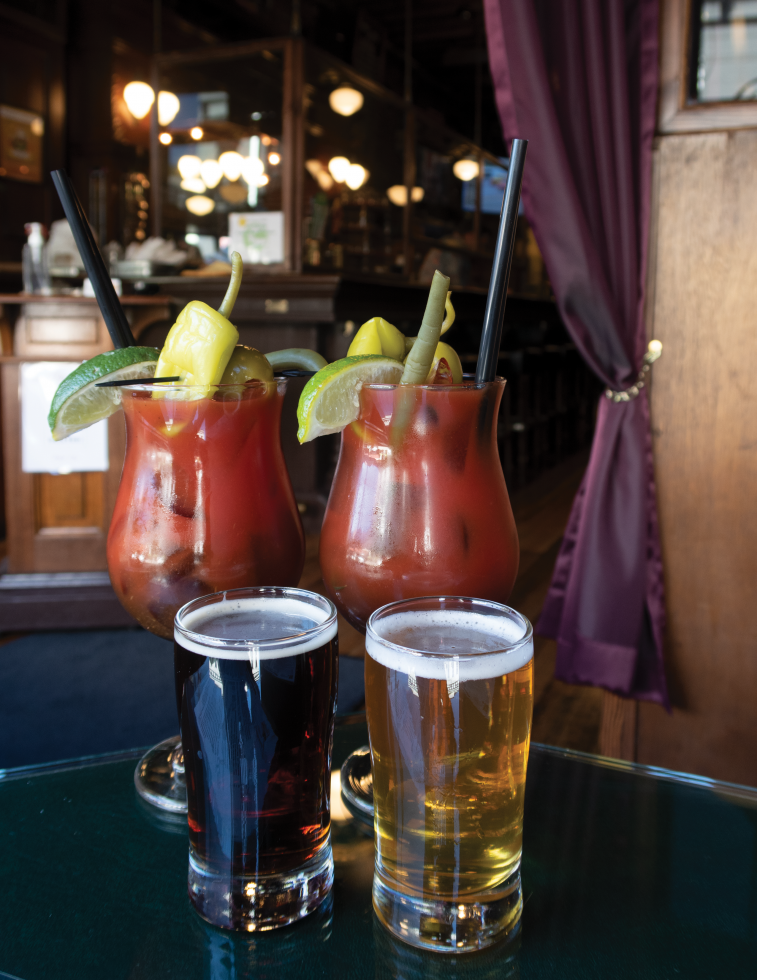 Cirino grew up in a hardscrabble Italian American family obsessed with using hand-picked garden ingredients in their cooking. He brought that philosophy to launching his restaurant in 1983. He'd only been open a matter of months when some customers came in demanding a Bloody Mary. The new owner had no bartending experience and was nervous about the order. While he had never drunk one before, he knew the cocktail relied on the kind of crisp, acid-based tomato sauce his family would make from the garden's bounty. He threw something together on the fly.
"I was embarrassed because I didn't know what I was doing," he recalls. "I served them, and then I was waiting with my head … down, wishing I was somewhere else. … But then one of them said, 'That's the best Bloody Mary I've ever had. What the hell is this?'"
The sauce's reputation eventually became so towering that Cirino would, upon request, fill empty vodka bottles with it for customers sneaking out his backdoor like clandestine bootleggers. Today, Cirino's secret mix is sold commercially at the restaurant, along with many stores in Nevada County and a far grander scale beyond. It often sits on local shelves next to South Fork Vodka, founded by Dan Kennerson and Jon Dorfman in 2018. The pair had been working together as ethanol researchers for the U.S. Department of Defense when they stumbled on a new method for extracting fusel oil from corn. They decided to apply it to making a novel vodka from non-GMO corn and pristine Sierra mountain water.
Nevada County foodies have since become hooked on combining South Fork with Cirino's Bloody Mary mix, either by visiting the original bar, or by making it at home after local shopping excursions. The result is a tight, tangy tomato blast enlivened by sleek spiciness and simmering garden notes.
"Local support is the only thing that really allows a company like ours to survive — it's the drumbeat that gets people to try it out and have an open mind about it."

Jon Dorfman, cofounder, South Fork Vodka
Dorfman says that area bartenders, including the ones at Cirino's, have been helping push his upstart endeavor onto the national stage.
"Local support is the only thing that really allows a company like ours to survive — it's the drumbeat that gets people to try it out and have an open mind about it," he explains. "We're really honored to be able to team up with brands like Cirino's. When you have local bartenders enthusiastically helping those high-quality products, it creates a beautiful synergy."
And the harmonious ties in the county go well beyond Cirino's.
In 2014, home baker Shana Maziarz and home brewer Dave Cowie began pursuing a joint dream when they opened Three Forks Bakery & Brewing Co. in Nevada City. The farm-to-table bistro quickly earned a reputation for the way Cowie's clean, dry and balanced ales pair with Maziarz's scratch-made breads, sandwiches and woodfired pizzas.
During a recent Saturday rush, the staff at Three Forks was hurrying orders out to visitors from across the region. As customers perused their options, a chalk board told them where virtually every ingredient on the ever-rotating menu came from: an array of eggs, fruits and vegetables all sourced from 16 different farms and ranches around Nevada County.
"I'd worked for a few years on a farm here, so I knew the local food community when we opened," Maziarz says. "Our farmers were built into this business from the beginning."
"If someone from outside of here loves it, they have to come back to this county to get it."

Shana Maziarz, co-owner, Three Forks Bakery & Brewing Co.
That was obvious to the growing Saturday crowd. Some customers paired Three Forks' dark porter with a roast beef and peperonata sandwich featuring meat from cattle on Nevada County's AM Ranch, all of which had been fed on the brewery's beer grains rather than hillside grass. The extra-succulent flavors from this locally looped process were bolstered by cheddar, arugula, aioli and crisp ciabatta straight from the oven. It made for a great combination with Cowie's porter, which is a brew that shines with silky chocolate depth and a crackling vanilla veneer.
Like Cirino's, Three Forks has found a way to send part of its quintessential experience out the door. It's mainly done this by becoming its own mini-distributor for bottle versions of each beer it has on tap. That allows devotees of the bistro to take beer selections home from the dining room with to-go food, or grab them later at Nevada County's markets to pair with their own kitchen adventures. However, unlike Cirino, Maziarz and Cowie aren't casting a wide, international net with their bottled beer, but rather aiming for a direct draw back to their own culinary scene.
"If someone from outside of here loves it, they have to come back to this county to get it," Maziarz says. "There's a whole beer tourist culture. So, people who are really into beer, they're willing to travel. They'll take kind of a beer holiday."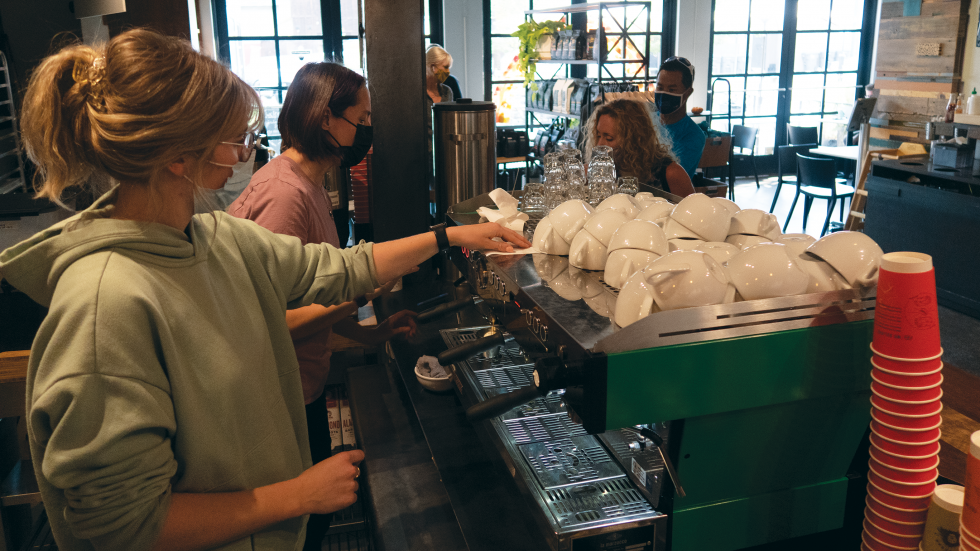 Alcohol-related items aren't the only take-home treasures from Nevada County. Coffeebar, founded in Truckee in 2010 by competitive ski racer Greg Buchheister, is transporting its mountain town ambiance to customers' homes through both fire-roasted beans and its own signature brand of loose-leaf teas. The cafe's takes on the tradition include flavors like English Breakfast, Jasmine Green, Tropic Thunder, Giuseppe Chai and — true to its high-elevation views — Tahoe Sunshine.
Coffeebar, which works closely with local farmers on sustainability by donating coffee grounds and food waste for composting, has also come up with a popular take-home dessert option: roasted beans dipped in Dorinda's Chocolate, a semi-local candy producer just across the state line. Coffeebar's approach to sending its signature teas and dessert beans out the door marks another example of the spirit of teamwork so engrained in Nevada County's food scene.
For Cirino, who's helped the scene evolve in that direction for 30 years, there's no limit to what the region's farmers and entrepreneurs might accomplish together. He says the true teamwork factor is something people might not think about.
"This area, with its climate zones, has a wonderful ability to produce an incredible variety of farm projects, including blueberries and even kiwi," he says. "But our real success is that our agriculture community produces what I consider the most important crop — good children and good citizens."
–
Stay up to date on business in the Capital Region: Subscribe to the Comstock's newsletter today.