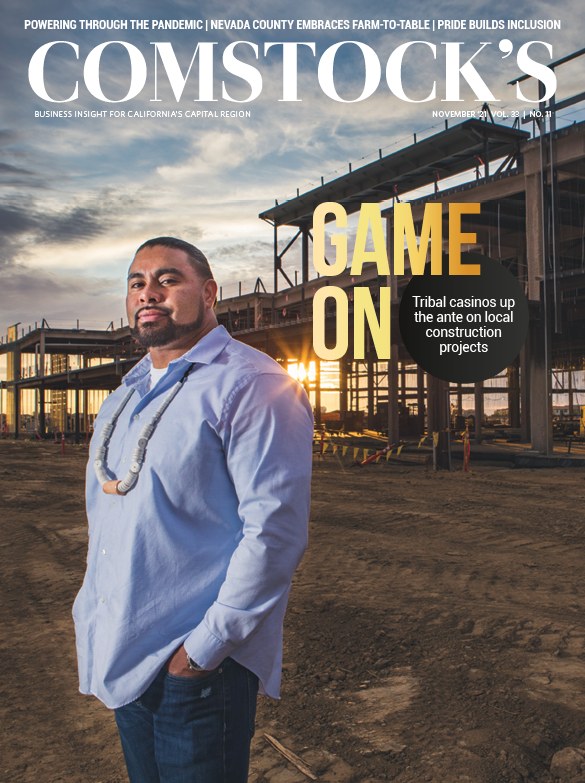 This story is part of our November 2021 issue. To subscribe, click here.
You probably wouldn't expect to find touches of Italy at a Woodland bowling alley. But there are plenty at the San Bruno Bowling Center, named after the hometown of owners Salvatore and Stella Muzzi, who met in high school in Serra San Bruno (located between the Jonic and Tyrrhenian coasts of Calabria) more than 60 years ago.
They've owned the facility on West Main Street, formerly known as Woodhaven Lanes, for 22 years. Though large American flags adorn both main walls overlooking the 24-lane bowling area, there are also the red, white and green colors of the Italian flag on poles, floors and other locations around the building, honoring the Muzzis' home country.
"There's a lot of returning bowlers, and lots of new ones, and I feel that with the indoor arcade, and bar-restaurant, we're drawing back families again."

Tess Trent, manager, San Bruno Bowling Center
The facility has gone through some tough stretches over the years. It was up for sale a few years ago — though the Muzzis ultimately decided to keep the property — and was closed for a year due to COVID-19 restrictions before reopening in April 2021. But the center has returned, says Tess Trent, San Bruno's manager for over three years.
"We're coming back with a vengeance," Trent says, noting the return of its popular Tuesday, Wednesday and Friday bowling league nights. The center is open for bowlers six days a week, closed only Mondays. "There's a lot of returning bowlers, and lots of new ones, and I feel that with the indoor arcade, and bar-restaurant, we're drawing back families again."
After serving in the Italian Army, Salvatore Muzzi came to the United States with several family members via Canada in the 1970s. He eventually moved to Mountain View and then to Yolo County with Stella and their twin sons, Bruno and Salvatore Jr.. The family eventually purchased almond orchards in Dunnigan in Yolo County and Arbuckle in Colusa County, and they also have a small grape vineyard in Dunnigan.
"I've tried a lot of places," Muzzi says. "I like the people and the weather. That's why we stay here."
In 1999, Muzzi bought the Woodland building from Brunswick AMF as an investment, he says. Brunswick still owned the bowling alley and equipment and rented the facility from Muzzi before financial problems caused Brunswick to leave in 2011, taking the bowling machines and lanes with them.
With the building in general disrepair, Muzzi had a decision to make. He ended up keeping it as a bowling alley, "a family business for families," he says. It was closed for about two years, and at a cost of about $500,000, Trent says. The 30,000-foot facility reopened in 2014 with a new name, pool tables, an arcade, bar, restaurant and banquet room, 16 new lanes and machines, electronic scoring and other enhancements to the 1940s-era building, Trent says. They've since added eight more lanes.
Trent, who started as the center's accountant before becoming manager, says that Salvatore and Stella Muzzi consider it a "second home." Trent says they live nearby and will often walk to the bowling center to mingle with other bowlers and guests.
"If there's a party, Stella might pop in and say, 'Any cake for me?'" Trent says.
The center has seven employees, including a full-time mechanic, but the restaurant is currently closed while a search for a cook continues, Trent says.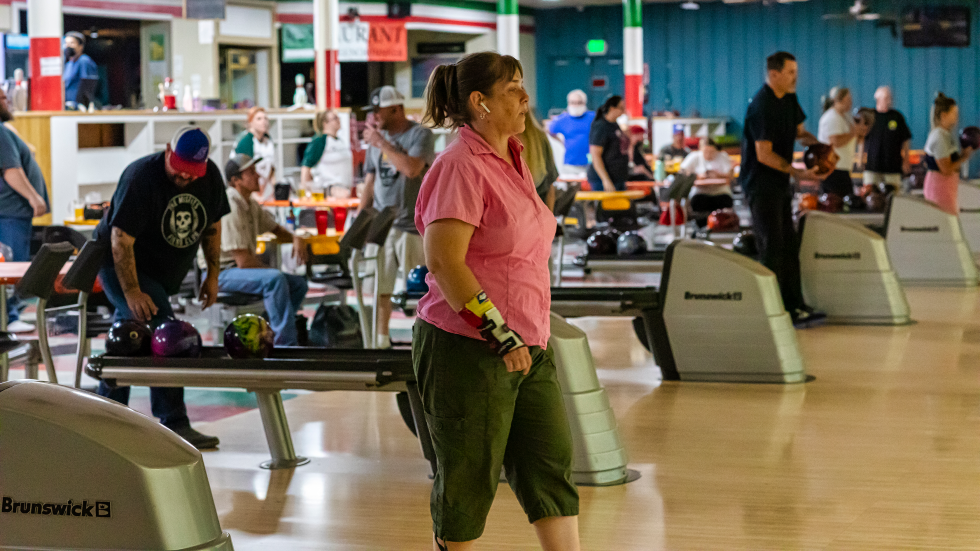 Meanwhile, Woodland's bowlers seem happy to have a place to roll again.
"I come here a couple of times a week," says John Newhall of Woodland, during a Wednesday night league game, where he bowled a personal best of 236. "It's a cool environment, locally owned, and I like that the lanes are new."
–
Stay up to date on business in the Capital Region: Subscribe to the Comstock's newsletter today.