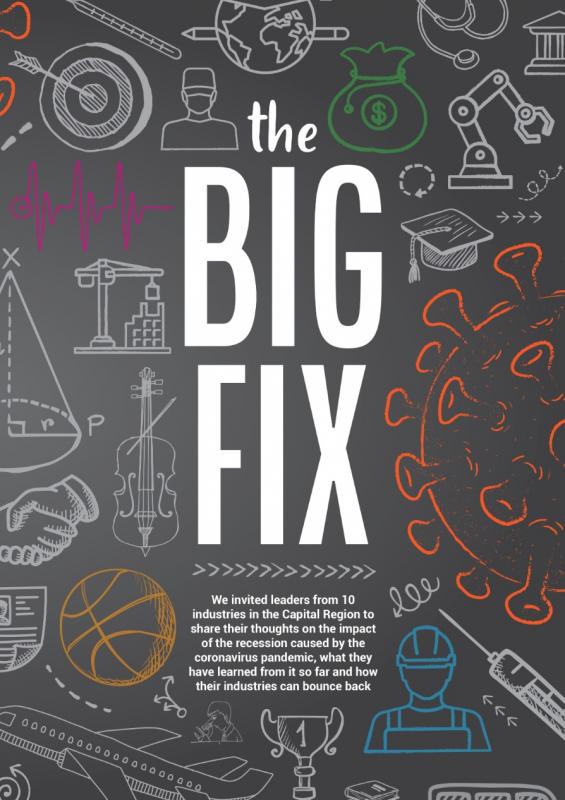 This story is part of our August 2020 Big Fix issue. To subscribe, click here.

Reset: Cafe By Day opened on Folsom's historic Sutter Street on the morning of March 9, after a year preparing for its daily metamorphosis. At 4 p.m., the staff changed their uniforms and flipped the mixed-media art on the walls to reveal surrealistic paintings: an owl in a top hat here, a koi in a coffee cup there. The music shifted from acoustic tunes to jazz, the sconces flickered like candles, and hidden fixtures illuminated the ceiling in a cobalt blue that matched the banquettes — all to ease the cafe's transition into its evening identity as a beer and wine bar.

Less than a week later, Reset went through a different kind of transformation. On March 15, Gov. Gavin Newsom directed all bars and nightclubs in California to close to slow the spread of COVID-19, and Reset followed suit (though it is officially classified as a restaurant). Then, on March 19, the governor issued a statewide stay-at-home order and banned dine-in service, pushing the roughly two dozen dining options in Folsom's historic district into limbo.

While the order successfully reduced the infection rate, its consequences on the restaurant industry are dire. After rising steadily for decades, national restaurant sales fell off a cliff between March and April, undoing more than 15 years of growth in a month, according to Restaurant Business magazine. But those charts don't show the consequences of restaurants' woes on the businesses and neighborhoods that surround them.

Historic downtown districts like Folsom's Sutter Street bank on their dining options to draw foot traffic and raise sales tax revenue. The downtown restaurant boom is a national trend, but it's especially relevant in the Capital Region, where the success of Sacramento's Farm-to-Fork campaign looms large in the imaginations of developers and entrepreneurs. Now, the communities that were buoyed by the rising tide of restaurants are working to help lift them out of their record-breaking lows.
"The vibe, the atmosphere … the energy of the historic district, it's on-brand for us. We could not do what we do elsewhere and have it have that character."John Voelz, co-ownerReset: Cafe By Day
"When we were looking for a location, the historic district seemed like the place for us. Actually, we didn't want to open anywhere else," says John Voelz, who co-owns Reset with his wife Tahni Voelz. In his leather top hat, he bears a resemblance to the owls in his restaurant's "night art," painted by his friend Heather Gorton; Voelz made the mixed-media "day art" himself. "The vibe, the atmosphere … the energy of the historic district, it's on-brand for us. We could not do what we do elsewhere and have it have that character."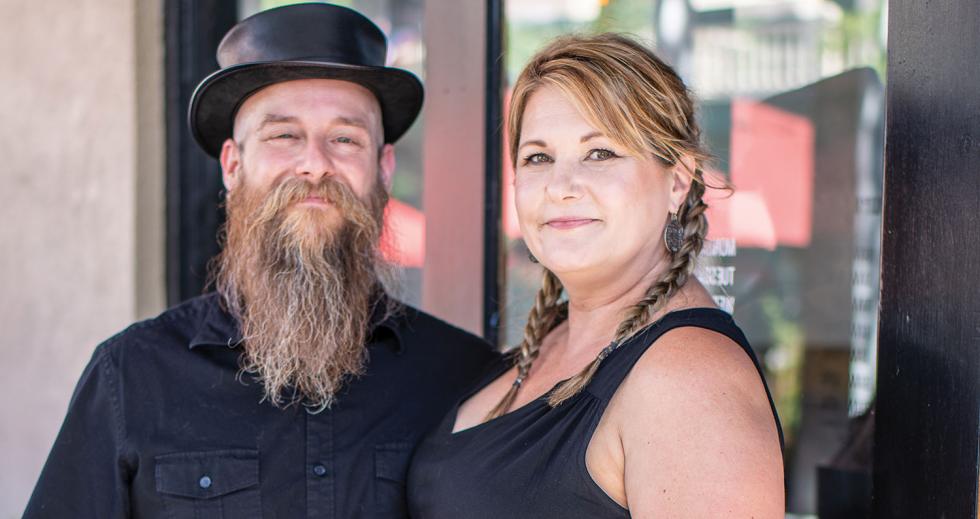 Sutter Street gets its eclectic vibe from its boutiques and galleries as well as its restaurants, but it's the latter that attracts people, says Voelz. "I'm also an artist, and I know there's not a lot of people that always go out of their way to visit those kinds of things," he says. "And, so for it to be a viable destination, restaurants and bars are essential. … If you're down there having a meal, and you're going to walk around the historic district, chances are you're going to walk into one of the beautiful boutiques or art galleries or antique shops, and so it's a symbiotic relationship for all of us."
That symbiosis is cultivated by the organizational forces behind the historic district, including the City of Folsom, the Folsom Historic District Association and the Folsom Chamber of Commerce, that formed a coalition last year to promote the district's food and drink options. Its first campaign in July 2019 touted the district as home to "the most al fresco dining in the region, concentrated in one little spot," says Karen Polastri, marketing director of the Folsom Historic District Association.
The coalition had support from developers such as Jerry Bernau, president of Bernau Development Corp. Bernau's Roundhouse building, completed on the site of the city's former railway roundhouse on Sutter Street in 2019, hosts two family-owned options: a new location for Scott's Seafood, a Folsom mainstay since 2000, and Willamette Wineworks, a tasting room for the Oregon-based winery Willamette Valley Vineyards (founded by Bernau's brother, Jim Bernau).
Other recent Sutter Street openings include The Filling Station, a gas-station themed tap room for Red Bus Brewing Company that opened in October 2019, and J. Wilds Livery & Feed, which Chicago Fire owner Eric Schnetz opened in the first location of his pizzeria chain in early June. (The original Chicago Fire opened on Sutter Street in 2003 and had its last day of service May 22, the same day Sacramento County allowed dine-in service.)
But while family-owned businesses may have more character than corporate chains, they also have less of a safety net against crises. "To be honest, it's been devastating," says Judy Collinsworth, executive director of the Folsom Historic District Association. "All of our restaurants are mom-and-pop-run businesses, and to have to shut down or run at such low capacity has been crippling for many of them." Sutter Street Grill, owned by Folsom native Lorna Lee Smart since 1997, announced its closure April 22.
The community has rallied around the survivors. During the lockdown, the Folsom Historic District Association deployed the Sutter Surfer, a stretch golf cart decorated with tiki motifs that usually shuttles shoppers from the parking structures, to offer free restaurant delivery. The association also conducted social media promotions and a restaurant bingo game — every takeout order fills in a square — with gift card prizes.
After Sacramento County restaurants were allowed to reopen for dine-in service, the Folsom forces tag-teamed again. They settled on parklets — sidewalk expansions in parking spots — to expand the existing capacity for al fresco dining, which has been shown to pose less of a risk for transmission than dining indoors. The Folsom Historic District Association applied for a permit to install the parklets, the city fast-tracked the approval process, and, on June 9, a fleet of volunteers gathered to install them, armed with wooden shipping pallets and string lights. These expansions proved especially useful after Sacramento County restaurants were again ordered to close indoor operations July 1.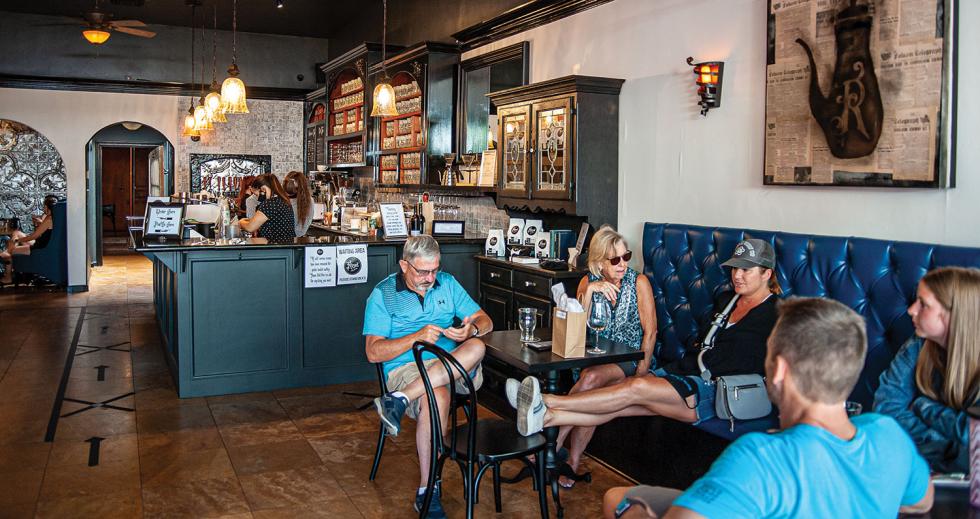 In the first days of summer, there was a festive — if cautious — atmosphere as diners in sunglasses and masks filled the parklets. Some bars and tasting rooms that previously eschewed food brought in chefs to help them comply with state COVID-19 guidance, which banned such businesses from reopening unless they served meals.
Willamette Wineworks, which had its grand opening just three weeks before bars were ordered to close, reopened for table service May 27, closed again July 1 and reopened July 10 for patio seating only, with a "pairing menu" that includes local products such as sourdough bread from Village Bakery in Davis. Its interactive barrel blending machines, designed for customers to push buttons, turn dials and make their own custom wines, are temporarily off-limits. "What we are looking to do is partner with local businesses in ways we safely can to jointly promote our offerings and come up with innovative new business ideas to support each other," says Christine Clair, winery director.
Reset shares a parklet with its neighbor Sutter Street Taqueria. The makeshift patio, shaded under red umbrellas, has enough space for 12 people per restaurant. It is separated from the street with a fence made of pallets and down the middle by several planters of rosemary. Though no one is allowed to sit inside, at 4 p.m. each afternoon, the Voelzes and their staff still flip the art, light the sconces and turn up the jazz.
"I'm amazed at the camaraderie and the unity in the community," Voelz says. "We all want the other one to succeed. … This has created more of a family environment in the historic district, more than ever before, and I'm super proud of everyone working hard together."
–
Stay up to date on business in the Capital Region: Subscribe to the Comstock's newsletter today!