In what feels like a different lifetime, Waffle Square Country Kitchen operated for roughly 20 years in Sacramento's Southside Park neighborhood. The defunct waffle house turned out pancake stacks and thick mugs of dark roast coffee, the kind of jet fuel that's gone out of vogue in a city that awash in third-wave coffee. And for approximately 20 years before that, a similar business, Carrows Restaurant, operated out of the building.
Go by the business that recently opened in the building, Roc&Sol Diner, and there are still some remnants from what was there before, such as the brown pleather booths. Otherwise, though, something very different is going on here.
Both the interior and exterior of the building have received a dramatic series of murals by Los Angeles-based artist Shane Grammer (whose haunting murals in Paradise were featured on the cover of Comstock's in May 2019) and Sacramento-based Rigo the Artist, Ryan "Pawn" Rhodes, and Kosono Okina, all veterans of Wide Open Walls. While the menu still offers fairly standard American diner fare, with breakfast served throughout the day and lunch and dinner offerings too, the plates have become pricier and more upscale thanks in part to the brothers who own the diner, longtime restaurateurs Matt and Fred Haines.
And there's one other major change: The room adjacent to the dining room is packed with computers loaded with six games waiting to be played both by people who pop in or might compete in scheduled esports tournaments, where players can be revered as professional athletes, even celebrities.
Welcome to Roc&Sol Diner, an innovative eatery that represents a new chapter for the Haines brothers, one that could allow them to capitalize on the emerging egaming trend.
From bistro to diner
Opening a diner is only the latest effort by the Haines brothers, whose local culinary work stretches back more than 25 years. The brothers, who grew up in Land Park and are in their 60s, are the forces behind Wildwood Kitchen & Bar at Pavilions Shopping Center in Arden Arcade and the now-closed, but formerly well-regarded 33rd Street Bistro that opened downtown in 1995.
Matt Haines says the downtown bistro — which now operates as a food truck called Bistro on the Go — met its demise after new owners took over the building in February 2020. "They were different than the mom-and-pop operation that we had," Matt Haines says. "And so we had a little bit of issue going with them, then the pandemic came. … We decided to move on. It was just over with."
For one of their next ventures, the brothers considered the burgeoning trend of egaming. The trend includes a nascent competitive circuit, Collegiate Esports International, which held a competition in August 2021 at FireUp Esports Lounge in Roseville and Golden 1 Center. CESI's founder, longtime local businesswoman Margaret Wong, is among Roc&Sol's investors. She's enthusiastic about the food at Roc&Sol and about continuing to develop the concept of egaming.
"We want to incubate an idea that in the dining facility, you could also be able to have fun," says Wong, who is also a restaurateur and owns the high-end Chinese restaurant Empress M in Napa.
The egaming field has ballooned in recent years, though growth appears to have slowed since the easing of pandemic restrictions. The number of active streamers on Twitch — a platform that livestreams video game players — stood around 7 million in December 2022, down from an all-time high of almost 10 million in January 2021. Still, growth could be continuing long-term, with global revenue for the esports market alone projected by Statista to hit $1.8 billion by 2025, nearly doubling from its 2020 numbers.
Competitive esports teams such as Kings Guard Gaming have begun to make a name for themselves, too, with Sacramento Kings owner Vivek Ranadivé calling esports "the future" in 2017. A spokesperson for the Kings says the esports team went 8-10 in three-on-three competition and 10-9 in five-on-five play for its 2022 season.
The Haines brothers also looked to a new part of town, eyeing the R Street Corridor, which has seen substantial redevelopment over the past decade, going from a largely abandoned industrial area to a thriving art, food and nightlife district. Michael Jasso, assistant city manager and director of the Office of Innovation and Economic Development for Sacramento, appreciates the different options now available along the corridor.
"You can have a dining experience, you can have a shopping experience, you can have a nighttime, go out, get beers, stay out 'til 2 a.m.," Jasso says. "And it really lends itself to exactly this diversity … that is in fact the city."
Matt Haines has operated the Twisted Track art gallery on R Street since September 2021, with the Roc&Sol Retail Store at the same location, part of a branding push. This brand, threaded through the brothers' different ventures, is about celebrating art, music and food.
"We're trying to host events," Matt Haines says. "We're trying to support local artists, not only showing their art but giving them a place to be able to present it."
The brothers also attempted to turn the former Shoki Ramen House on R Street into a venue with outdoor entertainment. This idea met with some pushback due to noise concerns.
"I think we were just taken aback, the late hours that he was proposing," says Todd Leon, board chair for the R Street Partnership and development director for the Capitol Area Development Authority. "Those venues tend to be loud and can create a lot of problems."
While the Haines brothers are still in a long-term lease for the former Shoki building, they shifted focus two blocks west and one block south to the site of the former waffle house. R Street Partnership Executive Director Michelle Smira says she and members of her staff have eaten at the diner and enjoyed it, though she's had questions.
"I think at first it was this 'virtual dining' — what is this going to look like? What does that mean?" Smira says. "I think it's taking more word of mouth for people to understand how it works and what it is." She's not the only person to need an explanation about what exactly this diner does.
Explaining the (virtual) diner
After the Haines' brothers new business opened Nov. 2 of last year, it was initially called Roc&Sol Virtual Diner. The brothers have since dropped the word "virtual" from the name. "We probably should have named it Roc&Sol Diner With Virtual Gaming, because it kind of confuses people a little bit," Fred Haines told Comstock's in late January, before the business changed its name to Roc&Sol Diner. "So we've been explaining ourselves a lot."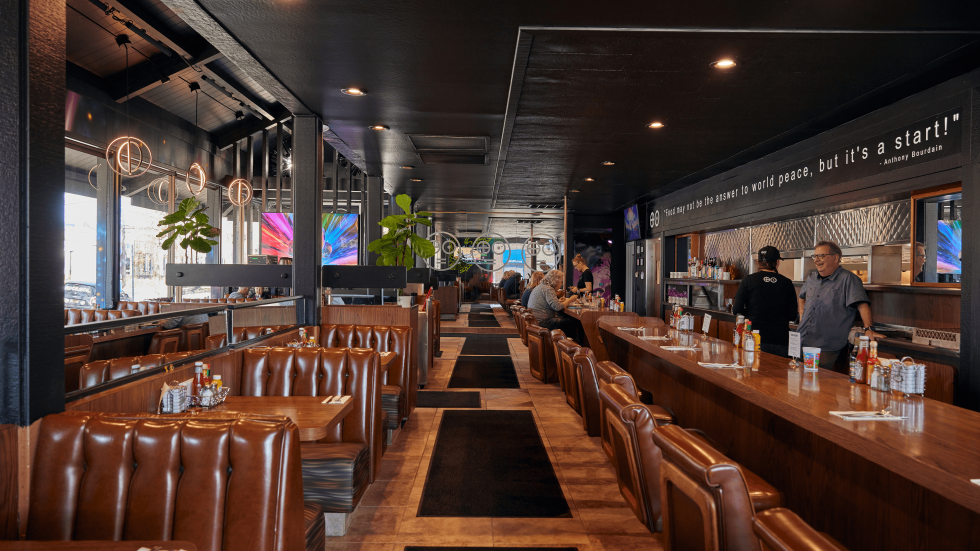 The phrase "virtual diner" makes it sound like the brothers have opened a restaurant in the metaverse. To be clear, at first glance, this is a fairly normally operating establishment. Pop into one of the booths and a server will quickly come by offering water or coffee. A three-egg benedict with a ham steak slathered in hollandaise sauce appears on the menu. Bricks of hash browns may be served on the side. Fred Haines serves as executive chef for the diner, with Victor Cruz head chef and Antonio Mejia chef de cuisine.
The room reserved for virtual gaming was vacant on a Saturday morning in January when the diner was otherwise reasonably busy. A few people, like Bijan Nazifi of Sacramento, popped their heads into the gaming room. "It reminds me of the old-school LAN centers like when we were growing up," Nazifi says, referring to locations where people could hook their computers together and play games against one another.
On a recent First Friday, the vision for what the Haines brothers are trying to do near the R Street Corridor seemed clear. Roc&Sol was awash in neon light and glowing in the early evening air. Around the corner and a couple streets down, Twisted Track was open for anyone who wanted to stop by as part of the informal art crawl.
"I'm not a wealthy guy," Matt Haines says. "So I've got to be able to convince people on these dreams and it's tricky. That part of it's the hard part."
–
Stay up to date on business in the Capital Region: Subscribe to the Comstock's newsletter today.