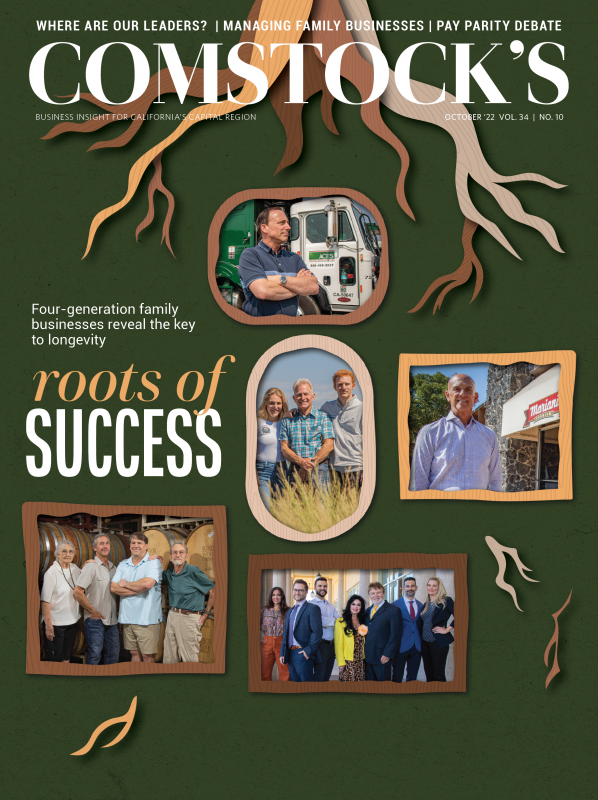 This story is part of our October 2022 Family Business print issue. To subscribe, click here.
Mary Pulskamp has owned and operated Rosebud's Cafe in the heart of Jackson since 1991, and she doesn't hesitate when asked how important her family has been to its success.
"We wouldn't be here without the family," Pulskamp says, reflecting on the many ups and downs Rosebud's has experienced in its 31 years. "We cook together, we serve together, we clean together, we cry together. All those things that a family business would do."
Pulskamp operates Rosebud's mainly with her two sons — head chef and musician Roibeard Kyle Pulskamp-Lockhart, and Tyx Pulskamp, who ran for Jackson City Council in 2020 and serves on the board of the Tri-County LGBT Alliance. Daughter Meghan O'Keefe is the executive director of the Amador County Arts Council and has also worked at the cafe over the years.
"We wouldn't be here without the family. We cook together, we serve together, we clean together, we cry together. All those things that a family business would do."

Mary Pulskamp, owner, Rosebud's Cafe
"An incredibly talented family," says Katherine Evatt, a longtime friend, Amador County resident and co-founder of the Foothill Conservancy. "The thing about Rosebud's is that it's not only a family business, but it's a business that makes us all feel like family."
The enduring story of Rosebud's follows the fortunes of Jackson, the historical gold mining town and county seat of Amador County. Rosebud's has opened and closed several times for various reasons since the early 1990s, and today operates four days a week, 9 a.m. to 2 p.m., Thursday through Sunday.
"Authenticity, friendliness, acceptance, then good food," Pulskamp says, describing what she thinks Rosebud's is known for in the community. "And then of course, liberal. Maybe troublemakers a little bit. We have a very comfortable and welcoming space."
Pulskamp, husband Robert Lockhart and Pulskamp's sister and husband, Patti and Ron Busch, first bought the business in 1991, then called Marlene and Glen's Dining Parlor, along with the attached Irish gift shop, Celtic Knot. The name Rosebud's came from the 1941 movie "Citizen Kane." Pulskamp brought in Scottish Terrier memorabilia she had from the 1930s and '40s and went from there.
"I used the Scottish Terriers to decorate and we had a dog named Rosebud, and so we just stayed with that 'Citizen Kane' theme," says Pulskamp, a marriage and therapy counselor whose office is above the cafe.
The two couples eventually bought the building on Main Street, giving them "a little bit more control of our future," Pulskamp says. When the tough times hit, beginning with the recession of late 2008, Pulskamp was working as a behavioral health therapist for Amador County, while her sister and brother-in-law ran the cafe and gift shop, the latter of which they still operate.
"We decided to simply close up shop and wait patiently until it got better," Pulskamp says. "Jackson had like a 40 percent vacancy rate. It was horrible."
During that period, Pulskamp and Lockhart started farming at a property in Sutter Creek. They sold their food at local farmers markets, but the business beckoned.
"I had so much food and a shut-down cafe and I said, let's just try this," Pulskamp says. "I retired from the county and revamped the cafe and reopened in 2012 as a farm-to-table little market where we would sell our own eggs and tomatoes and whatever we had. That's how we've been running it ever since."
They no longer have their own farm, but use other locally grown foods in Rosebud's eclectic vegan and non-vegan breakfast-lunch menu that includes omelets, burgers, tri-tip sandwiches, salmon benedict, pancakes and baked goods, served with Sacramento's Old Soul coffee.
"Over the course of a week, I might wait on people from Germany, Russia and see folks from all around and outside the country," Tyx Pulskamp says. "When you're traveling, sometimes access to the food that works for you isn't available."
The other rough period for Rosebud's came during the COVID-19 shutdown in March 2020. Once the cafe reopened, many employees had moved on to other jobs, and staff was downsized from 16 to seven, which includes family members. Meanwhile, seating was reduced from 70 to 40, Pulskamp says.
Rosebud's is a leader on several local issues involving homelessness and LGBT rights — Tyx and Mary Pulskamp are on the local homeless task force. The cafe has a program called Small Change for Big where tip donations help provide resources for local homeless kids playing sports, as one example.
"I think we provide the kind of atmosphere, a hub for what people are needing, whether it's they need to know where to go to dinner that night, or they need to know where to get housed for the evening," Pulskamp says. "We do it all."
–
Stay up to date on business in the Capital Region: Subscribe to the Comstock's newsletter today.