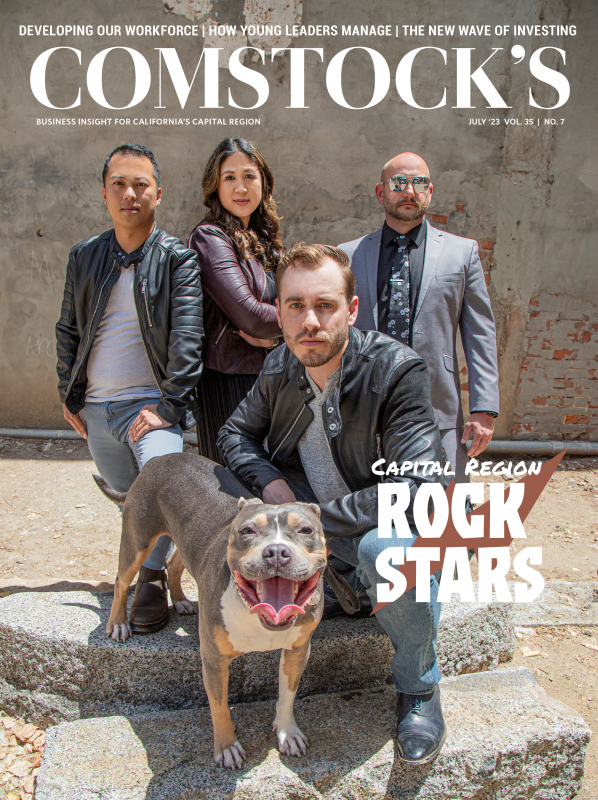 This story is part of our July 2023 Young Professionals print issue. To subscribe, click here.
Think CEOs have crazy schedules? Try being a member of Congress. The most carefully planned itinerary can be scrambled — or even scuttled — thanks to a call from the White House, an emergency vote, or urgent negotiations across the aisle. "We have to be flexible, and everyone else has to be flexible. That's what's different from being a CEO and running a company," says Congresswoman Doris Matsui, who has served in the House of Representatives since 2005, when she ran to fill the vacancy left by her late husband, Rep. Robert Matsui, who died while in office.
The congresswoman spends roughly two-thirds of her time in Washington, D.C., and the other third in Sacramento. "We have one long week a month that we can be in our district, and in that week I work it hard, really hard," says Matsui.
She has two teams — one in D.C., one in Sacramento — two main offices and two entirely different workdays, depending on the time zone. So while there's no "typical day," she shares the gist of what the job is like when she's in D.C., and then also how she operates in Sacramento, which is "the place that's home to me."
5:30AM - (When in Sacramento) She exercises first thing, mostly lifting weights and riding a bike. Lots of stretching. "I used to do a Hula-Hoop because I thought it was good for my core, but the Hula-Hoop wasn't good for my knees, so I stopped."
6:30AM – (Both cities) Checks email, responds to anything urgent. Drinks her first cup of coffee (spiked with butter) while reading news on her iPad — The Wall Street Journal, The New York Times, The Washington Post, The Sacramento Bee. Reads through additional news related to her policy issues. Skips breakfast.
7:00AM – (Sacramento) Checks in with D.C. staff and works on related D.C. issues.
8:00AM – (Both cities) Gets ready, makes sure she has all her materials for the day's meetings.
8:30AM – (D.C.) A staffer picks her up, and she heads to the U.S. Capitol, although sometimes she drives herself. "A lot of people are surprised that we don't have a car and driver." When in Sacramento, she'll work out of her office at the federal courthouse (named for her late husband), or sometimes her satellite office in Elk Grove.
9:00AM – (D.C.) Attends meetings of the caucus or Minority Whip (the person who makes sure the party votes according to its agenda and platform) to discuss the top priorities for House Democrats.
9:00AM – (Sacramento) Gives remarks at a press conference announcing federal funding for regional projects, such as securing $2 million to make the Pannell Community Center more resilient to natural disasters.
10:00AM – (D.C.) Heads to her office in the Rayburn House Office Building, where she's briefed by her staff for her next meeting.
10:30AM - (D.C.) Presides as ranking member of the Communications and Technology subcommittee hearing; Matsui has long been a policy leader on broadband access, spectrum management and digital equity.
11:00AM – (Sacramento) Meetings and check-ins with city managers and senior staff from the cities of Sacramento, Elk Grove and Galt.
12:30PM – (Sacramento) Lunch meeting with elected officials and business leaders. (She doesn't eat much — often a cup of soup or a salad.)
1:30PM - (D.C.) Working lunch with the Sustainable Energy and Environment Coalition.
2:00PM – (Sacramento) Roundtable meetings with local stakeholders on policy priorities, such as broadband access or curbing gun violence.
2:30PM – (D.C.) Walks to the House floor for the first series of votes. She votes at one of the 47 voting stations on the floor, using a voting card. She inserts her card and pushes a button for yea, nay or pres (present). Sometimes this can be a chance to buttonhole an elusive colleague and say, "I know you want to sign onto my bill."
3:00PM – (D.C.) Returns to her office and meets with stakeholder groups and local leaders visiting the district.
4:30PM – (Sacramento) Huddles up with her district office staff about the events for the rest of the week.
5:00PM – (D.C.) Returns to the House floor for a second series of votes.
6:00PM – Wherever she is, she often gives remarks at an evening event such as nonprofit galas or regional leadership dinners.
8:30PM – A late dinner with her husband, Roger Sant, the co-founder of AES Corporation. She married Sant in April 2020, during the height of COVID-19 in a virtual ceremony. Sometimes Roger will barbecue, and occasionally — and only occasionally — they'll have time to relax with TV like "Bridgerton," "Jack Ryan" or "The Diplomat" (because of course).
9:30PM – Responds to more emails, prepares for tomorrow.
11:00PM - Winds down after a very long day, heads to bed.
–
Stay up to date on business in the Capital Region: Subscribe to the Comstock's newsletter today.