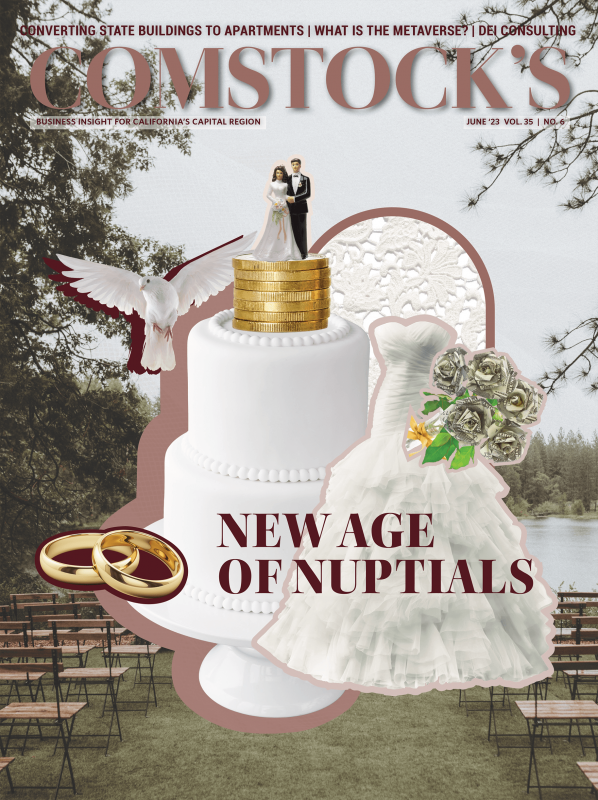 This story is part of our June 2023 print issue. To subscribe, click here.
You see him on TV. You hear him on the radio. You know him as the man who knows the markets. For over 15 years, Sacramento has turned to Kelly Brothers for making sense of Wall Street and the economy, where he serves as a frequent contributor to KCRA-TV and News Radio KFBK.
But that's only part of his story. Brothers lives a kind of double life — he's also a financial advisor and principal at CAPTRUST, a wealth management firm with $630 billion client assets under management. "I have my toe in TV and radio, mainly for the purposes of marketing my business," says Brothers, who also views it as a "service to the community for increasing financial literacy."
So Brothers essentially works two very different jobs.
This is how he pulls it off.
To-do list system: Paper lists. When he was studying for his CFP (Certified Financial Planner) exams, his teacher told him that if you write something down you're more likely to remember it; the habit stuck. "I've always been a pen and paper guy."
One thing he never skips each day: Actually, two things — exercise and prayer. If he misses either one of these, "I can't sleep."

6:30AM – Wakes up, quickly devours around eight websites (such as the Wall Street Journal, Sacramento Bee, Bloomberg) to get up to speed. Watches "Squawk on the Street" on CNBC in the background, as the top stories give a quick summary of what's urgent.
6:40AM – Jots down notes to prepare his stories for the day. Just quick bullet points. "I build my reports around that. It's very conversational. No scripts."
7:00AM – Brews a cup of coffee, takes his two Labrador retrievers, Hanson and Millie, outside for a quick walk.
7:21AM - Records his first of four radio hits for KFBK, each of which is 90 seconds.
7:23AM – Switches gears to knocking out email and doing other work.
7:51AM – Radio hit No. 2. "These are live because the market is open, and the numbers are changing."
7:53AM – Back to emails or other quick tasks. "I have in my head a 28-minute clock, because I have 28 minutes between hits."
8:21AM – Radio hit No. 3.
8:23AM – Final 28-minute block. Maybe breakfast. Sometimes he eats nothing, sometimes a smoothie.
8:51AM – Fourth and final live radio hit.
8:53AM – Exhales. Some mornings he'll also do TV, as it "has been a powerful branding tool" for his financial advisory services. He'll film segments from his home office using a webcam. Otherwise he and his Labs will head for a walk to the American River. Gets cleaned up.
9:30AM – Makes the 10-minute drive from his home near Ancil Hoffman Park to the CAPTRUST office in Sacramento. Sometimes he'll use the quiet in the car for a daily prayer. Other days he'll make a call that he's worried might turn into a longer conversation, as the short drive gives him a "hard out."
10:00AM – Meetings with clients and prospective clients. These are almost always in person or on the phone, and rarely on Zoom. Brothers says his clients — including the older ones — still prefer in-person meetings "even in the height of COVID."
11:00AM – More client meetings. This can vary with the market. "My job gets a little hairy when the market goes sideways," as that's when his clients (as well as TV and radio) most want to hear from him. "When the Dow drops 1,000 points in a day I pretty much clear my evenings."
12:00PM – Either lunch with clients or coworkers or a quick bite at his desk.
1:00PM – Reads financial reports, watches webinars and attends meetings to stay up to speed on CAPTRUST's investment strategies.
3:00PM – Records the daily wrap-up radio spot that will run on KFBK all afternoon.
3:30PM - Shifts focus to his charity work with organizations including Jesuit High School, which both he and his two sons attended (he has four kids), the Catholic Foundation, and the Boy Scouts. "I do a fair amount of charity work, which is good for the soul and good for relationship building."
5:00PM – Leaves the office and hits the Arden Hills gym for a workout. If it's nice outside he might skip the gym and play 12 holes of golf.
6:30PM - Some evenings are consumed with emceeing charity dinners or an auction. Otherwise, dinner with his wife Augusta Brothers. He'll try to arrive home "as close to dinner as possible" so he's not tempted to scarf down "pretzels, nuts and potato chips."
7:30PM – Goes for a walk with the Labs, hits tennis balls in his backyard court, or watches a baseball game. "I love the Giants but I love the announcers even more. They're the soundtrack to a summer night."
8:30PM – He and Augusta will light a fire outside and sit by it ("I'm a natural fire freak"), often with a glass of red wine or a cold Coors Light.
10:00PM – Heads to bed. "I'm in that stage of life where you realize sleep is valuable and good in so many ways."
–
Stay up to date on business in the Capital Region: Subscribe to the Comstock's newsletter today.