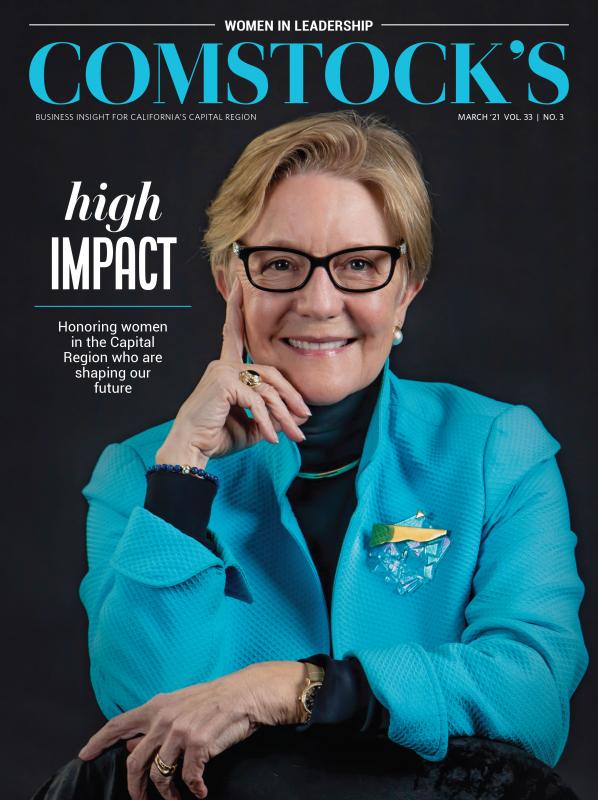 This story is part of our March 2021 Women in Leadership issue. To subscribe, click here.
Elizabeth-Rose Mandalou
Advanced sommelier and partner, WM Restaurants
In July 2017, in a nondescript conference room in Phoenix, Elizabeth-Rose Mandalou sat in front of three judges and six glasses of wine. As the judges watched, she picked up a glass, sniffed its contents — notes of currant, perhaps, or forest floor — sipped, swished and spat. She thought of the thousands of wines she had tasted in preparation and called out a grape variety, an origin, a vintage. Then she moved on to the next one.
Mandalou, a partner and cofounder of the restaurant group WM Restaurants, which includes Allora, Woodlake Tavern, and WM Catering & Events in Sacramento, doesn't know how many wines she identified correctly. The blind tasting is part of the three-day exam to earn the title of Advanced Sommelier, the second-highest certification granted by the international examining body the Court of Master Sommeliers. But she knows she passed, making her the third person and the first woman she knows of in the Sacramento region to do so.
The Court of Master Sommeliers is not known for being welcoming to women. A sexual harassment scandal in 2020 led to the Americas chapter restructuring its board to include three women instead of two — a good first step, but not enough, says Mandalou, who witnessed and reported harassment in the organization. "If someone, especially a woman, is just getting started, I want to be the person to help them, because I know of the world that exists around women in my industry," she says.
"Put in the work, stay focused and do not allow yourself to be discouraged. Surround yourself with people who respect the massive undertaking following your dreams entails."
Mandalou is helping to develop a more inclusive support system for aspiring sommeliers and restaurateurs in the Capital Region. She hosted a biweekly tasting group at Allora until the shelter-in-place order put it on hold and is always willing to mentor others. Last year, she nominated one of her employees for a scholarship from Les Dames d'Escoffier International, an organization for women in the restaurant and hospitality industry, to take the Court of Master Sommeliers' introductory exam; the employee received the scholarship and passed. "We need more women somms, and my goal is eventually to have my entire staff with their certification to the Court of Master Sommeliers," Mandalou says.
As sommelier at Allora, Mandalou also has the opportunity to promote women in other parts of the wine industry. This month, she launched a wine list celebrating women winemakers, such as Elisa Semino of La Colombera in Piedmont, Italy, and Michael Havill of Bella Grace Vineyards in Amador County. Some of the wines on the list are unusual for Sacramento restaurants, but neither Allora nor Mandalou have ever stuck to the standards.
"I'm going to continue to do things the way I want to do them, because I think that as long as we view our city as having a limit to their capacity to learn and to be inspired, then we will forever be that city that we think we are instead of what we can be," she says.
–
Get all the profiles in our Women in Leadership issue delivered to your inbox: Subscribe to the Comstock's newsletter today!