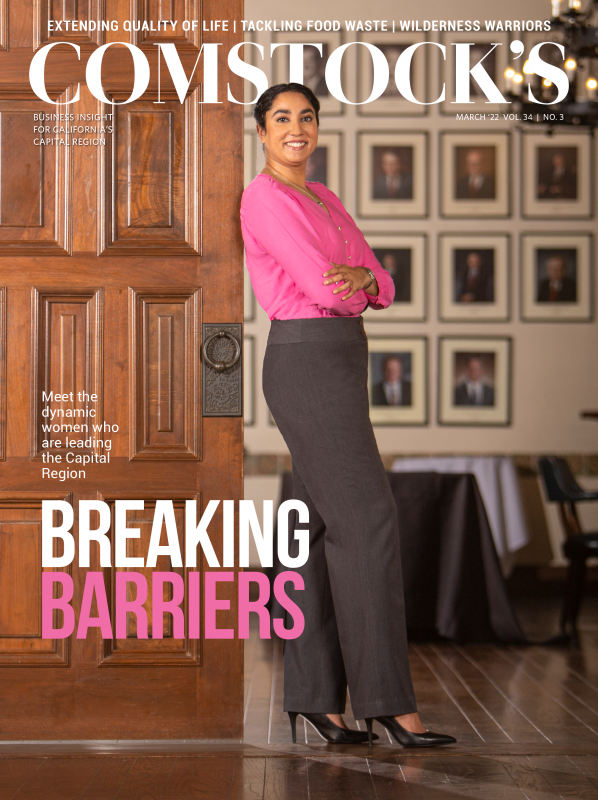 This story is part of our March 2022 Women in Leadership print issue. To subscribe, click here.
For most of us, whenever work feels too stressful or the job feels overwhelming, we can calm ourselves by saying, "At least it's not life or death."
Dr. Janine Bera does not have this luxury.
As chief medical officer of WellSpace Health, a Sacramento-based nonprofit health care provider, Bera is literally focused on keeping people healthy and saving lives. "We focus on primary care and keeping patients out of the ER and the hospital," Bera says. WellSpace serves 125,000 patients each year at more than 30 centers across the Sacramento region.
Her secret to making the operation tick? "I manage and lead by meetings," Bera says. "I want to get together and hear from the people who are doing the job."
The other secret is a full workday that begins at 7 a.m. and doesn't end until 10 p.m. This is how she does it.
6AM – Works out as soon as she wakes, either with a visit to Orangetheory Fitness (a gym with a focus on high-intensity interval training, or HIIT) or using Mirror (an at-home system). "It helps clear my head and gets my endorphins going."
7AM – Quick breakfast, email, work, along with one mission-critical ritual: "Missing a workout is upsetting. Missing my coffee is a crisis."
8:30AM – Commutes from her home in Elk Grove to WellSpace's downtown office on 12th and H streets. In the car, she listens to CapRadio each morning, part of a media diet that includes regular checking of MedPage Today and UpToDate (for medical news) and constant updates from national, state and local public health briefings.
9AM – Meetings, such as a call with other regional community health centers to discuss COVID-19 strategy — a frequent topic.
10AM – More meetings, like an internal meeting to discuss how to improve the continuity of care for patients. These are usually in person; Bera rarely works remotely. "We're health centers, and we serve the underserved," she says. "It didn't seem right to us to not be present." All of the WellSpace health centers remained open throughout the pandemic.
NOON – Eats a brown-bag lunch during another meeting. Bera actually enjoys meetings. "I'm an extrovert, and I truly get reenergized."
1PM – Works at her desk, answering emails or reviewing details of a new policy or plan.
3PM - More meetings, such as touching base with the call center director. While the call center isn't under her domain, the needs of the patients are: "My personal guiding principle is, how do I make things better for that one patient? How do we make things better? I can't do that by myself. I need to go in and talk to our team." With the call center director, during COVID, for example, she might ask them, "What's it like to be the person who's fielding a phone call and has nowhere to put a patient?"
4PM – Answering emails, or responding to a question from a nurse practitioner or refining the protocols of how her team is handling COVID.
5PM - Commutes back to Elk Grove to the home she shares with her husband, U.S. Rep. Ami Bera.
6PM – Often a networking event, such as a dinner for the American Leadership Forum, where she serves as a senior fellow.
8PM – One last burst of work, such as dashing off an email that summarizes the key insights from all of the day's meetings. She is aware that "we all communicate differently," and some of her colleagues appreciate the email roundup.
10PM – Finally, downtime, which usually means shows like "Schitt's Creek" or "Insecure." "I like to watch things that aren't challenging at all." And after the day she's had, who can blame her?
MIDNIGHT – Sleep.
Favorite to-do list system:
"I love crossing things off a list! I keep it pretty simple on a sheet of scrap paper. If it's more time-sensitive I'll use the reminder function on my phone."
How she stays focused:
"I love what I do and relish the task at hand. When I'm immersed in a project I lose track of time and hours tick by. When I step back and look more widely at all my tasks, it can be a bit overwhelming, so I turn to my to-do list to help get focused."
–
Stay up to date on business in the Capital Region: Subscribe to the Comstock's newsletter today.