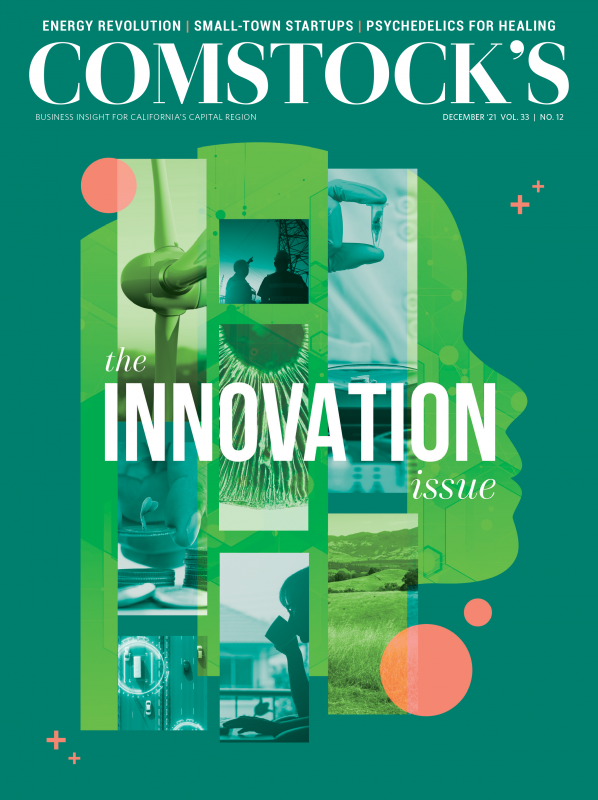 This story is part of our December 2021 innovation-themed issue. To subscribe, click here.
We live in a world where "building things" usually refers to something abstract or online: apps, software, websites, code or hard-to-grasp concepts involving blockchain. Kelley Cowan actually builds things. Schools. Offices. Homes. As the director of the Sacramento Region for XL Construction, Cowan has overseen projects including the UC Davis Health Midtown Clinic in Sacramento, the Bayer CropScience Biologics and Vegetable Seeds facility in West Sacramento, and the just-completed revamp of Del Campo High School in Fair Oaks for the San Juan Unifie0been with XL since 2010.
Cowan is also a former board member and past president of Sacramento Regional Builders Exchange, an organization that serves the local industrial and commercial construction industry through education and outreach, legislative updates, networking events and other resources. After seven years in the role, she stepped down at the end of 2020.
This is how Cowan gets things done.
5AM – Heads to a 45-minute spin class. Or some days she hops on her Peloton; once a week she meets friends at 5:20 a.m. to speed-walk a 4.6-mile route around the neighborhood. She says the workout is "really the only time I'm unplugged from the rest of the world," and considers it "vital" for her mentally.
6:30AM – Gets ready for work, heads to the XL offices on 13th Street.
7:30AM - Weekly breakfast meeting with her two project executives at Fox & Goose or Café Bernardo, two blocks from the XL offices. "I check in with them weekly, asking, what's keeping them up at night?"
8:30AM – Meets with regional leadership. To keep the meetings hyperefficient, Cowan uses a structure called The Ninety (a productivity platform). People take turns leading or taking notes, the meeting starts with sharing headlines of good news, then they share the "rocks" — the one or two critical things that must be accomplished. "Not the 10 things, but the one or two things you need to get to your annual goal." They quickly assign to-do's and discuss any pressing issues.
10AM – Visits a construction site. It's important for Cowan to pop up from time to time, to both support project managers and to "trust and verify."
NOON – Eats a quick lunch at her desk (often a salad with a side of sweet potato fries from Burgers & Brew on R Street) while working and emailing. She stays current on news with daily emails from The New York Times, The Skimm and The Wall Street Journal; for local and industry news she reads Sacramento Business Journal, Comstock's and Engineering News-Record.
2PM – Meeting or internal work, like prepping the business plan for 2022. She tries not to obsessively check email, as "The time to stop an activity, check an email and then return to the activity adds up to a significant waste."
4PM – Either more internal work (like reviewing an organizational chart) or a networking function, such as a recent event hosted by the Sacramento Region Builders Exchange, where she meets with architects, engineers, trade contractors or clients.
6:30PM – Dinner and downtime. "I'm either living large or I'm in my jammies on the couch," says Cowan, meaning she's either out to dinner with friends or eating the same leftovers for several nights in a row. As for Netflix binging? "The theme for my weeknight wind down is 'light,'" which usually means something like "The Great British Baking Show." (Heavier fare is reserved for the weekend, "when I have more time and brain-bandwidth.")
9:30PM – Chores and cleaning.
10PM – Heads to bed.
Favorite to-do list system:
Handwritten list on a sheet of paper. "Sometimes I highlight the items I must hit that day; the next day I might choose another color to differentiate that day's priorities. … It's dynamic and real, and I love the reset I get from rewriting the list when about half the items are completed, or it's become too messy to be useful."
On setting goals:
"I set long-term goals for myself and for the institution from the outset. I charged a committee to work on our long-term planning on day one, which resulted in UC Davis's 10-year strategic plan, To Boldly Go. We are in year three, and this plan will help us continue to establish our priorities for the next seven years."
–
Stay up to date on business in the Capital Region: Subscribe to the Comstock's newsletter today.