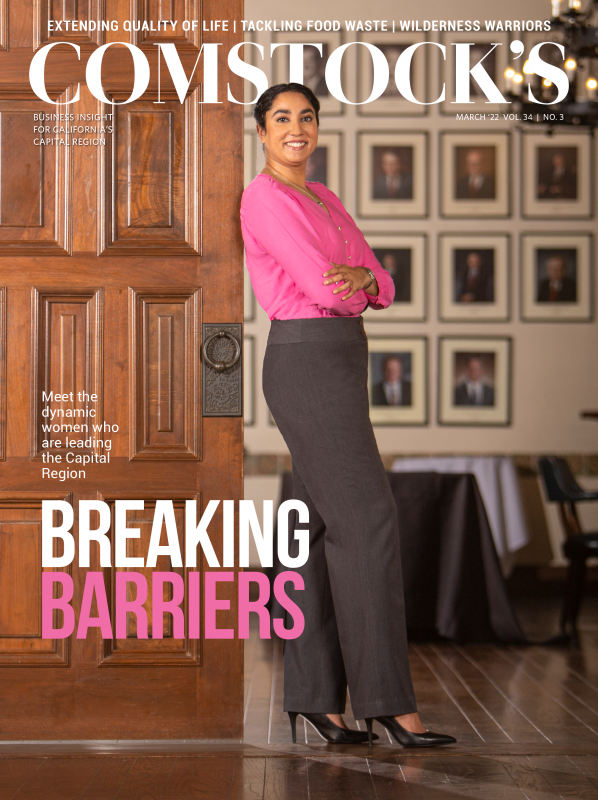 This story is part of our March 2022 Women in Leadership print issue. To subscribe, click here.
As we put together our annual Women in Leadership issue (one of my favorite issues of the year), I can't help but think what a huge role women play in our world — and it's why we dedicate an issue every year to women in leadership.
Women are mothers, daughters, sisters, aunts, nieces, grandmothers, friends and mentors. They're also community leaders, they're compassionate, they're patient, they're detail-oriented, they want to make a difference, and they truly want to help one another succeed.
For years they've been growing in number on corporate boards, as entrepreneurs, biotechnicians, CEOs, executive directors of nonprofits, doctors and attorneys. Many play in fields historically dominated by men, like construction, infrastructure, development, land use, chemistry, engineering and politics.
A woman we featured on the cover of Comstock's some years ago was the first woman to professionally climb poles to install wiring for the phone company — very untraditional at the time. Several women I know in top leadership roles are the breadwinners in their families while their husbands are the homemakers.
Where does the desire to be in business come from for young women? How far back did it start? When I was growing up in the small town of Nevada City, being a success in business certainly wasn't a major drive for any women I knew. But that was then. It's different now. Perhaps it just evolves out of the experiences, empathy, drive, education and opportunity that cross our paths. Or perhaps it comes from parents who often want their children to outperform them in every way, from professional achievement and broad experience to personal contentment and joy of life.
Most of the successful women I've had the good fortune of knowing and working with throughout the years were blessed to have grown up with a mom who encouraged them, and sometimes even challenged them. Mine was an encourager, but never pushy. She wanted all three of her children to aspire to whatever we wanted for our lives. I remember at the time, however, being told that my work choices (common for young women then) were being a nurse, a teacher or a secretary. I chose the latter. I studied and trained hard and could type and take shorthand extremely well. I wished there was a national competition I could enter and win as I could type faster than anyone, anywhere, and with great accuracy. Those skills have served me very well through the years. Still, I wanted to keep growing and doing and being more — to pursue untraditional goals.
Rudyard Kipling is a favorite poet (his poem "If" is a must read — good advice for a better world) who writes "God could not be everywhere, so He made mothers."
Women are special in so many ways. Of the special women in my life, my mom is at the top of the list; my daughter, Carmel, a very close second. It still comes to my mind every day for just a split second: "Oh, I've got to call mom." Then it hits me like a rock — very sadly, I can't do that any longer as she passed away just weeks ago, on Jan. 13, at the wonderful age of 101 and 2 months. I didn't get to say all the important things I wanted to say to her before she passed, but I wonder if anyone really does.
Can you guess that my mom was also my very best friend? Throughout my life, she was always there for me, no matter what I was going through. There's a special bond between a mother and a daughter that often spurs a daughter to be her best self. My mom was my reassurance, my support, always telling me everything was going to be okay, no matter what.
Regardless of our role in life, women seem to be the glue that holds everything together. And what I love about women is that they get it done, whatever "it" might be. And they create a strong presence, legacy, community and progress wherever they go.
There's a lot to read in this issue, from cover to cover, and I know you'll enjoy reading the great stories of these women in leadership — inspiration to the max!
And before this day ends, call your mom if you still can.
If you can't, then call upon her. She'll always be with you.

Winnie Comstock-Carlson
President and Publisher
–
Stay up to date on business in the Capital Region: Subscribe to the Comstock's newsletter today.