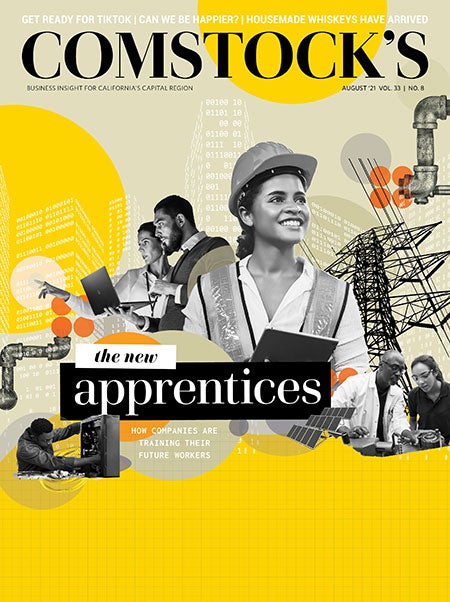 This story is part of our August 2021 issue. To subscribe, click here.
In July of 2020, in a virtual staff meeting for the Sacramento History Museum, an employee named Jared Jones, who normally works the museum's front desk, said to the group, "I'd like to try TikTok."
They collectively rolled their eyes, as the museum's CEO Delta Mello remembers it. "Yeah, right, that's for dancing and stuff. Not our audience," Mello thought at the time.
But Jones made his case. He had been experimenting with TikTok in his own time, he had seen other museums use the platform with some success (like the Black Country Living Museum in the United Kingdom), and he thought it could be a clever way to reach younger audiences — especially in the bleakest depths of the pandemic, when the museum, in Old Sacramento, was closed to the public. Back then, Mello had one primary goal for the museum: to not be forgotten. Maybe TikTok could help?
So Jones got his wish. And the museum soon struck gold with an 82-year-old volunteer, Howard Hatch, who, with a charming earnestness, demonstrates how to work the museum's 1852 printing press. Jones says, "The video got 50,000 views overnight," and the account swelled from around 1,000 followers in December 2020 to 1 million by the end of March this year. They were shocked to see it cross 100,000. "At 600,000 followers, I thought, this is it. That's all she wrote," says Mello. She was wrong.
In one exceptionally meta video, Hatch uses the 169-year-old press to print a version of the 19th-century Daily Bee with a headline that blares, "SACRAMENTO HISTORY MUSEUM REACHES 1,401,000 TIKTOK FOLLOWERS." The history museum now has 1.6 million TikTok followers, more than any museum in the world — more than The Metropolitan Museum of Art in New York City (24,000), more than the Uffizi Gallery in Florence (84,000), and the Smithsonian and the Louvre don't even have TikTok accounts.

Why did this work? And if a venerable brand like the Sacramento History Museum can unleash TikTok (or Snapchat, Twitch or the newest social media flavor of the month) to reach audiences, does that mean that every company should pounce on the trend?

"The key takeaway is authenticity," says Christie Pierce, director of digital media at 3fold Communications, a Sacramento-based marketing firm. "The more authentic you are," he says, the more the internet will "push that content to people who are interested in it." He adds, more bluntly, "The title of your article should be 'Don't Be Schlocky.'"

So here are some strategies for not being schlocky.

i. Be Authentic, Be Entertaining

Museums are good at telling stories. That's what they do. So in a sense, the Sacramento History Museum just focused on what it normally does — sharing cool nuggets from history — but using the new format. The focus is on Hatch being Hatch. "The word 'authenticity' is overused, but Howard is authentically being himself," says Mello. "He's been doing printshop demonstrations for classrooms for over 20 years. This is nothing new to him." The museum is careful not to overly produce these videos, but instead offer tiny slices of printing wonder. One TikTok video, for example, simply focuses on Hatch spreading ink on the printer, which has an oddly satisfying sound. (And, of course, this is tagged #oddlysatisfying. The 167,000 likes would agree.)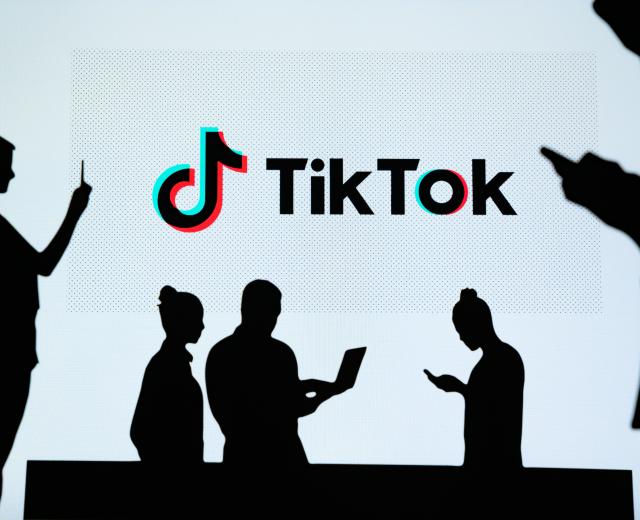 To meet six of the Capital Region's top TikTok influencers, click here.
The juxtaposition of old media (printing press) and new media (TikTok) fuels the entertainment, and entertainment is the internet's hard currency. "Social media is entertainment," says Mia Lopez, marketing director at Uptown Studios, another Sacramento-based marketing firm. "The reason TikTok is popular is that it's entertainment, and you have to be entertaining in order to be relevant." She says this is true of not just TikTok but all social media platforms, to various degrees, as people "are not there to talk to your brands. They're not there to be sold to."
Gilmore Heating, Air, and Plumbing understood this, as the company's television commercials feature owner Darrin Gilmore filming awkward (and hilarious) TikTok dances with his daughters. And Naija Cuisine in Sacramento also doesn't have a TikTok account, but a TikTok fad that involved eating fufu, a Nigerian food staple, led to hordes of TikTok users visiting the business earlier this year.
ii. Make a Real Commitment (or Maybe Don't Bother)
Should a company even hop down the rabbit hole of social media marketing? When Pierce first works with clients who are anxious to get their TikTok on, he plays what he describes as the "3-year-old game" of asking a series of why questions. "Why do you want to be on social media? Why do you want to be on TikTok? Why do you think this is your audience?"
Sussing out these answers helps ensure the platform is a legitimate fit for the company's strategy, and not, as Pierce puts it, "just to scratch a CEO's itch." His advice: Put yourself in your audience's shoes and think deeply about what platforms they're using, why they're using them and whether they'll still be using them in a year. "Are they online when they're riding in transit and looking for memes or something funny?"
The social media team at UC Davis aggressively employs this mindset. "We have a new class coming in every year, and they're getting younger and younger," says Sallie Poggi, director of social media at UC Davis. "We listen very deeply on what platform they're engaging on." The university didn't hop on TikTok because the staff skimmed an article in Adweek; they followed the trends of the students. When they realized students were on Reddit, they started doing AMAs (Ask Me Anythings). They create Spotify playlists for students. They're even keeping tabs on what Poggi calls more fringe platforms, like Wildfire (an alert app developed at UC Berkeley), in case that's where the eyeballs migrate.
Poggi is monitoring Clubhouse (the real-time, audio-only app, where users tune in to conversations of influencers) and keeping an open mind, but she personally thinks it's "a little bit of navel-gazing." All of this helps explain why, as Lopez puts it, UC Davis "knocks it out of the park" with social media, and why the team has earned national recognition, such as winning multiple CASE awards (issued by the nonprofit Council for Advancement and Support of Education).
UC Davis made a real investment. "Social media is a team sport. It's not a person doing it in the corner or a part-time job," says Poggi, who leads a team of five full-time employees exclusively dedicated to social media. Empowerment is key. Poggi reports directly to the chief marketing officer, who reports to Chancellor Gary S. May. "I have an equal seat at the table, and I'm seen as a peer and an equal, not an afterthought," says Poggi.
This kind of empowerment isn't always a given. "Are you ready to be online? Not every brand is," says Pierce. "It takes a lot of management and time." Companies often leap into social media with the misguided notion that it's just one extra task — it's just a tweet or two, right? — they can pile on some poor employee's plate. Lopez has found that many companies still have a mindset that "if you just put it out there, they'll come." That's no longer enough. "There's just way too many people doing it well for that to work anymore," she says.
If you under-resource social media, pitfalls are everywhere. They can be trivial, like not properly formatting your posts, and a missing image preview on TikTok or YouTube is a dead giveaway that you're cutting corners. This sounds petty, but it can sap credibility. The blunders can be more subtle, like when companies try to dump everything they have to say all at once. "Dude, you have unlimited room," Lopez says. "You have an unlimited number of posts to share this. Just pick one small aspect, and share that. Worry about adding other stuff later." This is one reason why the Sacramento History Museum's posts are specific, short and pegged to one delightful moment, as opposed to trying to convey the sweep of the history of printing.

The results of a poorly executed post can be disastrous. Burger King U.K. had to apologize and delete a Twitter post earlier this year that said "Women belong in the kitchen." The fast-food chain was attempting to promote its new scholarship program for female employees to increase women in head chef roles on International Women's Day, but the tweet was criticized for being tone-deaf.

The potential for a firm's message to go viral is a double-edged sword. "Fact-check yourself and your own unconscious biases," says Pierce, who strongly recommends including a range of voices. It's of the utmost importance, he says, to work with "experts who represent a diverse perspective, and have a cultural competency that is relevant to the audience we are trying to communicate with."

iii. Hand Over the Mic

What's the one thing better than when your content lands with your audience? When your audience freely gives you content. "That's the ultimate goal," says Pierce, "when you have such loyal brand advocates that you don't even need to create content, because it's already being created for you." Take the recent Adult Swim trend on TikTok, where hundreds of thousands of users — without any official prompting — created their own version of the "bumps" (short video clips) that run between Adult Swim cartoons. "That's the golden nugget," says Pierce.
UC Davis found its own version of this golden nugget. "The biggest key to our success is that we hand over our microphone regularly for people to tell their stories," says Poggi. "We don't overedit it, we don't script it, and we allow people to be who they want to be online." UC Davis' TikTok channel is run primarily by the students. In one campaign, students post videos of themselves, surrounded by their anxious families, and opening those all-important emails announcing whether they had been accepted to UC Davis … and the families erupt in joy. "We're looking at our community and selecting the tear-jerking stories and amplifying that," says Poggi.

The university uses Instagram Live to give upbeat virtual tours, celebrates admissions by creating custom Twitter banners with reaction GIFs, and responds individually to each person online. Their Ask an Aggie campaign, where students take over the Instagram account, won another national CASE award. One prospective transfer student had been direct messaging with UC Davis for two years, and when he was finally accepted, the team sent him a custom GIF of congratulations, and a reaction to that tweet racked up 14,900 likes. The university's Twitter enthusiasm earned a shout-out from San Francisco Giants broadcaster (and UC Davis alumna) Amy Gutierrez, and the post even briefly trended nationally.

iv. Track, Test, Measure

"We're always focused on the ROI," says Lopez. "How are you going to measure that this is a positive investment?" The back-end systems can measure not just likes but also clicks, conversions, inquiries, downloads and any incremental boosts over the baseline. Then there's the AB testing — comparing the performance of version A and version B — to gauge which messages, images or content is most effective. "This takes somebody going in and looking at the analytics," says Lopez. "You can't just spend five minutes on YouTube and then put an ad up."

How does all of this translate to the bottom line? That's tricky. It's good to set realistic expectations, as even the home runs, like Howard Hatch's printing press phenomenon, don't necessarily lead to monetization. Mello says the museum is making "not a whole lot" of direct revenue from TikTok livestreaming events — roughly $200 to $1,000 a month. And this is from a TikTok account with 1.6 million followers.

But then there are the intangibles. Mello has seen an uptick in virtual events for the museum, and during a recent TikTok livestreamed event, 40,000 people tuned in from all around the world. "People were saying, 'Hey, from the Philippines; hi, from Brazil; hi, from the U.K.,'" says Mello. "It's exciting to see that, to have our little museum recognized by someone from another country." More importantly, she says, "Certainly, it's solved the problem of 'let's not be forgotten.'"

Editor's note: This article has been updated to include the official TikTok of Gilmore Heating, Air and Plumbing.

–

Stay up to date on business in the Capital Region: Subscribe to the Comstock's newsletter today.