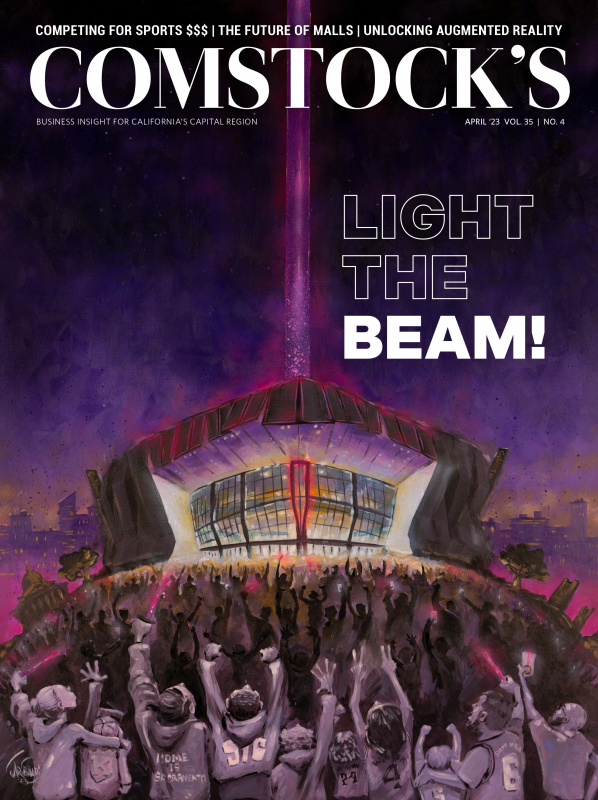 This story is part of our April 2023 print issue. To subscribe, click here.
It's the final two minutes of a very close and tense game. Both teams keep exchanging leads, keeping Sacramento Kings fans on their feet. Star guard De'Aaron Fox fastbreaks down the court, stops and shoots a 3-pointer. The sellout crowd of 17,000-plus roars, pumps their fists in the air and shouts in unison "Light the Beam!" A player walks over to a round purple mound, pounds it with his fist and a brilliant purple laser from atop the Golden 1 Center shoots into the sky, illuminating the city skyline. Fans outside the arena point their camera phones skyward, capturing the image that has captivated the region as the Kings have their first winning season in 17 years. When the Kings play and the Beam is lit, it means both the Kings and businesses in Downtown Commons and surrounding region are all prospering.
According to the Sacramento Kings, the history of what's officially called "The Kings Victory Beam" began in 2022 on 916 Day (September 16) as a new way for the team to connect with fans and the community. The bright purple beam was first lit following the Kings win against the Miami Heat on Oct. 29, and is now lit after every Kings win, home or away. The Beam is powered by six lasers located on top of Golden 1 Center and stays illuminated until midnight. The laser space cannon is the brightest full-color laser equipment in the world and is visible for miles around. And if you've been wondering, it has been approved by the Federal Aviation Administration. This fan favorite now sparks loud cheers of "Light the Beam!" at Kings games.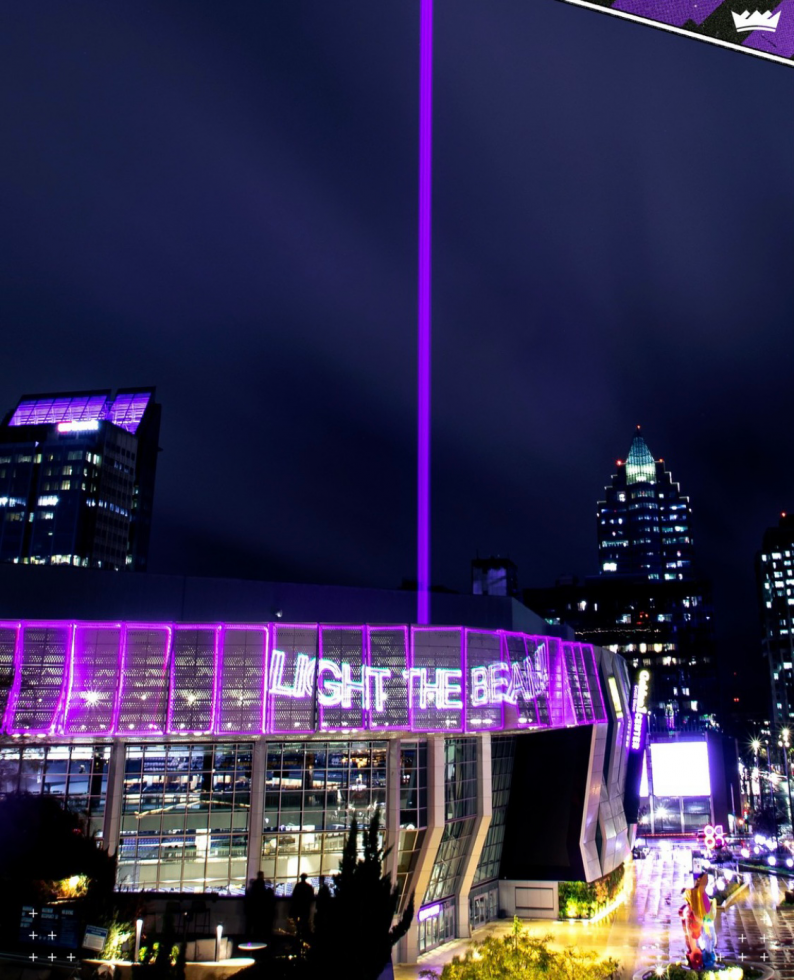 ]John Rinehart, president of business operations, took the idea to Ranadivé after he saw the Los Angeles Angels' "Big A" sign in front of their stadium. After every Angels win, the halo on the sign lights up. Ranadive, coming from a tech background, wanted to go bigger and bolder, so he had the beam created with 1,000 watts of purple RGB laser power.
"This beam has become a beacon of hope for everybody; all of us pursuing our individual journeys as well as the collective journey of having the Kings achieve great success," Ranadivé said in Episode 6 of the Kings docuseries "The Run."
Local restaurants and breweries are cashing in on the beam craze. You just have to walk the short distance from the Golden 1 Center across to Fizz Champagne & Bubbles Bar in DOCO to treat yourself to a sparkling purple cocktail named "The Beam."
"It has butterfly pea flower tea in it, so it starts with the blue concentrate when we make it, but then when you add an acid to it such as lemon juice, that's what makes it turn bright purple," bar manager Kathleen Galster told Comstock's. "One of our bartenders made that at the start of the season, probably around October-November, and it has definitely taken off."
The gin cocktail can also be made tableside with champagne or sparkling wine as a fizzy topping, which Galster calls an "Instagrammable" photo op for guests. She added business has picked up so much Fizz is now open later to accommodate Kings' fans who want to hang around DOCO and see the Beam after a home win.
Wander over to nearby K Street, where Tiger restaurant has a purple cocktail made with Branson cognac from rapper and actor Curtis "50 Cent" Jackson's liquor brand, sprinkled with edible glitter. "Coming off that, we thought a red velvet cocktail would be an appropriate followup, kind of paying tribute to Kevin Huerter," says co-owner Robbie Metcalf, referring to the Kings' red-headed shooting guard. The Red Velvet is a red daiquiri that sells for $6 during happy hour. Metcalf says Tiger has also seen a boost.
"We see a huge amount of business on days the Kings are active; definitely on Fridays and Saturdays when they're in town. K Street just comes alive. It's really been pretty amazing to see the impact of a winning NBA team, bringing in people from the surrounding areas that really haven't been down here since COVID."
Breweries in the suburbs are also jumping on the Beam bandwagon and getting an economic boost. Some of the offerings include a "Beam Team" IPA by Bike Dog Brewing in West Sacramento; "It Was All a Beam" IPA by Flatland Brewing in Elk Grove and "Light the Beam" IPA by Moksa Brewing Company in Rocklin, according to the Sacramento Bee.
The business impact doesn't end with drinks. Local entrepreneurs such as The People of Sacramento and fan website The Kings Herald are selling T-shirts, hoodies, mugs and candles with the Beam image and even a mini purple Beam lamp for your home. And fans are starting to decorate their homes with purple lights.
"We have been through a long journey and the fans have not tasted success for a very long time," Ranadivé says. "The Beam is really a celebration of life and success. We all have our journeys. We all have our goals we want to achieve. We want to be a playoff team. We want to win a championship."
–
Stay up to date on business in the Capital Region: Subscribe to the Comstock's newsletter today.
Sacramento sports and entertainment managers are trying to reach sports fans who travel for Bay Area games to keep their money here. So what are they doing to compensate for all those sports dollars being lost?
Eight schools and their fans landed in Sacramento to play in the NCAA tournament's first and second round games, bringing in an estimated $10 million in economic impact.
Sports organizations like the Sacramento Kings and Sacramento Republic FC are linking with nonprofits to launch community sports programs that empower youth with life skills and STEM education.