When Brett Mitchell put on a virtual reality headset, the architectural plans for a new performing arts center at El Camino Fundamental High School jumped to life. With a simple click of a button, he could sit in the front row, stand on the stage or even fly to the top of the room for a bird's eye view.
Not only was it a cool experience in a video-game type world, Mitchell, the facilities construction director for the San Juan Unified School District, caught a design flaw that could have been a costly fix after construction: The guardrail from the stairs on the stage obstructed his view from several of the auditorium seats.
"Those seats would have been unusable," Mitchell says.
With the use of a virtual reality headset, he and teachers at the high school provided valuable input to the builder — from construction changes like the handrail to aesthetic decisions such as whether a black or green curtain on stage would look best.
"You can see what the design is going to look like before it's even done," Mitchell says. "You take the guess work out of everything. And we were able to solve conflicts early on."
While still in its infancy in the construction industry, the virtual reality experience is becoming more available and affordable in major builds. Architects and construction companies in the Capital Region are increasingly turning to virtual, mixed and augmented reality to plan, manage and market projects — from schools to hospitals and new homes.
Software and hardware developers have made great strides in recent years, with the advancement of virtual, augmented and mixed reality and delivering this technology directly to consumers at a lower and lower cost. Facebook, Google, Microsoft, HTC, Samsung and others have released portable headsets that can be used with smartphones, video games or laptops.
It's a huge leap from the past where any business that wanted to deploy virtual imaging would need trained software experts, says Hitesh Dewan, a professor of construction management at the UC Davis Extension in Sacramento.
A decade ago, "You needed to know code and you had to be savvy with storing files on your computer," says Dewan, who also works out of the Sacramento office as operational technology manager at XL Construction, headquartered in Milpitas. "But now you can open up your phone and point it in a direction."
The investment in what is now off-the-shelf technology — a laptop, cameras, software and a headset — is easily outweighed, firms say, by the cost-savings clients see with more accurate designs and fewer changes during or after construction. And most people can learn to use it.
Just a few years ago, implementing virtual reality was not only more costly but also time-consuming. Formatting a computer file from a 3D design model to something that was an immersive experience took weeks. Any changes in the model by a client took days. The equipment, set up permanently in a firm's office, cost thousands of dollars.
Today, construction teams and architects can travel to a client's office with the equipment in a rolling suitcase, make changes in the model — such as move a window two feet to the left — while the client wears a virtual headset, providing an immediate response to requested design updates.
"The technology has allowed us to communicate with the client more," says Kaushal Diwan, the national director of innovation at DPR Construction, which began exploring virtual reality in 2010. "The number of rework issues have gone down because of it."
When employees at the North Bay Medical Center in Fairfield put on VR goggles, they could virtually walk on the roof of the proposed three-story hospital wing to see how maintenance workers might access a boiler, heating unit or air conditioner. And when the staff saw workers might have trouble getting over some of the pipes, DPR Construction, a national commercial contracting and construction company with an office in Sacramento, virtually added a ramp to improve access.
DPR is also using virtual reality to provide OSHA safety training to its workers at some of its sites — simulating forklift and high-rise safety training to give workers a better feel for their work environment.
And construction firms faced with renovation projects can deploy specialty 360-degree cameras to capture on-site tours, as XL Construction did at a North Bay health facility earlier this year to show what wires ran in the ceilings.
"We had a superintendent, a project engineer and a team of 15 people that needed to understand the space," Dewan says. "To have 15 people climb a ladder, poke their head in the ceiling and look around was out of the question."
By deploying a 360-degree camera, XL Construction gave teammembers an immersive experience that showed them what they needed to see to move forward on the project. It not only saved time and money but preserved the tour for future use. And that, Dewan says, is one of the exciting benefits of virtual reality — the ability to digitally store comprehensive building details. Building owners will know every light bulb, nut and bolt that went into their building, making it easier to maintain their properties rather than digging up old paper blueprints and photos.
At the downtown Sacramento offices of Lionakis, where architects, structural engineers and planners help clients select sites and build projects, there is an open, dedicated space with a laptop, cameras and headset for team members to convert their ideas into a computer-generated and immersive experience.
Architects can build three-dimensional models using virtual or augmented reality — playing with layouts and design that clients can actually see and experience interactively. It's far more effective, they say, than an artist's drawing or computer rendering that can't capture the spatial nature of a building. 3D models are both expensive and time consuming to build, and clients can still have trouble processing and imagining the final product — especially if they want to swap out materials to see different looks.
When Samuel Bent, a project designer at Lionakis, works on a design for a client, he only has to walk a few steps from his desk and pop on a virtual reality headset to review his own work — is it what he envisioned when he drew the plans on his computer?
That's because he can create digital drawings, 3D models and a VR experience using the same software program (with a special VR plug-in) on his computer. Setting up the virtual reality project, he says, is "as simple as a few mouse clicks, exporting our VR file and opening it with the computer connected to our VR headset."
"We can go through a design critique on our own. It allows us to put ourselves in the building and allows us to make changes," Bent says. "It's one of the best tools we have."
A survey last year of the architecture, engineering and construction industries showed virtual reality ranks at the top of the list for emerging technologies, according to ARC Document Solutions. Nearly 60 percent of respondents said virtual reality would make projects easier to visualize, and nearly half said projects would be faster to complete.
After the virtual walk through of El Camino Fundamental High School's performing arts center, Roseville-based McCarthy Building Companies tweaked the design so the obstructing handrail was no longer an issue — saving both time and money at the beginning of the project.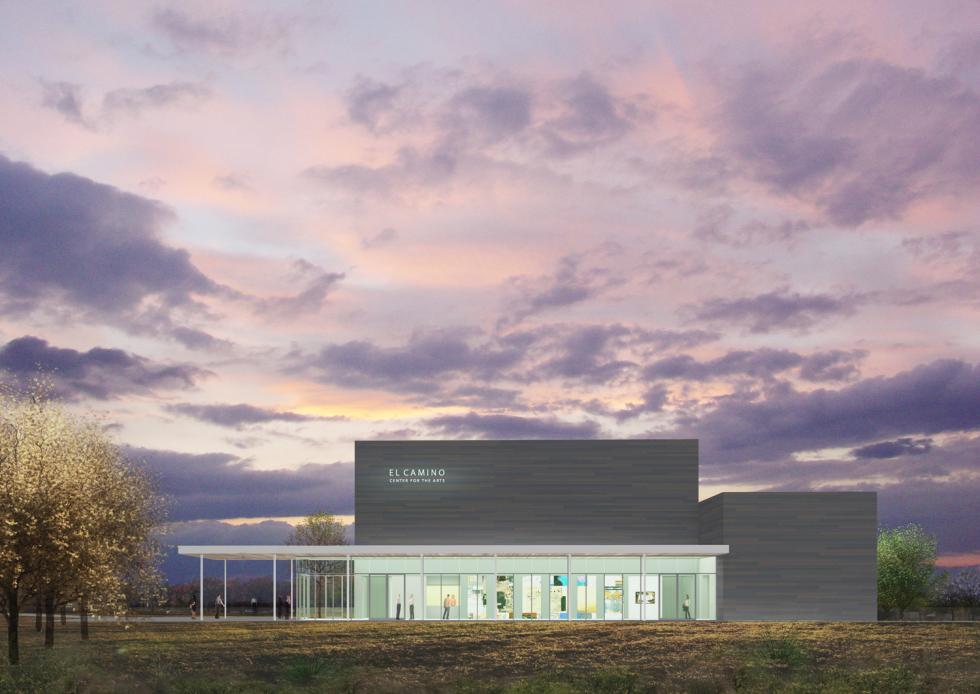 "When we are able to use VR, we use it as a tool. It has a specific use. It's just not a technology that's flashy and cool," says Alex Cunningham, a virtual design and construction manager at the company. "We're spending more time upfront on the project so when we are in construction, we don't have as many surprises." The company has utilized the technology at Del Paso Manor Elementary School, Sacramento State's University Union and UC Davis' Betty Irene Moore School of Nursing, to name a few.
Virtual reality demonstrations also generate buy-in and excitement for construction that can often be disruptive. McCarthy showed students at Bella Vista High School how to put on goggles to virtually walk through the new science wing that will be built at their high school. Last summer, they gave students at Sacramento State the chance to sport headsets to explore their new student union building on campus.
Homebuilders are also experimenting with virtual reality. In Sacramento, prospective homebuyers can visit the sales office at The Mill at Broadway to virtually tour model homes before putting down a reservation deposit for one of the new homes.
Standing in a 10-foot by 10-foot room, a buyer can put on a headset, take a step and virtually walk around their new home with the motion-tracking technology in the headset.
"We weren't sure how it would be received," says David Martinelli, chief operating officer of Vision Launchers, a Sacramento marketing and branding firm hired by The Mill. "But, it's giving home buyers more confidence."
That confidence has translated into sales. All the homes released in the first two phases were reserved within a week, Martinelli says. And the sales using the virtual tours at The Mill are on par with the sales of previous neighborhoods that had physical model homes for people to tour.
At the end of the day, architects and builders who are using virtual reality in the Sacramento region agree that this new tool is helping them deliver on expectations and producing happier clients.
"There's nothing worse than pouring your heart and soul into a project for two years and have someone be disappointed," says Laura Knauss, a principal at Lionakis. "This erases that. We can keep fine tuning a project virtually until there is a universal 'ah ha!'".