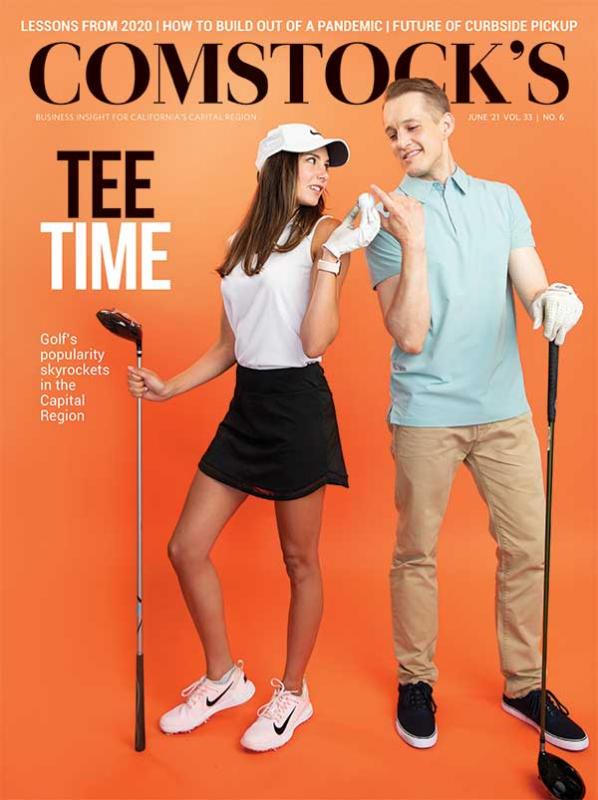 This story is part of our June 2021 issue. To subscribe, click here.
Nearly a full year before the public began lining up for vaccinations, golf received its own shot in the arm from an unexpected source.
While so much was lost during the COVID-19 pandemic, the socially distanced pursuit of chasing a dimpled ball across spacious fairways managed to not just survive but thrive. Practically alone among commercial recreational pursuits, golf saw an explosion in activity during the shutdown. "With all the terrible things that came with COVID, it's been good for the game of golf," says Mike Green, the longtime head professional at Del Paso Country Club in Sacramento.
The numbers back up Green's assessment. Del Paso, which for the previous decade had averaged between 25,000 and 28,000 rounds per year, saw nearly 40,000 rounds in 2020 and once again has a waiting list. Ancil Hoffman Golf Course in Carmichael, a Sacramento County-owned public course, had nearly 80,000 rounds, its highest total in 20 years. Play on Sacramento's city-owned courses — Haggin Oaks Golf Complex, Bing Maloney Golf Complex, Bartley Cavanaugh Golf Course and William Land Golf Course — increased 20-30 percent over 2019.
"Sacramento golf had been in a slow decline over the last 15 years. Tee times had been pretty easy to get because the market had been overbuilt. All of a sudden, we saw all that go away. Golf has become popular again."

Mike Woods Head professional, Haggin Oaks Golf Complex
Part of the increased traffic at Sacramento's public courses came because of the closure of Bay Area courses in the spring. Tee times at courses such as Haggin Oaks were gobbled up by out-of-towners in the early stages of the pandemic. "Sacramento golf had been in a slow decline over the last 15 years," Haggin Oaks head pro Mike Woods says. "Tee times had been pretty easy to get because the market had been overbuilt. All of a sudden, we saw all that go away. Golf has become popular again."
And, after experiencing its busiest year ever in 2020, with 48,000 rounds, Sierra View Country Club in Roseville saw play increase even more in early 2021, while El Macero Country Club, located outside Davis, had to close for five weeks — but added 100 new members once it reopened. "People aren't vacationing, traveling or attending youth soccer games," Green says. "It's been a perfect storm, and every pro I talk to is seeing the same thing."
With schools restricted to distance learning and popular activities such as youth soccer and Little League canceled, parents saw golf as an outlet for their children's pent-up energy. Adults working at home found it easier to sneak out for a weekday round. Sacramento County Golf Division Manager Greg Bliek reports he's seen golfers doing Zoom calls on the course. It's easy to stay 6 feet from your playing partner on a golf course, or, as one pro says, "Golf naturally spaces you out."
While phones rang and cash registers jingled in the pro shops, the pandemic took a sizable bite out of restaurant, banquet and wedding revenues. Shotgun starts — which, by having foursomes start at the same time on all 18 holes, are able to accommodate larger numbers of golfers for tournaments — are verboten until all restrictions are lifted.
Still, the game is in much better shape than anyone could have expected, given the unprecedented nature of the challenge. "Change wasn't as hard as we thought," Woods says.
Rising to the Challenge
Tom Morton was ready to watch the Sacramento Kings play the New Orleans Pelicans March 10, 2020, when the fans at Golden 1 Center were told to exit the arena minutes before the opening tip. If a mysterious virus could stop the NBA dead in its tracks, what next?
Morton, the director of player development for Morton Golf, the Sacramento-based company that operates Haggin Oaks and the other city-owned courses, remembers feeling anxious when he arrived at work for a meeting the next morning. "People are saying, 'It looks like everything is going to shut down,'" Morton recalls. "'What can we do to make our courses as safe as they can be?'"
Rob Fong, a former member of the Sacramento City Council who works as a consultant for Morton Golf, lobbied Dr. Peter Beilenson, then the director of Sacramento County's Department of Health Services and the person in charge of the county's coronavirus response.
Beilenson's knowledge of golf didn't go beyond "knowing it involves irons and a putter," in his own words, but he proved to be the decisive figure in keeping Sacramento's courses open. "It was pretty evident that being outdoors made more sense than being indoors," Beilenson says. "The people in the pro shop took it seriously because they obviously wanted to stay open."
Motorized carts were limited to one rider. To avoid the possibility of transmission, rakes were removed from bunkers, and players were allowed to place their golf balls outside the sand without taking a penalty. Players were instructed not to touch the flagsticks, and hole inserts kept the ball from falling all the way into the cup. Ball washers and drinking fountains were covered. Restaurants could serve only food for takeout. Group lessons weren't allowed. "It was the right decision," says Beilenson, who resigned his county position in late 2020. "Golf was set up for social distancing."
Most private clubs limited play to members only, but that didn't make it any easier to reserve tee times. Jim Salazar, Sierra View's head golf professional, says members who used to play two or three times a month upped their game to three or four times a week. Bob Stangroom, the general manager at Serrano Country Club in El Dorado Hills, says his club experienced the same dilemma. "All they can do is golf, and it's been a challenge for us to get them tee times," he says.
El Macero tried a novel approach to keep its membership happy. For a few months during the height of the pandemic, the club took grocery orders from members and had them delivered at the curb in front of the clubhouse.
"We were trying to think outside the box," Rusty Seymour, El Macero general manager, says. "Help our members and make a little money" through the service. El Macero's catering and banquet services typically bring in about $600,000 each year, Seymour says. During the pandemic, that figure plunged to $120,000. At the same time, the number of rounds increased 67 percent from the previous year. "It's been a roller coaster," Seymour adds.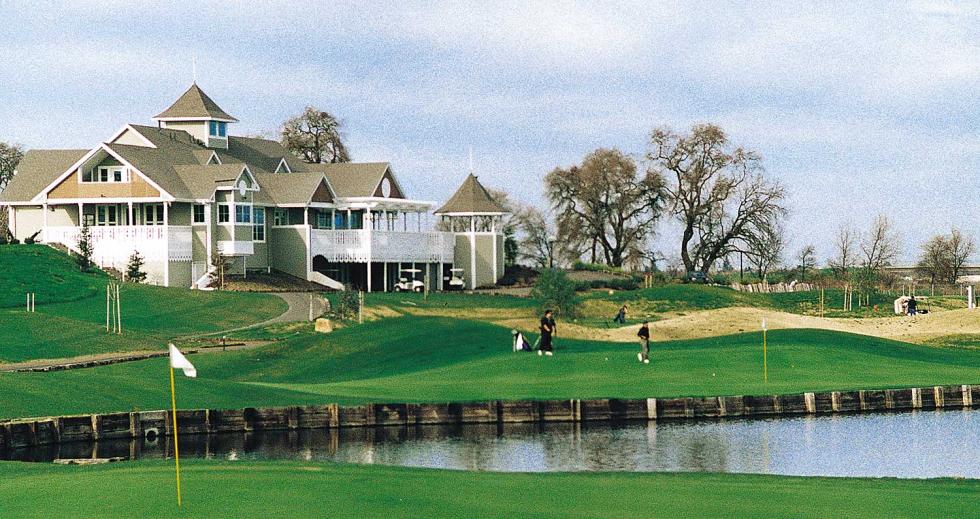 Attracting New Recruits
Sacramento golf has experienced an up-and-down ride for the last 30 years or so. In the 1980s, there weren't nearly enough courses, public or private, to meet the demand.
The 1990s and 2000s, the apex of the Tiger Woods "golf-is-cool" era, saw many new courses spring up within a 50-mile radius, including Granite Bay Golf Club, Serrano, Teal Bend Golf Course, Catta Verdera Country Club (originally Twelve Bridges), Apple Mountain Golf Resort, Darkhorse Golf Club, WildHawk Golf, Empire Ranch Golf Club, Lincoln Hills Golf Club, Timber Creek Golf Course and more.
Today, the market is either oversaturated or flat, depending on who's doing the talking. "It was definitely overbuilt as far as new golf courses were concerned," Morton says. "People said the game's in trouble, it's shrinking. That wasn't accurate. The pie kept getting more pieces cut out of it. The numbers of people playing stayed about the same."
Critics say golf is too slow, too hard, too expensive, too white, too intimidating to beginners. Morton and other insiders say there's a degree of truth to some of those criticisms. "The game has always had people dipping their toes in the water," Morton says. "Many of them feel as though they encounter barriers when they're getting started — it takes a long time to play, it's seen as expensive — but once they get past those barriers, they're all in."
Whether all these new golfers, and former golfers who returned to the game during the pandemic, stick around is the $64,000 question. "The numbers will probably come down," says Michael Sharp, the president and CEO of CourseCo, the management company that operates the Sacramento County courses. "Our hope is that we do a really good job right now and get them to make golf a part of their life."
Angie Dixon, the executive director at First Tee Greater Sacramento junior golf program involving about 1,500 youngsters at 24 different courses, is encouraged by the number of parents she sees playing golf with their children. One of First Tee's biggest programs is at Empire Ranch Golf Club in Folsom, where one of the instructors is Jared Butts. "A lot of parents were looking for their kids to be involved in a physical activity," Butts says. "They were thankful that golf was something they could do with their kids."
The pandemic has cast a wide net. Jeff Wilson oversees golf operations at Catta Verdera and several other Placer, Sacramento and El Dorado county courses, and he gets a kick out of seeing guys in their 20s, hats on sideways, showing up to play with their buddies.
"It's fun to see that group enjoying themselves," Wilson says. "My perspective is we may not keep all of these new golfers, but I think we'll keep a lot. It's up to us to make the game more interesting to more people."
Butts and Morton are instructing two golfers who might never have caught the golf bug if not for the pandemic. Morton's student is Bobby Horst, a football player and boxer who graduated from Christian Brothers High School in Sacramento this spring. Horst had always thought the game looked boring until some of his friends convinced him to play toward the end of quarantine. Horst went from playing with borrowed clubs to being a convert.
"The biggest difference between golf and other sports is that it's not the same thing over and over," Horst says. "In golf, you almost never have the same shot twice, and I like that I can do it for fun." It's not as serious as football, where you practice intensely for three hours. "I definitely plan to stay with it."
As does Melissa Richards, an El Dorado Hills veterinarian and mother of two young children. She had dipped her toes in the water many years earlier, but it wasn't until COVID struck that she started playing seriously. Very seriously, according to Butts, her instructor. "One of the biggest golf nuts I've ever seen," he says.
"To find something that we could all get into as a family is really great," Richards says. "If it hadn't been for COVID, I might have gotten into it eventually, but I don't know if I'd have gotten all my friends and my husband to play. There's not a lot we can do outside, and we're not sitting around drinking. We're playing golf."
Richards' family joined Serrano Country Club, and her handicap has dropped from 36 to 23. Richards plays four times a week and finds that she actually plays better when she's accompanied by her 7-year-old son and 5-year-old daughter. "When you play with kids, you have no expectations that you'll play well, so you can relax and just hit your shot," she says.
–
Stay up to date on business in the Capital Region: Subscribe to the Comstock's newsletter today.