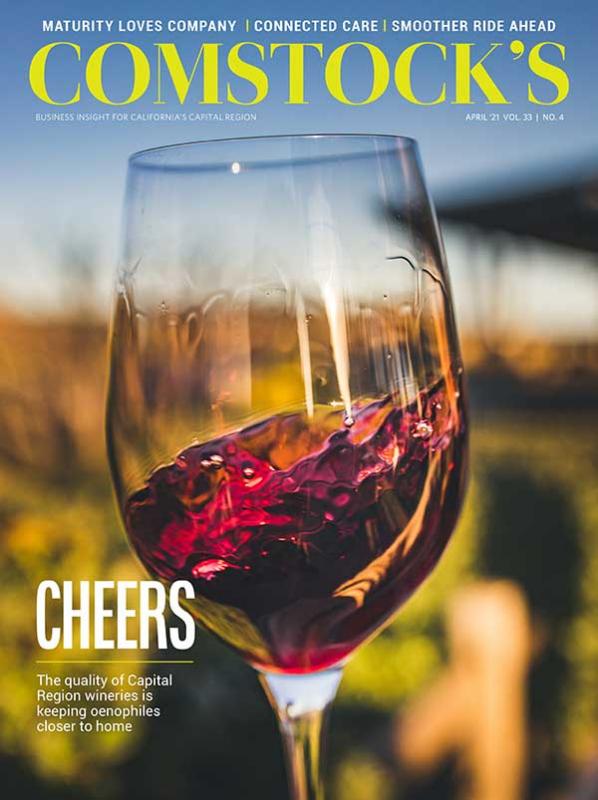 This story is part of our April 2021 issue. To subscribe, click here.
Your alarm goes off. Still impossibly tired, you lay under the blankets checking your smartwatch sleep report while summoning the energy to get out of bed. Breakfast is oatmeal. While it cooks, you take an electrocardiogram from the medical-grade EKG monitor you received because heart disease runs in your family. You rub the last of the sleep out of your eyes as you double-check today's reading: abnormal.
Quickly, you open the patient portal app on your phone and schedule an 11 a.m. virtual visit with your doctor. You finish your morning routine, using the smart toilet that scans stool and urine for health data before it's flushed away, then shower and head to work.
It's a struggle to focus today. You are feeling unsettled by the abnormal reading and try not to succumb to catastrophic thinking. Thankfully, 11 a.m. rolls around quickly. You take an early lunch and visit with your doctor on your smartphone for 20 minutes in the parking lot. She guides you through a routine exam using a digital device with a stethoscope extension, and you share that morning's EKG report with her. She is going to e-consult with a specialist and will send you a message this afternoon to let you know if you need to come in for further tests. You go back to work feeling a little anxious but reassured that you'll have more information later that day.
This hypothetical situation is not as futuristic as it sounds. All of the technology exists now — indeed, even a smart toilet prototype — and is part of a rapidly growing mode of health care known as telehealth.
The Center for Connected Health Policy, a nonprofit nonpartisan organization advocating for widespread telehealth implementation, defines telehealth as "a collection of means to enhance care and education delivery." It includes synchronous care, such as virtual appointments; asynchronous care, such as messaging; and remote patient monitoring that uses devices to collect data and flag problems as they are identified. The definition of telehealth is constantly expanding as the scope of what can be done increases with developments in technology. The term is used somewhat interchangeably with digital health, though digital health is a more general term which includes health-care-adjacent technology, such as fitness tech.
Telehealth has been mired in red tape for years with a complicated patchwork of regulation on the federal, state and commercial levels. Generally speaking, reimbursement has been restricted to certain points of origin (usually a clinic) in certain geographic locations (usually rural) using limited modes of communication by a limited number of provider types and services. In 2020, the Coronavirus Aid, Relief, and Economic Security Act enacted general waivers enabling the Department of Health and Human Services to temporarily lift policy restrictions, which created ideal conditions for telehealth to finally take off.
"In the last 40 years, I have never seen such a watershed moment. … COVID demystified and democratized (digital health) and made it accessible to physicians and patients like never before."

DR. ASHISH ATREJA Chief information and digital health officer, UC Davis Health
The CARES Act provision enacted a number of temporary telehealth waivers and flexibilities, including expanding the types of billable telehealth visits, allowing providers to bill telehealth services the same as in-person services, removing point of origin limitations and allowing patients to access telehealth from inside their homes, expanding geographic locations to patients outside of rural areas, increasing the types of providers who could use telehealth, and allowing flexibility in privacy laws so providers could use common platforms like Zoom to provide care.
It's unclear if telehealth will remain on its current trajectory once the pandemic is over, but one thing is clear: Decisions made now will be critical for the future of its innovation.
For years, the U.S. health care industry has widely been considered a prime target for disruptive innovation due to its lack of affordability, inconvenience, low trust, unutilized technology and complicated regulatory framework. According to the Brookings Institution, national health spending accounted for 17.7 percent of gross domestic product in 2018 and is projected to continue climbing under current laws. Simultaneously, it is estimated that 30 percent of medical spending doesn't correspond to an increase in quality of care.
The U.S. tends to have worse health outcomes compared to other countries, despite advanced facilities and high health care spending. It's time consuming and inconvenient: It takes the average patient two hours to visit a doctor for 20 minutes, and there are also major health disparities in marginalized and underserved communities.
Put bluntly, U.S. health care is inefficient and expensive. Digital solutions have been poised to help solve these problems, but narrow policies have kept them sidelined. Until now. The coronavirus pandemic forced the country to reassess how and where health care is delivered, which resulted in a number of dramatic changes. The most notable of which is the astronomical rise of telehealth.
Trends in Telehealth
In 2019, UC Davis Health held 1,200 video visits. In 2020, it conducted 132,400 video visits. That is year-over-year growth of over 10,000 percent. "In the last 40 years, I have never seen such a watershed moment," says Dr. Ashish Atreja.
Atreja is a gastroenterologist and the chief information and digital health officer at UC Davis Health. Atreja has been championing digital health for most of his career. He was conducting video visits in the early 2000s on clunky, expensive monitors well before smartphones became ubiquitous. He has gained an industry reputation for his embrace of digital health. Among other accomplishments, he founded NODE.Health, a nonprofit that applies "the rigor of evidence-based medicine to digital health."
Before the coronavirus pandemic forced changes, he says it was mostly "geek" doctors and advocates talking about technology in health care. Since the temporary policy expansions scaled the implementation of telehealth, Atreja says, "COVID demystified and democratized (digital health) and made it accessible to physicians and patients like never before."
What patients and providers are realizing is that video visits don't affect patient satisfaction with their primary health care providers, according to a 2019 study in the American Journal of Managed Care. Both parties are learning that telehealth is convenient, flexible and saves time.
If the momentum in telehealth continues, it could lead to a shift to what Atreja calls "digital-first health," where technology is the front door in the chain of health care, which can lead to in-person care, such as physical exams, diagnostic tests or hospitalization. Atreja predicts health care will shift to a "digital front door for everyone, and digital monitoring for most."
Atreja sees huge potential in remote monitoring. Futuristic gizmos and gadgets are flooding the market, the most common examples being wearable tech such as Fitbit or the Apple Watch. There is more advanced equipment, like the TytoCare device that offers guided remote exams of the patient's heart, lungs, throat, ears, skin and abdomen, and checks heart rate and body temperature. And there are specialized devices, like EKG monitors.
These devices are the best of preventative medicine because they are able to catch troubling patterns, such as an abnormal heart issue, sometimes even before a patient is experiencing symptoms. Some devices even connect directly to providers and trigger automatic notifications, which prompt the office to call patients to follow up. "Sensors and their responsive apps will allow us to provide proactive care instead of reactive care, which is the mode of delivery care right now," says Atreja.
This shift has the potential to improve patient health outcomes by preventing the progression of chronic conditions. It would also save costs by reducing expensive hospitalizations, emergency room visits and procedures.
But who pays for these kinds of devices? Currently, there are a few models. In one, patients buy gadgets on their own, perhaps with money from a health savings account. In another, the physician prescribes a device that is provided by the health care system, the insurance payer covers it, and the patient pays a copay.
"Most plans are considering this, but few have adopted it right now," says Atreja. "But a lot of our effort at UC Davis is to create innovative partnerships with health plans and peers."
A Gigantic Leap Forward
Joel Gray, executive director of Anthem Blue Cross' California Medicaid health plan, says health care is a finite resource. There are only so many doctors, hospitals and personal protective equipment, and the pandemic has demonstrated what happens when there is heavy demand and resources are strained. He believes remote monitoring of patients can help alleviate the burden through proactive care. "I think remote patient monitoring is going to be the future of medicine and how it's delivered," Gray says.
Anthem Blue Cross is the second largest insurer in California. Before the pandemic, Gray estimates the organization saw about 1,000 telehealth claims a month. During the pandemic, that number jumped to the hundreds of thousands, thanks to the telehealth policy waivers. "I never thought I'd see that happen in my lifetime. I thought it might take 10 years to see even half of the (policy) relaxations we're seeing today," says Gray.
He says it's unusual to see this level of cooperation, and it's an encouraging sign for the future of innovation. "I'm seeing (it) across all the different stakeholders — government stakeholders, policymakers, health insurance associations, health-plan leadership — a willingness to try to make a lot of these changes permanent. That's not always the case in health care," says Gray.
Gray thinks the relaxed restrictions and requirements have made a positive impact by encouraging technology adoption by providers. Prior to the pandemic, telehealth was complex with high stakes. "It was very complicated for (providers) to properly bill this stuff," he says. "And if you get it wrong, there's penalties."
"I think remote patient monitoring is going to be the future of medicine and how it's delivered. … I never thought I'd see that happen in my lifetime. I thought it might take 10 years to see even half of the (policy) relaxations we're seeing today."

JOEL GRAY Executive director, California Medicaid health plan, Anthem Blue Cross
There are behind-the-scenes benefits too. Gray believes telehealth can help reduce burnout in health care workers by providing some flexibility on the provider side. It also helps facilitate physician-to-physician e-consultations, where a primary care doctor can loop in a specialist for help on a patient's case.
With physician e-consults, the patient does not have to wait for the referral, schedule and wait months for a second appointment, take additional time off of work, plan transportation or relay information between doctors. It also allows the doctor to stay at the top of a case while incorporating specialist expertise for issues in which they aren't as experienced.
"It's actually bringing specialists to primary care providers; there is no patient in the middle," says Gray.
Who Might Get Left Behind?
Advocates have long believed in the power of telehealth to increase access to care for some patients, but there also is a concern that it could inadvertently widen gaps elsewhere.
Data is still emerging, but substantial racial disparities in the use of telehealth have already been observed during the pandemic. In one example at Mount Sinai Health System in New York City, data showed significantly fewer Black and Hispanic cancer patients used telehealth than the total patient population. Current racial disparities could possibly widen if health care technology is integrated without careful measurements and innovative solutions.
Adults over 65 represent a disproportionate percentage of health care spending relative to the size of the population, yet they are the group least likely to describe themselves as digitally ready. How would a digital-first approach in health care work for this group?
"The billion-dollar question is: What do we do to ensure that these (policies), once made permanent, are equitable? That's the key idea. It needs to be equitable. It shouldn't be just the rich that have access," says Julie Bates, the associate state director of AARP California.
Bates, of Stockton, has worked in telehealth advocacy for nearly a decade. AARP California wants to see the utilization of telehealth increase in the older-adult population. Bates notes that many older adults are happy to use technology to video chat with grandchildren or attend weekly book club meetings. She believes if most people are given the opportunity and the training to engage with technology, many, if not most, will.
"I think it is counterproductive to say that older adults are unwilling to engage with the technology," says Bates. "But there is going to be a learning curve. There is going to be a need for getting devices and getting access."
According to research from University of Pittsburgh and Harvard Medical School, groups less likely to have digital access are 85 or older, widowed, Black or Hispanic, enrolled in Medicaid, have a disability, or have a high school education or less. Many of these groups are already at risk of experiencing increased health disparities.
"Even in a state as high-tech as California is, there are still significant segments of our state that don't have access to high-speed internet. Even in the Bay Area," says Bates.
These issues need to be addressed in tandem with telehealth policy in order to bridge the digital divide. There are a number of possible solutions to explore: Turning broadband into a public utility, government-led tech education initiatives and accessible technology design such as including display accomodations for low-vision users are just a few ideas.
"What comes first, the chicken or the egg?" asks Bates. "Do we do a digital-first delivery model before we have high-speed internet to every home and everyone has access to a smart device? Or do we ensure those things first and then move? Or is it a hybrid? How do we ensure that people don't get left behind?"
Will Telehealth Gains Remain?
The pandemic is ongoing, and the story of telehealth is still developing. The latest pandemic health emergency renewal issued by the Department of Health and Human Services in January is set to expire this month. The temporary telehealth policy waivers are expected to continue as long as the declaration is active.
In the meantime, there are a number of ways telehealth is being adopted a la carte long term. The Centers for Medicare & Medicaid Services has added a number of new telehealth codes for reimbursement. In December 2020, Assemblywoman Cecilia Aguiar-Curry introduced Assembly Bill 32 seeking to make current telehealth flexibilities permanent under state law.
Whatever happens in the future, it's clear that building equity into the plan now will be critical. There are risks that need to be measured and monitored, but those gaps can turn into opportunities for more innovation with the right mindset.
"We do not want to stop just because it's not perfect," says Bates. "We keep moving forward because, for the majority of people, it is going to be beneficial and it's going to be useful."
–
Stay up to date on business in the Capital Region: Subscribe to the Comstock's newsletter today.