Out among the winding roads and rolling fields of the Placer County foothills, where vineyards thrive in the Mediterranean climate and wineries are plentiful, a new kind of bucolic drinking experience has begun to flourish. Instead of symmetrical rows of grape vines, these new establishments offer towering hop trellises, while the smell of fermented grains fills the air.
"It's not a new concept, it's the original concept of beer … This is farm area, and I think with the whole winery concept, it's just a perfect match."Patric Hillenbrand, owner, Hillenbrand Farmhaus
When Dueling Dogs Brewing Co. opens its doors this year, it will become the third farm brewery in the county, joining four-year-old standard bearer GoatHouse and newcomer Hillenbrand Farmhaus. While the three breweries have different business models and practice different brewing philosophies, they all take the craft beer experience back to the land, growing their own hops and using their own farm-grown produce in their brews, which are then served on-site.
"It's not a new concept, it's the original concept of beer," says Patric Hillenbrand, whose namesake brewery opened last autumn to near-capacity crowds. "This is farm area, and I think with the whole winery concept, it's just a perfect match."
Centuries ago, beer was cultivated and stored like any other farm staple, brewed from whatever excess grains were available at the time and rationed out to laborers. As the popularity of American craft beer ballooned in recent years, the classic farmhouse model began to regain ground, mostly in rural regions in New York, Vermont and Oregon. At the same time, beer tourism took off all over the country. In Grand Rapids, Mich., a city with fewer than 200,000 people, a 2015 study showed that beer tourism added over $12 million a year to the local economy.
Meanwhile, a 2016 list of the best small metro areas for craft beers compiled by Travelocity included Oregon cities like Bend and Corvallis, places that offer a lot of the same elements as Placer County: an increasingly high concentration of breweries, a balance between urban and rural experiences, and a strong connection to the land. "It's no different than a place like Bend — it's a destination place," says Mike Moore, competition director for the State Fair's California Commercial Beer competition. "You start something good, and that attracts other people, and then it becomes a destination to drink fine beers."
But do these three farm breweries in close proximity to each other have enough of a draw to turn Placer County into a beer-cation destination — while returning craft brew to its roots?
BACK TO THE LAND
Beer-wise, there are significant differences between the three Placer County farm breweries. GoatHouse puts out over 40 new small-batch beers a year, while the recently opened Hillenbrand Farmhaus sticks with a core five beers ("I'm not doing anything next, I'm perfecting what I've got," says Hillenbrand), and Dueling Dogs plans to rotate up to a dozen different beers, ciders and meads. One thing that unites all three breweries, though, is that they all started with a parental desire to raise children in the country.
"We were thinking of opening a tasting room in Alameda, with the intention of us leaving and moving to farmland," says Catherine Johnson, who owns GoatHouse Brewing with husband and brewer Michael. "We always wanted space." Likewise, both single father Patric Hillenbrand and Dueling Dogs owners and parents Earl and Adriana Stephens bought their land about a decade ago with the intention of raising children in an agricultural environment, but only got around to the farm brewery component after GoatHouse pioneered the concept in the region in 2013.
Michael Johnson was an avid homebrewer since before he was legally able to buy booze. After he and Catherine's two children were born, there was a new urgency to abandon city life to follow their dual dreams of opening a brewery and moving to the country. "We decided we might only have one shot, and maybe we just do the farm," says Catherine. "That means relocating our family, that means quitting corporate America, that means a whole lifestyle change, not just starting a new business."
The Johnsons looked at over 300 properties before finding the 11.5-acre land in Lincoln, which offered space for a brewery and tasting room, plus farmland for hops and crops and living space for the family. Seven years ago, there were few statewide precedents for the GoatHouse model, and their unique concept baffled local officials who tried to categorize the pre-boom craft brewery as a restaurant or bar. "There was no model for what we were doing, no codes, no ordinances, no zoning, nothing," says Catherine. "There was a lot of confusion about what a brewery actually is."
Ninety percent of the hops used in GoatHouse beers are grown on the farm, and staying true to their self-sustaining model of "agricultural tourism" means that their brews are rarely available outside the renovated barn that serves as their tasting room. Business has grown steadily since GoatHouse opened in 2013, and although Catherine says it's still too early to determine the effect of having two more farm breweries in the area, she hasn't noticed any difference in the few months since Hillenbrand Farmhaus opened.
"They're trying to go on their own vibe, no one's trying to cookie-cutter anything," she says. "People seem to want a unique experience with good beer."
BRAND MANAGEMENT
Only grass is growing in the area adjacent to the Hillenbrand Farmhaus brewery and tasting room, but by this time next year, Patric Hillenbrand hopes to have a full garden planted and an outdoor kitchen constructed, all to support an audacious food-and-beer pairing program. After a grand opening so successful he nearly ran out of product to pour, Hillenbrand plans to perfect his five core beers, including a passion fruit sour, a hazy IPA with pineapple and a s'mores-flavored brown. "I hate going to a brewery and the beers are different all the time," says Hillenbrand. "A lot of beerheads like it, but I don't."
That's not the only way that Hillenbrand differs from your typical "beerhead." The Placer County-native bought land in Newcastle to raise his two sons in the country, first building a log cabin where they all lived, and then a second "master bedroom" building when living with teenage boys became intolerable. A luxurious third house has since been built, and Hillenbrand currently stores barrels in the ground floor of the second structure.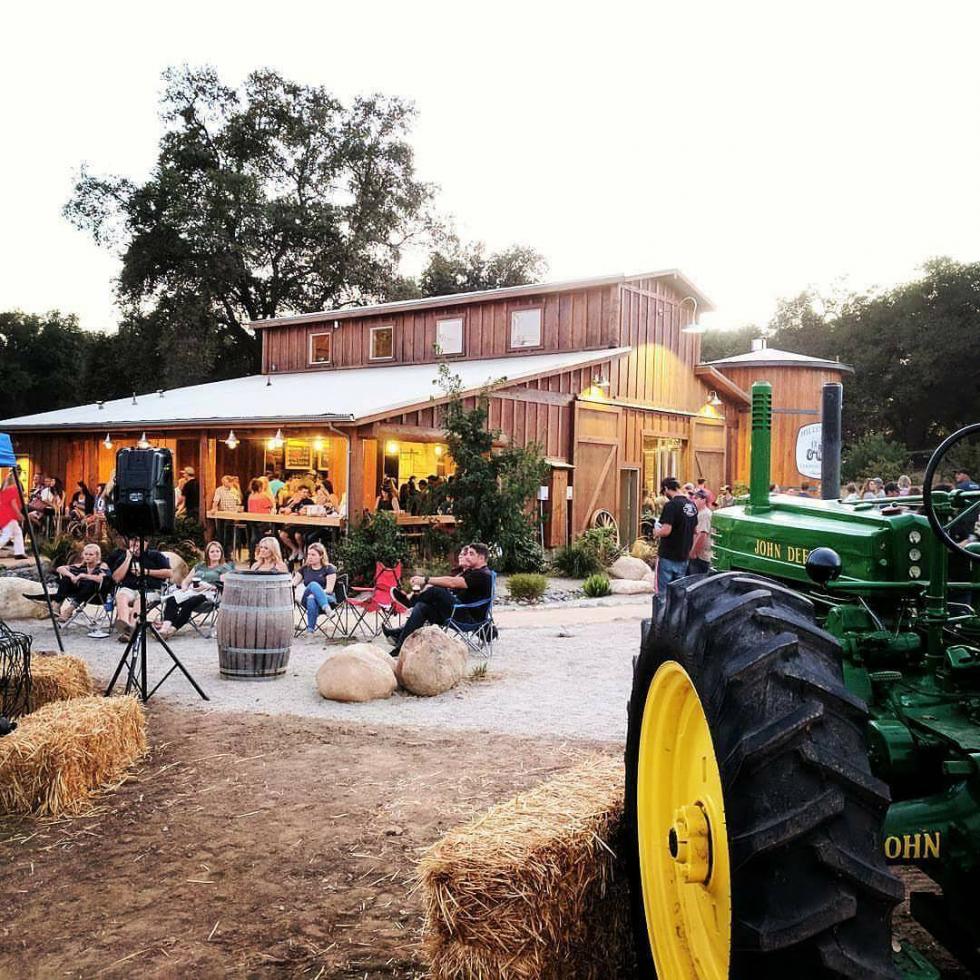 Hillenbrand never cared for the bitter hop flavors he associated with craft beer, and the brewery began as a business venture rather than a passion. He was already hosting weddings and other private events on the property in Newcastle, but still spent two years working on his business model. "I've done all types of different events, so the whole concept of doing the brewery, it made a lot of sense," says Hillenbrand. "That's when I went to check out the Portland scene, and that immediately began a passion."
Hillenbrand discovered sour beers at Cascade Brewing in Portland, and his interest in brewing grew after visiting LABrewatory, a Portland-based brewery that allows patrons to test-brew on its equipment (which is sold through its sister company, Portland Kettle Works). "In the beginning, it wasn't about me brewing the beer, but I loved it so much that I wanted to learn it myself," says Hillenbrand. "I fixated on it the last two years. I hired a consultant to teach me, and now I'm brewing all the beer on my own."
After several decades in the health insurance industry, Hillenbrand sold his business (he still remains active in the company) and built his dream brewery. Similar to GoatHouse, he retrofitted an old barn to serve as the brewery and tasting room, and his family background in construction allowed him to stay involved in every aspect of the build-out. "It was a lot to take on in a short period of time, but it's good that happened the way it did, because I know every intricacy of everything in here," he says. Hillenbrand even built all the furniture in the tasting room, barely finishing ahead of the September soft opening.
Hillenbrand initially plans to feed his customers from food trucks, like GoatHouse and Dueling Dogs. However, his endgame would see patrons enjoy beermaker dinners, guest chefs and seasonal food pairings. "The whole idea is to have a true farm-to-table experience, sitting here looking at the hops, the honey, the fruit trees, everything that we can grow," he says.
THE NEED FOR MEAD
After nearly four years navigating through permit hell, Earl and Adriana Stephens are circling an early 2018 opening for Dueling Dogs, their long-in-the-works combination of brewery, cidery and meadery. They bought their 10-acre property in 2007 with the intention of raising a family in a farm environment, but until GoatHouse provided an inspiration, Earl couldn't figure out how to make the mandarin orange farm profitable. "I looked at hundreds and hundreds of ways to get 10 acres to pay enough to raise a family on, until I finally figured out I could turn mandarins into beer," he says.
Four years and 24 permits later, Dueling Dogs is ready for its debut. Despite a grueling process dripping with sweat equity, Earl still sees a benefit in being the third farm brewery to market. "Having additional breweries in the area gives us a draw power," he says. "But we're different enough that we're going to have our own draw."
In addition to a lineup of craft beers brewed by Earl, an amateur homebrewer who studied at UC Davis under scientist Dr. Charles Bamforth (who specializes in malting and brewing, Dueling Dogs will also offer ciders and meads made by Adriana. "When we first started this project, we were one of a handful of craft breweries in the United States that were going for a dual wine and beer license, and we ran across a lot of roadblocks because they didn't know how to deal with us," says Earl. "One of the roadblocks we encountered is that you must separate the wine from the beer." Sure enough, metal barriers separate beer-drinking spaces from cider- and mead-drinking spaces, while makeshift signs in the tasting room direct customers to separate lines.
Earl wants to brew seasonal beers around a core rotation that includes Choco Rocco, a chocolate vanilla stout named after the family dog, and a mandarin wit made with their own oranges. In addition to some straightforward ciders and meads, Adriana plans to make a session mead and a spiced holiday cider. An orchard filled with stone fruits, apples, pomegranates and more will also make cameos in the Dueling Dogs line of beverages. There are plans for a farm stand, a kid zone and even a brew for dogs, but right now, the Stephens just want their doors open. "I can't wait, it's been a long time coming," says Adriana.
Indeed, it's a resurgence that has been centuries in the making.