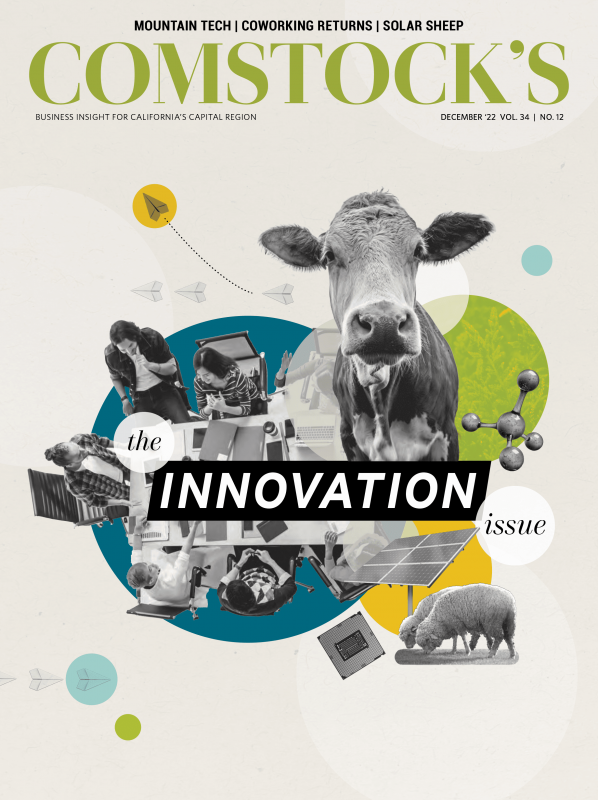 This story is part of our December 2022 Innovation print issue. To subscribe, click here.
San Joaquin Street in downtown Stockton is often bustling on warm autumn nights. People gather to eat at local restaurants like Cast Iron Trading Company and listen to live entertainment from local musicians who play to the outdoor crowds. But the night of Oct. 20 is different. That night, the center of attraction is Huddle Cowork, celebrating its expansion on the first floor of the Belding Building.
The historic Belding Building, built in 1915, is a five-story structure named after Charles Belding, a farmer, businessman and former mayor of Stockton. Recently renovated, the building is full of life as invited community members visit the hybrid coworking and event space on the corner of San Joaquin and Weber Avenue. Cast Iron caters the evening event. Art hangs along the walls, and a podcast booth complete with an "On Air" sign signals the start of something new downtown.
Matt Amen, co-owner of Huddle Cowork, shares a heartfelt speech reflecting on his time with Huddle since 2016. Several times during the pandemic, when the shutdown halted the momentum of previous years, he wanted to give up on the space, but looked for advice from his family on how to navigate forward.
"Once I had the courage to heal myself, I could encourage others around me to heal. Hopefully you inspire others around you to heal," Amen says, smiling at the crowd. "We have a lot to celebrate," he says, calling Stocktonians "resilient, gritty, sexy beings of love."
Huddle wasn't the only coworking space that lost membership during the pandemic. These businesses, which allow freelancers, remote employees and other workers not tethered to a physical location to pay for access to office space and other amenities, were hailed as the innovative next stage of the modern workplace when they began to spread in the latter half of the 2010s.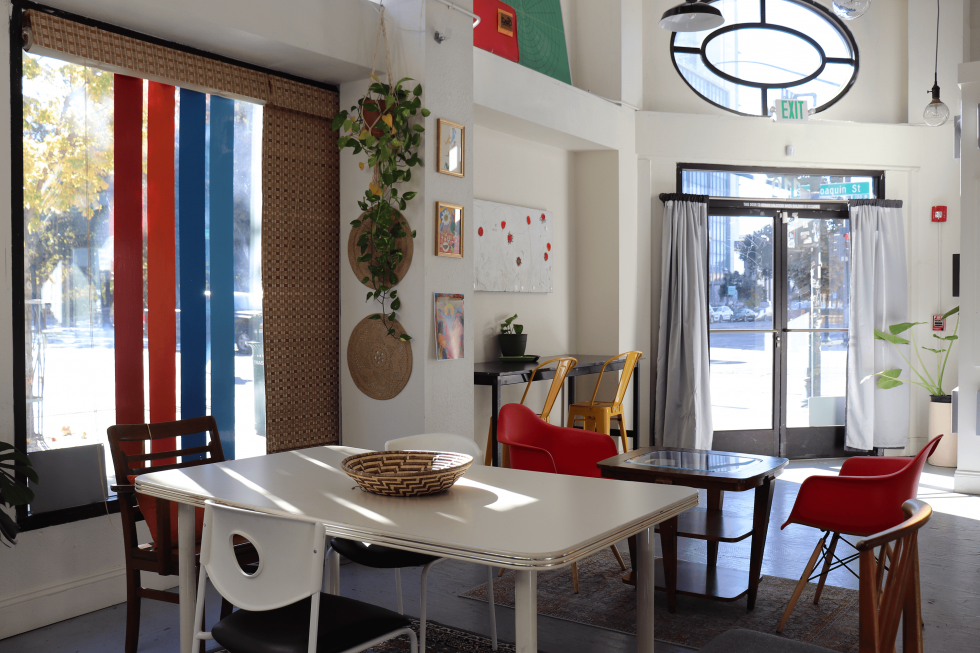 But the COVID-19 pandemic shuttered both traditional offices and coworking spaces, sequestering millions of workers in their home offices for months at a time. Many of these realized that they were just as comfortable in their home offices as they were in a coworking space that they had to pay for, leading to major losses in the sector. Most notably, the buzzy multinational company WeWork saw spectacular decline (chronicled in a podcast, a documentary and the book "The Cult of We") and closed dozens of locations.
There are now signs that the coworking sector may be on its way back up. Many workers never returned to the office after the pandemic shutdowns, and companies are allowing more positions to be fully remote. That has led to a significant increase in the number of potential customers for coworking spaces, especially after pandemic restrictions were lifted and people once again sought venues for physical interaction and community.
Though WeWork continues to shutter branches (it announced 40 upcoming closures last month), locally owned coworking spaces are proliferating across the Capital Region, building community and clientele by tapping into the region's thriving creative, tech and nonprofit sectors. Several are taking advantage of available real estate in the region's urban downtowns, bringing life back to once-neglected neighborhoods. These companies' leaders say that their spaces foster collaboration and innovation that benefit everyone involved.
A promising future for Stockton
Operating Huddle in downtown Stockton is a milestone worth celebrating for Amen and co-owner Eric Bodary. Amen and Bodary managed to maintain their membership roster through the pandemic by connecting members to business opportunities and resources with the City of Stockton. Nonprofits, some of which don't have their own physical offices, were especially supportive members. "Nonprofits kept us afloat. They needed space to work and we were flexible," Amen says.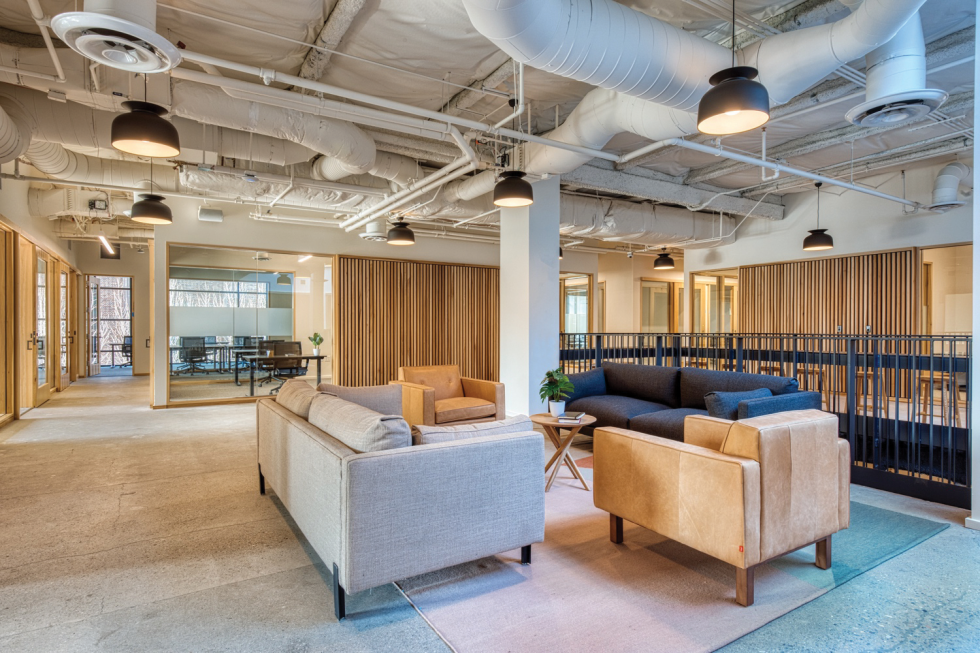 Amen says the company experienced growth this year, with 27 of its 30 private offices being filled in 2022. In addition to offices, Huddle Cowork has a podcast booth, an open-space coworking area, a conference room and another event area with a stage. The second floor open area features large windows overlooking historic architecture in downtown Stockton.
The photography studio on the fourth floor offers natural lighting coming from windows along the east and north walls. "We are calling it Studio 419," Amen says. The feedback for the studio on Peerspace (an Airbnb-like app for booking coworking space and event venues) has been positive.
"We want to be a facilitator of conversation and add to that ecosystem of our community."

Matt Amen, co-owner, Huddle Cowork
Amen also aims to offer an event venue for the broader community, including those who don't use Huddle's coworking space. "We want to be a facilitator of conversation and add to that ecosystem of our community — we want the space to be for the community," he says.
A connected community in Sacramento
In downtown Sacramento, whose towering office buildings have seen significantly decreased occupation rates since the pandemic shutdowns, another coworking space aims to cultivate a vibrant, connected community. Cowo Campus founder and Creative Director Kuks Singh describes his space as a "boutique work space, a friendly space where everyone can communicate and interact with each other. There are no barriers."
Singh moved from London to Sacramento and started Cowo Campus in 2018. His focus was to tap into Sacramento's innovators and build a community around them. The original space started in Midtown before transitioning into downtown in 2019. The downtown location has hosted several events held by organizations including One Million Cups, SBDC, The Women of Sacramento and National Association of Women Business Owners.
Cowo Campus aims to curate a select group of like-minded members, rather than depending on large numbers to fill a space. "We aren't about 50 or 100 members — we are creatives. These are the places people want to go," Singh says. He looks to be part of a new trend of coworking in downtown Sacramento. "The next five to ten years is going to be good," Singh says.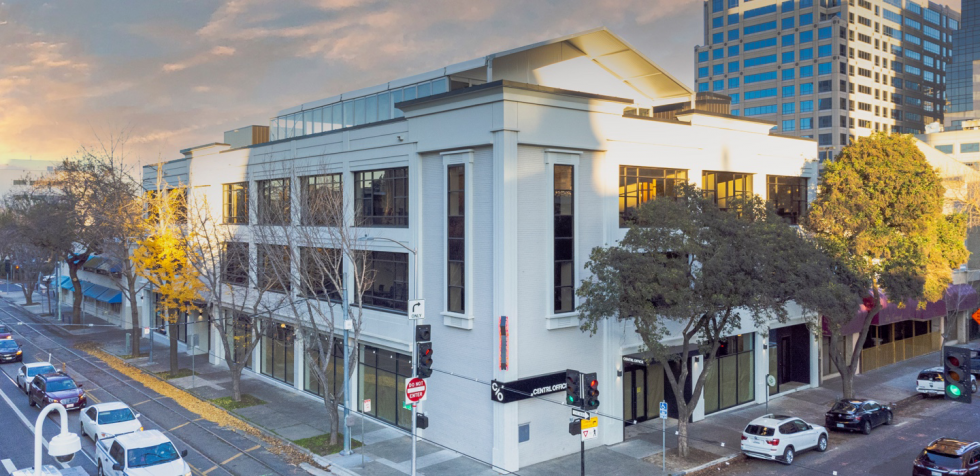 Like Amen, Singh influences the community by assisting local innovators and entrepreneurs. Singh is the conduit at Cowo Campus, offering information, contacts and referrals to his members. "We figure out how to make their business succeed through creative tactics," he says.
Currently, Cowo Campus offers workshops and promotes events including Creative Thursdays on the first Thursday of every month. From photo shoots to podcasting, the space always has movement. "These are people I hang out with beyond work. We do everything together. All of them are close to me," Singh says. He has future plans to replicate the vision of Cowo Campus in Roseville.
Portland-style coworking in the capital
Sacramento got another innovative coworking space in March 2022, when the Portland-based company CENTRL Office opened a branch downtown. With multiple locations in Portland and Los Angeles, CENTRL Office has been creating flexible space for freelancers, small teams and startups since 2013.
"We want to operate multiple locations in Sacramento," says CENTRL Office founder Alex Hughes. "We found this building in the opportunity zone that was unique." The opportunity zone in downtown Sacramento is a program providing a federal tax incentive for investing in real estate projects and operating businesses that are located in the designated zone.
Hughes partnered with Urban Development Partners out of Portland to acquire the building and began construction during the pandemic. "We are ramping up. More housing is being delivered five blocks away from us in downtown — movement toward downtown is positive," Hughes says.
The three-story building, formerly home to the California Medical Association, includes several key amenities people look for in a workspace. The building is home to the cafe Cora Coffee and Loyal Legion, a beer hall serving 99 beers from Northern California breweries. On the rooftop is Aurora, an event space with views of the city. "Our space still gives people a feeling of an office, but with easy access to flex space in our neighborhood," says Hughes.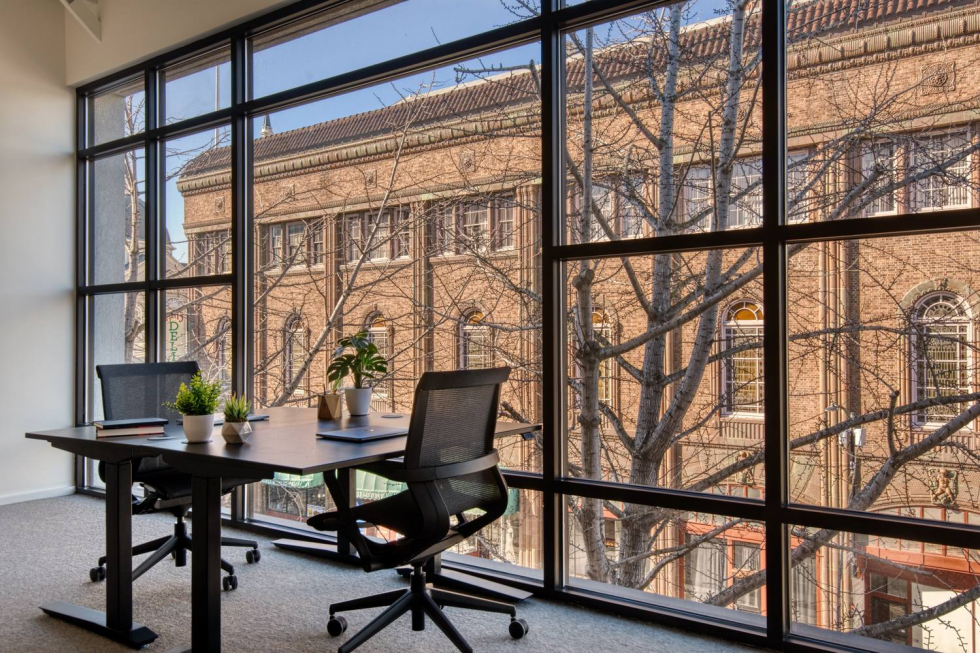 Hughes says that coworking spaces no longer need to depend on an exclusively freelance clientele. "Initially, we have creative agencies and startups as clientele. Now, we have large enterprise groups wanting to be part of that vibe — being with people who are starting something new," he says. One of his clients, for example, is a company with remote workers who wanted to meet in a dedicated work space.
"These spaces are becoming clubhouses — people rotate in and out. They work from home, but need to socialize without a desk. Now they have sofas and meeting tables," Hughes says.
If these passionate coworking space owners are to be believed, those sofas, meeting tables, conference rooms and event venues may be catalysts for growth in the Capital Region. Amen of Huddle says that bringing together innovators, entrepreneurs and community organizers in one building can lead to real change in cities like Stockton. "We need to harness that positive energy from people who want to better their community and guide them in the right direction," he says. "If you love the community and that is your driving force, anything is possible."
–
Stay up to date on business in the Capital Region: Subscribe to the Comstock's newsletter today.