Under a counter, in a dusty corner of a doctor's office in Courtland, Calif., lies a muted green tackle box. It belongs to 82-year-old Dr. Henry Go. Go is the only physician for many miles in this small, rural town — an agricultural remnant of a bygone America. Inside this tackle box, the hinged shelves reveal a trove of medical items when opened: a few rolls of bandages, some sealed paper packages of swabs and gauze, a hypodermic needle with the cap still on it, and a few small, glass bottles of amber liquid that rattle around as he digs through the medical supplies.
Go picks up the encased needle."There would be times when I would put in an intravenous out there in the field," he says, "in a patient's home." He replaces it gently. The tackle box worked as his doctor's bag for much of his career, but he says it's been about 10 years now since the last time he opened it, or even moved the box from it's dusty tomb under the break room counter.
He picks up one of the small, glass bottles. "Dextrose for acute hypoglycemic spells," he says. "It's yellow now." On the label, the thick black ink of a typewriter reads "Exp. 01-30-1995." He hasn't used it in over 20 years because there's no need to: The doctor rarely, if ever, makes house calls anymore.
Go, who is still working a caseload of nearly 2,000 active patients, was born and raised in Courtland. His own birth in 1933 was attended by a Courtland doctor, a man named Raymond Primasing, who would later become his partner and mentor. In the 1970s, Primasing handed over the practice to Go, then in his 40s, and he has been in private practice in the same office ever since. The building, says Go, has been a working doctor's office for nearly 100 years — and he's been there for 52 of them.
Diagnosing the Doctor
Go, like many doctors of his generation, is facing an industry that is evolving dramatically; so much so, that it's hard for many to recognize what it's become. The friendly family doctor with a black bag who would come for house calls, remove swollen tonsils, check a child's temperature during the flu season, deliver a young woman's baby and carefully tend to the sick and dying in their own beds is gone. In their place, a new generation of doctors are flocking to high-paying specialities, and employment with hospitals and medical groups, which offer steady hours and better pay than self-employment. These specialists may know a lot about one thing — they may be the best in their field at that one thing — but they know little to nothing about any other conditions.
The home doctors of old — like Marcus Welby of the 1970s television drama, or the friendly Norman Rockwell doctors with their hanging shingles and black bags — have been shuffled off, and would now be lumped under the title "general practitioners," who would often do work in what we now call primary care and family practice care.
Today, those doctors have evolved into primary care physicians, though a PCP is not necessarily specialized in the sort of family care you could have expected from the old doctors: PCPs may do internal medicine or pediatrics, be an osteopath or perhaps do obstetrics and gynecology work. You can still find general practitioners in private practice, but they're in far fewer numbers than before — it's extremely rare to find an independent general practitioner. If you do, they are often on the edge of retirement: products of an era long overtaken by modernization.
In fact, family practice appears to have enjoyed its heyday before it was even officially recognized in 1969. The American Board of Family Medicine, founded that same year (and originally dubbed the American Board of Family Practice), found that 47 percent of medical graduates pursued general practice at the start of the 20th century. That figure fell to 19 percent by mid-century, and the American Academy of Family Physicians found that just 10 percent of medical school graduates in the first decade of the new millennium chose to become primary care physicians.
Acute Internal Congestion
The reasons for this migration (and there are many) are more or less threefold: First, the newest generation of doctors are shifting toward employed practice, because they desire a better work-life balance than their elders did. A young doctor who is employed at a hospital or medical group has the opportunity to have regular hours while still raising a family or living their lives, says Marni Jameson, executive director of the Association of Independent Doctors, based in Orlando, Fla. "They have a salary, they have a job to go to and then go home," she says. "They don't have as much on-call and it's just more of a job as opposed to running your own business."
Secondly, the times have changed: American doctors working within the restrictions and laws of the Patient Protection and Affordable Care Act of 2010 are subjected to much more paperwork, restrictions and reporting standards than their predecessors ever were — though "paperwork" is an inadequate term for the act's strict regulations that require doctors to have electronic records.
"If you're having to get paid based on your outcomes and no so much on your individual services, that causes a lot of doctors to feel they need to pull their risk and get in with a bigger group so they're not as exposed," Jameson says. "Electronic medical records have been expensive and a lot of doctors feel overwhelmed by that." Additionally, she says, the costs associated with the buying of medical equipment are prohibitive to small practitioners: You can't exactly cart an EKG machine to a sick person's house.
The American Academy of Family Physicians found that just 10 percent of medical school graduates in the first decade of the new millennium chose to become primary care physicians.
Third and last, the sheer amount of medical knowledge general practitioners would need to know far outpaces the amount of knowledge anyone could ever internalize. "If you broaden your array of skill sets, then you're a little bit good at everything, and not very good at anything, and that's not good for the patient," says Dr. Ruth Haskins, a private practice obstetrician and gynecologist in Folsom.
"We in the medical field now laugh when a [TV] program like "ER", even 10, 15 years ago comes on, and pregnant women come into the emergency room, and there's the ER doc doing a C-section to rescue the baby," she says with a chuckle. "You just laugh because they don't do that. Everything's specialized. Even the ER docs, which are generalists, don't do everything."
Haskins says it's not just a fear of liability stopping a new generation of general practitioners, it's wanting to do the best they can for the patient. In her own practice, Haskins says, she's elected not to provide robotic surgery options for her patients. "I simply don't have enough patients who would need that service in my lifetime to get that good at it," Haskins says. "What you don't know is what could kill a person."
Symptoms of a Deficiency
Aileen Wetzel, CEO of the Sierra Sacramento Valley Medical Society, the oldest medical society in California, says that the shift away from general practice was gradual, until all of a sudden it was blatant. "If you go back even 10 years ago and you look at our membership statistics, you can almost see the lines crossing," she says. "The advent of managed care, administrative burdens, it's more and more difficult to run the business side of medicine."
Wetzel says there's been a "seismic shift" in the Sacramento region between doctors who are practicing on their own versus those who are within groups. Jameson, of the Association of Independent Doctors, says she sees the same shift. "In 2000, 57 percent of America's doctors were independent, and today that number is closer to 33 percent," she says, referencing a 2015 survey. One of the biggest factors, Jameson says, is the way doctors are reimbursed. In fact, both Haskins and Go also referenced reimbursement as a thorn in the side of many independent physicians. "Hospitals negotiate with Medicare and insurance companies based on large measure by their volume," Jameson says. "Independent doctors are getting their reimbursements cut while hospitals are getting more money for the same procedure."
Infographic: Doctors on Frontlines of an Ever-Changing Profession
Hospitals, based on their market share and their size, are able to negotiate higher rates of reimbursement from the big insurance companies, she says, while insurance companies trying to manage employer premiums end up cutting reimbursements to independent doctors with smaller practices. This too, is driving more and more doctors to an office inside a hospital, with 9-to-5 hours and salaries.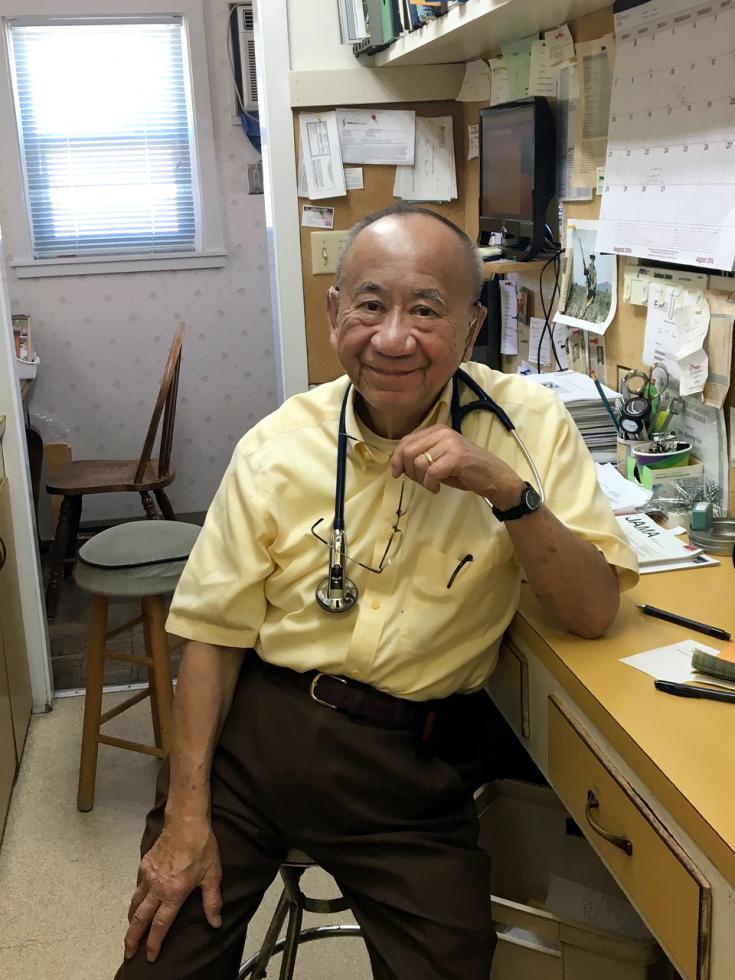 "It's the nature of the beast," Haskins says. "It's that even with well-insured patients, it's 90 days before I see their cash. It's 90 days before I get the reward for the work I do, and the reward I get is about one-fifth of my fee." She stops to think before saying, "I … geez, I haven't had a raise since 2008. Although all my office staff have a raise every year, my salary has not changed at all since I began this practice in 2008. And all my costs have gone up."
But for all of the statistics bucking the traditional ideal, there still seems to be a deep-seated desire to return to simpler days: Medscape, a peer-reviewed medical journal, released data earlier this year that suggests self-employed physicians are far happier in their careers than their peers. More than half of the nearly 5,000 respondents said their favorite thing about being employed by a hospital or medical group was the freedom from business management. However, self-employed physicians were happier overall. Of those doctors who switched to independent practice, 71 percent reported being happier in their career choice; only 40 percent of those who had moved from self-employment to being part of a larger network reported job satisfaction.
A Gloomy Prognosis
There is no one in line to whom Go can turn his practice over when his time comes — like how he was there for Primasing, his mentor. It's one of the reasons he's still working well into his 80s. The doctor's office that has been in Courtland for nearly 100 years will, probably, simply cease to be. His patients will someday soon have to drive into Elk Grove or go south to Rio Vista.
Haskins is also uncertain about the future of her practice. "I'm very worried about an exit strategy. I don't know what's going to happen," she says. "It will be very difficult for me to find a doctor to take it on. I will probably need to sell it at a loss to any ACO [Accountable Care Organization], like Mercy Med group or something like that."
The landscape of doctoring has changed from the days of the jolly town doctor who would hang a shingle. Doctors like Go and Haskins say they feel the newest generation of doctors rarely have the blind passion needed to see past the bureaucracy, the disincentives and the long hours — though there are a few exceptions, Haskins says. She sees a few every year when she guides the residents at UC Davis through a day of advocacy at the Capitol. "They often come up to me at the end of the program and say, 'I want to be like you, what do I need to do?' And then we explore what kind of person they are and what kind of lifestyle do they imagine for themselves," she says.
But Haskins is also clear with the students about the kind of commitment her lifestyle requires. "The people like me who work 17 hours a day in order to give the care that I can give, so I can sleep at night and feel really good about my patients, aren't being compensated for those 17 hours a day," she says. "And so there's just no incentive at all for a new grad to work a lifestyle like mine."
That being said, when asked if she'd recommend her career as an independent physician to a young doctor just starting out, Haskins, without any hesitation, says she would.
"Because I'd pay to do what I do — it's such a privilege," she says. "If you're in it for a 9-to-5 job and what's most important to you is your family, your gardening, your golfing, then you wanna join an ACO and just put in your 9-to-5. But if you're in it because this is what you were put on this planet to do, then what I'm doing is going to be perfect for you. You're gonna go to sleep happy every night and you're going to have a very satisfying life."