We asked readers to submit their picks for the Capital Region's top entrepreneurs —and you answered. Our editorial team vetted almost 100 nominations, looking for innovative business ideas, interesting backstories, unique products and services and that ineffable "it" factor. And here they are…
* * * * * *
Byong Joo Yu's resolve toward self-sufficiency has driven him from being a struggling young immigrant to a successful entrepreneur in the span of four decades. Today, Yu owns and manages six businesses, which include grocer KP International Market, an adjacent food court with several restaurants, and The Red Alcove, a Korean BBQ. All of these businesses are located within Koreana Plaza in Rancho Cordova, where Yu also acts as a mini-developer with seven tenants.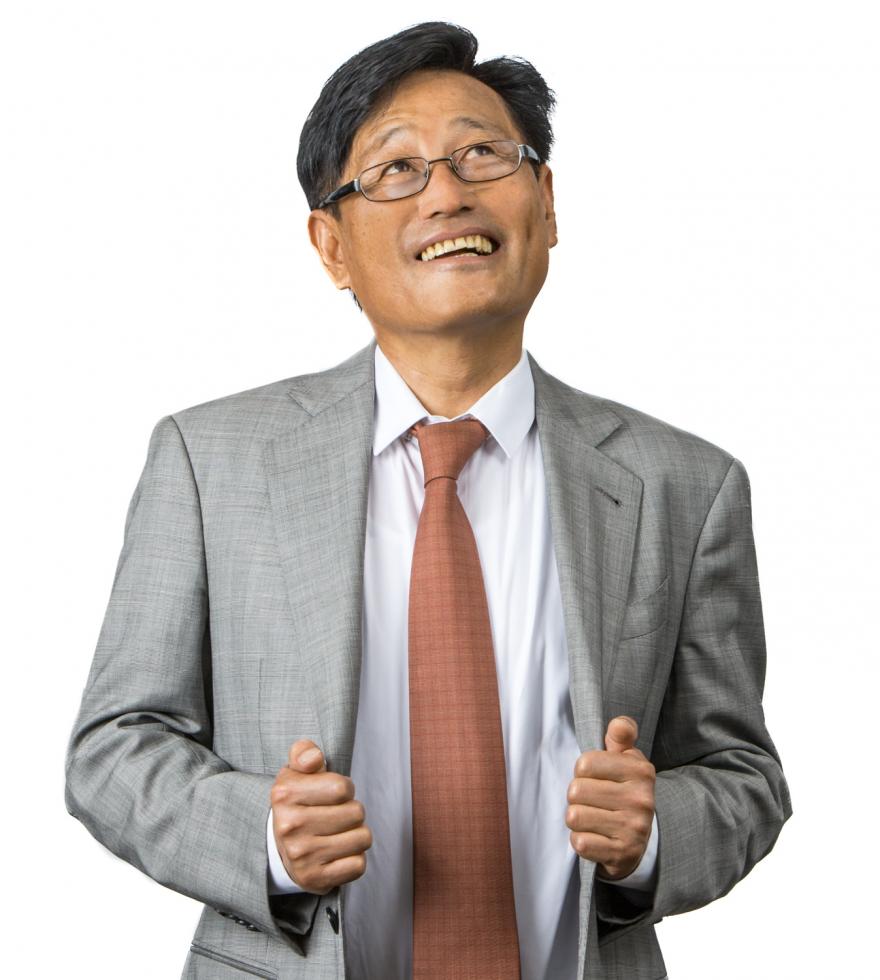 The 19-year-old Yu knew limited English when he and his family arrived in the U.S. from South Korea in 1977. Despite the challenges, Yu pulled together a life in Oakland, working 80 hours a week doing odd jobs. He eventually bought his own shoe repair shop for $1,200.
By the early 1980s, he had added broader wholesale operations to his plate, in addition to the shoe shop. But just six months after launching the additional endeavors, Yu says he lost everything by choosing the wrong business partners — for which he takes the blame. "It's me, because I was thinking I'm smart and I'm clever. That was the problem."
Entrepreneur name:

Byong Joo Yu

Business name:

Koreana Plaza

Description:

international culinary destination

Headquartered in:

Rancho Cordova

In business for:

13 years

No. of employees:

about 210 employees

Initial funding source:

bootstrapping
Yu was determined to start over. In 1989, he began the process of buying his sister's supermarket in Oakland's Chinatown. For several years, Yu operated the store and spent almost nothing, working up to 17 hours a day, sending monthly payments to his sister.
In 2003, Yu relocated to Rancho Cordova for the affordable cost of living, and rented a space for KP International Market, making it the anchor tenant in a complex offering room to grow. To serve a new customer base, Yu diversified his inventory to cater to the large Eastern European population, effectively turning his store into an international supermarket. Today, the market contains Asian, Eastern European, Middle Eastern, Hispanic and Indian grocery sections, among many others.
Yu didn't like paying rent to a landlord, so he bought the complex in 2008. He had initially planned to bring in foodservice tenants, but ever the perfectionist, he was unimpressed with the candidates. So now Yu runs his own small empire of businesses out of Koreana Plaza, from the grocery store to restaurants and other venues. He says he now works about 10 hours a day.
"I'm an immigrant, and I'm a foodie… so I get to taste all different kinds — whatever is new I like to try. That is my character," Yu says, adding, "Food is cultural exchange. So [you] get to know more different food, and you enjoy your life more."
"Food is cultural exchange. So [you] get to know more different food, you enjoy your life more."
What's one thing that's been important to the success of your business?
The way you live, that's the first thing. Then the way you do business, that's the second thing … I lost once just trying to think that I'm smart, so I'm not doing that anymore … I don't think I'm smart, that's dangerous.
What was the most difficult time in your business?
When I started here [in Rancho Cordova]. We had 50 people, and once we expanded, now we have 210 people. We had to expand so rapidly … A lot of things were nothing I had ever done, also, all the construction. The first couple of years were really hard.
How do you define entrepreneur?
Entrepreneur is supposed to be the person who must trust himself and has confidence in himself in the new business he's trying to create. He has to be willing to sacrifice anything to make it happen. That's the really hard part.
* * * * * *
When Valonne Smith pioneered a membership salon catering to natural hair textures in the heart of downtown Stockton, she already knew a bit about trailblazing. She had also sharpened her acumen in the hotbed of U.S. entrepreneurialism: Smith credits her Silicon Valley roots, including her background in public relations, broadcast media and business development at high-profile organizations including NASA, for part of her success.
Entrepreneur name:

Valonne Smith

Business name:

Natural Do

Description:

a membership salon for clients with a variety of curly hair textures

Headquartered in:

Stockton

In business for:

over 2 years

No. of employees:

5

Initial funding source:

bootstrapping
"I think that's probably why we've done so well and so quick here, because I've come from a faster town," Smith says. "It's very competitive in Silicon Valley."
In 2005, a car accident sent Smith hurtling down her entrepreneurial path. She walked away from a serious wreck miraculously unscathed, save a laceration to her scalp which had clipped off her hair. She begrudgingly shaved her head after years of growing out her natural hair.
Starting the process all over again involved a demanding regimen of wearing her hair natural, moisturizing with pomades while maintaining a strict washing and trimming schedule. As her healthy hair grew back, she drew constant attention and requests for hair advice. In 2008, she authored a guidebook, Girl, Get Your Hair Back. Smith began holding small events to promote her method, while working full-time in biotech as a business development assistant.
In 2011, Smith's husband convinced her to move from Silicon Valley to Stockton for the affordable housing, and Smith agreed with a caveat: If they were going to live there, she wanted to own a business.
"Stockton is in the process of revitalizing the downtown community and I thought we would be a great fit," she says. "Stockton also has a lot of room for growth and opportunities. Coming from the Bay Area, it's pretty much saturated with everything."
Smith joined Huddle Cowork to build a network. Her first hair seminar drew 150 attendees in 2015. That's when Smith realized she had a business on her hands, and began looking for a brick-and-mortar location while bootstrapping funds.
She opened Natural Do in 2016 with a plan to focus primarily on retail hair products to support her hair care methodology and supplement with salon services, which she offers via monthly tiered memberships. For a monthly fee (with a one year commitment), members can access unlimited maintenance services catered to their natural kinky, curly and wavy hair textures.
But the membership services took off, so Smith knocked down a wall and converted retail space to salon stations, doubling the number of stylist stations from three to six to accommodate the demand. Smith says the beauty industry is focused on straight hair, despite more than half of the population sporting some degree of wave or curl. Natural Do now employs an operations manager, an event coordinator and a finance manager along with a team of stylists, and boasts more than 300 salon visits every month.
"Curly hair is kind of complicated, and even when they go to the board, hairstylists are not taught how to care for that hair type," Smith says. "But people are starting to embrace their hair textures."
"I told my kids, 'You may not even have to own a business, but I want you to be entrepreneur-esque in whatever you do, even if you're working for somebody."
What do you attribute your business success to?
Having a team of people that support you. It's impossible to do everything on your own. I have representatives to business consultants to people in different fields that I can bounce [ideas] off of and help me.
What was the most difficult time in your business?
I went through a lot of high turnover last year … Now it's way better. I had to change the way I interviewed. My business consultant got on me all the time. He's like: 'You went and just hired that person off the spot? You don't do that!' and I'm like, 'I need people!' I would say the recruitment of it all — that was the difficult piece.
How do you define entrepreneur?
I told my kids, 'You may not even have to own a business, but I want you to be entrepreneur-esque in whatever you do, even if you're working for somebody.' An entrepreneur is somebody [who] takes charge of what they do, as if it was their own business. I worked as a front desk receptionist before, and — yes it's working for somebody else — I can still run that front desk as if it was my business, and make it a successful front desk.
* * * * * *
Less is more. This minimalist mantra is something Michael Terzo came to embody as he sought a solution to the energy-efficiency challenges plaguing the fluid power industry, which covers hydraulics as well as air and other gases.
Terzo worked for 18 years in product development for a fluid power integrator, traveling to manufacturers around the western U.S. "It was pretty quickly apparent that you couldn't really make an efficient hydraulic system," he says. Hydraulics generate a lot of lost energy, primarily heat. "All of the industry has the same inefficiency problem. A lot of times, [hydraulic systems] are actually less than 10 percent efficient," Terzo says.
Entrepreneur name:

Michael Terzo

Business name:

Terzo Power Systems

Description:

manufacturer of the Hydrapulse — a compact, energy efficient, hydraulic smart pump

Headquartered in:

El Dorado Hills

In business for:

4 years

No. of employees:

12

Initial funding source:

private and angel investors
To address this glaring issue, he built a compact hydraulic smart pump that loses less energy for use in agriculture, construction, manufacturing and mining. "Get rid of everything that creates energy loss, which was valves," Terzo says of his simplified design. "Getting rid of valves is how we save energy."
Terzo Power Systems incorporated in 2014, followed by an initial private investment of $1 million. Terzo's core product, the Hydrapulse smart pump, eliminates idling from the motor with a power-on-demand system similar to a Tesla. This prevents wasted energy. The system fits into standard schematics, but uses various individual pumps for different tasks, rather than the traditional model, which depends on one pump with energy-leaking valves to synchronize multiple motions. The Hydrapulse pumps come in five sizes designed to embody the "plug and play" intuitive UX of Silicon Valley brands.
In 2017, Terzo Power Systems was awarded $3.8 million in grants from the California Energy Commission, allowing the company to grow its team and move forward with pilot- and beta-testing with customers.
In early 2018, the company closed on a $3.5 million series A round of funding from investors to start manufacturing out of a 6,000-square-foot space in El Dorado Hills, which will facilitate production of 5,000 units a year, resulting in an estimated revenue of about $25 million.
As he moves forward, Terzo is still fine-tuning his pitch to investors, figuring out the best way to convey the value of a product that actually does less — but with more benefits. "It is a total paradigm shift in how fluid power is actually put together and designed," he says.
"I would say most investors don't understand the technology. They've always just invested in me."
What problem are you trying to solve, and how did you discover this problem?
The problem was initially the efficiency. Going out to all these different manufacturers and seeing that every fluid power system was extremely inefficient. That was the easiest problem to identify … In a lot of other industries, you spend more money and you can get a more efficient thing. We get less efficient the more you spend.
Investment in a new business is always a risk — what made your business a smart risk?
I would say most investors don't understand the technology. … They've always just invested in me. They tell me that they invest in me, they think that what I am telling them is legitimate and that I come with experience.
How do you define entrepreneur?
Somebody that sees the future that they know they can create — not that they think they can create, but know they can create — then every single day wakes up and tries to fulfill that goal.
* * * * * *
While drinking margaritas at a Chili's in December 2004 and fed up with how they saw contractors treated at their prior jobs with a large staffing agency, Myla Ramos, Heather Kocina and Rayna Pearson devised a risky plan: "We decided we were going to start our own business and do it better than anybody else," Pearson says.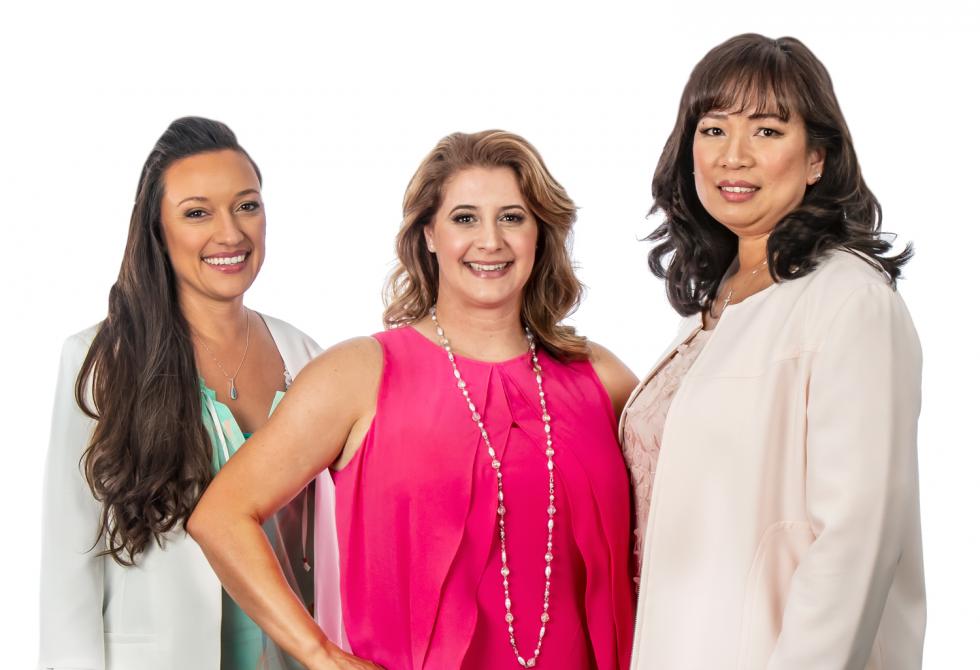 By early 2005, the three women had applied for a business license, taken out second mortgages on their homes and with nothing but three laptops, a copy of the Yellow Pages and the personal connections they'd made in their careers, they launched SearchPros Solutions — a full-service staffing agency that finds people jobs and manages temporary labor for companies. The co-founders realized early on that growing their business meant finding a balance between the high-quality internal processes of the major staffing agencies, with the flexibility and creativity of small mom and pop ones.
Entrepreneur name:

Myla Ramos (CEO), Rayna Pearson (CFO), Heather Kocina (Chief Relationship Officer)

Business name:

SearchPros Solutions

Description:

full-service staffing agency

Headquartered in:

Citrus Heights

In business for:

14 years

No. of employees:

30 employees at corporate headquarters; 1,200 contractors hired in 2017

Initial funding source:

personal HELOCs (home equity line of credit)
"[We're] able to find unique solutions for our customers — being creative in how we solve problems, being flexible in what we offer to employees when we place them, providing the customer service at a level that builds relationships," Pearson says. "We've never lost a customer in 14 years."
SearchPros now has more than 50 clients in 37 states, including Golden 1 Credit Union, SMUD, Environmental Protection Agency and Department of Defense. If you want to go back as a contractor to work for Boeing in California, Washington or Colorado, you now have to go through SearchPros. The local company beat out hundreds of other vendors to become one of only two staffing agencies for Lockheed Martin.
Ramos attributes their ability to land these major contracts to SearchPros' personal touch. She remembers starting the presentation for Lockheed officials by providing her office phone number, cell number and home number, and saying they could reach her for any reason at any time. She says she makes potential clients see that this isn't just her job — this is her company and personal legacy at stake.
"At the end of the day, we help people find jobs," Ramos says. "We have companies, we help them with their employment needs. Everybody needs that at some point in their lives, and it's really hard to turn off. I'm going through the drive-thru at McDonald's and trying to recruit the guy, because he's nice. He's just trying to give me my french fries."
In following your passion, what have you had to sacrifice?
It's hard to turn off. Sometimes people in our industry get burnt out really quickly. If it wasn't my own company, I'd probably be like, oh my gosh, this is crazy. But this is my blood and my sweat and my tears. I wouldn't have it any other way. You're always selling, you're always trying to get referrals. — Heather Kocina
What do you attribute your business success to?
We've never said no. If a customer said, 'Well, can you place people in Afghanistan for the next 30 days training with goats,' we'd say, 'Sure, why not?' And we find a way to do that. — Myla Ramos
How do you define entrepreneur?
It's having that intrinsic drive to find a way to make it work, no matter what it is, and constantly being challenged, being OK with it and actually thriving on it. And living outside of your comfort zone every day. There's so much we don't know, and we figure it out anyways. That's an intrinsic thing with entrepreneurs that makes them successful. — Rayna Pearson
* * * * * *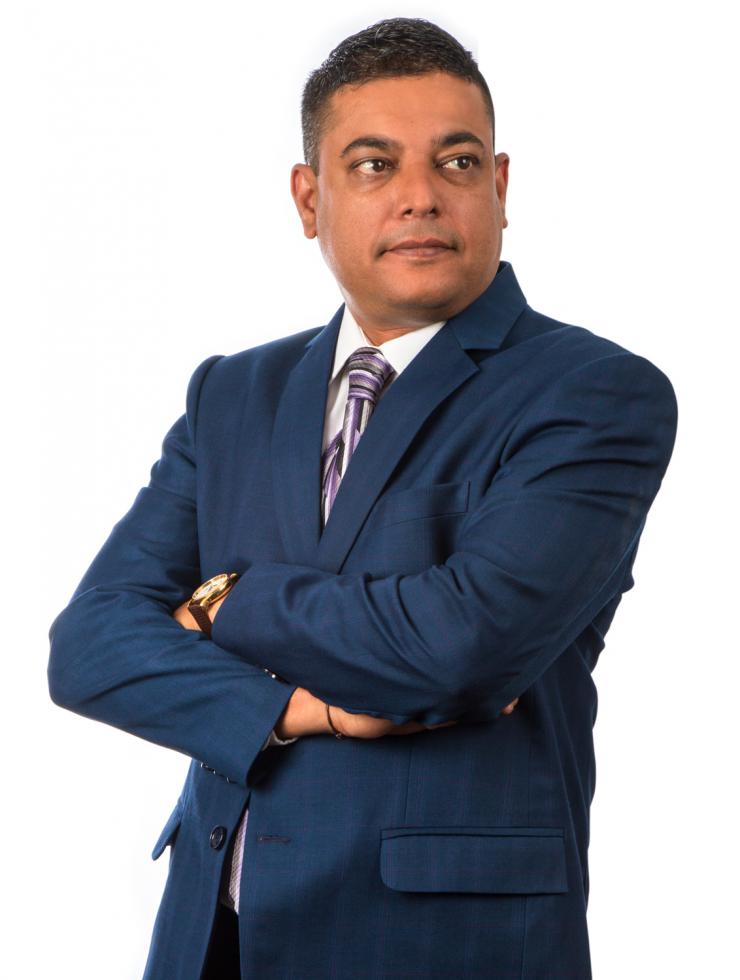 Jay Shukla accepts the inherent risk in what he does. As founder of Nivagen Pharmaceuticals, he's operating in a highly-regulated industry and one rife with competition. But he keeps going because he's passionate about the mission of his company — improving pharmaceuticals.
Nivagen's business is multi-pronged. One major activity involves the development, acquisition and sales of generic prescription drugs and over-the-counter products at an affordable price. Nivagen currently has 26 different products, which it sells to wholesalers, drugstore chains, mass merchandisers and hospitals, including: Rite Aid, CVS, Walgreens, Save Mart, Costco, Walmart and Kaiser Permanente. The company also improves drug therapies. For example, Nivagen can develop a liquid form of a medication for patients who struggle to swallow big tablets.
Entrepreneur name:

Jay Shukla

Business name:

Nivagen Pharmaceuticals

Description:

development and distribution of generic pharmaceuticals

Headquartered in:

Rancho Cordova

In business for:

9 years

No. of employees:

19

Initial funding source:

bootstrapping
The U.S. generic prescription market is currently valued at $60 billion, and $120 billion worth of products will be coming off patent protection over the next decade. That brings major opportunity for a company like Nivagen. It also brings plenty of risk. In a lawsuit filed last fall, Nivagen was accused of false advertising and unfair competition by two other pharmaceutical companies (a judge denied the preliminary injunction); Shukla describes this as a business tactic that comes with the territory.
"A small company like us keeps the price low because a bigger company will see us as a threat — that if they try to take a price hike, we're going to get the business," Shukla says. "Us being there allows them to be in check. We're in the business where we compete with big companies, Fortune 500 companies."
Shukla is a former pharmacist who worked in retail pharmacy for a decade. But it was his experience working on the insurance side of the industry that exposed him to sudden price increases and drug shortages, and their negative impact on patients. He incorporated his business in 2009 and opened his Rancho Cordova office in 2013.
Initially, Nivagen's business model was to identify a niche product which was experiencing a disruption — like a shortage or price hike — and then outsource the research and development, manufacturing, distribution, sales and marketing of a generic alternative. For a life-saving drug undergoing cost inflation or a shortage, Nivagen typically takes six months to a year to launch a product; for non-life-saving drugs, that process can take up to two years.
Nivagen has since brought most of these previously-outsourced activities in house, and now operates a 10,000-square-foot lab in Davis. Shukla says the budget analysis is underway for a manufacturing plant in Sacramento, so Nivagen would have "vertical integration all the way from research to commerce."
What do you attribute your business success to?
"A small company like us keeps the price low because a bigger company will see us as a threat…"
First, definitely a persistent, focused effort — just keep doing it until you get it. The second thing is also understanding the industry and where the industry is going … What also has helped is data. We do a lot of data mining, in terms of products, mergers and acquisitions, consolidations, price increases, shortages. We keep looking at all this stuff, very, very thoroughly.
What has been the most difficult time in your business?
We work with a lot of regulatory agencies, we work with a lot of R&D, we have multiple partners — because when you take a drug, the raw material might be coming from Italy, the packaging material might be coming from China, the manufacturing might be happening in Spain … so there's a lot of complex logistics. On top of that, our industry is the most highly-regulated industry.
How do you define entrepreneur?
The three p's: passion — you're sure about what you're doing. Then you have to have a plan. The third I call the pomodoro, which is essentially the focus.
* * * * * *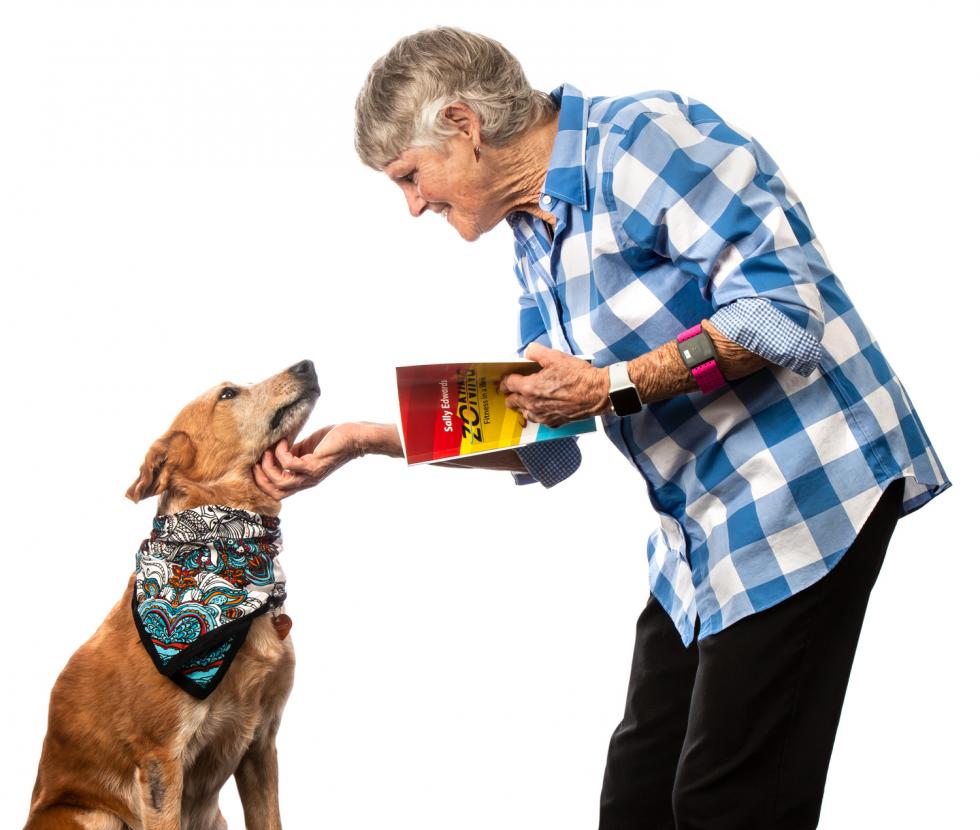 Sally Edwards made a name for herself as a pioneer of women's running shoes. At 28, she and her best friend launched Fleet Feet Sports, selling running gear out of a remodeled Victorian in Midtown Sacramento, before growing the company to 40 retail locations and $20 million in retail sales.
"There were hardly any women's shoes at that point," Edwards says. "Women ran and worked out in men's tennis shoes, and the running boom hadn't started. I always see opportunity."
Entrepreneur name:

Sally Edwards

Business name:

Heart Zones

Description:

a technology and methodology company that produces wearable technology to empower participants to pursue healthy and active lifestyles

Headquartered in:

Sacramento

In business for:

25 years

No. of employees:

15 employees

Initial funding source:

self-funded
Edwards is a serial entrepreneur who has always had the goal to "get America fit." In 1993, she sold Fleet Feet and the next year launched Heart Zones as a patented cardiovascular training program, certifying instructors, fitness professionals, PE teachers and individuals. Heart Zones was a "quiet lifestyle business" that Edwards operated while keeping the conversation about fitness alive through writing, teaching and training materials, as she looked for better solutions to accomplish her goal.
Twenty years into her Heart Zones venture, Edwards made a significant pivot after software engineers pitched her on their heart rate monitor hardware and software. "I said 'I'm 65 years old, is this really what I want to do, start a software company?'" she says.
Bringing together Heart Zones' existing training materials with wearable technology offered the solution Edwards had been seeking — a tangible way to track and personalize her program for users. Now, the company offers not just the Heart Zones curriculum and certification, but is able to sell or lease heart rate monitors, movement sensors and other equipment to health clubs, physical education programs and rehab centers to clients in 42 states and in six countries that include New Zealand, Canada, England, Brazil, Chile and, soon, China.
Edwards herself understands the power of physical strength and is an accomplished athlete. She's set her own impressive world records in the Ironman Triathlon Masters and Iditashoe 100 Mile Snowshoe Race, and has authored over 20 books on the subject of health and fitness. She even had a snowshoe business in the early '90s. She's passionate about the power of athletics, and in particular helping young women see their own potential.
"Reach inside yourself and there is an athlete there," Edwards says. "There is a woman strong and powerful and she can stand up and accomplish things she never thought she could do."
"There is a woman strong and powerful and she can stand up and accomplish things she never thought she could do."
In following your passion, what have you had to sacrifice?
Actually not a lot, because one of my basic principles is to 'Live a balanced life' and it's very hard for entrepreneurs to do that. We fall so much in love with our mission and our work that we ignore the other things around us … Balancing intellectual interests and social interests and fitness interests and business interests is challenging, but you can do it.
What do you attribute your business success to?
In American culture, we're taught from the military that we lead from the front — 'It's my way or the highway.' It's not collaborative, it's not compassionate. When you lead from the back, you're putting your team in front and raising their profile. That's my basic business philosophy, 'It's not about me, it's about all of the other people around me.' So setting aside your ego, particularly for entrepreneurs, often is quite hard to do. It really isn't if you're going to try to accomplish your goal. It's not about you.
How do you define entrepreneur?
For me, it's someone who wants to start something and stay with it until they're successful, and it doesn't matter how many years it takes. Heart Zones is a 25-year-old company that was a quiet lifestyle business until this software. This perfect storm came: the obesity epidemic, the health care initiatives, the wearable technology, the affordability of it. I just kept writing books and talking about it and looking for a solution, and I found a solution.
* * * * * *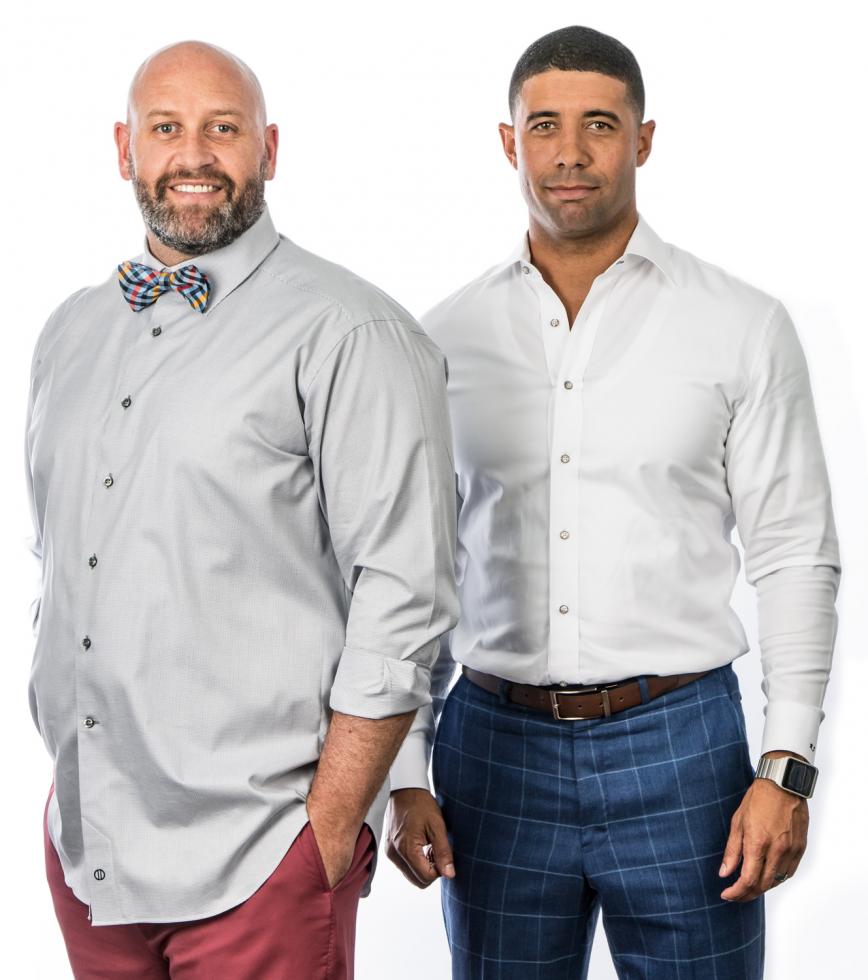 Rene Jacques, a broker, and Cam Villa, a loan processor, used to partner up at their previous jobs for a brokerage firm in Sacramento. They would both arrive at the office before 7 a.m., several hours before colleagues trickled in, to get ahead of the work day.
They often noted how the loan process seemed more difficult and less customer-friendly than it should be. They set out to fix those problems by launching their own business, Golden Bay Mortgage. They aimed to create a streamlined experience — and a uniform approach among their team members. The co-founders say they have improved every step of the loan process in a way that serves the borrower's best interests, from the first conversation with a client, to communication during the transaction, to how fast the loan can close.
Entrepreneur name:

Rene Jacques (president/CEO), Cam Villa (COO)

Business name:

Golden Bay Mortgage Group

Description:

provides home mortgage financial services

Headquartered in:

Sacramento

In business for:

3 years

No. of employees:

12 employees

Initial funding source:

bootstrapping
They offer a range of home loan options, including purchases, refinances, reverse mortgages and FHAs. They have generated over a million dollars in revenue and United Wholesale Mortgage — the largest wholesale lender in the nation — ranked them as one of the fastest-growing mortgage options in the Sacramento region.
Word-of-mouth — the lifeblood of the real estate industry — has meant Golden Bay Mortgage has largely forgone advertising, instead growing its customer base through referrals. The duo say their clientele includes a large base of minority and first-time homebuyers. The diversity of their customers is reflected in their employees, many of whom are also bilingual.
"Our personalities do show through," Jacques says. "Yes, we do a lot of business. But we never make people feel like we're too big to work with them on an individual level."
Additionally, the co-founders say they have created a company culture that encourages professional growth among their employees. "We help facilitate some of our loan officers to get their broker's license, knowing that will undoubtedly lower our overall income at some point in time when they branch out on their own," Jacques says.
The first year after launching offered a steep learning curve — figuring out how to hire and set up human resources. Now, the co-founders say they've found a rhythm in year three, one anchored by their hard work ethic and ongoing friendship.
"I never thought that I would be in business with a mentor and a friend," Villa says, noting the lessons he learned from Jacques's work ethic, attention to detail and commitment to his family. "Especially when you're an entrepreneur, let's face it, it's kind of a lonely experience sometimes. You don't really have anybody to share that with, and we have that with each other."
"We never make people feel like we're too big to work with them on an individual level." Rene Jacques, CEO, Golden Bay Mortgage Group
How do you get buy-in from your employees at work?
Everybody that we bring on, we have an idea of what their best role is. But once they get here, we play to their strengths. I think that goes a long way. Because there are certain loan officers that hate cold calling; I'm one of them to be honest. I don't like to bother people in any way, shape or form, and so we don't force that on anybody. We want them to do stuff that they enjoy — that's the way you develop your business. — Rene Jacques
What are your thoughts on failure?
It's just like if you're working out — you need heavy weights that push against you in the other direction to get strong. When we're teaching our newest loan officers, we talk to them about failure, and how many conversations you are going to have when a client or real estate agent doesn't want to work with you. You learn from that. It's about getting the reps in. — Rene Jacques
How do you define entrepreneur?
It is sometimes a really lonely road. … I have to say 'no' a lot or 'I don't agree.' I have to stop being sad when someone disagrees with me or tells me I will fail. I even have to tune out my own constant noise to quit or take a break. To me, being an entrepreneur means honoring all the stuff I love and hate about myself, and trying to take it all to a place I've never been before. — Cam Villa
* * * * * *
Raymond James Irwin believes that everything he's done in his life has led him to this moment, on the brink of opening Fizz Champagne & Bubbles Bar in Sacramento. The 1,050-square-foot spot plus patio across from the Golden 1 Center in Downtown Commons will feature more than 40 champagnes and sparkling wines from around the world and small plates, including cheese boards, duck fat fries, chips, sashimi and caviar.
Irwin's background reads as a list of useful experiences for his current endeavor: He has a degree in opera from Cleveland Institute of Music, leading to engagements in France and Italy, among other locales. He's fluent in French and Italian. He worked under a master sommelier at an esteemed restaurant in Cleveland. He spent three years in marketing for the Sacramento Philharmonic & Opera. And his grandmother was an entrepreneur, starting an awards and trophy business in 1958, which still exists today.
Entrepreneur name:

Raymond James Irwin

Business name:

Fizz Champagne & Bubbles Bar

Description:

bar selling champagne and sparkling wine, with a retail and club component

Headquartered in:

Sacramento

In business for:

bar opening August 2018

No. of employees:

6-10 employees

Initial funding source:

investors and bank loan
Then there was that time in Chicago in 2013 when Irwin visited his first champagne bar. "I walk in, I'm transfixed," he says. The joy he saw in customers there is something he aims to recreate at his own business. "Drinking champagne is an experience, from popping the cork, to pouring, the sound of it, to seeing the bubbles rise, to having it hit your lips," he says. "So providing an experience with passion is really, really big."
Urged on by a classmate in the Nehemiah Emerging Leaders Program, Irwin booked a ticket in October 2016 to France's Champagne wine region for three weeks. He came away with the "idea that you could drink it all the time," he says. "It wasn't just the beginning of a meal or for a celebration or a special occasion."
Irwin says 98 percent of his investors are Sacramento-based. Not all of his potential investors have panned out, including a large one who backed out right before Irwin was to sign a lease on a previous location. Irwin had to recoup that loss in two weeks. "Honestly, that was one of the greatest moments I could have had in this whole process," he says, "because it made me fight and push so much harder than I would have."
Two years later, he's set to open the doors to Fizz. This, he says, will be the first place in the greater Sacramento region to "really experience sparkling wine and champagne from around the world." The bar will be one of three ways consumers can experience Fizz. There's also a "grab-and-go" retail component and a champagne club; Irwin says he got 100 club members in the first week, and has grown it judiciously to accommodate more interest.
"An entrepreneur is a risk-taker. They're not afraid to sacrifice everything for their dream."
What problem are you trying to solve, and how did you discover this problem?
There's no place to drink champagne or discover sparkling wine … You come to Fizz, you can't get that stuff anywhere else. It's not going to be champagnes you can get in the grocery store. We're featuring small growers, what I like to call farm-to-glass growers. They do everything — they're working, plowing, pressing. It's an art.
What was the most difficult time in your business?
I spent months and months on a lease … but it just didn't work out. That was really hard, but you know what? The next day I called my broker and said, 'Show me everything you have, we're moving forward.' Because there's no time for crying.
How do you define entrepreneur?
An entrepreneur is a risk-taker. They're not afraid to sacrifice everything for their dream. If you're worried that it's not going to work and you're thinking of Plan B, Plan C or how you yourself will be OK, and not the business, it's never going to work. [Have] Plan B, Plan C for the business — but never for you.
* * * * * *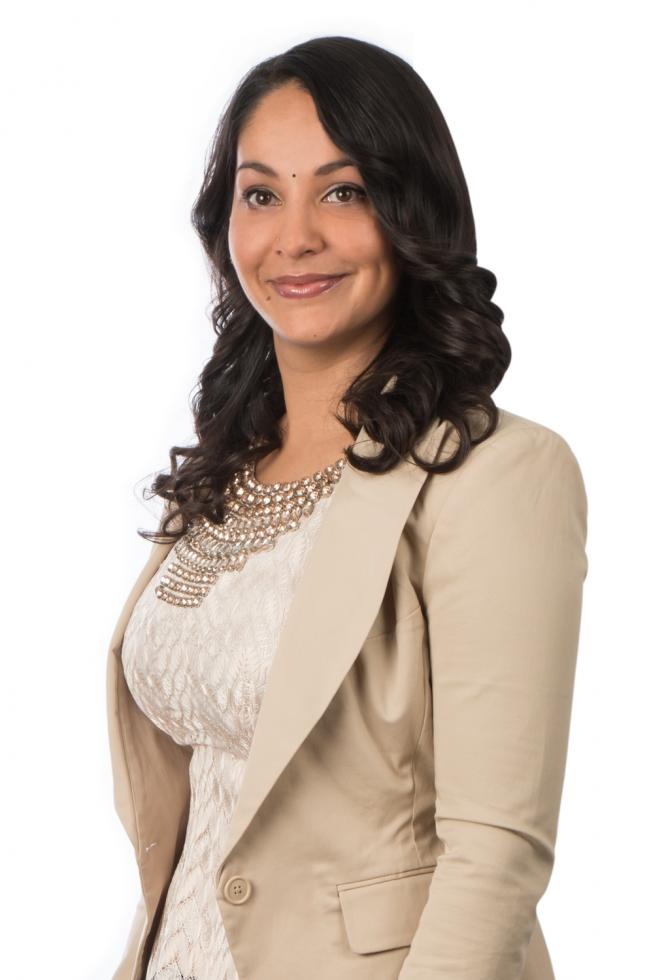 Venita Sivamani gave up her childhood dream of becoming a doctor — blood made her queasy — and became an elementary school teacher instead. Despite the early pivot, Sivamani has taken a circuitous path to end up in the health industry all the same.
"I always wanted to help people," Sivamani says. "I always had this passion for medicine in the background."
Entrepreneur name:

Venita Sivamani

Business name:

Dermveda

Description:

online resource for skin care education built by dermatologists and alternative medicine practitioners

Headquartered in:

Sacramento

In business for:

about 3 years

No. of employees:

about 10 employees

Initial funding source:

bootstrapping, then industry partners
Sivamani happened to develop a healthy crop of friends in the dermatology field, who would unwittingly help generate the idea for Dermveda. The company, less than three years old, is a customizable online resource for educating people on integrative skin health and is run by dermatologists. The site had 80,000 users in the first quarter of 2018, with a goal to reach 500,000 by the end of this year.
From her dermatologist friends, Sivamani had continually heard the same complaints: Skin disorders afflict one-third of the population, but patients generally have to wait a month for a dermatologist appointment lasting just 15 minutes. Dermatology programs focus more on diagnosis, less on ongoing skin care. They fail to address integrative medicine, despite consumer interest in alternative skin care solutions.
Sivamani was convinced there must be a resource that existed to educate their patients, but was shocked to learn the market was wide open. "I started scouring the web, I couldn't find anything," she says. "Nobody could find a website run by dermatologists that focused on education for the public. So we realized we were going to have to build it."
The platform uses proprietary tools, including a skin type profiler, to deliver custom content to its users. The website hosts over 1,000 peer-reviewed, scientifically-based articles in four primary disciplines: Western medicine, Ayurveda, Chinese medicine and naturopathy. All content is reviewed by the discipline's editor, then given final approval by a dermatologist.
The majority of articles and tools are free to use, while a portion of revenue comes from products such as online courses. The company launched LearnSkin.com, a website where physicians and practitioners can pay for continuing education courses, to fortify its monetization strategy. On the horizon, the team is building an ecommerce platform to facilitate purchases later this year, and planning to host the world's first annual Integrative Dermatology Symposium (for practitioners) and Integrative Skin Care Wellness Fair (for the public) this October, with a goal of 500 attendees for the latter.
Sivamani co-founded Dermveda with her physician friends Hadar Lev-Tov, Dev Chahal and Sarah Fitzmaurice. The company name – "derm," which means "skin" and "veda," which means "knowledge" in Sanskrit – symbolizes a union of traditional Eastern practices with Western medicine. Sivamani says this reflects her own heritage as the daughter of a Sri Lankan immigrant and a fourth-generation Californian whose ancestors came to North America on the Mayflower.
"We want to support physicians in their own training and supporting their patients, but also empowering the public to make better decisions," Sivamani says. "So we sit in the gap in between providing the education and resources."
"If you're going to be an entrepreneur, don't dabble in it. It's not a thing you can dip your toe into."
In following your passion, what have you had to sacrifice?
I love what I do, but I don't always get to go to all the birthday parties I get invited to, or even family events. [Dermveda] is the thing I do 24/7 … if you're going to be an entrepreneur, don't dabble in it. It's not a thing you can dip your toe into. You've got to go all out.
What are your thoughts on failure?
I think one of the biggest mistakes [entrepreneurs] make is not even starting for fear of failure … We see mega-companies that eventually fail. It's just part of the process. You can't restrict yourself because of failure, you've got to go for it.
How do you define entrepreneur?
I define an entrepreneur as someone who is a solution-seeker. As somebody who is both strategic and creative, and can look at a problem and think about a solution that is viable that can really help people. … They don't take no for an answer — they find the yes. They bring the different team members together so that you have the different skill sets you need to be successful.
* * * * * *
Sedale Turbovsky co-founded carbonBLU out of a love for the environment. The former river guide launched his business, a software platform for fleet operators looking for environmentally-friendly updates, in 2014. The platform allows a user to quickly aggregate their fleet operations data, and then it produces detailed plans for investment into fleet sustainability.
CarbonBLU currently serves about 20 customers, including state agencies, academic institutions, private fleets and municipalities. These clients have leveraged over $2.4 million in incentives to offset their carbon footprints and modernize their fleets, according to Turbovsky.
Entrepreneur name:

Sedale Turbovsky

Business name:

carbonBLU

Description:

software-as-a-service platform for conserving resources and capital in logistics operations

Headquartered in:

Sacramento

In business for:

4 years

No. of employees:

7

Initial funding source:

bootstrapping/founder investment
As one example of their work, carbonBLU is assisting the University of California system on its plan to deploy a fleet of zero emissions vehicles — a complicated undertaking that involves considerations like how they're going to fuel the vehicles, where they can actually put them and new technologies coming down the pipeline. "Being able to make all those decisions and synthesize those into a plan is incredibly difficult; it would take them years," Turbovsky says. "We're able with our platform to automate the majority of that process and give them the tools to do it in a few months."
Prior to launching carbonBLU, Turbovsky spent about five years working as a river guide, which took him to destinations around North America, South America, Europe and Asia, and solidified his deep respect for the natural world. In 2013, Turbovsky — whose family owns Twin Peaks Orchard in Newcastle — "just couldn't stomach working for someone else." He set out to build his own company, connecting with Josh Pietak and Rick Sikes, who would become his co-founders.
Pietak brought his experience owning a Roseville-based business that specializes in emissions compliance; he also invested a half-million dollars into carbonBLU. Sikes brought 35 years of expertise as a fleet manager working on alternative fuel programs. And Turbovsky brought a background in building businesses, technical expertise and know-how in using data to drive process improvement (he's also a part-owner of Guerrilla Digital, a web design firm).
The rise of the Internet of Things, and mechanisms for tracking data from vehicle engines, along with mandates for reducing carbon emissions, presented the co-founders with a clear market opportunity. CarbonBLU turns "data into actual intelligence, so they can make good investment decisions [and] reduce emissions," Turbovsky says, of carbonBLU's clients.
"For me, it's about being able to build a future that's clean and sustainable," Turbovsky says. "That's really what I'm passionate about: giving people the tools they need to really make the ideas behind sustainability, conservation and stewardship actionable."
"An entrepreneur is simply someone who has a great idea and decides to build it on their own terms."
In following your passion, what have you had to sacrifice?
Sleep. Last month, we worked every day for 27 days straight.
Have you ever failed as an entrepreneur?
Failure is part of life. That's one of the things that makes what we do exciting and also really interesting. … One of the worst things I've ever done personally is a poor judgment call, and a failure to do my due diligence on somebody, and we lost a quarter-million dollars. It was not good. But I learned a lot from that, and now I have these lessons burned into my mind.
How do you define entrepreneur?
An entrepreneur is simply someone who has a great idea and decides to build it on their own terms. Instead of going and working for somebody or taking the easy path to making money, they go out and say, 'Hey, I'm going to live life on my own terms and figure this out.'
* * * * * *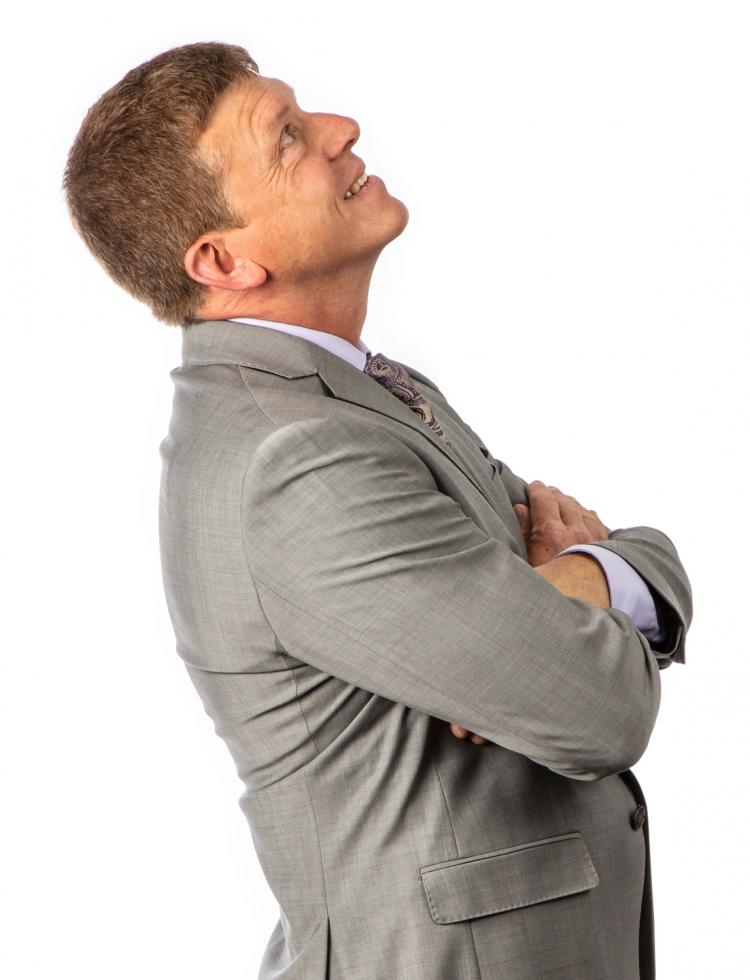 Stephen Judd confronted a critical moment in his business three years after launching Axenia BioLogix, a manufacturer of fetal bovine serum for research and pharmaceutical uses. The biotech entrepreneur crossed paths with a distributor who liked everything about Axenia's product aside from one thing — there wasn't enough of it.
Judd recalls the distributor telling him, "'Everything you do is great, but you're too small … We have customers who want 6,000 bottles that are exactly biochemically identical to one another. Can you do that?'"
Entrepreneur name:

Stephen Judd

Business name:

Axenia BioLogix

Description:

manufactures cell culture sera and reagents for global biomedical, pharmaceutical and veterinary research

Headquartered in:

Dixon

In business for:

9 years

No. of employees:

12 employees

Initial funding source:

savings and $100,000 low-interest equipment/business development loan from City of Dixon
Without the production capabilities to fulfill an order of that magnitude, Judd could have easily tapped out. But with confidence in his ability to deliver, and pragmatic negotiation, he struck a deal. The distributor invested $150,000 in Axenia, which Judd then paid back in product discounts. With the investment, Axenia was able to purchase the equipment to accommodate large orders and Judd paid back the investment ahead of schedule. Judd says it was a scary time trying to rapidly scale his business to meet client demand, but it demonstrated Axenia's tenaciousness.
To differentiate his family-owned business from competitors (there are three), Judd and his team built single-use, disposable manufacturing technology to create a closed-loop sterile system, where traditional manufacturers use stainless steel equipment. Axenia BioLogix also promises consistency with its 100 percent cold chain manufacturing technology that prevents lot-to-lot variation in its serum.
Today, the company's clients include household pharma names along with UC Davis and UC San Francisco universities. "These companies that we support are multi-billion dollar companies in many cases," Judd says. "Our customers are, we're not. We're a very small company."
Prior to Axenia, Judd had spent seven years working his way up from director of sales and marketing to EVP at a then-Woodland-based serum manufacturer (now a West Sacramento-based competitor). He had designs on owning a stake in that company when circumstances changed and Judd parted ways to blaze his own path. He took out a line of credit against his home and relied on personal savings, family contributions and a $100,000 loan from the City of Dixon.
"The decision to plug our nose and jump into the pool was one that was very difficult to take, but once taken I was very confident about it," Judd says. "One of the biggest errors in small business when one starts up is underfunding that business, or underestimating how long it takes for a business to turn the corner. I felt like we gave ourselves a fairly long burn rate for the kind of company we were starting."
Serum industry standardization has remained important to Judd since he first entered the trade. In 2006, he helped co-found the International Serum Industry Association to create a unified voice for suppliers throughout the chain to interface with regulators. He says the trade back then was the "wild west" — a chaotic industry with varying standards from one company to the next.
"I saw an opportunity to improve quality across the industry," Judd says of his pursuits, "and I think we've driven that.
"Entrepreneurialism, in my view, is a series of failures that have to be outshined by your successes."
Investment in a new business is always a risk — what made your business a smart risk?
The fact that I had this experience or background in doing these things, I knew that I could do the mechanics. We all have doubts. We all worry: Can I pull this thing off when it's all in my own lap? Do I have enough money? Is it a long enough burn rate? Will I turn this thing fast enough? Will I make the right connections? You don't know the answers to those questions. What you have to know is that you have the nuts and bolts. You can build the scaffolding.
What are your thoughts on failure?
Entrepreneurialism, in my view, is a series of failures that have to be outshined by your successes. If you don't learn something, you're destined not only to repeat it, but to fall on your face again and again for the same reasons. The critical thing is … you have to treat yourself with forgiveness. You have to be honest with yourself. 'Did I blow this because I thought too much of myself? Or because I bought my own press?' That's not a good idea. Be clear about it. Understand what value you really have.
How do you define entrepreneur?
At the heart of it, it's somebody who is driven to do their own thing … You have to be willing to take the heat for your errors, you have to have broad shoulders. But you learn on somebody else's business, and when it's time, you have the skillset in place to do your own thing.
* * * * * *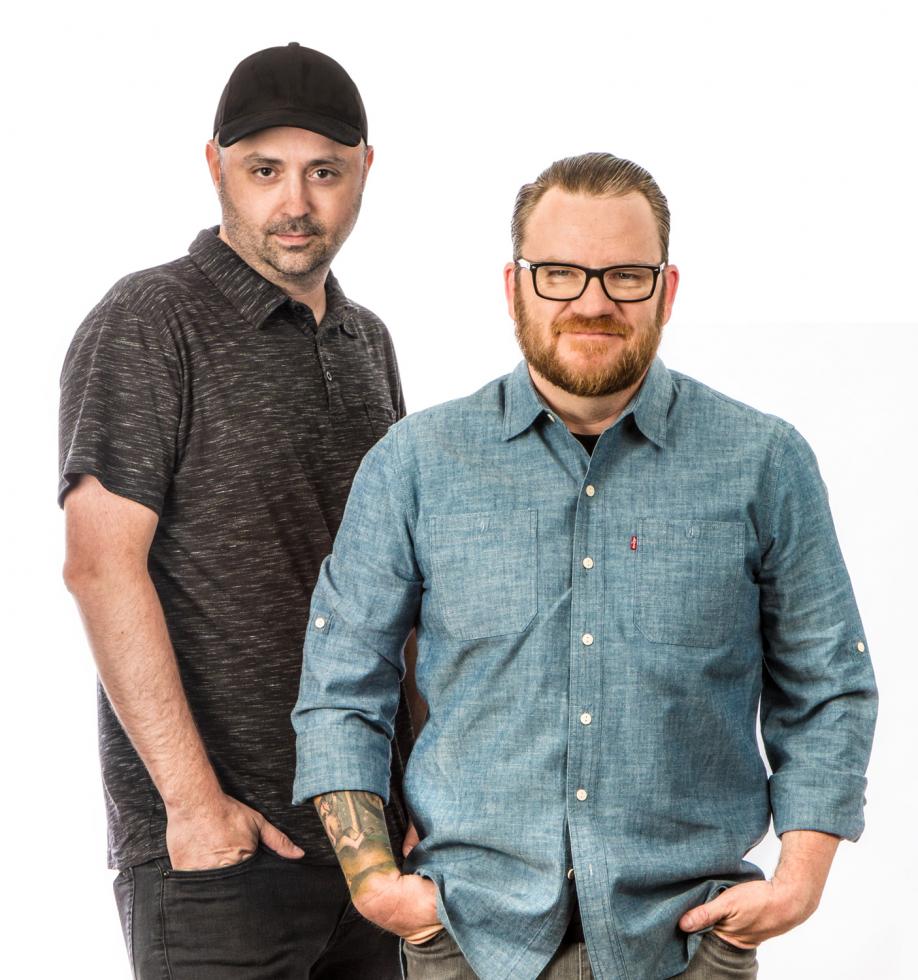 Eddie Meehan and Greg Patterson may never have started the largest independently-owned fan engagement company in the world had it not been for Papa Roach.
The two guys met through the rock band — whose members grew up in Vacaville and were mutual friends — in Sacramento around 1999. Then they co-founded an entertainment digital agency named Grnd(Ctrl) to build websites for artists; Papa Roach was an early client. They later renamed the business Wonderful Union.
Entrepreneur name:

Eddie Meehan & Greg Patterson

Business name:

Wonderful Union

Description:

fan engagement company

Headquartered in:

Sacramento

In business for:

11 years

No. of employees:

38 employees

Initial funding source:

Bootstrapping
Programming websites soon evolved into running official fan clubs, meet and greets, online stores and VIP ticket experiences. Wonderful Union now works with more than 300 artists, including Taylor Swift, Justin Bieber, Backstreet Boys, Drake, Fleetwood Mac, Nicki Minaj, Dead and Company and My Morning Jacket. Meehan says the business maintains about 200 websites, and has sold over $100 million of product, shipped out from its West Sacramento warehouse.
The local company also manages the artist/fan interaction at tours, with about 40 tours currently active. Fans who buy a VIP package to Justin Timberlake's concert are buying a package created and handled by Wonderful Union. "Giving the fans the best possible engagement with the artists — that's become a really big part of our business," Meehan says.
Meehan has a knack for figuring out creative revenue streams for artists. Most musicians, for example, didn't used to charge for meet and greets. They gave this perk away for free to record labels, which gave it away to radio stations to give away on air to attract listeners.
"What we had seen is these fans are crying, they're begging for this," Meehan recalls. "Why don't we sell it to them and bypass this whole old-school promotion thing, because no one's buying albums anymore, and let's figure out how to monetize it in a new way." He says he had to convince artists this wasn't cheesy — it was a smart business move. "Now artists do it all the time."
In 2012, Patterson and Meehan launched Queue, an event management and ticketing software company, which Eventbrite acquired in 2016. Patterson's day job is with Eventbrite; he remains a partner at Wonderful Union. This serial entrepreneur also co-founded the Sacramento-based Artery Foundation, a music management company, but left for new endeavors.
"When there's a challenge or a problem or a sticky situation that no one wants to touch, for whatever reason — I don't know if it's an inherent thing people have or a skill you acquire — but I like running into those problems and seeing if I can solve something that other people can't," Patterson says.
"We've hired within, we've grown people, we've believed in people."Greg Patterson, co-founder, Wonderful Union
What's been the most difficult time in your business?
When we got to a certain size … When you grow from being five or six people, and try to adjust to being a proper, responsible company of 25, 30 people, with HR functions and directors and direct reports, adjusting to that is a pretty big moment. — Greg Patterson
What do you attribute your business success to?
We've definitely invested heavily in the staff and the people around us. They're not people who came to us with a ton of qualifications. We're in Sacramento — there's not a pile of music industry veterans. But we've hired within, we've grown people, we've believed in people. I think you give somebody a chance and give them a career they didn't necessarily see ahead of them, it breeds a lot of loyalty. Of our staff, about 50 percent of them have been here for more than five or six years. — Greg Patterson
How do you define entrepreneur?
There are people that go to school to become entrepreneurs and are successful … and then there are accidental entrepreneurs; I think myself and Greg fall into that category. We have an idea and we are persistent and failure is not an option. We take our idea and do it until it works. — Eddie Meehan
Correction: This story has been updated to reflect that Greg Patterson's current job is with Eventbrite.