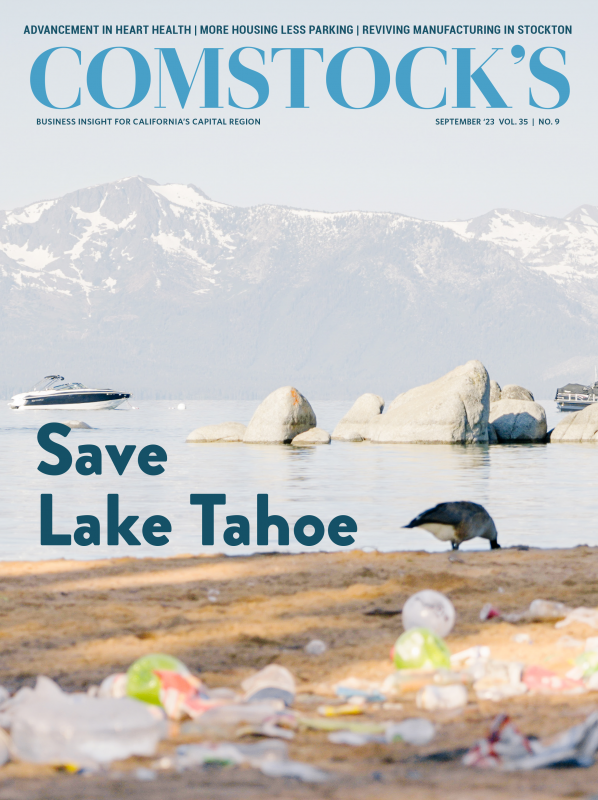 This story is part of our September 2023 print issue. To subscribe, click here.
Nearly every parking garage and lot in central Sacramento stands on the ruins of homes, businesses and community centers demolished to make way for cars. The four-garage complex that serves Downtown Commons takes up the former footprint of bygone Japantown businesses including Aokihara Jewelry and Ouye Pharmacy. The parking garage at 300 Capitol Mall was once a popular soda fountain.
These are a few of the many casualties of the 20th-century boom in parking construction, which dramatically changed the landscape and quality of life of Sacramento and other American cities. But after decades in thrall to the car, local developers and legislators are beginning to rethink parking and the role it should play in the city.
As car ownership climbed in the years after World War II, many cities and public agencies across the country began requiring developers to provide specified numbers of parking spots for every new residential or commercial building. Those edicts often stymied affordable housing and other residential projects by driving up per-unit costs, exacerbating the state's current housing crisis. Replacing businesses and homes with parking also made cities less walkable, fueling car dependency and its side effects on human health and the climate.
A major shift came in early 2022 when Gov. Gavin Newsom signed AB 2097, which abolishes parking requirements within a half-mile radius of major transit stops and prevents local jurisdictions from imposing stringent off-street parking requirements. Following this development, the Sacramento City Council voted unanimously to eliminate the central city's remaining minimum parking requirements. These edicts had been losing support in Sacramento since at least 2011, when a study found that the central city had more than 45,000 vacant parking spaces at the hour of peak demand.
"Basically, we're making it cheaper and easier to build new housing near daily destinations like jobs and grocery stores and schools," Newsom said after signing the legislation. "This means more housing at lower prices closer to walkable neighborhoods and public transit; again, reducing housing costs for everyday Californians and eliminating emissions from cars."
In the Capital Region, developers, urban planners and entrepreneurs are already leveraging this legislation to build housing and mixed-use developments that prioritize people over cars. They are also reclaiming space that was given over to cars in the last century. The city's towering parking garages and sprawling lots, now often empty due to a decline in commuting, are being turned into everything from biotechnology hubs to outdoor coworking spaces.
When parking mandates collide with housing demand
The City of Sacramento isn't shy about expressing its priority on housing for people over housing for cars. The City's Housing Development Toolkit includes the following passage:
"Parking requirements can leave less space available for more housing units or other amenities such as open space or common areas. This can lead to higher project and construction costs in cases where the required parking is more than the market demands or the applicant would provide on their own. The City recognizes that housing for people is a higher priority than housing for cars as is reflected in recent changes to parking requirements."
This new narrative has been welcome news for developers, who are no longer mandated to include a pre-set minimum number of parking spaces per residential unit or commercial development.
Marisa Kolokotronis is director of operations at SKK Developments, which is primarily involved with building urban mixed-use projects in the central city. She says that the City of Sacramento planning department is "actually quite progressive" in terms of their creative approach to parking. Kolokotronis notes that the department has been particularly helpful in cutting builders like SKK some slack given how parking minimum requirements can be onerous and costly, often serving as a barrier to much-needed housing growth.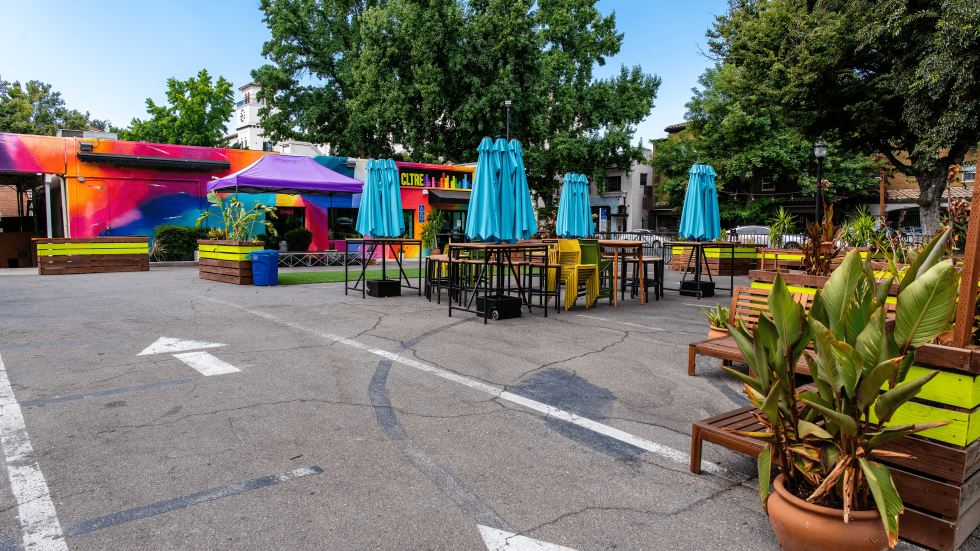 By way of example, Kolokotronis cites The Mansion, a development at 15th and H which was exempted from any parking requirements that would have added significant cost to the construction project. As an alternative, the Memorial Parking Garage directly across the street was identified as an underutilized parking structure that the residents could access through the use of monthly passes.
One post-pandemic trend that cities like Sacramento are witnessing in their central cities is that while street parking may fill up quickly during the day, off-street garages are rarely full. This is largely attributed to a growing number of employees opting for work-from-home arrangements instead of commuting to a traditional office.
"There has been a huge shift, especially in the past two years, from a primarily daytime economy in downtown Sacramento to a night economy," says Madelyn Smith, communications manager for the Downtown Sacramento Partnership. "While we once thought the work-from-home trend during the pandemic was going to be short lived, we're finding that a lot of people are opting not to return to the office."
She adds that while certain garages like the one at 555 Capitol Mall are beginning to fill back up again during normal work hours, most of the parking structures that have returned to their pre-pandemic numbers are the ones that are primarily tied to the nightlife economy. This includes parking structures at or near the Golden 1 Center and Ali Youssefi Square, as well as the Macy's parking garage.
Reevaluating needs
"The City of Sacramento has really been at the forefront of parking reform," says Jeral Poskey, a former project executive for transportation in Google's real estate division and current CEO of Swyft Cities in Mountain View, noting the city's steps to reduce parking minimums near light rail stations and in the central business, arts and entertainment districts. "There's still plenty more that could be done, however, as parking minimums still cover 56 percent of the city. So while AB 2097 mandates that Sacramento cannot impose parking minimums on 44 percent of area land, the City of Sacramento can still mandate parking minimums across the remaining land within the city."
And let's not forget that in June of this year, the city council approved additional parking reforms as part of the 2023 Planning and Zoning Work Program."
"The City of Sacramento has really been at the forefront of parking reform."Jeral Poskey CEO, Swyft Cities
Poskey says that many cities like Sacramento are reevaluating their parking needs given the evolving nature of their demand. "Now we're seeing cities moving away from parking by converting curbside spaces and parking lots into open public spaces," he says. "There is also a growing demand for more room in order to accommodate outdoor seating for restaurants. All of this not only fosters more business activity, but creates a more vibrant, dynamic and walkable environment that people are learning to really embrace."
Creating a more prosperous and sustainable Capital Region begins with the realization that car dependency impacts not only the pocketbooks of residents but the liveability of the area, Poskey suggests. Shifting this narrative into action by boosting walkability and bikeability while increasing transit options could help end the region's reliance on cars and the resulting parking demands associated with them.
A possible example lies across the causeway in Davis, which sees a steady demand for parking in its downtown corridor due to population growth, its status as a college town and a rise in commuting activities. This has posed challenges for the city in providing adequate parking spaces while maintaining its commitment to sustainable development.
To alleviate parking gridlock, Davis has long encouraged alternative transportation methods, especially bicycling. It now has the reputation of being one of the most bicycle-friendly cities in the United States, with an extensive network of bike lanes and dedicated bicycle parking stations.
"I think the COVID pandemic accelerated a lot of other trends that were already happening," Poskey says. "This is going to make it possible for developers to follow through and actually reduce parking. From scooters to Uber, people are finding new ways to get around. Then there are autonomous vehicles which are coming. All of these trends will show that building a parking garage with a 30 to 50 year lifespan is simply going to be a bad, bad investment in the times ahead."
A future life for parking lots?
Some of Sacramento's mid-century parking structures have already been reimagined as the kind of mixed-use, transit-oriented developments that reduce residents' reliance on cars. In Midtown, SKK Developments redeveloped the Sacramento Bee's former parking garage into The Press, a five-story building that includes 277 residential units and 8,600 square feet of retail space. Located in a walkable neighborhood and a block away from the 23rd Street light rail station, residents of The Press can easily get by without a car — though the developers are quick to note that it also offers "ample parking."
Repurposing parking infrastructure aligns with City of Sacramento's broader commitment to sustainable mobility with an emphasis on pedestrian-friendly designs, bike lanes and efficient public transit access. The aim here is to encourage residents to embrace alternative transportation options, reduce traffic congestion and thwart carbon emissions.
Parking lots also have potential as sites for commercial development. An example of this is UC Davis' Aggie Square at the UC Davis Medical Center in Sacramento. The much-discussed new innovation hub is being built on a former parking lot belonging to the hospital along Second Avenue and Stockton Boulevard. Construction started in June 2022 on new structures supporting cutting-edge UC Davis research, startup innovation and talent deployment.
The first phase of the development features a new life science, engineering, technology research and academic building; a building focused on lifelong learning and public scholarship along with spaces for startup companies and community activities; a student housing building to support UC Davis' growing student population — and a six-story parking garage.
Just over a year after the groundbreaking ceremony, Aggie Square is already stretching skyward, with cranes towering above the gleaming glass buildings as they take shape. But not all parking lot reclamations require so much steel and funding.
Back in Midtown, the former parking lot of an Enterprise car rental branch now thrums with the sounds of people, not cars. Where there were once economy sedans and minivans, there are now cozy seating areas and potted plants, overhung by string lights and shade umbrellas. Artificial turf covers some of the asphalt, but the white and blue painted lines that once demarcated parking lots are still visible under the tables.
The former car rental shop and its adjoining lot are now the CLTRE Club, a joint project of the nonprofit CLTRE and the Capitol Area Development Authority that provides a low-cost retail platform for microbusiness owners and free coworking space, with the goal of becoming a community hub. Reclaiming the parking for people was part of that vision, says CLTRE Executive Director Roshaun Davis.
"I want to give props to CADA for taking the risk on that space, with Enterprise moving out," Davis says. He adds that the partnership between his grassroots organization and the city represents "a catalytic spark for community development and a way to revitalize some of these neighborhoods that we talk about revitalizing."
As Sacramento continues its efforts to reshape its parking landscape, the city has the opportunity to set an inspiring example for other urban centers. By embracing innovation, sustainability and inclusivity, Sacramento can ignite a new future narrative where its residents enjoy a higher quality of life, vibrant neighborhoods and a stronger sense of belonging. This transformation not only stands to boost the city's physical landscape but also paves the way for a more connected and prosperous Capital Region for generations to come.
Senior Editor Jennifer Fergesen provided reporting assistance.
Stay up to date on business in the Capital Region: Subscribe to the Comstock's newsletter today.