On an early January afternoon inside Julius Clothing, third-generation owner Bruce Anapolsky greets John Harrington with a welcoming smile as the Aerojet engineer pushes through heavy glass doors and strolls into the store.
The two walk to the dry bar near the back entrance, stocked with San Pellegrino water, wines and liquors. Like most regulars, Harrington drops by not only to shop, but to have a drink and schmooze with the staff.
"We'll make a drink for a regular customer, but we keep a bottle of Scotch just for John," Anapolsky says, pouring a measure of single malt Ardbeg. The crystal glass, engraved with Harrington's initials, was a gift from the Julius staff several years ago.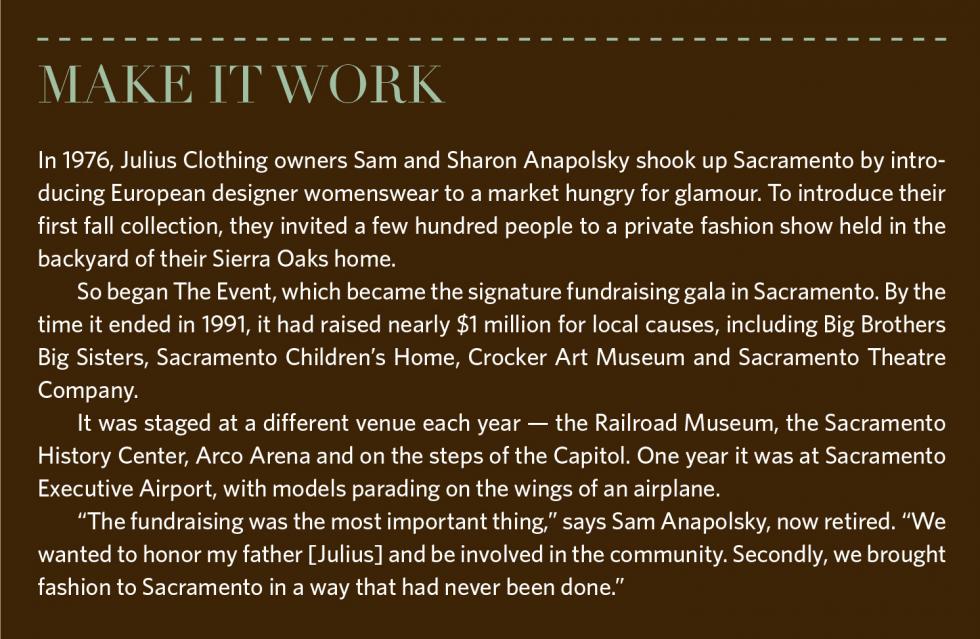 The superluxe clothier, which has been in business for almost a century, now helps anchor the Pavilions shopping center on Fair Oaks Boulevard in Sacramento. It's an enclave of blond wood, burnished metal and Jerusalem marble floors, aglow with natural light.
The interior matches the fashion sense reflected in the store: clean lines, styles that are both modern and timeless. There are roughly 20 designers represented between mens and womenswear. Menswear offerings range from John Varvatos knit shirts at $125 to custom-made Ermenegildo Zegna wool suits — measured at Julius and made in Italy — starting at $3,000. Over recent years, the women's department has moved from high-priced European lines such as Armani and Dolce & Gabbana to labels priced from $200 to $600, such as rag & bone and Zoe Couture. Still, some outerwear sells for up to $1,000.
Customers go in expecting the clothes to be pricey and their quality a given. But the heart of the business is dressing patrons in a way that makes them feel and look good and express themselves.
"We're all about relationships," Anapolsky says, which is reflected in his small and loyal team. While that tradition has held true through time, retail itself has been disrupted ­— first by megamalls and then e-commerce — and the store's owners have had to adapt over time in order to maintain such a far-reaching legacy.
* * *
Harrington purchased everything he wears this day, except his shoes, from Julius: "I'm kind of a clotheshorse," he explains, who enjoys inspecting his closet each morning to piece together what he'll wear for the day. "It's a ritual."
Anapolsky shows Harrington a few cashmere sweaters on sale. Then they step around a counter and Harrington examines a silk jacket. He was just in the weekend prior for a pair of jeans, a few shirts and a sweater. The cost? "Enough," he says. (The store's average sales transaction is $750.)
Harrington is representative of Julius's core of regulars, who come in to explore what's new, hang out and maybe make a purchase. People like Barry Broome, CEO of the Greater Sacramento Economic Council; players for the Sacramento Kings; and Mark Friedman, whose Fulcrum Property built the Golden 1 Center.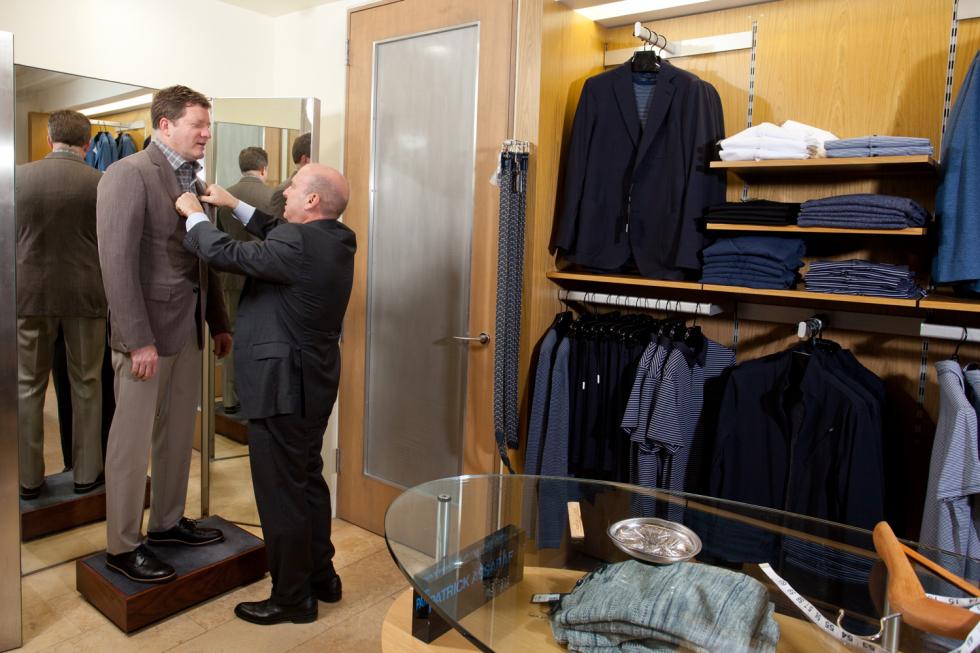 Friedman credits the Julius staff with teaching him how to dress. "Fashion can be intimidating, and it helps to have experienced guides," he says. "They gave me an education. It's partly appreciating what makes good design, but it's more about self-expression and developing a comfort in wearing things you like."
While some of his clients already understand the design and tailoring nuances that define luxury brands, others come to Julius to learn, Anapolsky says.
"That's the biggest portion of our clientele," he says, adding, "A clean canvas is sometimes our best way to work."
The shop's personal touch rests with its small but experienced staff tasked with handling clientele. Pat Brousseau started 44 years ago (when he was just 17), June Shawhan (a former model) has been there for 39 years, and tailor Gulay Bayramoglu for 32 years. Co-owner Lori Anapolsky, Bruce's wife, joined a year and a half ago. She worked at Macy's and Nordstrom's before putting her career on hold to be a stay-at-home mother, and now oversees womenswear. Anapolsky himself is always on the showroom floor.
"When clients want to look just right, it helps dramatically to have somebody guiding them who does it every day and it's their passion and profession," Anapolsky says.
Given their expertise and finesse (with over a century of experience in the fashion industry amongst the five of them), the Julius team is more than a group of salespeople. Rather, they're guides and confidants privy to the narratives of their clients' lives.
"We do way more than sell clothes to clients," Shawhan says. "We're on a journey with them. They talk about themselves, and we become intertwined with them beyond clothing."
Shawhan says she is always prepared for last-minute needs, whether due to procrastination, an impromptu event or lost luggage. The customer service goes beyond fashion and extends to travel and home-decorating tips as well.
"Everybody who comes in here wants a relationship, and I've made so many friends," Shawhan says. "I hope I make an imprint on people's lives, not as June the salesperson, but as June the person with compassion."
This touches on Julius's historical lack of job titles for its teammembers: Each individual is an integral piece to the business.
"Everybody takes ownership," Anapolsky says. "Just because you're the owner doesn't mean you're running the business any more than your employees."
* * *
Each January and August, Anapolsky and Brousseau book a red-eye to New York and devote five days to perusing what's new in menswear. Lori and Shawhan do the same for womenswear in February and September.
Because fashion, especially women's fashion, changes seasonally, the team's buying trips to New York are essential.
"It's rare to have the actual buyers working in a store," and since the Julius team handpicks the items sold at the store, "our clients love to hear about our trips," Lori says.
The shopping starts at a convention hall that features roughly 200 vendor booths. The rest of the week is spent looking at thousands of pieces in the showrooms of individual fashion houses, most of which they've done business with for decades.
The goal is to buy lines that will sell, and not end up on racks in the upstairs hallways of Julius, which are crowded with unsold dresses and jackets. "There's always clothing at the end of the season to remind us we're not perfect," Anapolsky says.
To avoid that, and to spot trends and potential areas for growth, the Julius team has daily discussions about what does and doesn't work for Sacramento's sensibilities. Each seasonal offering should feature a number of designers and styles, with an overall cohesion that enables various layering options for patrons of all ages and sizes. The team knows their customers well, and that's who ultimately guides the decision-making.
"You have to be bold in terms of product assortment, but a lot of times, something that's trending may not be right for us," Anapolsky says.
On their last trip scouting the upcoming Fall line, he and Brousseau discovered a new outerwear line of casual vests and jackets from the Italian maker Herno. But Anapolsky says they passed on the "outrageously bold-printed shirts from other designers" that they didn't feel would resonate in the Sacramento market.
In February, Lori and Shawhan "absolutely loved the pieces embellished with natural and synthetic fur from Elie Tahari," Lori says. "But we stayed away from anything overly embellished with sequins, beading or gold tassels."
It's a balancing act on the retail high wire, made more perilous by the effects of internet shopping on brick-and-mortar.
Seven years ago, sales were split 65-45 between men's and women's, respectively, Anapolsky says. Since then, "Men's has grown, and women's has come down to 35 percent. That's because women are more receptive to trends and buying from more places, including online."
Studies estimate that 79 percent of Americans shop online, with a growing number buying luxury goods there. A 2017 survey of 2,000 online shoppers conducted by consulting firm Bain & Company backs this up, finding that "online sales make up only 8 percent of total luxury sales." However, the same study predicts that number, which includes high-end fashion, will grow to 25 percent by 2025.
"That's why we are continuously reinventing ourselves on social media and our website," Anapolsky says. "Retail traffic is diminishing everywhere, though we have a lot of insulation because of what we offer. That said, we have to do better because we see fewer people." Offering exclusive items and maintaining long-standing relationships with customers help Julius prevent e-commerce from eroding its client base.
"There are still people out there that want specialized service," Shawhan says.
To broaden its market, Julius hosts social events such as open houses and themed evenings. Last November, stylists brought blow dryers from the nearby Drybar salon to offer free styling at the store. Customers were offered complimentary wine and hor d'oeuvres, and cashmere gloves were given away with every purchase.
At these types of events, "the shopping is less about the buying and more about the experience," Anapolsky says.
* * *
You might call Anapolsky's retail gene and eye for fashion a family inheritance. His paternal grandfather, Julius Anapolsky, was a Russian immigrant who opened an eponymous haberdashery on K Street in 1922. In 1935, he added formalwear and expanded farther along K Street.
It was Sam Anapolsky, Julius' son and Bruce's father, and his wife, Sharon, who eventually guided the business into a multimillion-dollar high-fashion boutique that would become part of the city's cultural fabric.
Bruce Anapolsky and his sister, Jill, grew up in their parents' art-filled house in Sierra Oaks, where the talk of the family business was a constant drumbeat, "especially around the kitchen table," he says.
By the mid-1960s, Sam had introduced French fashion designers Pierre Cardin and Yves St. Laurent to Sacramento, a bold move in an era dominated by button-down labels such as Brooks Brothers.
Another major shift came in 1976, when Sharon joined the team, eventually bringing in European designer womenswear.
Anapolsky didn't move directly into the family business. Instead, after graduating from Rio Americano High School in 1982, he headed to New York to learn wholesale menswear at one of the most prestigious fashion houses in the U.S. — Calvin Klein.
"My father saw that school wasn't as exciting to me as my love of working," he recalls. Sam didn't want to rush his son into higher education, Anapolsky says, so suggested the stint out east. "I said, 'Let's do it.' I was 17."
Ironically, Anapolsky often found himself assisting Sam and Brousseau in the showroom during their buying trips, as Julius was a Calvin Klein client.
In 1984, Anapolsky enrolled at George Washington University and studied communications while working part time at the then-legendary Britches of Georgetowne, dressing high-profile shoppers such as then-Washington Post Executive Editor Ben Bradlee. But ultimately the family business beckoned, and he returned to Sacramento in 1988.
Three years earlier, Julius had moved from Country Club Plaza on Watt Avenue to Pavilions, where the family also opened a Polo Ralph Lauren sportswear store. Anapolsky ran it until it closed in 2011, then took over Julius. Sam, 83 and Sharon, 75, are both retired.
* * *
It's a chilly Friday afternoon in January, but the weather hasn't stopped a half-dozen people from coming into the store. Standing stock-still in front of multiple mirrors is attorney Christopher Wood, a regular for 20 years and owner of the iconic blue house catapulted to fame in the movie "Lady Bird." He's receiving final alterations from tailor Bayramoglu on a blue-gray windowpane suit.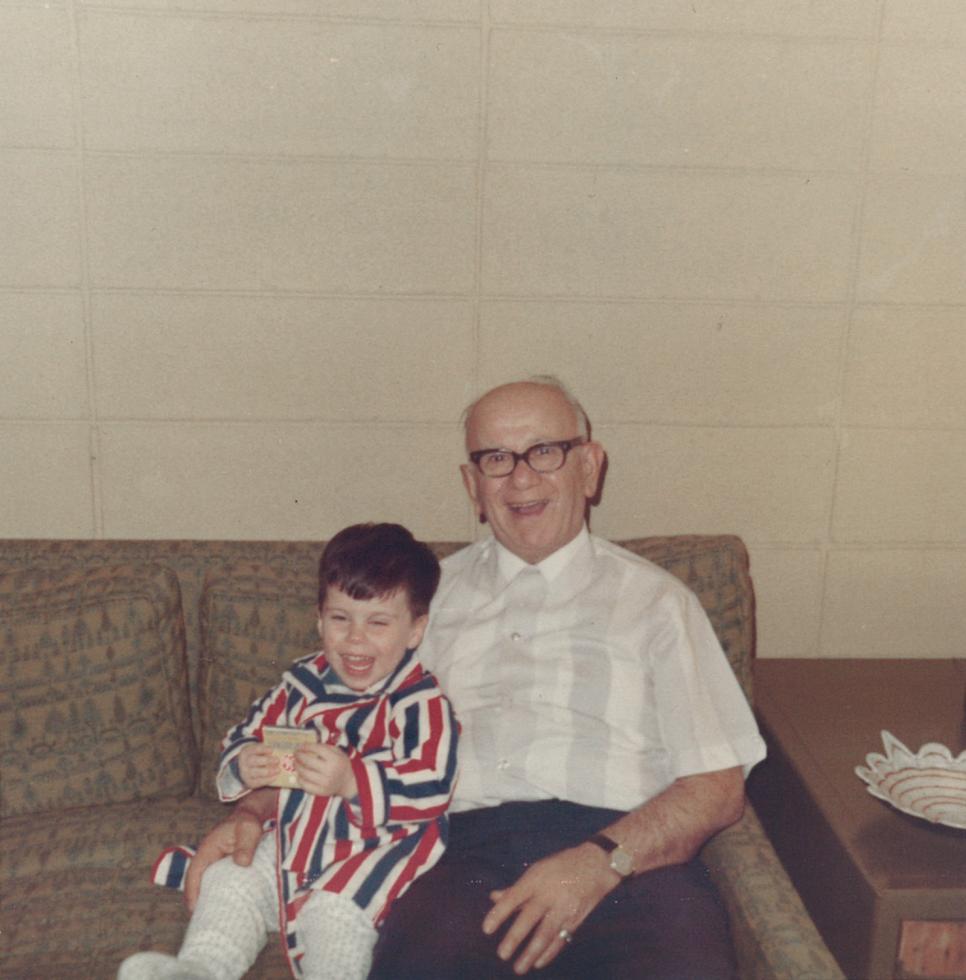 "Can I have it tomorrow?" he asks. "I start trial Monday."
Eyeing a display of dresses in womenswear is piano teacher Mary Biondi. She and husband, Steve, own Biondi Paving & Engineering.
"I love to come in on Fridays to start my weekend, just to say hi," Biondi says. "It's like visiting with friends and family."
Biondi first visited Julius with her father when she was a child in the 1970s, when the store was at Country Club Plaza. "He bought a chocolate-brown leather blazer," she recalls. "After he passed on four years ago, one of the things still in his closet after all that time was that jacket."
These days, it's Biondi who calls regularly to see if there is anything the Julius team recommend she stop by to see. Often, when she doesn't have time, someone will drop by her house with an item.
"I'm always looking for whatever's new and wonderful," Biondi says. "I've had some Julius pieces for 20 years and I still wear them."
Anapolsky carries the weight of Julius' history — in one form or another, it's been a Sacramento landmark for 86 years. Still, he says he doesn't let thoughts of its legacy and eventual transition — and whether any of he and Lori's three children will be a part of that ­— consume him.
"I don't feel a lot of pressure," he says. "If I did, all I would think about is who is going to carry on after Lori and me. But I don't want to put that kind of unfair pressure on our children."
He pauses to straighten a display of Xacus shirts.
"I love the business, and maybe one day one of our children might too, but they have to follow their own paths," Anapolsky says. "Only time will tell, and that's what's going to be fun."