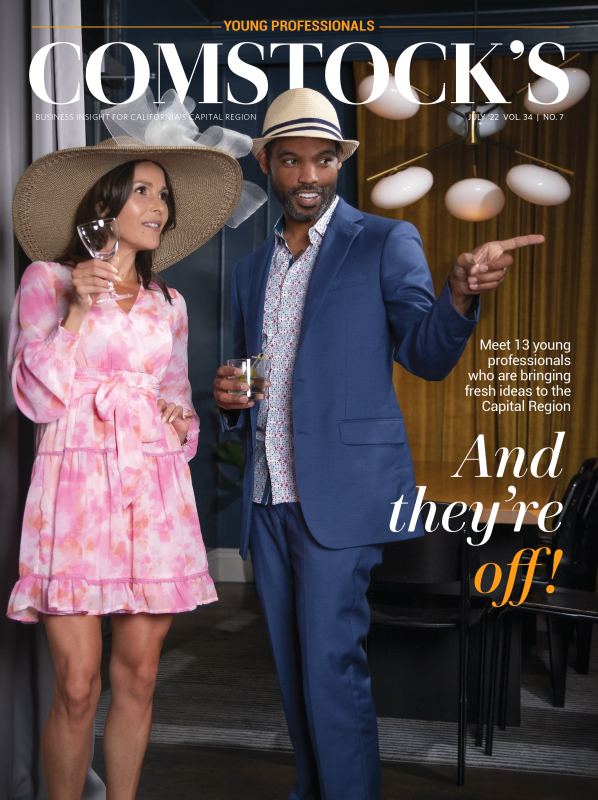 This story is part of our July 2022 Young Professionals print issue. To subscribe, click here.
For a second there, it seemed as though the pandemic's grip on business was choking fashion into a sweatpants-clad coma. In 2020, many forecasters predicted a stalling of style, a demise brought on by the universal embrace of athleisure. But like many mindsets that shifted during COVID-19, fashion too was just repositioning itself. Americans still ordered a lot of new clothing while wearing sweatpants, and according to data insights firm NDP, the U.S. apparel industry has gained momentum over the last year. In 2021, the industry brought in "$246.2 billion in revenue … an increase of more than $61 billion versus 2020, and the highest dollar volume generated in more than 10 years."
So the fashion industry is growing, but in what direction? The answer is murky, and not only because of the uncertainty stirred up by COVID-19. The spectrum of styles is expanding in disparate directions. Just as the superabundance of niche streaming services obliterated our once-shared foundation of network television, the hyperspeed of digital trends has transported us to a universe of possibilities.
This broadening taste is apparent on a regional level too. Ask the Capital Region's fashion community their opinions of the area's style and you'll get a wide cross-section of answers — "casual," "hipster," "eclectic" and "changing."
"I don't think it'd be fair or accurate to say Sacramento has one specific style or vibe," says Lacadia Johnson, owner of Cuffs, the 18-year-old boutique in Midtown Sacramento. "In fact I'd say it's more eclectic or varied in that way than a lot of other cities. A signature style, if we ever land on one, is most certainly still in the making."
Retailers embrace the hyperlocal — and the internet
Johnson remembers when Sacramento was woefully behind the times. When she first opened Cuffs, a retail store selling trendy women's clothing in 2004, e-commerce wasn't yet pervasive and social media wasn't the envy machine and marketing behemoth it is today. (Instagram and the style-centric social platform Lookbook.nu, where bloggers would post photos of their outfits, wouldn't start influencing consumer habits until around 2010). Trends would eventually trickle down once they'd been mass-manufactured through commercial retail and pop culture.
Now, Sacramento style moves at a hastened clip. Johnson reflects on the change she's seen since those early Cuffs days: "I'd say a lot of style genres that I used to see when buying in L.A. or visiting other big cities were slow to come to Sacramento but are pretty prevalent now. It's fun to see more experimental style developing here."
Situated on Midtown's J Street, Cuffs originally drew clientele via foot traffic, but Johnson currently counts Instagram as "the principle driver for online business." Web sales became a significant contributor to Cuffs' success in recent years, especially since the pandemic. Johnson takes pride in being one of the block's "long-standing mainstays" and hopes the neighborhood will return to its pre-2020 stride. "Pre-pandemic, the block was filled with small businesses … and it's thankfully, slowly but surely, getting back to that level of saturation," she says. In spring, Johnson moved Cuffs to a more visible storefront on J Street that shows off the store's merchandise.

Johnson's longevity is based partly on her own style instincts; her strategy has always been to model Cuffs' target customer after herself. "When I was in my 20s and bar hopping, my collection reflected that. As I've matured, so has the collection, and so have my customers … which is nice because honestly, everyone has a little more buying power in their 30s and 40s."

Cuffs' boho aesthetic has held up for nearly two decades, but streetwear has maintained an even longer hold on the Capital Region. One of Sacramento's oldest streetwear brands, Getta Clue, celebrates its 30th anniversary this July. Its designs include T-shirts and hats with hometown-centric messages like "Sac Skate" and "Sacramento Versus Everybody." Now headquartered at Arden Fair Mall after moving their boutique from Downtown Commons last month, owners Justin Bilbao and Scott Gilbert opened their store first on Broadway in 1992 "before it was even called streetwear." Sacramento's streetwear scene has expanded since then and now includes brands like All Good, Official and Lurk Hard.

Bilbao describes the classification as a confluence of music (emceeing and DJing), art, fashion, skate culture and graffiti. "We were kind of part of the graffiti scene in the very early years," says Bilboa. "A lot of those people were our customers, and a lot of the brands that originated came from that culture."

This symbiosis is the crux of their success. They collaborate with local artists on clothing designs, share their work on the walls of the store, and host spoken word parties and other creative events, and in turn the creative scene supports them.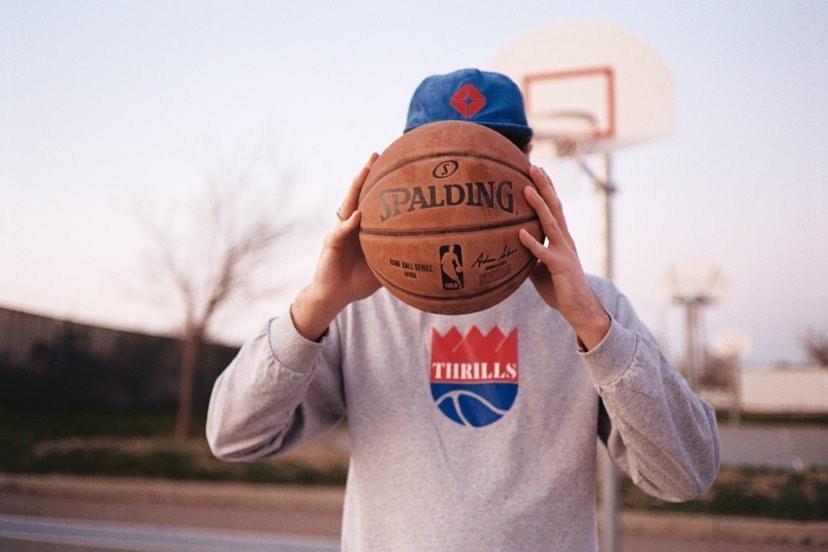 Learn about the local brands selling trendy Sacramento merch here.

Several Getta Clue employees have gone on to influence the culture of the region. Curtis Currier, once the store DJ, co-founded Yellow Brick Group, a creative agency that specializes in experimental events and marketing, including a recent digital campaign for Getta Clue. Vanessa Lopez, once a manager at Getta Clue's former sister store, Ikon, just celebrated 10 years of running her own boutique, Heart. "Getta Clue has been an incubator for a lot of other things that have come out in Sacramento, whether it be other brands or other designers or other shop owners," says Gilbert.

Bilbao and Gilbert credit Getta Clue's endurance to its in-person shoppers, although they acknowledge e-commerce is necessary to "staying alive." (They're relaunching their site soon.) "Our love and our passion still lands with brick and mortar because that's our tie to the community. So we're a place where people come to meet and talk. … We like to be there for people to meet and learn and grow stuff."
Sewing the seeds of success
Menswear designer Samuel Parkinson looks up to greet a customer from his perch at his sewing machine that sits in the middle of his shop. The cotton denim and vintage wool garments that surround his workstation make up a mellow motley of oatmeal, indigo and army green. Some pieces feature a restrained patchwork of materials for a color blocking effect that creates structure and contrast. A mannequin wears The Vault 1 Strap Overalls, a sturdy yet playful silhouette that encapsulates Parkinson's fusion of classic Americana and new school streetwear.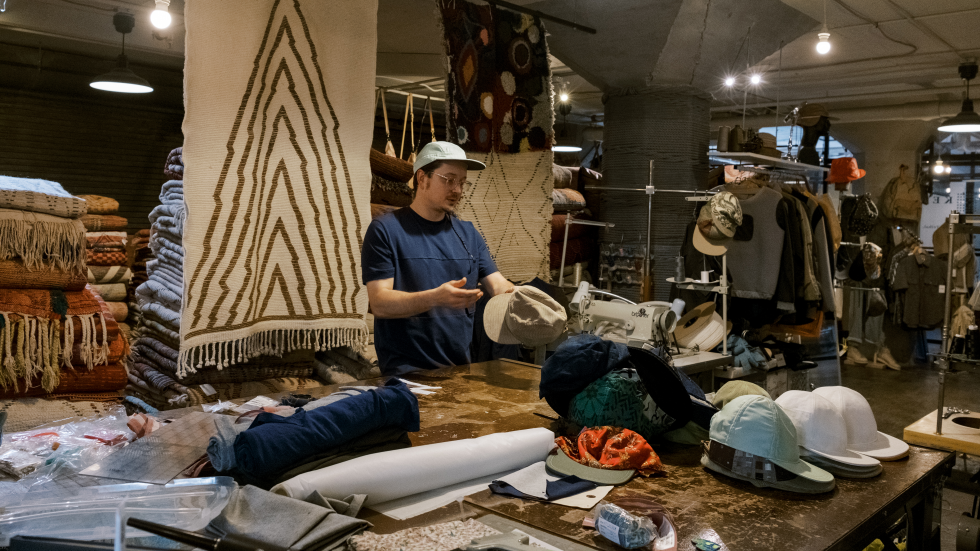 Parkinson's been at it a while, designing his own lines in various iterations for the last 15 years. His brands — the custom-made Bespoke by Samuel Rose and ready-to-wear streetwear line b:SR — are made and sold out of his studio and retail space in downtown Sacramento's WAL Public Market. (He shares the space with the Moroccan rug shop Kechmara.) Parkinson has made custom pieces for pop artist David Garibaldi using his artwork, like a jacket made from his painting of Mick Jagger's lips.
The entrepreneur has been intentional and resolute about his career, which he built the old-fashioned way just under two decades ago — that is, at design school, not using online tools like instructional YouTube videos. Parkinson attended the now-closed International Academy of Design Technology in Sacramento before taking on pattern-making gigs in San Francisco and building his own business, which he refused to relegate to a side hustle. "I recognize this may be privileged because I have a safety net" — the ability to move home with his parents, which he has done before — "but I just told myself, I'm not going to have a degree in fashion design and marketing and work at Starbucks," he says. "I will be hungry before I go in a different direction."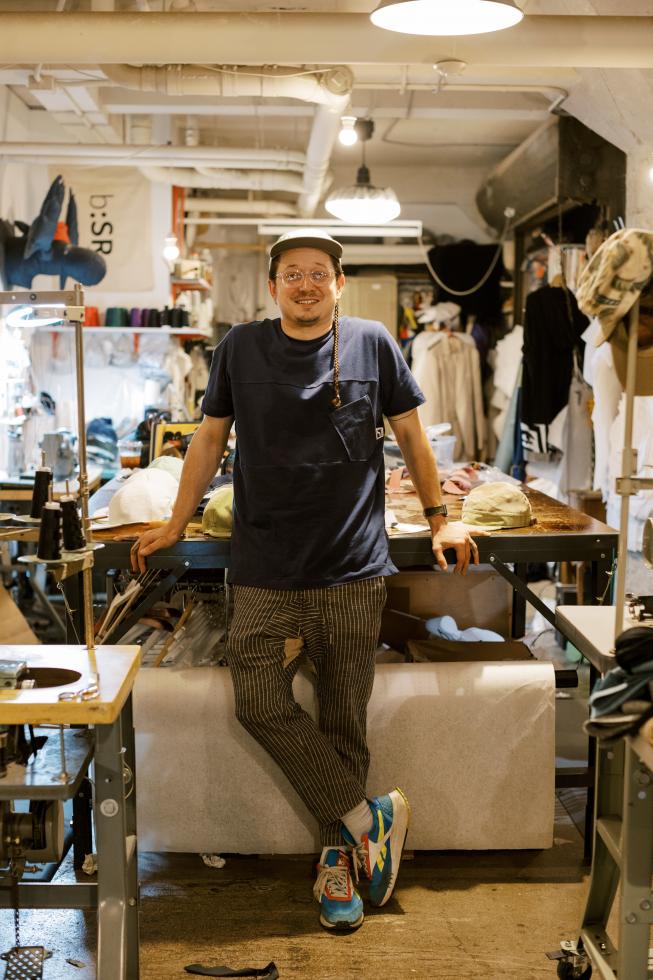 Parkinson says he wants to be the reason why Sacramento, a city better known for politics and health care, has a fashion industry. (The U.S. Bureau of Labor Statistics reports most of America's fashion designers work in large cities such as New York or Los Angeles.) He sees potential to be a pioneer in the Sacramento design landscape by sharing his experience and connections with the next generation of designers. "If you want to learn how to put in a zipper … I will give. I have four apprentices, one intern, and I teach two private classes."
Brooke Arthur started her brand YoYo Bazaar later in her career with no less chutzpah, but significantly more tulle, lace and sequins. Her experience in digital marketing helped her enter the marketplace last year with a strong signature look and consistent messaging to promote YoYo's vibrant, vintage-fusion brand. She is one of many entrepreneurs who turned their hobbies into small businesses during the pandemic.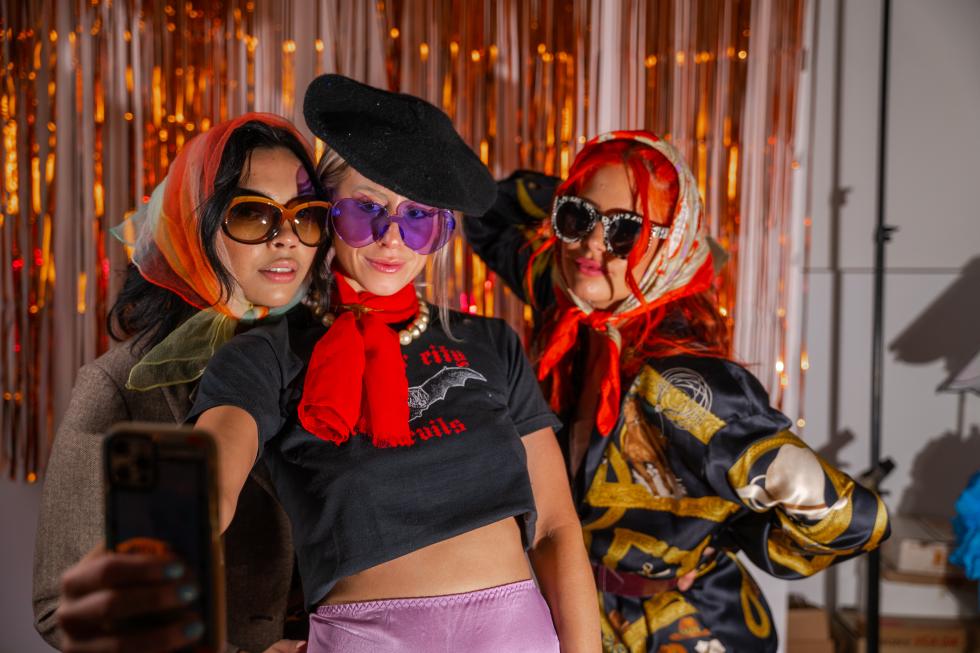 In March 2021, Arthur was eight months into her move to Sacramento from downtown Los Angeles, and she'd just quit her decade-long job as a marketing executive for a whiskey brand. "In my free time with the pandemic, I started embroidering this jacket," she says. "Local Sacramento people and friends that had seen me post this jacket were like, 'Oh my God, you should sell those.'"
Arthur knew it would take more than a cool jacket. "Because I have a marketing background, I really don't believe in building brands when you don't have a really unique selling point," she says. "My vibe is, like, the more eccentric side of things. I think living in San Francisco for 14 years, I had a really strong connection with the gay (and) trans world, and it was always this really flamboyant disco, neon, fringe, fur … just being fabulous."
YoYo's collection is a kaleidoscope of upcycled vintage garments Arthur has updated with campy flourishes like patches, grommets, studs or embroidery. She sourced some of the latter from a book of 1960s embroidery transfers. She reworks many of her vintage finds, turning a rose-printed towel into a cheeky crop top, giving a denim vest a crocheted alter-ego in the back and slashing a technicolor muumuu in two and redesigning it as a matching set.
Rather than answer to market trends with sure-to-sell basics ("black leather coats right now is a good example," she says), Arthur would rather sell clothes that stand out: "You know, like a wild paisley color-pop '60s go-go dress." The right customers tend to find her — at the events she pops up at or at her brick-and-mortar store, which until spring was located on a retail strip in East Sacramento's Sutter Park.
She recently decided to minimize overhead by moving the bazaar — disco ball and all — to her spare room. She predicts the market may soon hit a "vintage plateau" as pandemic-era vintage sellers give up the biz. "And then you're going to hopefully have people like me that just still continue to do it."
What's old is new
The move toward vintage can also be attributed to the shift toward sustainability. Just look to TikTok (or at least this writer's algorithm) to see eco-conscious influencers post their vintage hauls and share how to look chic while creating less waste.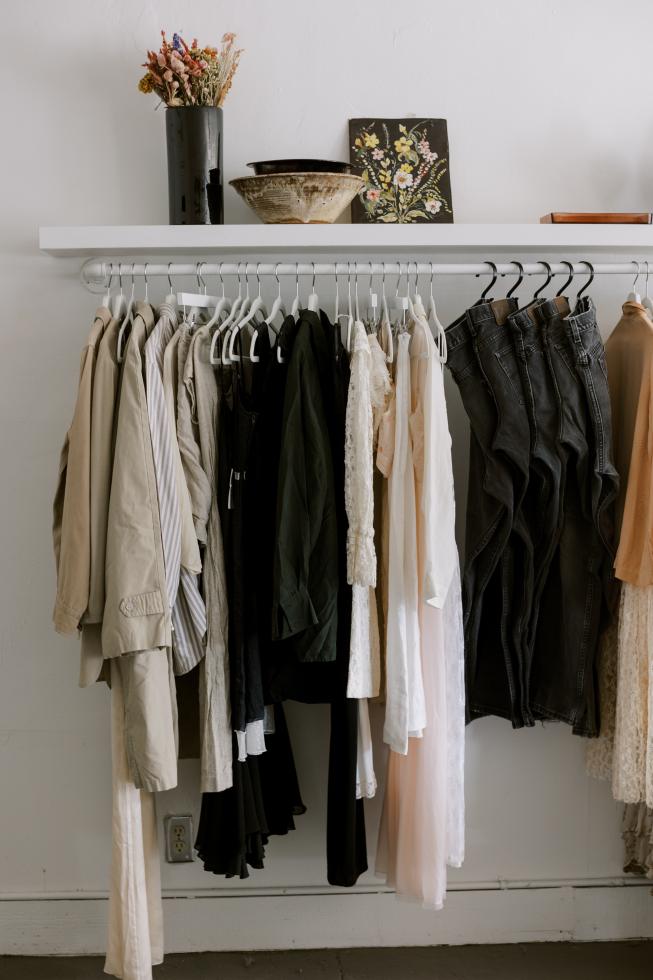 Briana Thomas, owner of Rosen boutique in Oak Park, has been in the vintage dealing business for 12 years. While studying fashion design at Fashion Institute of Technology in New York and working in production design for fashion houses like Diane Von Furstenberg, she became "a little disillusioned with the production process and how much waste really went into making clothing."
To contribute something more in line with her values (and to help pay her New York rent), she started a vintage business as a side hustle, selling online and at markets in Brooklyn. She brought Rosen to Sacramento in 2019.
Thomas describes Rosen's inventory as "things that can be really easily worn day to day and mixed in with modern clothing." She's observed customers' shock at the high quality and comfort of her store's vintage pieces, which she credits to the natural fibers used more often in yesteryear. "My current collection has really transitioned into silk, linen, cotton, wool," she says, adding that fabrics like silk are superior to polyester in terms of feel and movement.
As a transplant from New York, she sees Capital Region fashion as being in flux. "When I first moved here four years ago … I noticed a lot of fast fashion, and now I have noticed that there is a mindset shift, especially when I do markets and get to interact with a lot of new people, that they are just wanting quality pieces."
–
Stay up to date on business in the Capital Region: Subscribe to the Comstock's newsletter today.