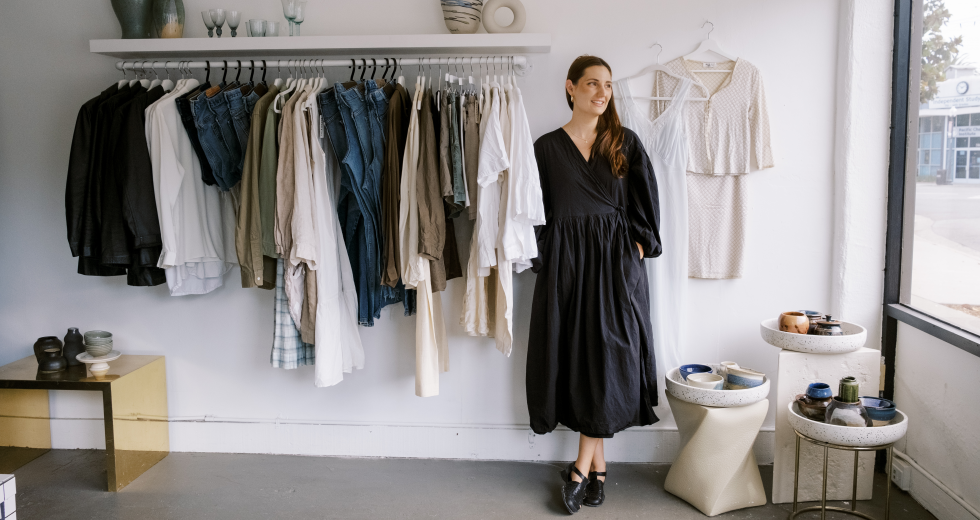 This is a web sidebar for our July 2022 print feature "A Shifting Style Landscape."

​​One of the hottest style statements you can make in Sacramento is — get this — a shirt that says "Sacramento." Not in a corny or touristy way, and not even necessarily with an ironic wink, these tees represent the capital city in ways that are singular to the designers who sell them and the in-the-know folks who wear them.

Larger, more bustling California cities might have more obvious swagger and style, but Sacramento has the advantage of having an underdog, IYKYK (if you know, you know) quality. That it's underrated only makes its residents embrace and represent the city more wholeheartedly.

Meet the self-taught makers creating T-shirts with a referential, geographical bent, selling Sacramento nostalgia, luxury and camp:
Timeless Thrills
What if you could wear a place that lives so deeply in your heart on your sleeve? East Sacramento streetwear boutique Timeless Thrills traffics in the nostalgic, deep cuts of Sacramento; T-shirts with prints of the beloved Land Park doughnut shop Marie's Donuts and the '90s-era ARCO Arena logo sell out fast. Tyler Wichmann, who co-owns the shop with his wife Jessica, commissions designs from a community of graphic artists, mining memories for designs. If it's made an imprint on the community's collective memory, it's worthy of being printed on a tee.
For Wichmann, it's all about representing the Sacramento classics of their '90s childhood. "Growing up, my dad took me to Kings games at ARCO Arena on the regular," he says. "The same goes for Marie's, riding my bike there in elementary school or middle school … or in the middle of the night as you get older. … They've just always been a part of our lives." Each design series is released on a limited, one-time basis, although the shop frequently re-releases pieces in new colorways.
Some of Timeless Thrills' best-sellers are tees with "the old Kings logo when the Kings moved from Kansas City to Sacramento in the mid '80s," Wichmann says. The store also carries shirts and art prints of the city's water tower off Interstate 5 with its former title of "City of Trees" (the tower now reads "America's Farm-to-Fork Capital"). Wishman laments, "I love that we're the Farm-to-Fork Capital, but they could've done something brand new. … You didn't have to go s— on this tower that said our city's nickname for the last 75 years."
Determined to reanimate the old moniker, Wichmann took an old photo of the tower with the former tagline and printed it on T-shirts and hoodies. It's now the shop's signature design. He also commissioned a Los Angeles illustrator to render the old tower as an art print; the homage is another top-seller. Says Wichmann, "I guess I feel like if it's on product and it's still out there, it kind of lives on in that way, even though it's not physically there."
Nine Sixteen Luxuries
Designer Dev Anglin is convinced Sacramentans have something special — "We got a lot of juice, is how I put it" — and he wants that to be evident as soon as his customers walk in the room. With his brand Nine Sixteen Luxuries, Anglin seeks to elevate the comfort-focused styles for which Californians are known, all while representing the capital city. His brand's namesake, Sacramento's area code, is printed prominently on many pieces, and the message "This is Sac" embellishes the line's simple crewnecks and varsity jackets.
For Anglin, elevating comfort and streetwear looks like cutting a classic bomber jacket with a subtle, graduated flare, a sleeker take on its traditionally straighter, puffier look. Another garment, which resembles a "typical Dickies jacket," is given an "'80s treatment" and switched up with a satin-y fabric.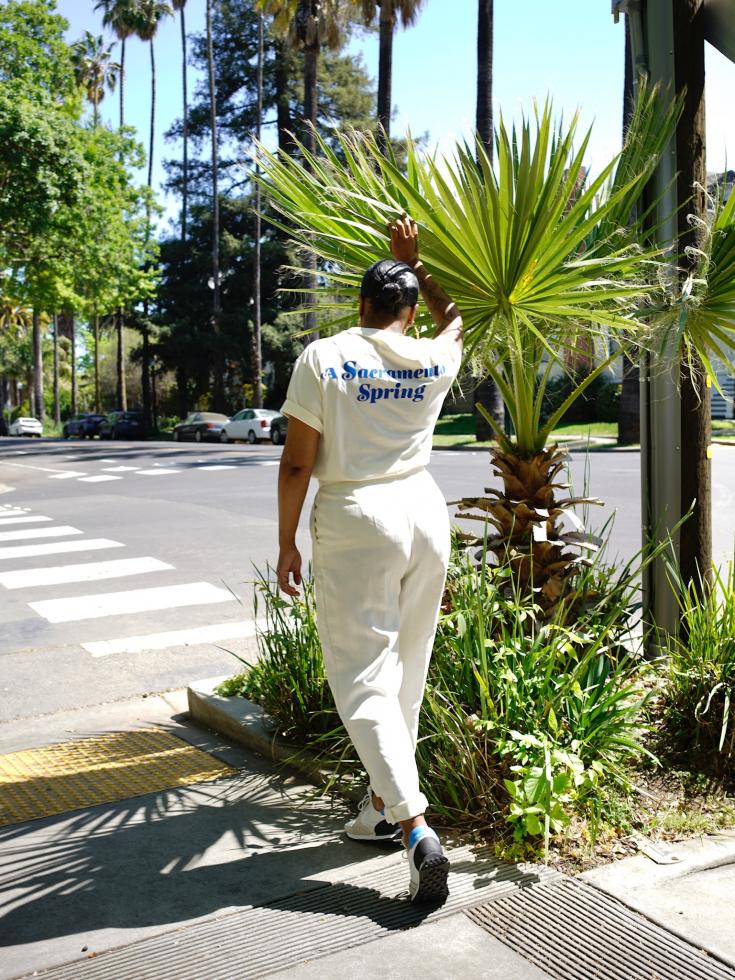 The designer applies his eye as a fashion photographer and videographer as well as his creative direction for BMW North America at the outset of his career. "Obviously (the cars) have to look pristine … and things like door panels have to be within two to three milimeters to spec," he says, describing the company's influence of excellence on his clothing. Traveling across the country with the brand broadened his perspective, as he was influenced by "other metropolitan cities, creative scenes and seeing how businesses are run."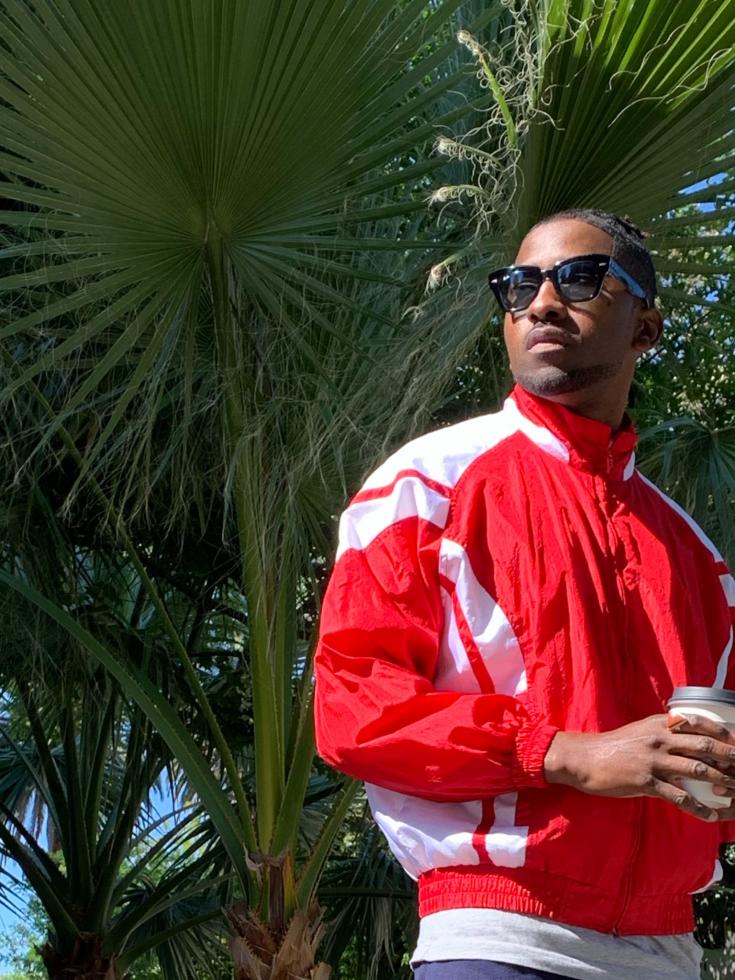 The streetwear brand is carried on Heirs of Threads, the e-commerce marketplace Anglin co-owns with his girlfriend Keia Kodama, as well as local stores like Getta Clue. Anglin seeks to clothe everyone in Sacramento with that special "juice." "Individuals here in Sacramento, from state workers to creatives to musicians to painters to artists, we have a different flair about us," he says. "And I feel like (our style) needs to be slightly elevated to represent what we hold on the side."
Midtown
Midtown's tees are likely to make you smile, or at least squint, as you determine — is that a traditional-style rose and "love mom" tattoo emblazoned over a gaudy "Sacramento" in blocky varsity lettering? Why, yes it is. Darren Pineda, who co-owns the brand with designer Derek Murrey (known also as the hip-hop artist "Blxck Mo$es"), says Midtown's illustrative t-shirts are meant to be "creative and fun."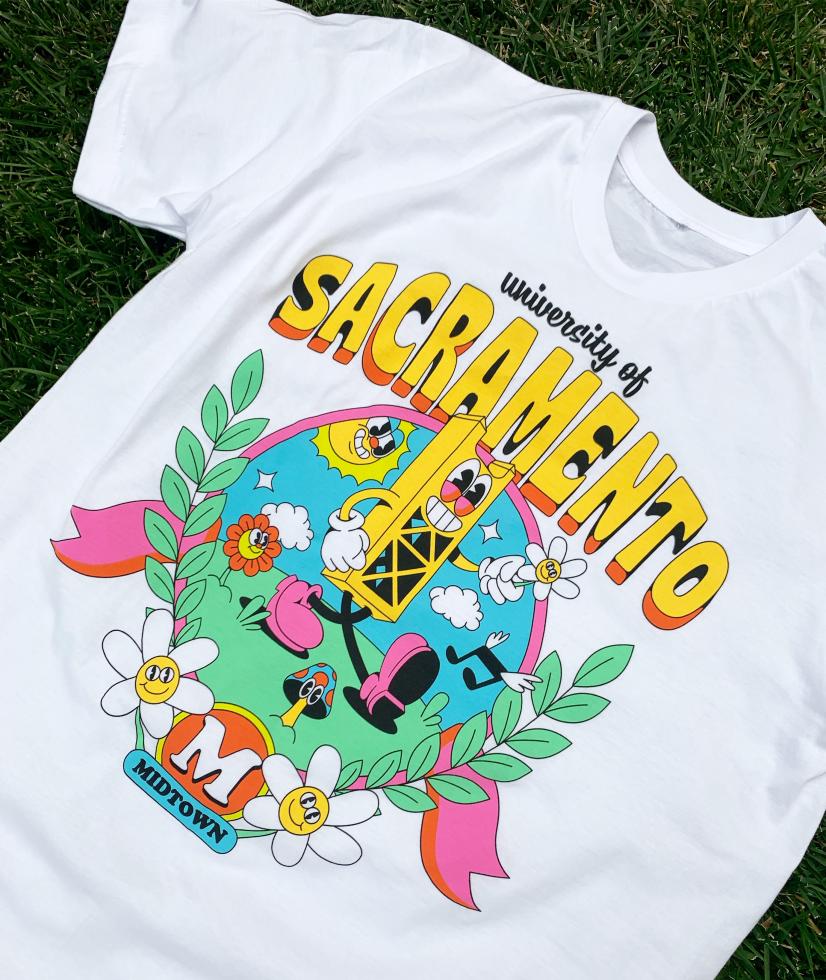 Pineda says Midtown's best-seller is their University of Sacramento tee. The design is in Murrey's signature cartoonish style — an anthropomorphized, grinning Tower Bridge stomps across a flower-studded lawn wearing pink shoes and clutching a smiley-faced daisy. The tee has been sported by former Sacramento Kings player ​​Tyrese Haliburton and R&B artist Nate Curry. Other designs include a more classic print of the capital building silhouette adorned with camellias, and a simple varsity-lettered "Sacramento" in various contrasting color combinations.
Pineda posits that being "the underdog city" creates an opening for creators. "When you go to a store, like Zara, you'll see a piece that has a city name on it, and it's always like, Los Angeles or New York or Tokyo. You rarely see things that say Sacramento, and I think that's an opportunity for a lot of creators. It's like, alright, cool. Let me make my own brand and incorporate Sacramento because we don't see this anywhere." He adds that working with the local screen printer Garage Champs has made production much easier.
Midtown's designs are a hit at vendor events designed for the young creative set, like The Bizarre and pop-ups at the downtown brewery Urban Roots. "I feel like the passion for community was very minimal," says Pineda of Sacramento a decade ago. "And now I feel like it's grown tremendously."
–
Stay up to date on business in the Capital Region: Subscribe to the Comstock's newsletter today.