On a Wednesday morning in May, Bessie Barth, director of Music to Grow On Music Therapy Services, and her intern sit down with Nathan, a 10-year-old student with autism and Down syndrome.
Over the course of the 50-minute session, Barth and Nathan travel through several songs that challenge Nathan's brain in different ways. In one song, Barth sings a math problem to Nathan, prompting him to answer.
After the math lesson is a movement song. Everyone is up on their feet to kick, march and jump, while Barth sings along to the strum of her guitar.
The lessons continue: Barth sings another song, and Nathan responds with the time displayed on a yellow clock with one blue and one red hand that sits in front of him. For his letters, his hand rests on Barth's as he traces various letters of the alphabet, Barth singing along with oral cues. Sometimes, he joins in the singing.
Nathan, who was diagnosed at birth, is "very musically motivated," according to Kalista Hickman, his mother, and has been in music therapy for most of his life. "I think it's one of the most helpful therapies that he's had," she says.
Defining the Beat
Founded in 2000, Music to Grow On focuses on special-needs children and works in 20 school districts throughout the greater Sacramento region. Barth describes music therapy as "the use of music to reach non-musical goals," which can include everything from communication and motor skills to memory and academics.
The method isn't new. According to the American Music Therapy Association, the modern practice can be traced back to the World Wars, where musicians would travel to veteran hospitals to play for those suffering emotional or physical trauma. The association defines music therapy as "the clinical and evidence-based use of music interventions to accomplish individualized goals within a therapeutic relationship by a credentialed professional who has completed an approved music therapy program." Per the AMTA, music therapists must have at least a bachelor's degree in music therapy, which includes 1,200 hours of clinical training. Students must then pass a national board exam to receive the MT-BC (Music Therapist – Board Certified) designation. While some states require state certification, California does not.
Barth, who in addition to having an MT-BC is certified in neurologic music therapy, explains that imaging scans of the brain with and without music look very different. While an individual is talking, for example, one area of the brain will show activity. During movement, it's somewhere else. But throw music into the mix? "The most of your brain" gets involved, she says.
Dr. Eric Waldon, associate professor of music therapy at University of the Pacific, says music is processed by both hemispheres of the brain. "We can harness that power, more or less, therapeutically," Waldon says. If the language or motor function areas of the brain are damaged, music can be used to work around those areas to access those skills. On a psychological level, music is processed in the same area as emotion regulation. "It's almost as if the music therapist using music is able to occasion emotional responses more readily in patients than maybe a psychotherapist would be able to," Waldon says.
Music therapy yields results both in outpatient settings, like Barth's sessions, as well as in hospitals. Locally, Kaiser Permanente, UC Davis, Sutter and Dignity Health all have music therapy programs. UC Davis has employed music therapy at its Children's Hospital for roughly three decades, while Dignity's program is much newer and got started in 2014. For Dignity, music therapy is used at Mercy Hospital of Folsom and Mercy San Juan.
Even early on in life, music can have benefits. The FDA-approved Pacifier Activated Lullaby device can help premature babies that aren't nursing by providing them with an auditory response. Here in Sacramento, music therapy takes many forms, from outpatient treatment to its role in schools and hospitals, with different patients and different conditions receiving varied approaches.
"There are so many components within music that lead to kids being able to memorize information that maybe they wouldn't be able to recall otherwise," Barth says. While music therapy isn't the ultimate cure for every illenss, Barth thinks that "it may be a link that connects everything."
Many Chords
In addition to autism and Down syndrome, music therapy is used to treat myriad medical conditions including cerebral palsy, brain injury, stroke, genetic disorders, global developmental delays, memory, dementia, Parkinson's — and other physical, emotional and psychological ailments. But just picking up a guitar and plucking some strings or blowing hot air through the brass piping of a tuba isn't the same as using music in a research-backed medical setting.
"Anybody can do physical exercise, that doesn't make them a physical therapist," Waldon says.
Celeste Keith, MT-BC, is the owner and director of The Music Works Music Therapy Services. She has been at this awhile — 38 years, actually. Keith says her company was the first in California to use music therapy in special education as a related service, and currently works with 4-5 school districts per year, including Elk Grove and Sacramento City unified school districts. The for-profit organization also works with hospitals and other care providers including Dignity Health, Family Soup (a Yuba County program for parents with children with disabilities), Sutter Senior Care and CareMeridian.
For one of Keith's patients, music therapy has offered a way to communicate with the world. Forrest Evans, 24, contracted viral encephalitis as a newborn, which led to cerebral palsy and seizure disorder. Evans communicates primarily through eye movement. With Keith's assistance, he's written over 50 songs and produced five recorded songs. For one song, Keith worked with Evans to craft lyrics based on novels he enjoyed, drawing inspiration from The Odyssey, To Kill a Mockingbird and The Scarlet Pimpernel. Evans has even been on stage twice with his band, In a Tizzy, for a K-8 school fundraiser. The band — a production of The Music Works Music Therapy Services — was put together by Keith and another music therapist.
During one therapy session, Keith plays the keyboard with Evans beside her in his wheelchair, and she asks him to weigh in on compositional decisions. Keith says she has seen significant improvement in the five years she's been working with Evans: "Forrest has … progressed in his ability to communicate his moment-to-moment state of affairs, share his ideas and concerns, explore academic and cultural material through the centuries, lengthen and manage his physical endurance," she explains.
But music can be powerful, both for better and for worse, Keith cautions. It can have varying effects on people, and thus should be wielded appropriately.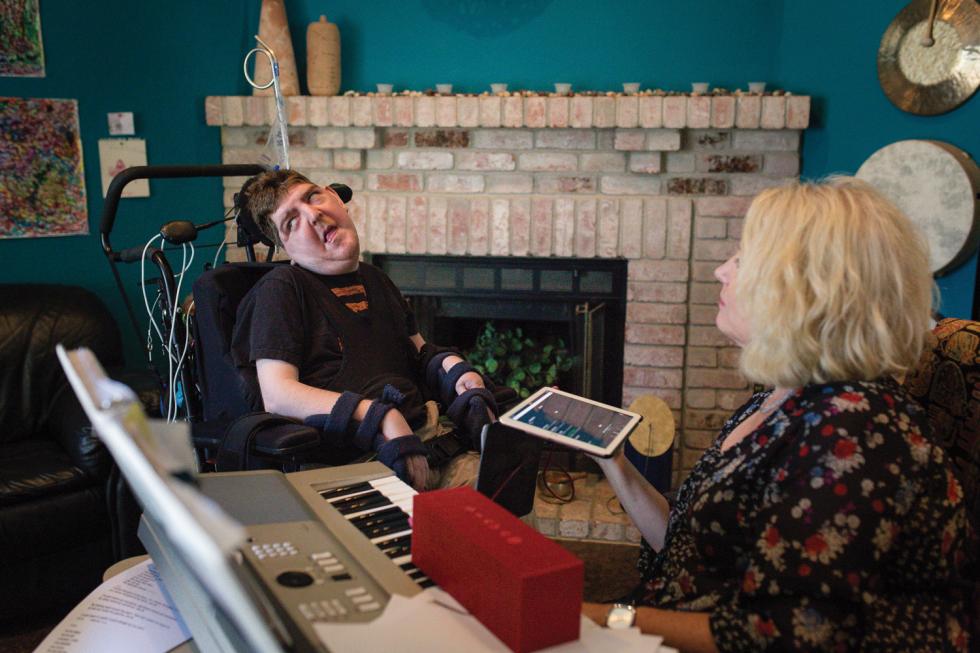 "If you don't put the right music together for an individual, it actually could be detrimental to them and stress them out," she says. She likens the therapy to a sort of container designed to help patients "hold" whatever it is they are contending with. "It is therapy," Keith says. "We're moving people and we're provoking people with music and you can get into some pretty dangerous zones."
Meeting of the Minds
Music therapy literally brings the brain's two "worlds" together. Some of Barth's patients at Music to Grow On suffer from agenesis of the corpus callosum, meaning the two hemispheres of the brain aren't connected properly. The condition can lead to, among other things, poor motor control, vision impairment and low muscle tone.
"When those kids are engaged in musical intervention, those hemispheres actually connect," Barth says. "So, it allows for those synapses that couldn't happen in other places to actually happen."
Music therapy can help stroke patients with rehabilitation, as well. The brain's primary auditory cortex and primary motor cortex aren't that far apart, and rhythmic auditory stimulation, or RAS, can be used to improve gait, where music's tempo — such as a therapist playing guitar while a patient walks — helps the motor centers in the brain work together better.
McConnell Music Therapy in Auburn has been around for 15 years. Currently, the business' work includes local school districts and private clients, as well as an intergenerational music therapy group in Grass Valley connecting preschoolers and seniors in a residential care facility. Its therapists also conduct inpatient treatment with Sutter Hospital in areas such as psychiatry, oncology and the children's hospital.
"The fields of neuroscience, medicine and education are all catching up to what we really know as human beings, and that is that music affects us," says Tara McConnell, a board-certified music therapist and owner of McConnell Music Therapy. She adds that, in her experience, patients suffering from pain require less medication with music therapy.
But she stresses the importance of meeting patients "where they are" without judgment. A hard focus on soothing melodies, particularly if patients are creating music as a method of coping, can actually backfire and cause adverse reactions in those already in pain.
"It's not always nice and lovely sounding — it can be angry and totally without rhythm, but also, in those cases, imitates what's going on in the thoughts and minds and hearts of these people," McConnell says. "And through that process they find something, they experience something that replicates their thinking patterns or behaviours and through that process they feel validated. And once they feel validated then they can start to connect with others. And when you connect with others, that's the beginning of starting to heal."
The Capital Dance Project recently announced a partnership with the Sacramento Kings and the Kings Foundation to produce their inaugural Sensory-Friendly Dance Performance on Friday, Aug. 25 at Crest Theatre.