The plans were all set, the schedules in place. In 2013, Homes by Towne of Sacramento was forging ahead with its first project since the housing market collapsed. This was Cascade Crossing, a single-family community in Grass Valley with 80-plus homes, front porches and gourmet kitchens. But something was missing: workers.
Tired eyes? You can listen to the audio version of this article here:
Framers. Plumbers. Electricians. Drywall mechanics. Painters. So many trade workers were gone. In the throes of the recession, they moved on to other industries. The labor shortage created delays that forced the schedules to keep changing.
"The shortage of labor is a very real thing, from the land development standpoint to the homebuilding standpoint," says Jeff Pemstein, HBT division president who also chairs the California Building Industry Association. "We're having to jockey which projects are going to get attention. There are only so many bodies to go around to work onthese projects."
Pemstein didn't quit. He says his best strategy was staying in communication with his trade partners and sub-consultants. He learned to give them advance notice for any services required on each home. That way they could balance their staffing and workload, and do everything they could to meet the project's needs. He also learned to make sure contracts and agreements are clear and every vendor gets paid on time. This summer, Cascade Crossing is set to open, and Pemstein now applies these lessons learned to all housing projects.
"Presumably the labor shortage will not last forever, but good relationships can last a lifetime," he says. "We try to treat our trades and sub-consultants as an integral part of the team."
But the Capital Region still needs workers. The Sacramento Area Council of Governments reported that between 2013 and 2021, the region needs to build about 105,000 housing units to meet demand. Dividing that number by the nine years means almost 12,000 units per year. There were 4,500 new units built last year, according to North State Building Industry Association. This year, the greater Sacramento region is on track to hit about 6,000.
Throughout the region, the pace has picked up since 2012, but Michael Strech, president and CEO of the North State BIA, is aware that momentum can also be misleading. "We feel busy because, not long ago, we were building 25 percent," Strech says, but he remains focused on the goal: "We need to pump out more housing units to make sure everybody has a choice in homeownership."
The Slow Build
In the early 2000s, it would take three to five months to grade a site and get it ready for building a home, Pemstein says. The construction itself would take 90 to 120 days. Now, in this post-downturn market, it takes twice that long primarily due to limited labor, which Pemstein calls "endemic" to all Sacramento homebuilders.
It's no surprise that so many workers ran away. With the housing market in a prolonged dry spell, some qualified trade contractors ditched the region for greener pastures. Some stayed in the industry, but took jobs in oil, agriculture or commercial sectors. But the labor shortage has opened the door for a new generation of workers. This year North State BIA launched its 5Kin5 Initiative, hoping to recruit and train 5,000 new workers over the next five years.
To grow the potential workforce, the program seeks to reach high school graduates or those from certificate programs in community colleges — and convince teenagers and young adults that building homes is a viable job opportunity — through job fairs and regional youth programs. The jobs are framed as a starting point from which workers can develop a range of transferable trade skills, if they later choose to become a plumber or electrician or site superintendent, for instance.
"If we have 5,000 more in this business, we can keep them all busy," Strech says. "We're looking at folks involved in all kinds of areas and we're here to explain that construction is a way to go."
It's critical to attract young talent as soon as possible, not just to meet demand, but also because many industry professionals are approaching retirement. Their guidance and training for the next generation needs to happen before they leave too, Strech points out. About 60 high schools in the area have construction-related programs.
One of them is Cordova High School. In Rancho Cordova, this school offers courses in residential and commercial construction. Andre Leineke runs the new program, which he says attracts students with a hands-on learning style who don't want to be "stuck in a desk all period." Field trips, training seminars and summer internship opportunities also draw in students.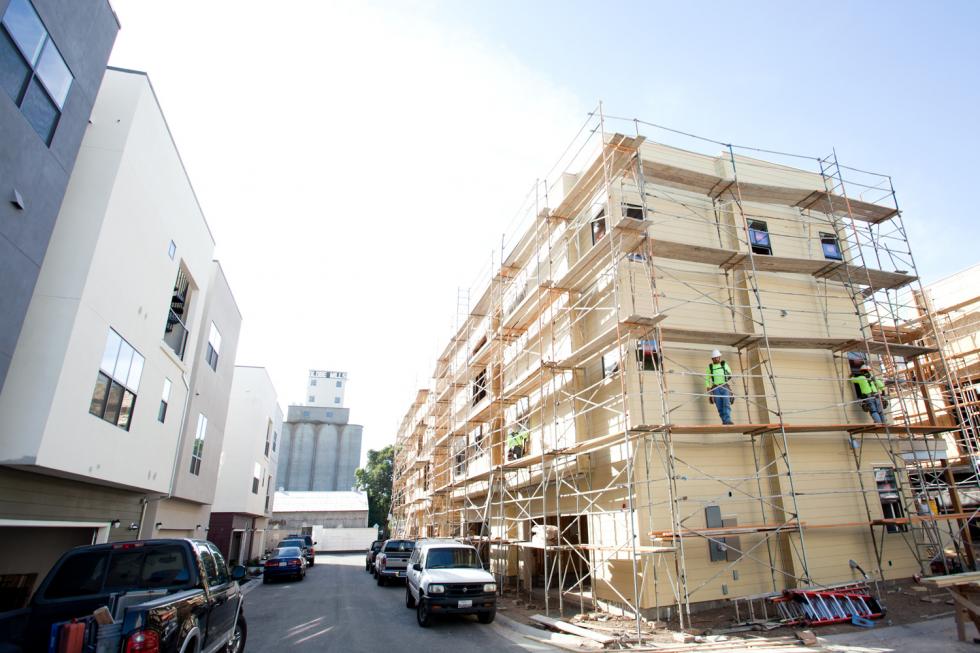 Each May, as part of the Sacramento Regional Builders Exchange competition, students transform a pile of lumber into a shed they designed. Last year, Cordova High won and competed in the state championship. "Between the sense of accomplishment in making projects and the job opportunities, motivating students has not been that difficult," Leineke says.
But homes are not built on motivation alone.
Help to Pay
This housing crisis is a double-edged sword of Economics 101. The lack of supply means an increase in demand, which drives up costs in a state that's already one of the most expensive to live in. In California, the average single-family home is more than double the national average, according to the Legislative Analyst's Office. So even if new workers build enough homes, will any of them be affordable?
This is the question on the mind of Darryl Rutherford, executive director of the Sacramento Housing Alliance. He believes Sacramento lacks any real strategy to developing affordable homes, especially at rates affordable for the blue-collar workers so desperately needed.
In recent years, he says, many projects have started out one size, only to be cut down in scale due to resources. With residential development scaling back, the number of affordable homes goes down too. Even if you identify areas that would be ideal for affordable housing, a developer needs local funding that just isn't there, he says.
The Sacramento Housing and Redevelopment Agency manages the affordable housing fee programs for the City and County: one for market-rate residential developments and one for commercial developments. A couple years ago, the City and County revised their affordable housing development programs — from a mandatory program to include affordable housing within a market-rate development to a voluntary program. Developers can now either choose to build affordable homes or pay a fee of $2.69 per square foot, which Rutherford says is too small a fee to see any real impact.
"We've been arguing that those fees should be increased," he says. "But the other thing is there needs to be a real concerted effort to find new funding sources outside of the development community. Other sectors need to be stepping up."
Rutherford can't recall any successful projects funded from other sectors, but he believes alternative sources of funding are critical to solve this crisis. In April, the Alliance made recommendations to the Sacramento City Council, proposing a two-pronged approach to help address affordable housing and homelessness needs: a bond to address the immediate need, followed by a more permanent source like a real estate transfer tax or increased sales tax.
According to a recent report by the California Housing Partnership Corporation, federal and state funding for affordable housing in Sacramento County has decreased by 66 percent since 2008. The Sacramento City Council held a housing workshop in April and opened up public discussion on June 20 specifically on housing. Mayor Darrell Steinberg says he plans to use this input to put forward solutions in the coming months.
Also looming over the industry is the idea of a prevailing wage, which is defined as the hourly wage, usual benefits and overtime paid to most trade workers in the largest city in a given area. Some lawmakers have pushed proposals to expand prevailing wage mandates on more private residential projects, a move North State BIA is dead set against. If any prevailing wage law passes, the costs of homes would jump at least 45 percent, according to a report by research firm Beacon Economics.
"It will completely disrupt and decimate the homebuilding industry," Strech says. "It would benefit a very small amount of people who would make a ton more money building a house. I don't think this would benefit the workers as much as the people doing the real estate transactions, buying land and buying finished lots. We're diligently and consistently making ourselves aware of everything happening, to make sure that prevailing wage does not become an issue in the future."
Need a Lift?
Natomas has seen both extremes of the housing wave. In the early 2000s, new subdivisions were sprouting up everywhere. Then in 2008, the Federal Emergency Management Agency declared that the levees around the basin badly needed an upgrade to prevent flooding. A building moratorium went into effect.
Two years ago, that moratorium was lifted, with some expecting a swell of development backlog to come pouring in. But so far, the growth has been moving at a controlled pace, reflecting the new realities of this post-recession market. But don't think Natomas is lagging. In fact, this year the construction valuation is on pace to be the highest since 2007, according to Ryan DeVore, director of Sacramento's Community Development Department. In the last two years, he says, they've finalized or issued more than 1,000 permits in Natomas.
"We were building citywide between 100 and 300 units," he says. "We'll do over 1,000 this year. It's much higher than it was, but it's not the 3,000 it was during the boom."
Candela, a new subdivision in Natomas, was among the developments completed in recent years. The project consisted of 10 houses, which the New Home Company built all at the same time to keep trade partners engaged, says Kevin Carson, Northern California president of The New Home Company.
To navigate the labor shortage, Carson prioritizes accurate and precise scheduling. The logic is simple: If a framer, for example, knows that every month the homebuilder will release three or four houses, the framer will be more inclined to stick around, he says, adding that the more activity there is, the more secure workers feel. He notes that one project currently under construction, McKinley Village in East Sacramento, has five different housing programs, including a large clubhouse, production homes and models.
"You don't want to call a plumber and have the house not ready to be plumbed," Carson says. "Trade partners only want to work for builders prepared and ready for them. They're more willing to go onto the property when they see a future."
What a difference a decade makes. Ten years ago, the regional homebuilding industry — like many other industries — faced an uncertain future. The Great Recession dealt a harsh financial blow to our industry that made the prospect of recovery feel like a far-off possibility. Fortunately, after several lean years our industry has started to climb out of the economic doldrums of a few years ago.
Kandace Mulvaney, a broker with boutique agency Miller Real Estate in Sacramento, offers her insight into a big trend happening in local real estate. For more from Mulvaney, check out "Homemakers" in our May issue. Sign up for our newsletter and we'll email you when it's available online.