Outside the Hyatt Regency in downtown Sacramento, tower cranes rise above the skyline, harbingers of the city's burgeoning building boom. Inside, the designers who are determining the new face of our city took to the runway to envision our future through fashion.
On June 22, the ninth edition of the Merge Fashion Show, an annual fundraiser sponsored by the International Interior Design Association Northern California Chapter, took place in the ballroom of the hotel. This year's theme, Fit for the Future, sparked a kaleidoscopic variety of designs, including a shape-shifting cocktail dress and a dystopia-ready suit of armor, all made with interior design materials such as tiles, carpeting and upholstery.
The 13 competing teams included groups from local firms such as LPAS Architecture + Design and branch offices of international companies like Stantec, as well as design and architecture students from around the region. Students are the real star of the show at Merge; the event includes an awards ceremony for three IIDA scholarships, and student participants often end up interning or working at the firms they encounter at the fashion show. "It's a great way to help solidify that they're in the right career path and pursuing their passion," says event chair Michelle Moretti.
Ashley Fratis, an interior designer at Stantec, gets made up by a student from Paul Mitchell the School before walking the runway in the design that won her team a prize for Best Use of Materials: a protective linoleum suit ready for the climate apocalypse. "I couldn't move a lot," says Fratis, who has participated in the event since she was a student at Sacramento State in 2013.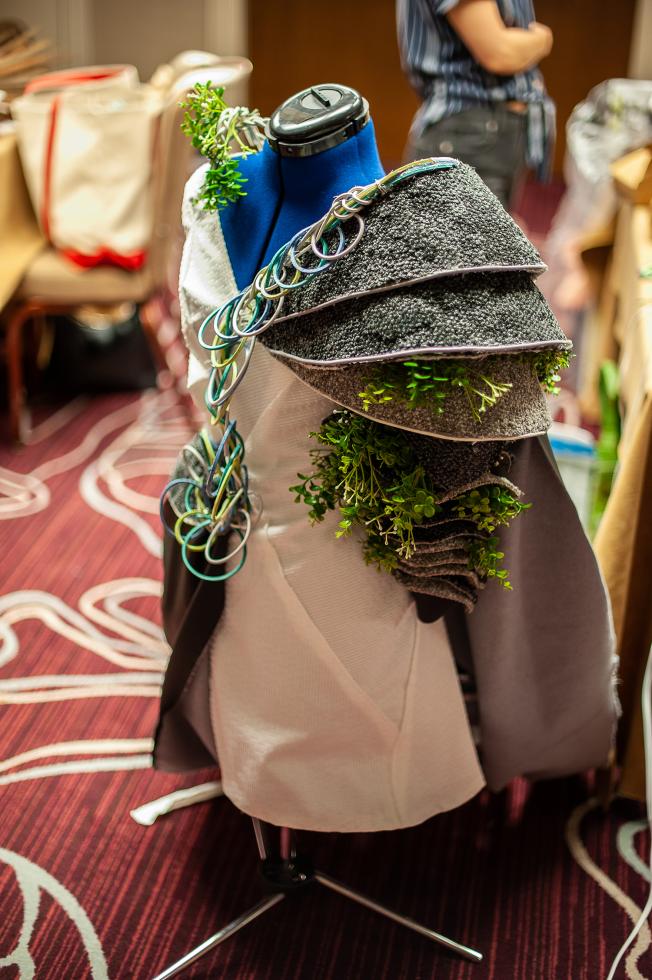 The team from Boulder Associates architecture firm challenged themselves to incorporate organic shapes and greenery into its design, coming up with a garment fit for a sylvan warrior.
Owen Helstowski, son of Kristi Rolak, KBM-Hogue's vice president and general manager, models a streetwear design by team HGA/KBM-Hogue, complete with a functional fanny pack. Event chair Michelle Moretti was glad to see more men on the runway this year; "Fashion isn't just one set gender," she says. At 15, Helstowski was the youngest model in the show.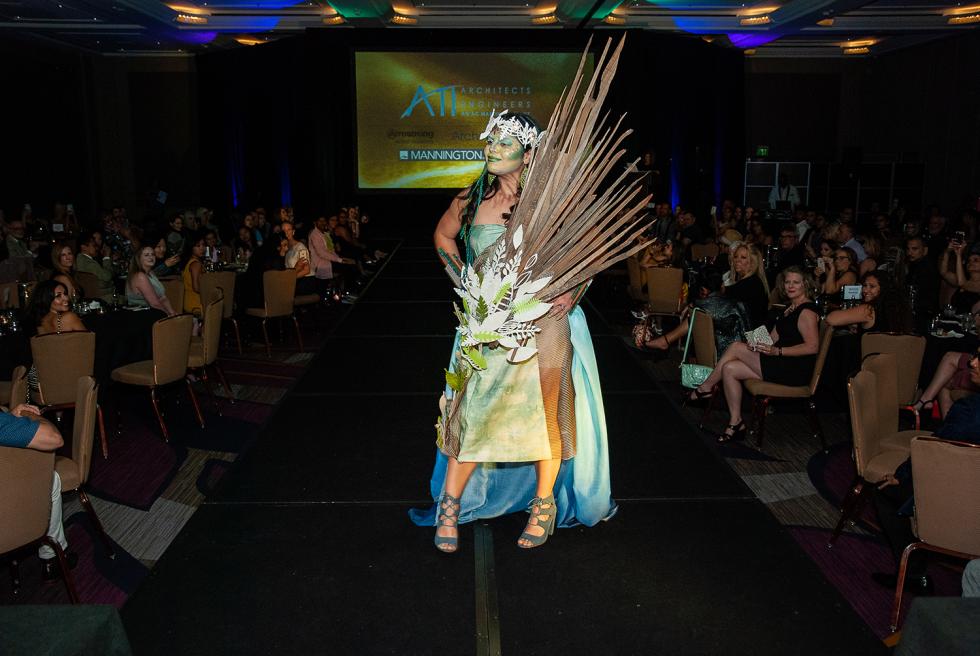 The models showcase their team's designs for an encore promenade. Lionakis model Casey Wong, winner of the Best Model Attitude prize, unfurls a Pride flag as he passes the judges.
The leaves on ATI Architects and Engineers' gown, modeled by designer Mariana Wisby, were hand-cut from strips of foam, and real seaweed is on the trim of her train.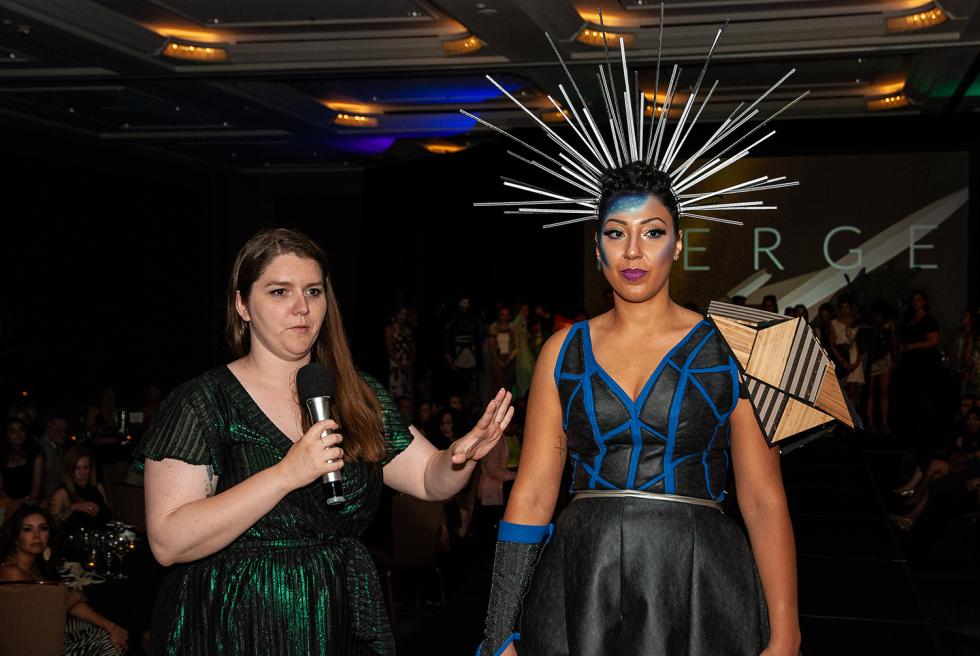 PBK designer Zoe Bick explains the architectural know-how that went into this design modeled by PBK intern Henna Gabriel, which included a geometric shoulder plate made with slices of hardwood flooring.
LPAS won Best in Show, with PBK Architects and DLR Group taking the first and second runner-up prizes, respectively.
—
Get this and other stories delivered to your inbox weekly: Sign up for our free email newsletter by clicking or tapping here.