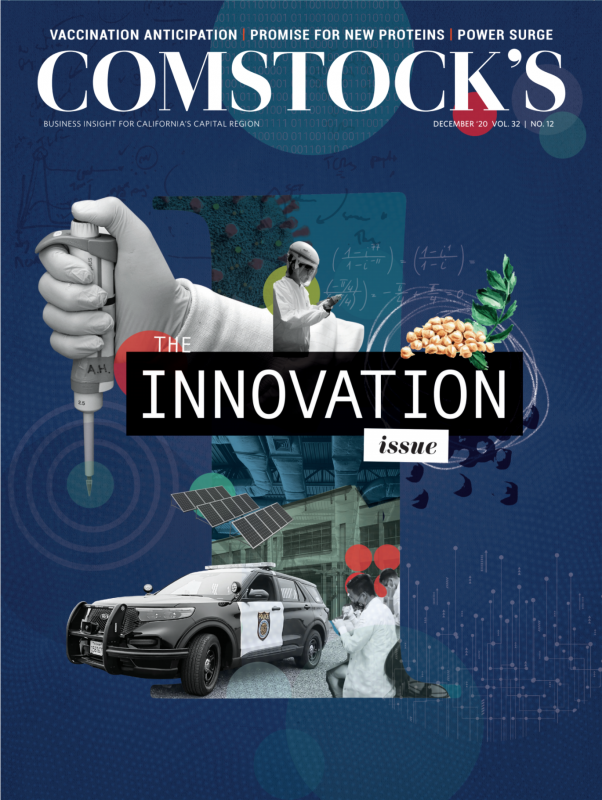 This story is part of our December 2020 innovation-themed issue. To subscribe, click here.
Stevens is excited about the efficiencies and cost savings that a switchover to electric vehicles will bring. He says an electric-powered garbage truck, for example, will ultimately save tons of money because the hydraulic and pneumatic machinery that picks up the refuse containers and compacts the trash will be replaced by simple electric motors that rarely need repairs. And he is particularly thrilled with a recently deployed software-and-hardware suite that allows him to view detailed information about his entire fleet in real time.
Stevens says he's been working throughout his 40-year career to make fleets of vehicles more fuel efficient and less polluting, and he has received two recent industry honors. In 2019, his division, which is in the Department of Public Works, received the Green Fleet Award from 100 Best Fleets. And in June 2020, Stevens was named Public Sector Fleet Manager of the Year by Government Fleet.
Stevens credits these achievements to the city's elected leaders who, he says, gave him a crucial tool. "Sacramento's Fleet Management division is one of the few agencies that has a true, council-approved resolution for sustainability," he says. "I think it's very clear that our mayors and council members, being in the state capital, wanted to set the right tone and show that we are walking the walk. So they've been very forward-thinking."
Sacramento City Council Puts Plan in Place
The Sacramento City Council passed the city's Fleet Sustainability Policy in 2007 and updated it most recently in 2017. Designed primarily to improve air quality, the plan mandates an aggressive campaign to incorporate low-emission and zero-emission vehicles into the fleet, stating that at least 50 percent of replacement expenditures be spent on electric and sustainable-fuel-powered vehicles (such as biodiesel and compressed natural gas).
Jennifer Venema, the city's sustainability program manager, says the 2017 update established a stronger commitment to zero-emission vehicles, requiring that 75 percent of annual light-duty fleet purchases be ZEV by this year.
"This updated effort was an important step in the city's efforts and was updated in sync with the city's first Electric Vehicle Strategy, demonstrating our commitment to lead by example through the city fleet," Venema says.
The update also established a "ZEV First" policy for all vehicles and equipment, which authorized Stevens to buy electric vehicles and other ZEV options. "This helps us establish ZEVs as the baseline decision," Venema says, "requiring justification to deviate from the ZEV choice."
Stevens says electric vehicles have evolved to where, in most cases, they are a slam-dunk even from an economic perspective. "When I look at our gasoline-powered vehicles versus our new electric vehicles, and consider the total cost of ownership, it's incredible," he says. "We're averaging 7.5 cents per mile for our electric vehicles. Our gasoline-powered vehicles, over their (combined) 9-million-mile lives, have cost us 24 cents a mile. When we think about the 6 million miles a year we drive as a city, it's a huge savings."
Stevens says the diesel technology that runs many of the city's trucks and other larger vehicles has also evolved, pointing to an engine manufactured by Cummins that powers near-zero-emission vehicles. Again, he says, it was government action that set the evolution in motion. In recent years, he says, manufacturers have confronted emissions issues because the federal government mandated that they do so 20 years ago. The filters and urea tanks that scrubbed particulate pollution and nitrous oxide from tailpipes added significant costs to the vehicles, but are now the industry standard.
"Maybe the manufacturers' hearts were in the right place," Stevens says, "but sometimes it all comes down to dollars."
Big Data and Artificial Intelligence
Modern fleet management is as much about management strategies as it is about the physical fleet. These days, new fleet-management tools and technologies are as powerful as the automotive advancements they support.
In June, Stevens deployed a system that incorporates big-data technology and artificial intelligence, which allows his team to access vast amounts of information about the city's fleet. Every vehicle is equipped with sensors, and many with cameras, that feed information to a network that fleet managers can access via a dashboard. This delivers what data scientists call "deep visibility."
The new dashboard includes a map, similar to what customers see when waiting for an Uber or Lyft, that displays the location of every fleet vehicle on the road. It shows each vehicle's speed, and can map the route it has driven over various periods of time. Another screen on the dashboard tracks each vehicle's fuel use, battery life, energy efficiency and carbon emissions. Stevens says this tool, primarily designed to protect the environment, will save Sacramento a lot of money because it will enable his team to be more efficient.
"We can look directly into that engine's computer as it's driving down the road," he says. "I can monitor the temperature, the tire pressures and how much time it idles. If we receive a fault code, it instantly sends a message to our fleet software system and we get a notification so we can get that vehicle into the garage right away. So we're looking at reducing repair costs by catching problems early on."
This integrated system, built by the industrial Internet of Things manufacturer Samsara, replaces a GPS system. This allows Stevens to deploy it to the Sacramento Police Department, which operates the fleet that accounts for the most miles and highest costs in the city. Police agencies have been reluctant to deploy GPS on their vehicles because they don't want anyone to be able to track a patrol car's location. The Samsara software enables fleet managers to disable that functionality, which resolves that issue.
This development coincides with Ford's release of its "pursuit-rated" first hybrid patrol vehicle, and Sacramento has committed to a plan to replace it's gasoline-powered fleet with them. Including police cruisers in the fleet's sustainability efforts will result in significant dollar savings and carbon-emissions reductions because these vehicles are responsible for the biggest cost and most pollution in the city. Stevens says that for every eight-hour shift, a police car sits idling for more than half of that time.
"That vehicle runs for four and a half hours with the air conditioner and computer on, so that officer can do what he or she needs to do — that's their office," he says. "With the advent of this new hybrid vehicle, we're now able to reduce that idle time by more than half, because you have a battery sitting underneath the rear seat that can run everything."
A proposal that Ford put together for the city shows that replacing all 241 vehicles in the Sacramento Police Department fleet would save more than $1 million per year, and keep almost 5 million pounds of carbon dioxide out of the atmosphere.
Sherry Wu, Samsara's senior product marketing manager, says many of the company's customers find this ability to monitor idling valuable. "They want to have visibility of when the engine is running but the vehicle isn't moving, so they can know how much money they are literally burning by wasting fuel."
In launching its fleet-sustainability efforts 13 years ago, Sacramento positioned itself for the future. In September, California Gov. Gavin Newsom issued an executive order mandating that all new passenger vehicles sold in California be ZEVs by 2035.
Venema says transportation is responsible for more than half of the greenhouse gas emissions in the city, and is a major focus of the city's Climate Action Plan update underway as part of the 2040 General Plan update.
"Sacramento has a strong commitment to sustainability in mobility," Venema says. "From our General Plan goals, to our innovation in operating programs to allow shared-rideables and car share, mobility is such a huge part of how we advance sustainability."
Editor's note: This article was updated to reflect that the Green Fleet Award is granted by 100 Best Fleets, not the National Association of Fleet Administrators.
–
Get all our web exclusives in your mailbox every week: Sign up for the Comstock's newsletter today!