Placer Valley is classic Gold Country, named for the gold-bearing deposits that run beneath its rivers. Today, there's another kind of gold flowing through the Valley: craft beer.
More than 20 breweries and taprooms call Placer County home. Many are less than a decade old, but some of the Placer Valley breweries are already gathering acclaim from beer buffs in California and farther afield. The quality comes down to Placer Valley's proximity to the farms that grow hops and other ingredients, says GoatHouse Brewing Co. co-owner Catherine Johnson. She and Michael Johnson, husband and co-owner, are from the Bay Area. They looked at property around the state before choosing Lincoln to build their farm-to-tap brewery.
"We're below the pines, so you can still really farm the land," she says. "And the people are kind of ridiculously amazing. … Authenticity is still alive and well here." To taste that authenticity, try these local favorites.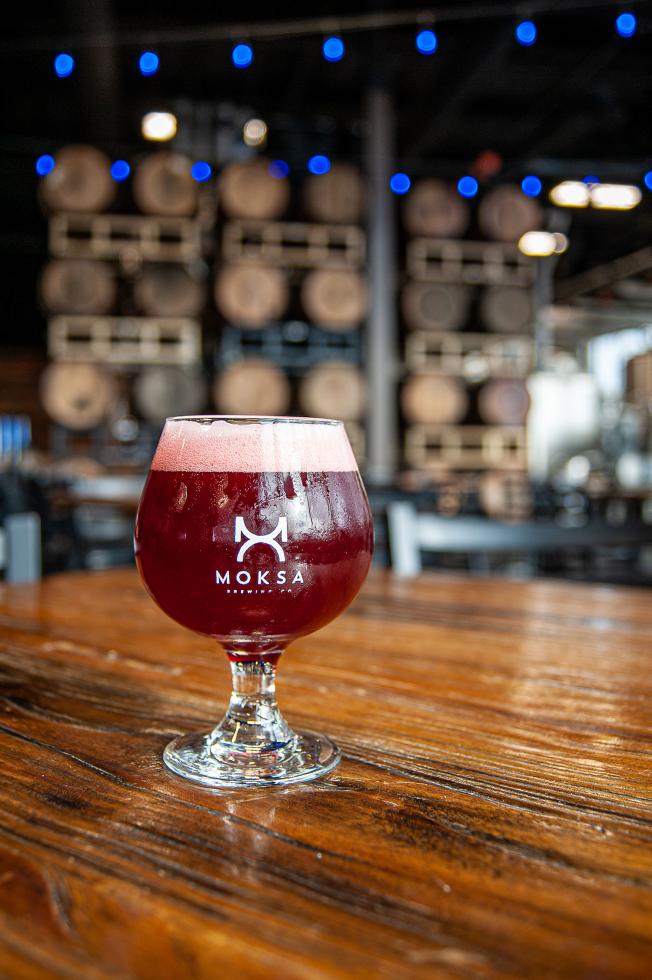 Moksa Brewing Co.
Moksa has earned out-of-town accolades since it opened in 2018. That year, it ranked on RateBeer's list of the "Best New Brewers in the World" and Hop Culture's best breweries in the country. But its biggest fans are locals, who have made the barrel-lined, industrial-chic taproom on Pacific Street in Rocklin a popular watering hole. Some of its most creative brews are inspired by head brewer Derek Gallanosa's favorite desserts, like Aloha State of Mind: guava, coconut and lactose alchemizing into the flavors of Hawaiian shave ice.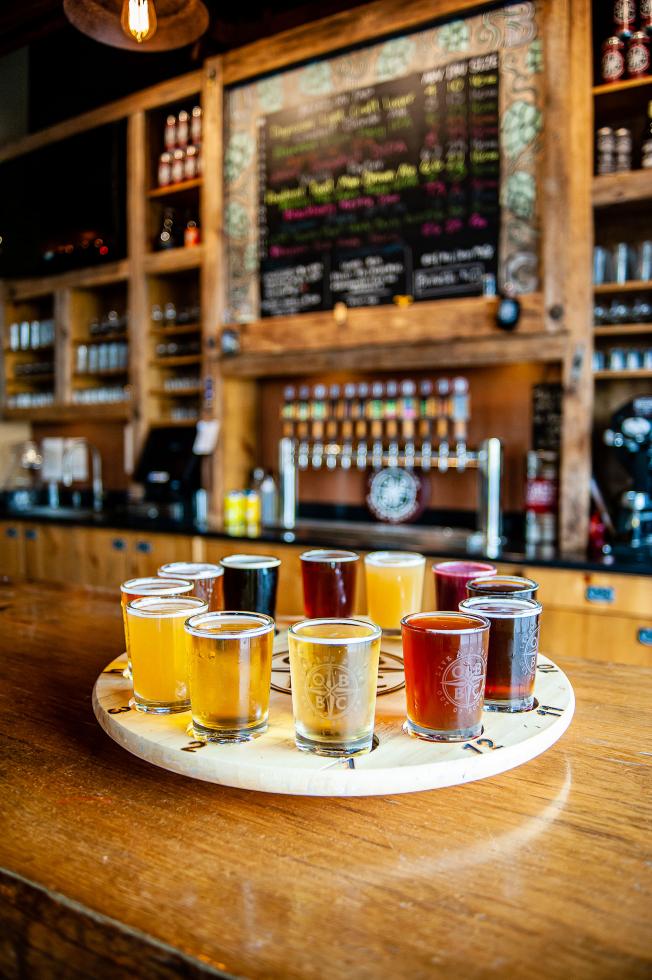 Out of Bounds Brewing Co.
With a brewery and taproom near Pacific Street in Rocklin, a biergarten-style restaurant in Folsom, and cans and bottles for sale around the region, Out of Bounds has grown leaps and bounds since owners Kevin Brooks, Anthony Brown and Eric Johnson opened the business in 2013. The Rocklin location doesn't have a kitchen, but food trucks and bands visit often, it offers brewery tours Wednesdays and Sundays, and has a rotating cast of 12 beers on tap. The Joyrider IPA, which won bronze in its category in the 2019 California Craft Brewers Cup, is especially popular. Indecisive visitors can order a flight of all 12.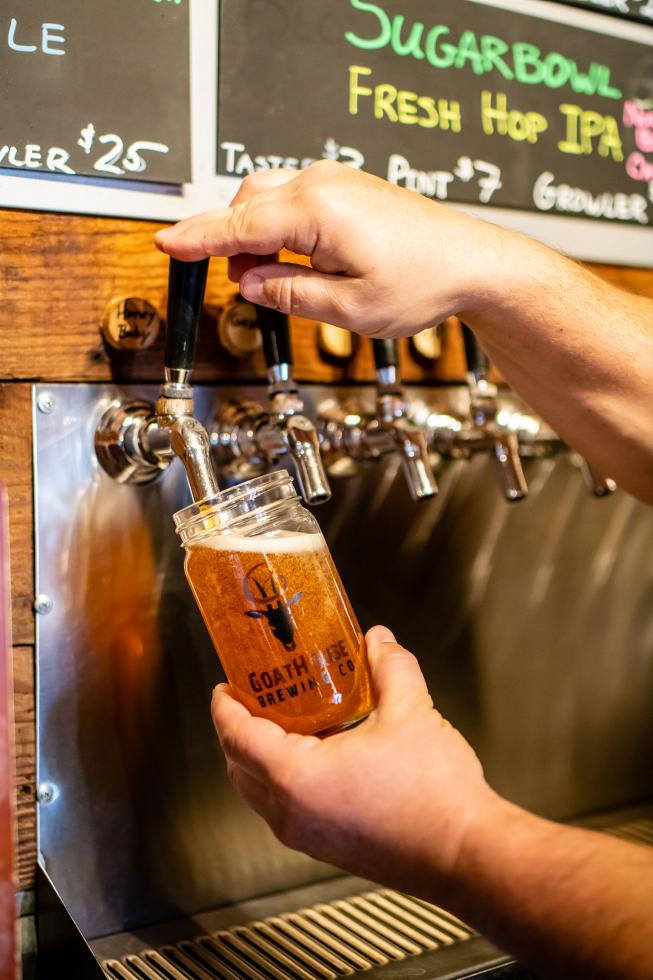 GoatHouse Brewing Co.
This barn-turned-brewhouse is the only place to get GoatHouse beer — the Johnsons haven't bottled or canned a drop in their six years of business. Nearly all the ingredients in their small-batch brews, including hops, citrus and stone fruit, are grown on their 11 1/2 acres of farmland, about 4 miles from downtown Lincoln. "From harvest to brewing, it's a matter of hours," Catherine says. And, yes, there are goats on the farm. The farm occasionally hosts goat yoga sessions, in which the kids and their mamas frolic among those doing Downward-Facing Dogs.
Slice Beer Co.
One of the region's newest breweries, four-month-old Slice is already gathering buzz for its hazy India pale ales, an East Coast style that's often compared to orange juice for its citrusy flavor and opaque yellow hue. This downtown Lincoln brewery's most popular pour is OJ (original juice), which gets its body from hops, not fruit. Head brewer and co-owner Zack Frasher also makes West Coast IPAs and stouts. Craving a different kind of slice? Call Old Town Pizza next door (whose marketing director, Russ Yeager, co-owns the brewery), and it'll deliver.
The Monk's Cellar
With its bare wood tables and distressed leather chairs, The Monk's Cellar looks more like a timeworn tavern in Brussels than a five-year-old public house and brewery on Vernon Street in downtown Roseville. Complete the image with a Belgian-style bière blanche, fermented in open vessels within view of the dining area, and a plate of moules frites (mussels and fries).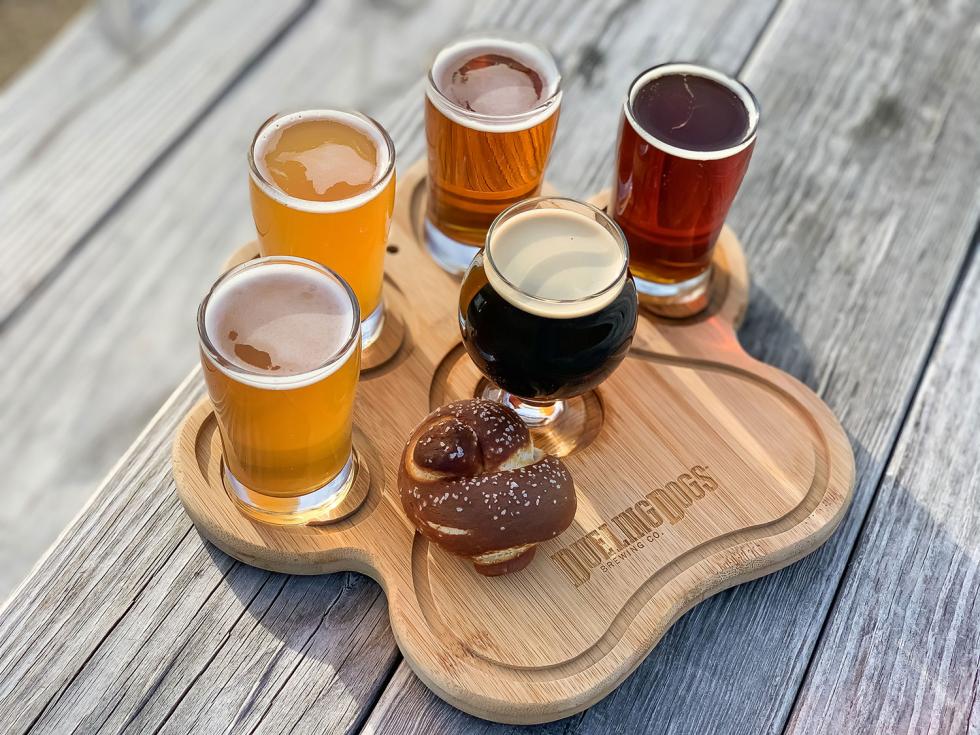 Dueling Dogs Brewing Co.
"We specialize in having something for everyone," says Adriana Stephens, who opened Dueling Dogs in rural Lincoln with husband Earl Stephens in 2018. Dueling Dogs brews a variety of beers, including Puppy Pils pilsner and Waggin' Tale Ale pale ale, plus meads and ciders. Canine clientele can lap up nonalcoholic Bowser Beer, a malt-flavored broth, and artisan dog treats.