A balloon-shaped apple, orange, pomegranate and soccer ball float up the side of The California Endowment's towering brick wall in downtown Sacramento. The mural, made by Demetris "BAMR" Washington in 2014, is one of many the artist has painted in the Capital Region, as well as in Palo Alto and Los Angeles.
Originally from Oakland, Washington, 30, moved from Stockton to Sacramento in 2009 to attend The Art Institute of California (now closed). His work is inspired by graffiti, cartoons and his faith in Christianity, the latter of which was also the inspiration for his alias: BAMR is short for Becoming a Man Righteously.
The full-time artist has worked in a studio at the Brickhouse Gallery & Art Complex in Sacramento's Oak Park neighborhood since 2015. Besides murals, he also makes paintings on panel and creates merchandise like hoodies, rolling trays and pillows that he sells online, though he says he supplements his income "every now and then" with a day job for a few months, "usually around the holidays," for extra money to buy gifts.
Over the years, he's painted murals for the Sacramento Kings, Downtown Commons, Broadway Coffee, and Slim & Husky's Pizza, and, in 2015, one of his images was among 20 chosen in a national contest to be printed on limited edition labels of Blue Moon beer. Washington was also the artist who was asked to paint "Black Lives Matter" along the yellowed greenbelt on Capitol Avenue in June 2020.
The project came together quickly, with Councilman Steve Hansen calling Shira Lane, founder of Sacramento nonprofit Atrium, June 5 to recommend an artist to paint it in time for the Black Lives Matter protest taking place the following day, and Lane asked Washington. Hansen provided $2,500 from his campaign funds for the many gallons of black paint needed, and Washington says the three-block long temporary painting was done in about five hours, with help from around 300 volunteers.
You've got almost 10,000 people following you on Instagram. How much do you sell your work on that platform?
It depends on the items. The higher-end items, I don't sell on Instagram. The original paintings and stuff like that, people might look at them and comment, "Oh, I like it," but … it's few and far between that people buy it on Instagram.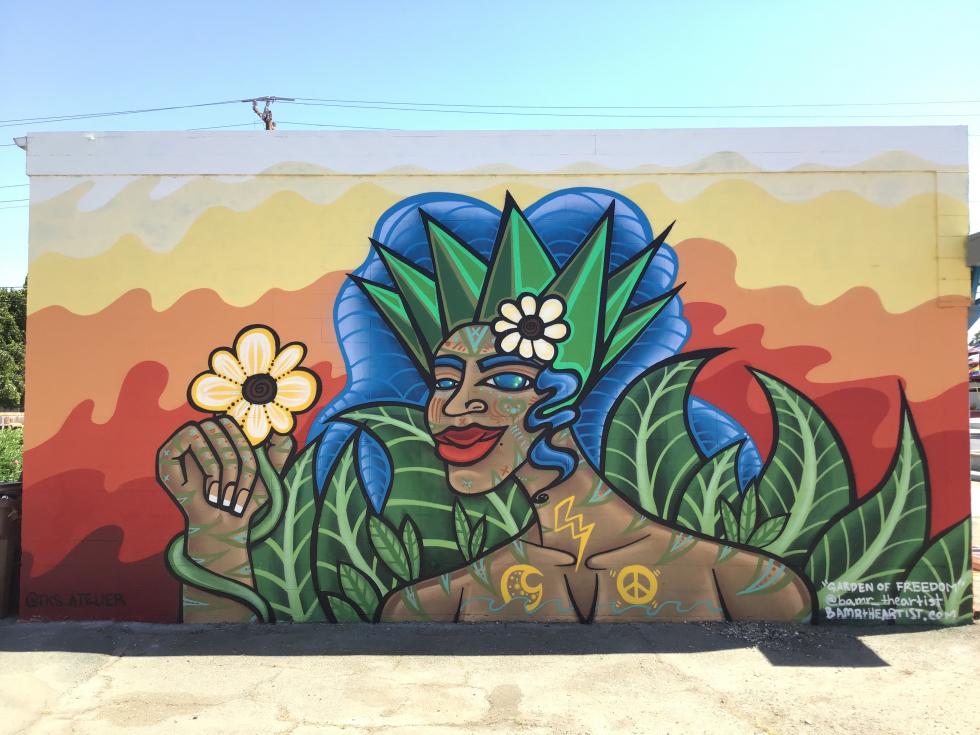 It's actually a lot of people that I know, a lot of word of mouth, making friends around the city, and then they kind of tell their friends and invite them to the studio, stuff like that (to purchase my work). But when it comes to like smaller items, maybe a T-shirt or some rolling trays or anything less than $100, then definitely through Instagram, for sure. Instagram is a funny little game too. You never know how it's going to go.
You have several types of merchandise you sell through your website, blankets, pins. How much do you sell?
No clue. I lose count. I don't really try to count, honestly. It could become a headache, trying to be creative and keep count of everything at once. … You go back at the end of the year when you do your taxes and you look at (it then). Other than that, I don't really want to think about it.
How do you wind up managing that, because being an artist means that you are CEO, you're the production line, you're the entire business. So how do you make that work for you?
Take it day by day, keep it simple. Say no to a lot of things, pretty much. Just stay organized. I would say saying no to anything that does not align with my vision, otherwise, it kind of cascades in the wrong direction.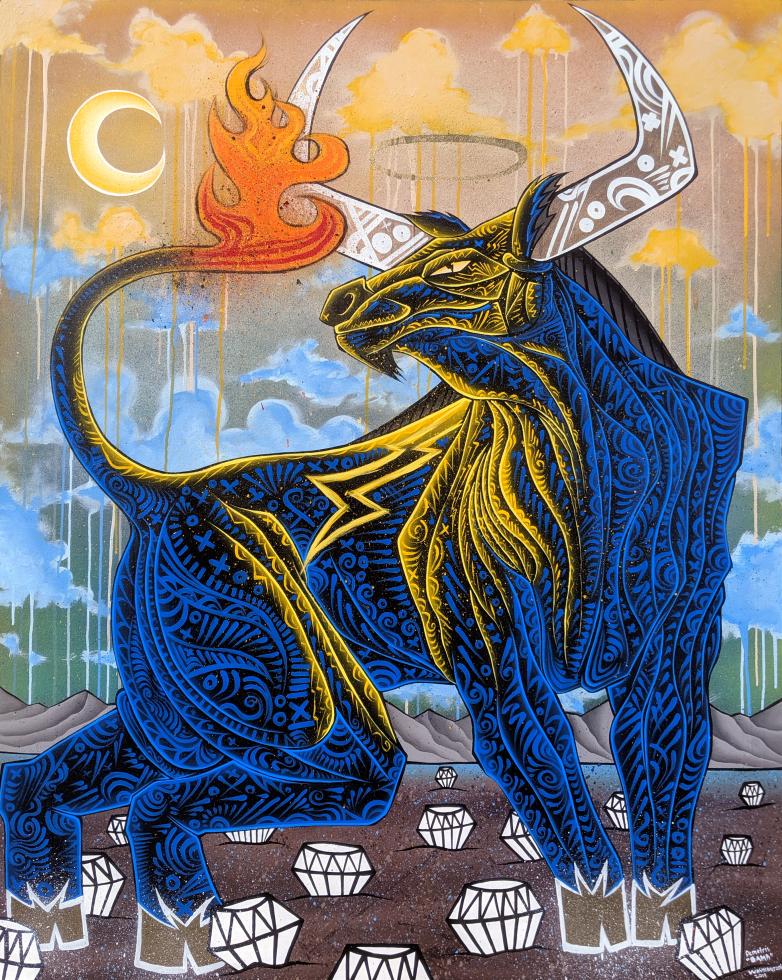 Do you find that some of your artwork reflects some of your faith and stories (from the Bible) that you are questioning?
Absolutely. And I think that's what faith is all about. I think that's what God wants. Everything that he gave life to, it grows, right? From a seed and, you know, whether it's a puppy, a human or a tree. So it's like, (if) we don't ask questions, we don't grow. Well, I think God likes when you ask these questions. He's like, "I want you to figure it out. I don't want you to be stupid." (Laughs.) I think that's how God feels. He didn't create all his knowledge for us not to get it.
Can you tell me about your aesthetic and influences?
I was inspired by so many different things, graffiti, comic books, cartoons, different artists like Salvador Dali, Picasso, sometimes Basquiat. He's just a really popular name that everybody likes to say and throw around, but I was never a big fan of his work, but some things inspire me by him.
As far as the community and the city goes, what do you think either one of them or both of them could be doing better to support the arts and artists individually, if anything?
It's really hard to say. What can the city do? … They just put out these Creative Economy grants, and they've done a pretty good job about promoting it and making sure it is reaching people. What can they do? I mean, I will say it's up to the people who live here, whether or not they actually want arts to be a stronger base here.
It's up to the people. You know, people are always talking about unity, this, that, the other, but I don't know about that unity stuff. This is business, you know. You can't mix all that friendly shit with business. … I think Sacramento needs a stronger financial economy to make the arts world stronger. It's kind of like king of the hill: You have one hill here, everybody's trying to be on top of it. If there were more hills, everybody would be happier.
What do you have coming up next?
Just same old. Making more products like usual and pushing it like usual. But new images, pretty much. …
I have a really big mural coming up here in Oak Park. … It's in the Guild Theater parking lot. There's a wall covered in vines. It's a really short wall, but it's really long, and they want Oak Park history. So I'm thinking, you know, maybe I can include the Black Panthers headquarter that used to be here along with the trolley that used to ride through here. … There's so much I could do. The history here is potent. The reason I like Oak Park so much is because it reminds me of Oakland, the way the streets are set up, the fact that there's so many Black and Mexican people here, the food here … Oak Park is dope.
Editor's note: Edited for length and clarity. This story has been updated to reflect that Demetris "BAMR" Washington is originally from Oakland.
–
Stay up to date on arts, culture and business in the Capital Region: Sign up for the Comstock's newsletter today.